Greetings from Around The World! 🙂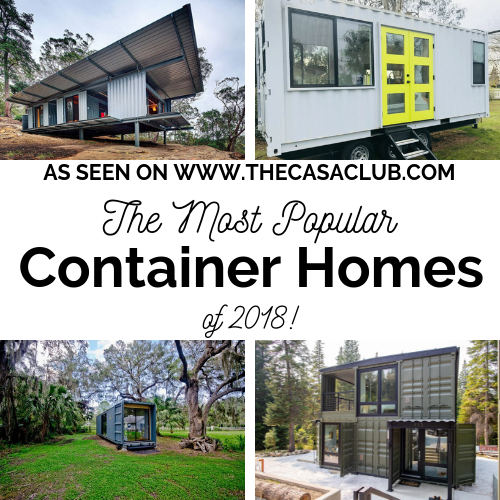 Happy 2019 everyone! In 2018 we saw an abundance of impressive shipping container homes made with containers. From tiny houses to cabins to unique builds made by families. So many innovative new builds came out of 2018! So we checked with our Google Analytics and here were the most popular 18 homes on our blog. Surprisingly, you guys LOVED all the exclusives we featured!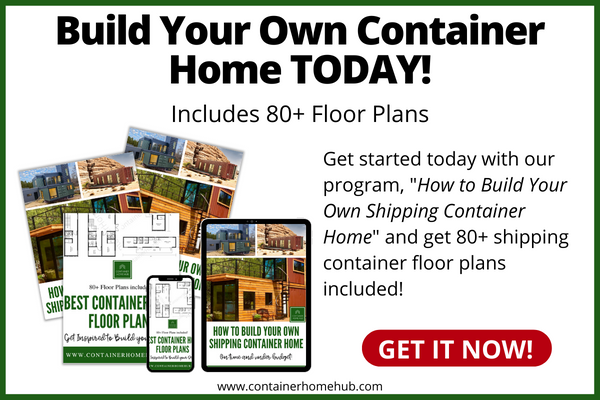 Take a look and enjoy! 🙂
#18: OUTPOST 7427139 CONTAINER RETREAT
Named after the serial number of one of its container building blocks, Outpost 7427139 measures a modest 40-square-metres, but sleeps six and has two bathrooms.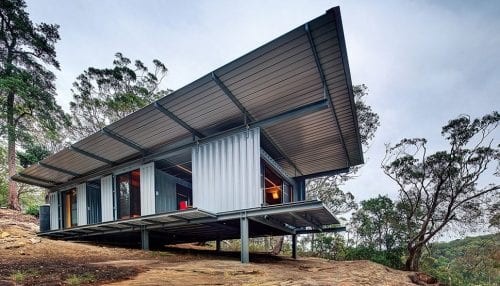 #17: GYPSY WAGON TINY CONTAINER HOME
One of our favorite exclusives from homeowner Robyn! She shared with us her tiny home made with a 20 x 8 shipping container by a local Sacramento company called Taynr.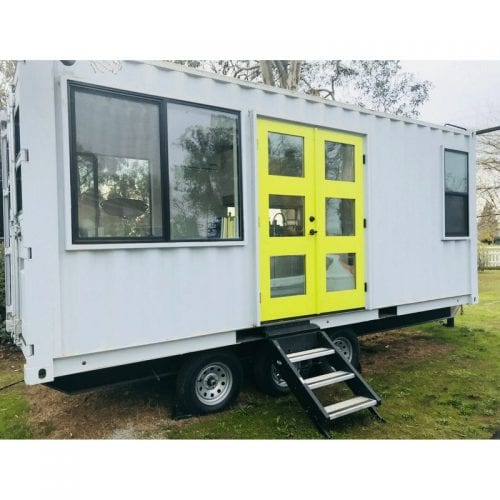 #16: THE HELM TINY CONTAINER CABIN
Said to be Waco's most unique and stunning vacation rental place. The "Helm" is the newest two-story container home by CargoHome™.
#15: 8747 SHIPPING CONTAINER HOUSE
This has got to be the best self-documented container home build we have seen. The owner shows step by step how they turned four 40′ x 8′ shipping containers into an incredible home in a Missouri forest overlooking a river.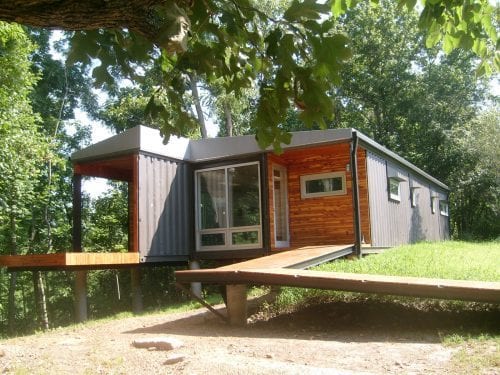 #14: CDB2016 SHIPPING CONTAINER HOME
Said to be the first shipping container home in Cordoba, Spain, the 1280 sq. ft. house was designed by Francsico Carmona of Futurevo Building.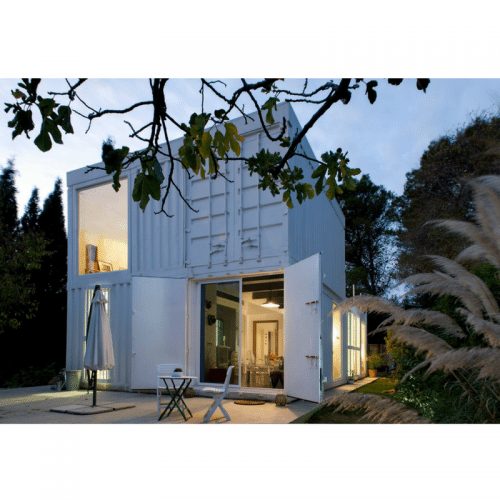 This one was an interesting one to research. A lot of translating but worth it because we at Container Home Hub really like to showcase all different types of shipping container homes. No one can argue that this shipping container home owner loves a lot of shed space. The entire second floor is an open garage!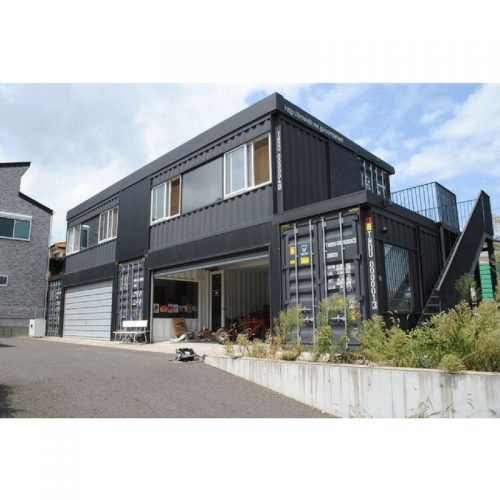 #12: VALDIVIA VIVIENDA SUSTENTABLE CONTAINER
Another incredible Container Home Hub Exclusive! Jorge Cardenas Jara, the architect of this shipping container home, shared with us the home he built with his father. This shipping container home is made of two shipping containers, 3 rooms, 1 bath, and a big central space where the kitchen is the main event.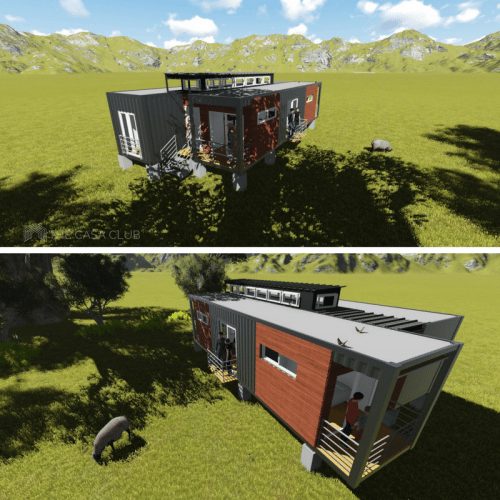 #11: THE CORNILLON SHIPPING CONTAINER HOUSE
Situated on nine acres of fields and woodland, this shipping container house is tucked into a secluded oasis a mile from the hamlet of Tivoli, New York. This house was designed and built by Arnaud Cornillon as a model for sustainable living.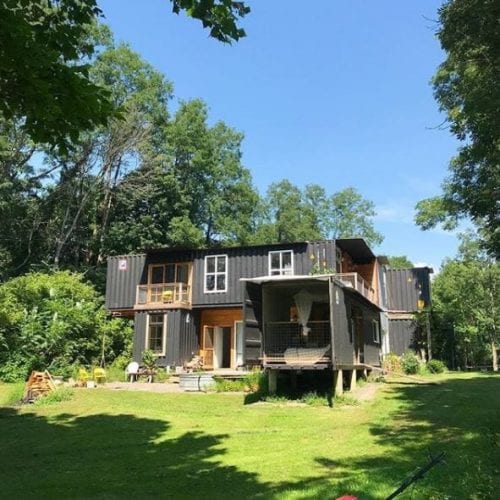 #10: POINT LOOKOUT SHIPPING CONTAINER HOME
On Airbnb, you can rent this entire house for $450AUD or $347USD. With enough space for 9 people this seems pretty sweet!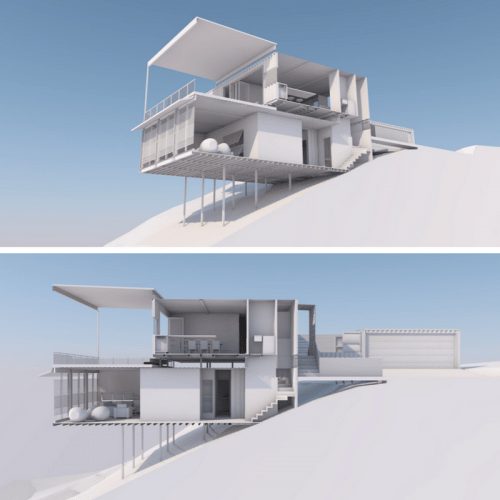 #9: THE TORONTO CONTAINER HOUSE
A true exclusive, this is Toronto's very first permanent shipping container house! The City of Toronto sold this 12′ wide lot, adjacent to a laneway, to the Owner. The Toronto Container House that is currently circulating on Instagram was a collaborative project. Led by the Owner (not currently disclosed), structural engineering by Wonder Inc., containers supplied and modified by Storstac Inc. , and windows and Doors by Glasshaus Living.
#8: LUCKDROPS STUDIO+ TINY CONTAINER HOME
Stated to be "a 'pretty' tough home," Luckdrops introduces their luxurious state-of-the-art well-engineered homes designed from strong shipping containers.
#7: ROYAL OAK SHIPPING CONTAINER HOUSE
The concept car designer and his wife made local headlines last year when they bought a 2,350-square-foot home in Royal Oak, MI. The home was made out of seven shipping containers.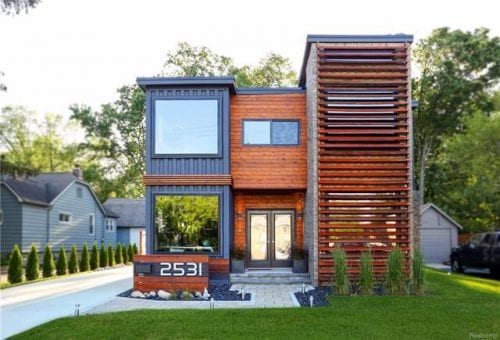 #6: THE HAB TINY CONTAINER HOME
Tomas Ryan shares his entire story and report on building a shipping container habitat on his blog. It's definitely a very well-documented shipping container build!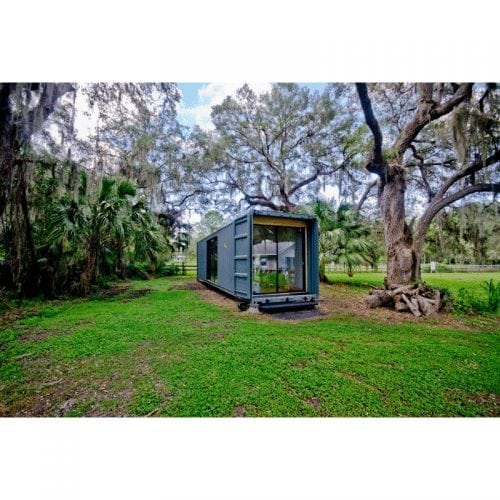 #5: DRYADES ST SHIPPING CONTAINER HOME
This contemporary home designed by architect Corey Newell was made out of for 40 feet recycled shipping containers. The 1,280 square-foot three-bedroom, built in 2016, has an open floor plan and a long, narrow kitchen.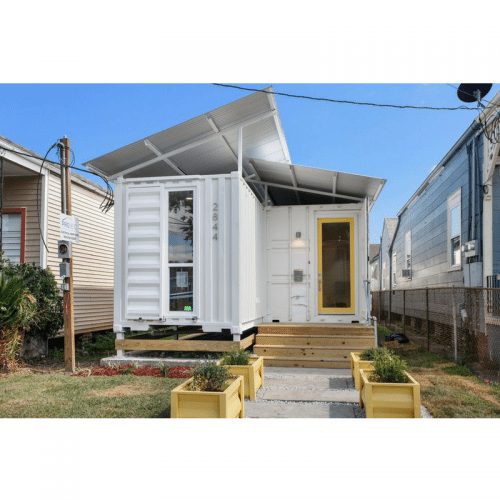 #4: CASCADIA CONTAINER RESIDENCE
This stunning container residence made its rounds on social media, and thankfully Brandon from One Way Construction gave us at Container Home Hub the exclusive on these spectacular photos! Said to have taken about 18 month (lots of welding and fabrication) to complete, The Cascadia Container Residence definitely worth checking out.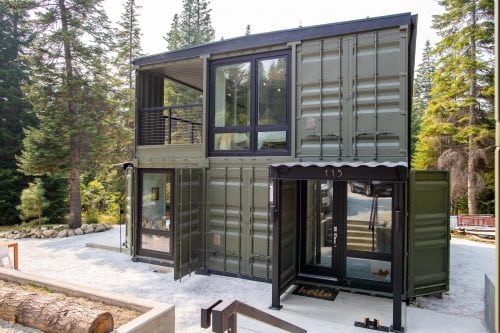 #3: CALLICOON CENTER SHIPPING CONTAINER HOME
If this house doesn't wow you, I don't know what will. This shipping container home is impressive! Located in Callicoon Center, NY, Amy Fisch describes the two-bedroom, two-bath home that she shares with her husband as "centrally located in the middle of nowhere." Constructed of four side-by-side containers, the house has west-facing views and resembles a wood-framed barn.
Another incredible Container Home Hub Exclusive! From Oregon's only container home manufacturer, Relevant Buildings shared with us their largest shipping container home model. The De Lux Container Home model is a 900 sq. ft., 2 bed, 1 bath home made of two 40′ containers that are set 8′ apart.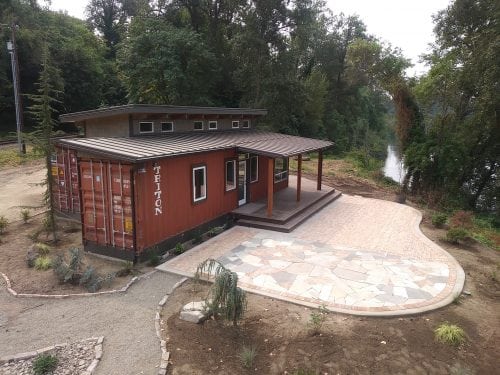 #1: THE NEST SHIPPING CONTAINER HOME
Students at the Missouri University of Science and Technology refurbished three disused shipping containers to build a house that proves zero-net homes can be affordable and reliable. The project was designed for 2015's Solar Decathlon, which challenges students to design and build solar-powered houses that are cost-effective and energy-efficient.
So what do you think? Which one is your favorite? 🙂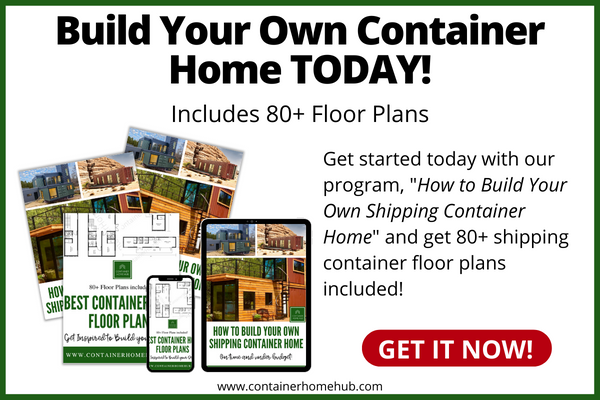 Information Source: Click individual post titles for information sources
Photo Source: Click individual post titles for photo sources
» Follow Container Home Hub on Facebook for regular shipping container home updates here «