Greetings from Washington! 🙂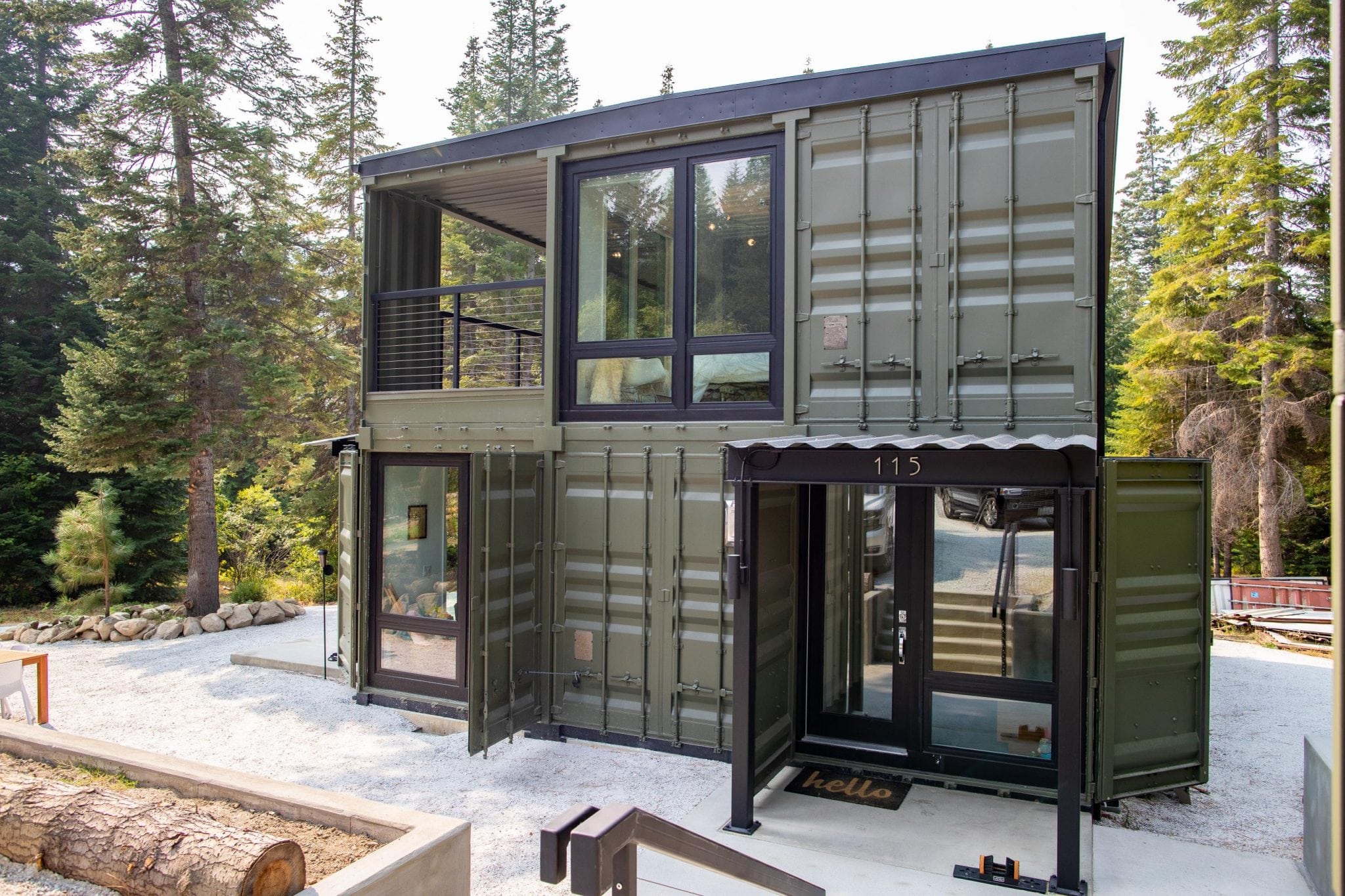 Today we are featuring another stunning container residence that is making its rounds on social media. Thankfully Brandon from One Way Construction gave us at Container Home Hub the exclusive on these spectacular photos!
Said to have taken about 18 months including lots of welding and fabrication to complete, The Cascadia Container Residence is definitely worth checking out. With 3 bedrooms and 2.5 baths, it has 1600 sq. ft. of living space and 320 sq. ft. of covered 2nd floor deck space. This shipping container home also has:
Heated, polished concrete floors on the entire bottom floor
Heated tile floors on the entire 2nd floor
Central air and fire place
Spray foam insulation to keep it cozy in the cold winter's where it gets well below 0 in the winter
A 22′ sliding barn door made of recycled container pieces so the entire home can be closed up with steel doors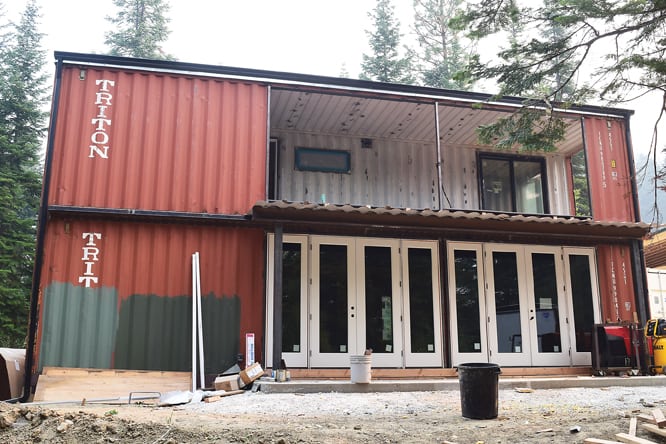 The Cascadia Container Residence was built with 6 containers in Leavenworth, Washington. This distinctive second home is custom-made for the home owner's family vacations. No board and batten or cedar shingles disguise the exterior of this honest bunch of boxes: the shipping containers, with their distinctive hinges, corrugation, bolts and rods will all be industrial dark green, with some accent trim.
Just a few years ago, the young owners, living in Seattle but with north central Washington roots, were ready for their own ski retreat near Stevens Pass. They were thinking of a remodeled shed, cabin, tiny house. Something small and conventional.
They liked the looks of a neighbor's place and contacted the architect. He liked a certain builder, and they were pleased that Syndicate Smith (architect Todd Smith of Leavenworth) and One-way Construction together had this relatively new budget-conscious idea they wanted to try.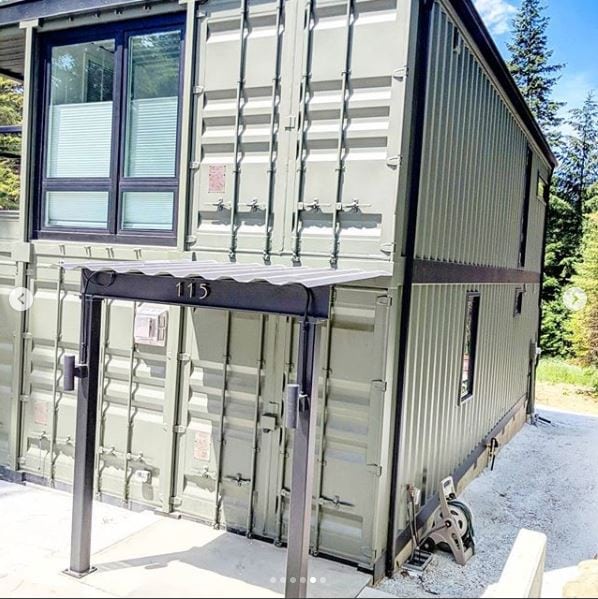 By the summer of 2016 the owners had eagerly embraced the concept of a container residence. Greg is in the maritime industry, so he was familiar with the ubiquitous 8'x20' shipping containers, at least theoretically. Then they expanded the idea, and the little house on its timbered 2.5-acre lot near Lake Wenatchee grew into a more luxurious six-box structure.
In September of 2016, the eight 8'x20' containers — including two for outbuildings — purchased from Northwest Container Services, were one-by-one trucked over Stevens Pass to a staging area at a nearby highway rest stop.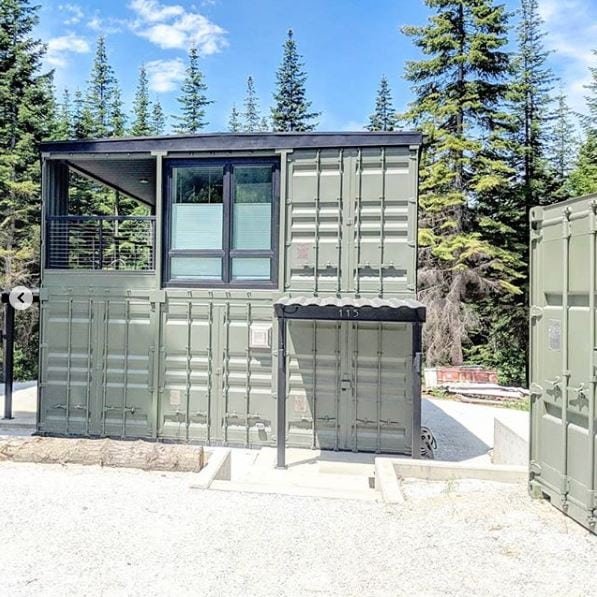 From there, they were moved to various spots on the site for preparation (with the neighbor's approval and undoubted curiosity) and were eventually hefted into position with a boom-crane. Picture six bricks piled into a two-brick high long rectangle, only bigger. Much bigger.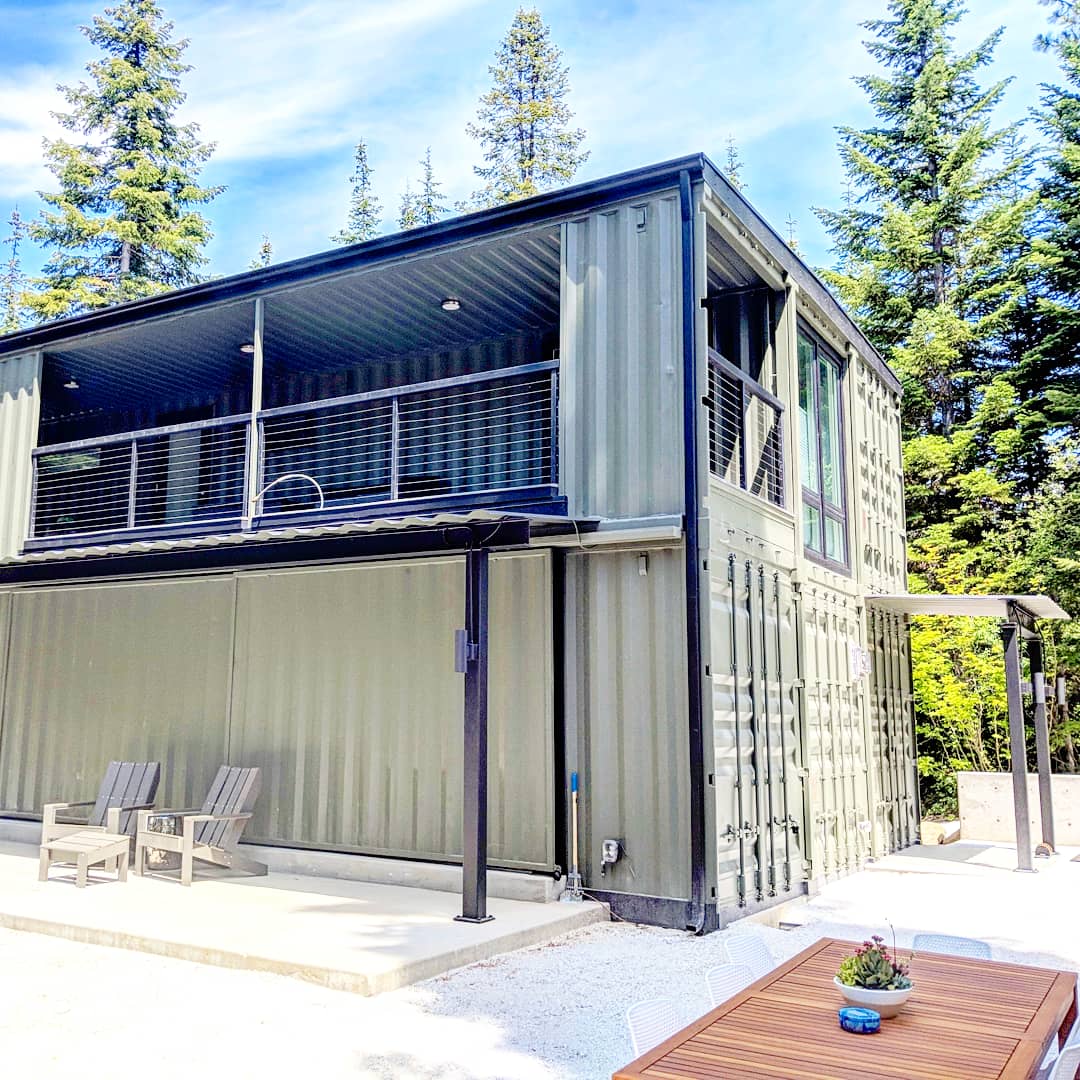 The most grueling part of the process involved metal on metal. State building codes required a state-certified welder for this job, which was deemed industrial rather than residential. Accordingly, One Way's welder received advanced training and certification in time to do most of the exacting work of connecting the six metal boxes (The other two are for storage adjacent to the garage.)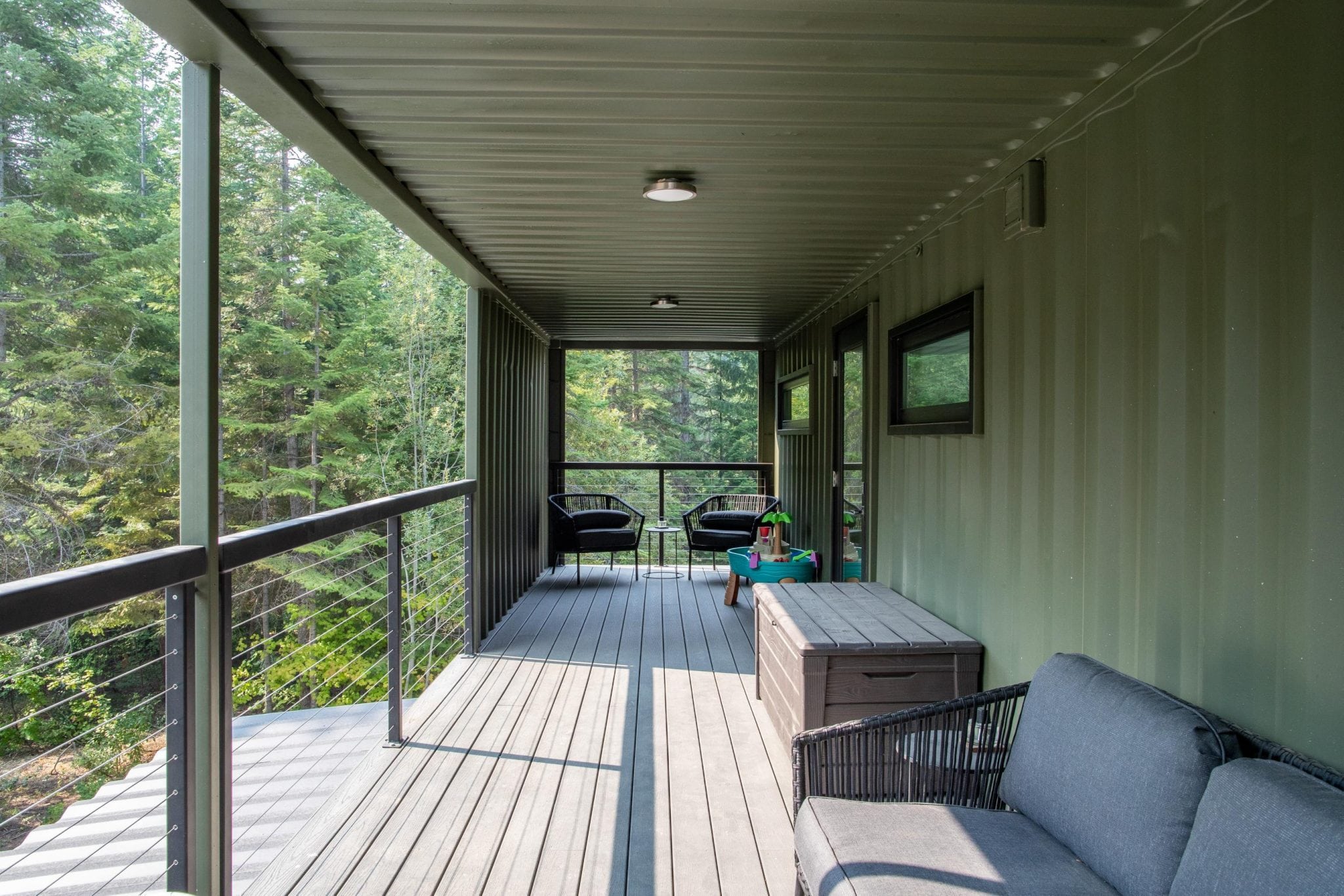 Creating the U-shaped tube steel faux beams to cover the interior seams, forming the patio roof and cutting and placing wood windows and doors into metal openings was relatively easier.
As explained when he showed the seams between units, "These containers are all held together with two-inch-long welds at four-inch intervals." (For non-builders, that's a lot of labor and expensive welding compound.)
He said the whole crew was very fire-conscious. "All summer long, we had a guy with a water hose just standing on the roof — and his only job was to watch for sparks."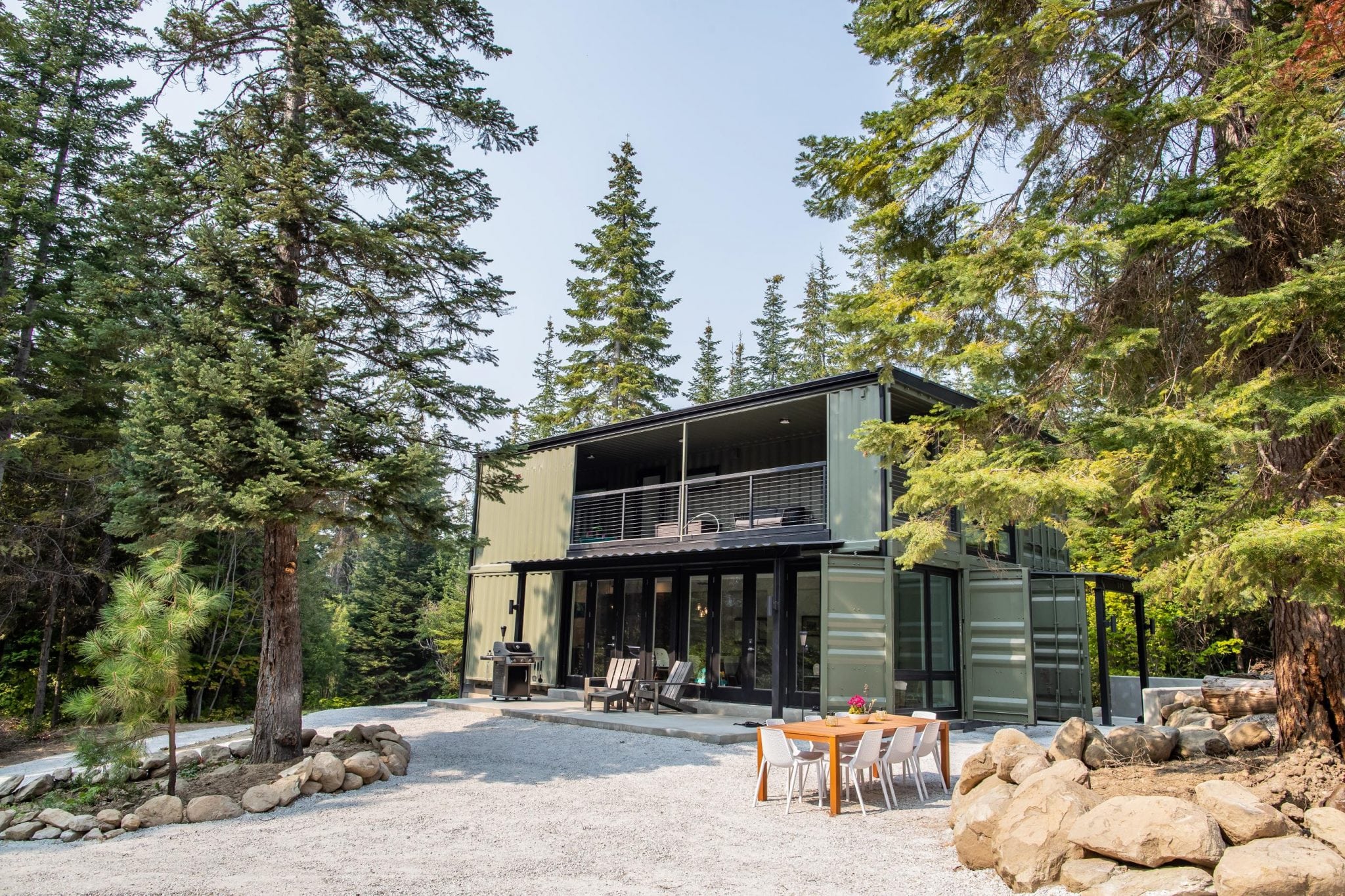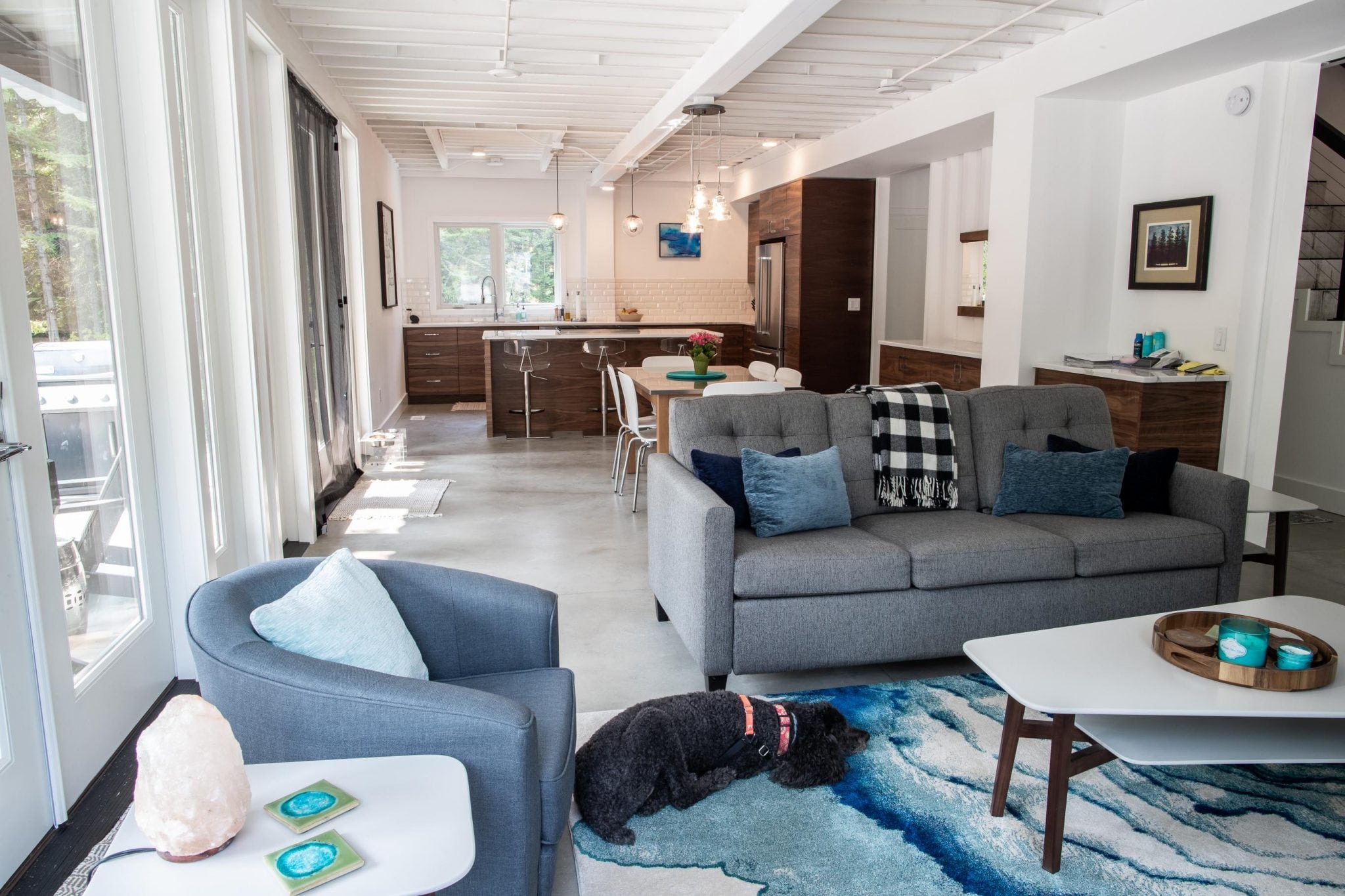 We love the long sweep of polished cement flooring in the downstairs living area that unites the three spaces for cooking, dining and comfy seating. The wall of south windows visually adds dimension to its 16' x20' footprint. The "high bay" containers offer 9.5-foot ceilings — a real boon to the builders.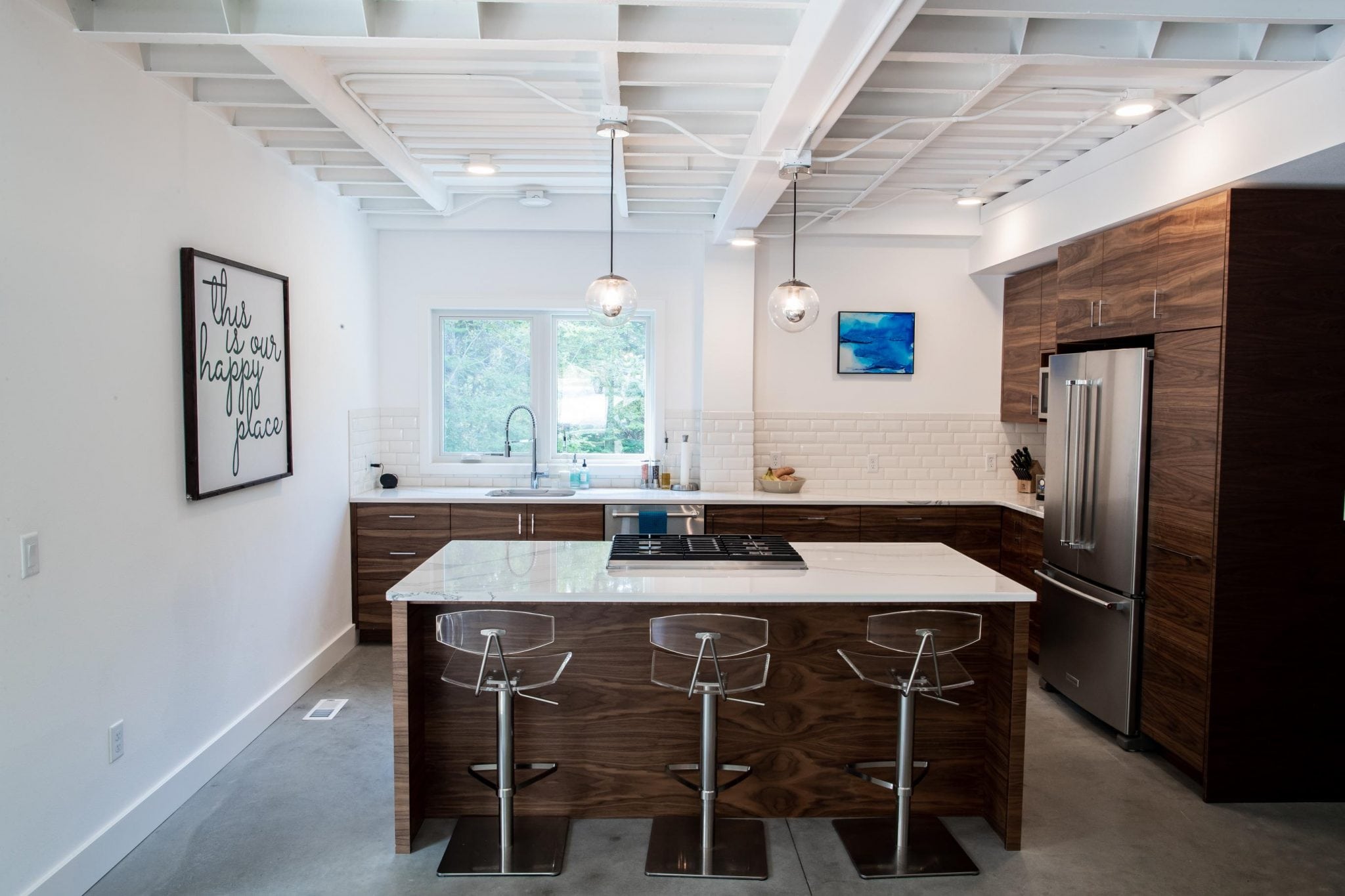 A third heating source was added, including hydronic (hot water in pipes) floor heating up and down, a propane stove, and a ducted forced-air system. That and three to five-inches of R-38 insulation — the standard is R-21 — in the roof and sides ensures winter comfort and walk-away ease.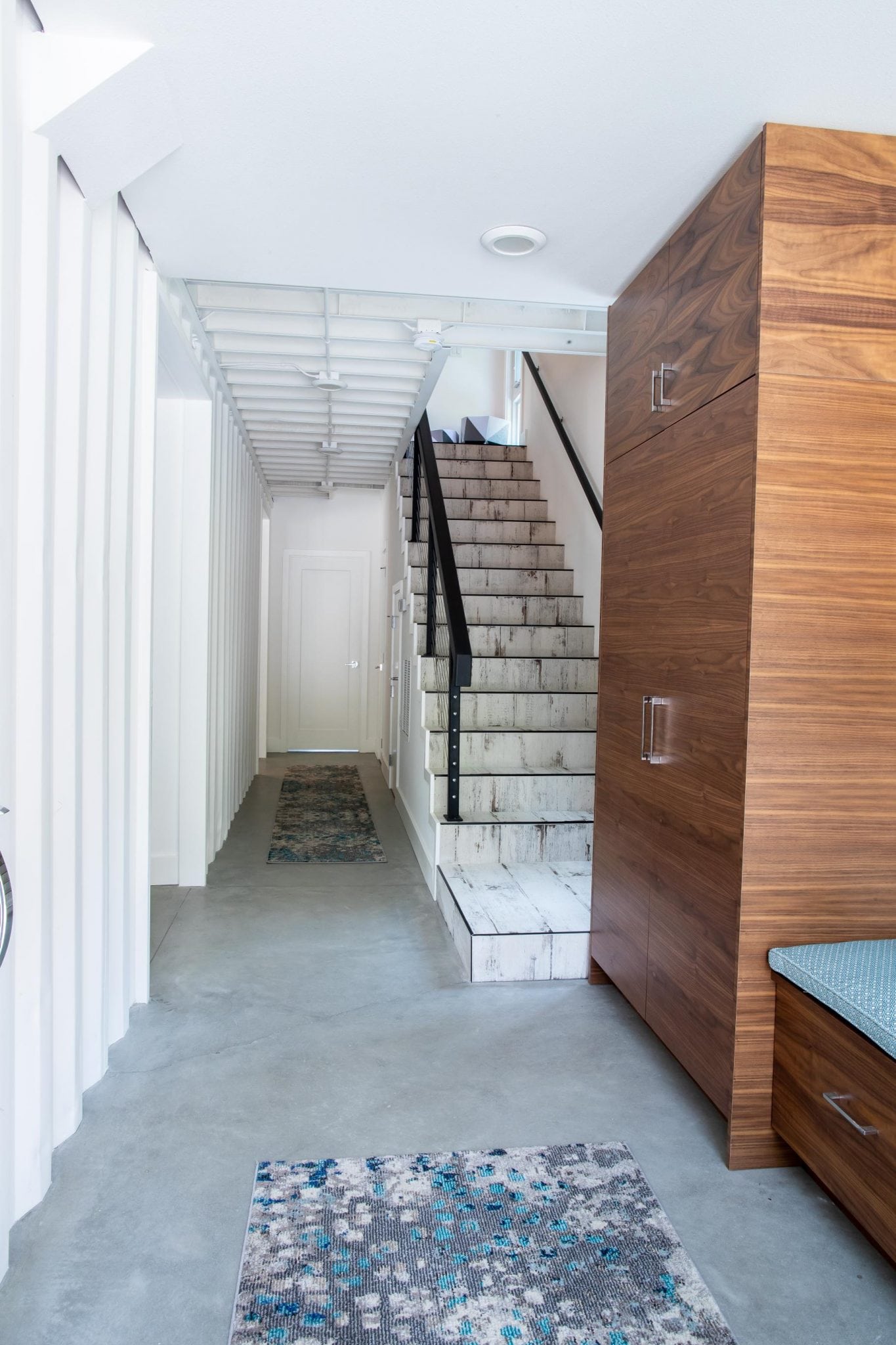 The original plan for wood flooring in the second story turned into "gypcrete" poured over the floor piping, then completely covered with artisan tilework. The first-floor concrete patio was extended out from the house for more outdoor living space. Bedroom reading lamps, once sconces, became pendants, with different wiring.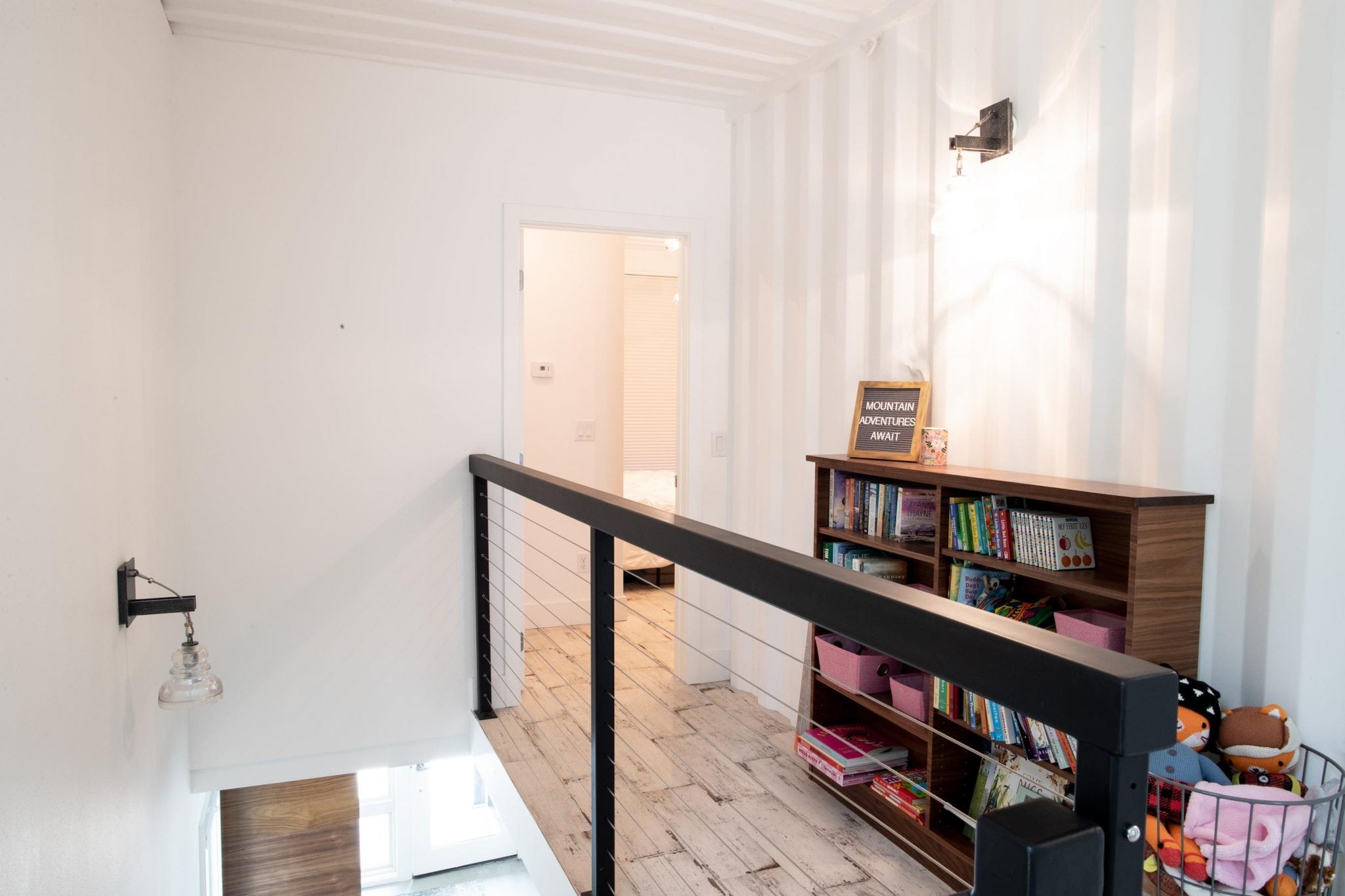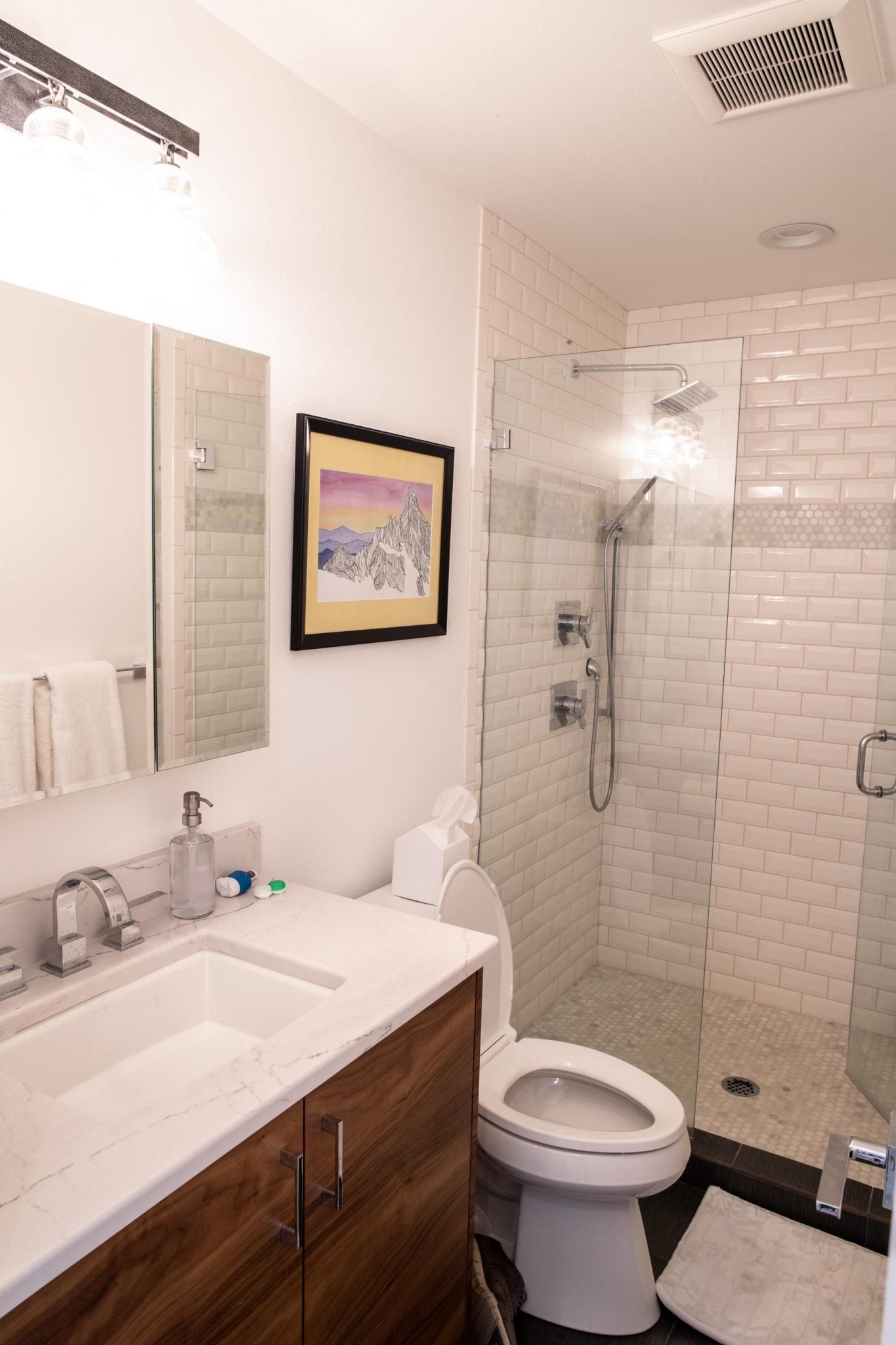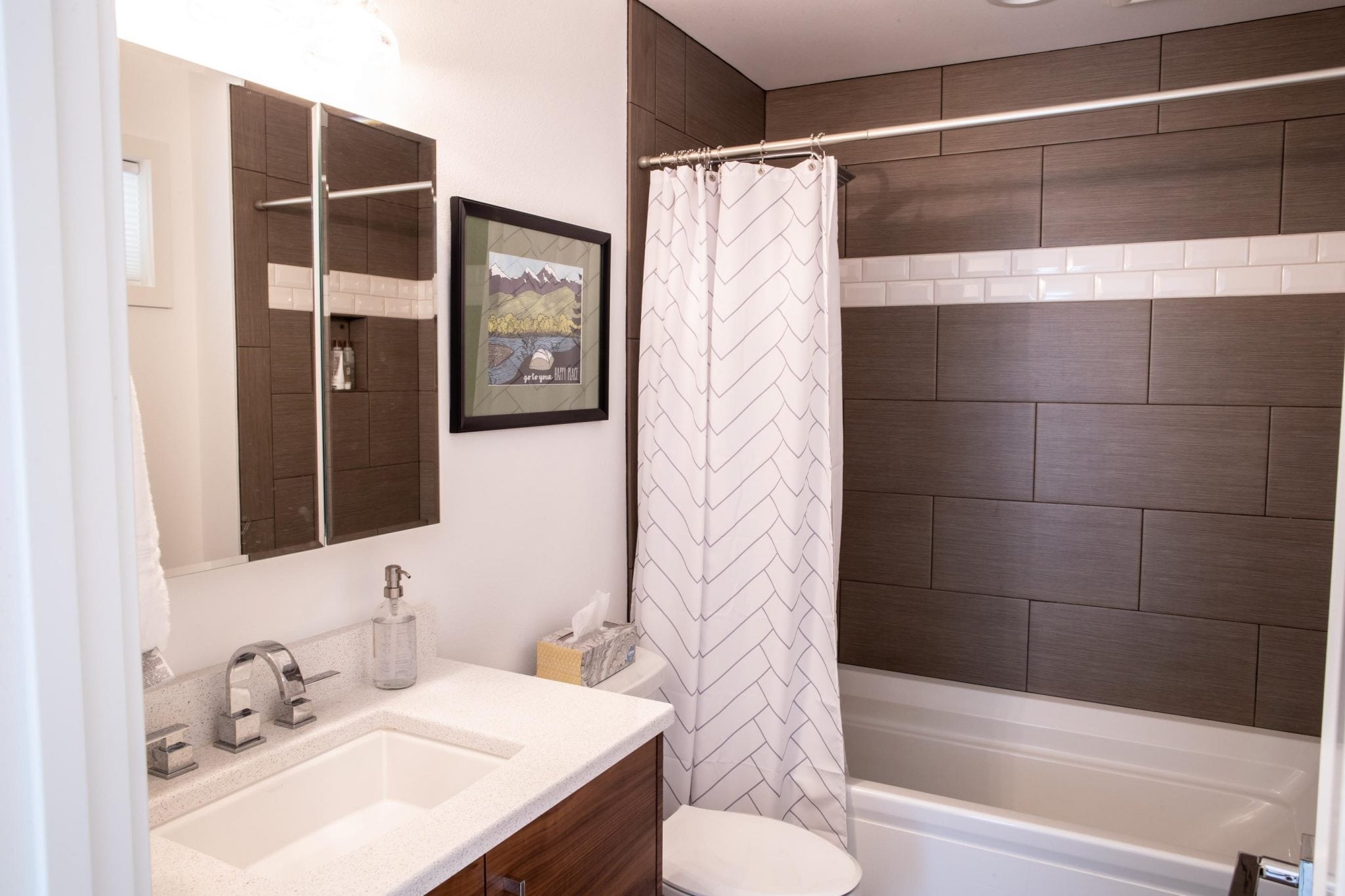 When you think that the eight boxes, shipped to the site, only cost about $20,000, you can see that a small house, especially a single story with standard finishes, could be very cost-effective. This container residence — exactly what the owners wanted — pencils out to about the same as a stick built house of the same quality, maybe a little more.
So what do you think? Would you live here?
Information Source: Brandon from One Way Construction, Blogging The Good Life
Photo Source: Brandon from One Way Construction, One Way Construction IG, @davidalansorensen, Blogging The Good Life
» Follow Container Home Hub on Facebook for regular shipping container home updates here «