Are you tired of the same old office spaces? Need a fresh, innovative way to work? Look no further! Shipping containers are being transformed into modern, trendy workspaces and mobile offices – introducing the new age of office and workspace design.
In this article, we'll explore the concept of shipping container offices and compare them to traditional options. We'll consider the pros and cons, plus provide solutions to any potential issues.
We'll also guide you through the process of building your own, as well as discuss the legal considerations involved.
It's time to revolutionize your work environment – let's get started with shipping container offices!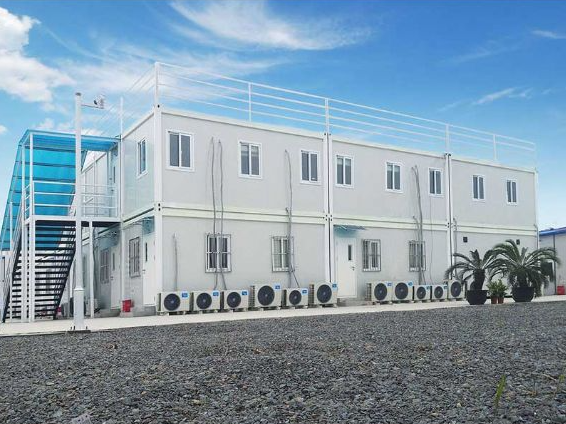 Anti-corrosion Flat Pack Container Offices by TD Container House
Key Takeaways
Shipping containers are a cost-effective solution for entrepreneurs who want their own workspace.
They boast several benefits, such as mobility, durability, and sustainability, but there are also potential drawbacks, such as limited space and legal considerations.
However, these can be overcome with proper insulation, ventilation, and customization, allowing you to create a comfortable and efficient working environment.
With the right planning and knowledge of local laws, these containers are an ideal choice for the modern age.
What Is A Shipping Container Office Or Workspace?
A shipping container office or workspace is an innovative and eco-friendly solution for entrepreneurs seeking a more flexible alternative to traditional offices. These offices are created by repurposing shipping containers into functional workspaces.
They are strong and mobile, making them ideal for businesses that need temporary or remote workspaces. The containers are easily customizable, with options to add windows, doors, insulation, and other amenities.
The floor plan can be tailored to fit the specific needs of the business, providing adequate space for desks, meeting rooms, storage areas, and even kitchenettes or restrooms.
Truly, these portable offices are the way of the future!
Portable Modular Office Flat Pack by TD Container House
From Container Homes To Container Offices
Shipping containers are being transformed into modern, versatile working spaces. These ground-level offices are ideal for construction sites, offering cost-effective solutions for on-site operations.
Whether you need storage or space for meetings, these container offices offer endless possibilities for customization.
Climate control features guarantee comfort, while the mobile nature of these workspaces make them perfect for businesses that need to relocate quickly.
From open-plan layouts to private offices, shipping container offices provide a practical and inspiring alternative to traditional offices.
Important Shipping Container Office Spaces
A shipping container office is a great choice for many businesses, and there are a few important office spaces that you need in order to make a suitable working environment.
Main Office Room
Step into the modern and cozy main office room of a shipping container workspace, and feel the creative energy in the air.
The main office room of a shipping container office is typically located at the center of the container. It is a spacious and well-lit area designed to provide a comfortable working environment for employees.
The room may feature a desk or workstations for employees, along with ergonomic chairs and storage cabinets. It can also have a conference table and chairs for meetings and collaborative work.
The walls of the room are often insulated to provide temperature control and soundproofing. Windows and skylights may be installed to allow natural light to enter the space. Additionally, the room may be equipped with air conditioning or heating systems to maintain a comfortable temperature.
To enhance productivity and efficiency, the office room may be equipped with electrical outlets, internet connectivity, and phone lines.
Customized electrical wiring and lighting fixtures can also be added according to the specific needs of the office.
Anti-corrosion Flat Pack Container Offices by TD Container House
Staff Break Room
Welcome to the inviting and cozy staff break room, a space designed to help employees relax, unwind, and recharge.
Although the room is small, it is carefully organized to make the most of the available space. Small windows are installed to allow natural light to brighten the room.
Lounge chairs and plush sofas are strategically arranged for individual or group seating. A kitchenette is equipped with a refrigerator, microwave, and coffee machine for snacks and beverages.
There are also tables for those who want to eat together or catch up on work tasks during their break.
This break room is essential for promoting a positive work environment in a shipping container office setup and fostering employee well-being.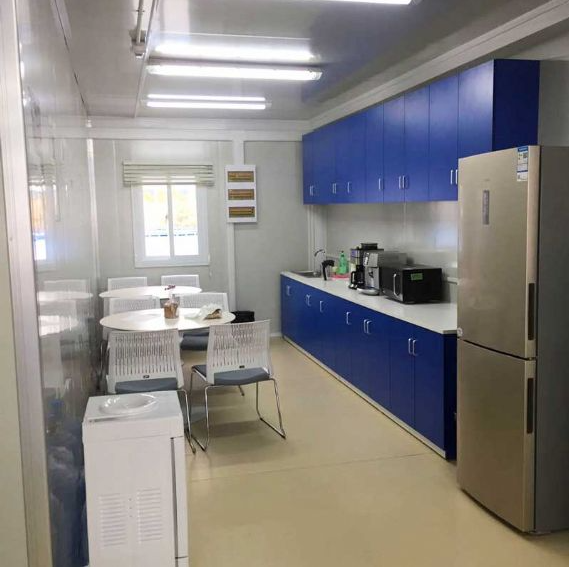 Anti-corrosion Flat Pack Container Offices by TD Container House
Meeting Room
The meeting room of the shipping container office is a versatile space designed to accommodate formal business meetings and presentations.
Despite being located within a repurposed shipping container, it provides all the necessary amenities for a comfortable and productive environment. The room features a large table with seating suitable for groups, ergonomic chairs, adjustable lighting, and temperature control.
It is equipped with audiovisual equipment, such as a projector or flat-screen TV, along with soundproof walls and whiteboards for brainstorming sessions.
Natural light floods the room through the floor-to-ceiling windows, creating a bright and inviting atmosphere.
The room promotes collaboration with movable furniture and may include additional amenities like a small refrigerator or coffee machine.
The meeting room of the shipping container office offers a unique and functional space for conducting business meetings.
Its compact size and resourceful design reflect the innovative and sustainable nature of the shipping container office.
Every detail in the meeting room has been carefully designed to foster creativity, collaboration, and efficient decision-making.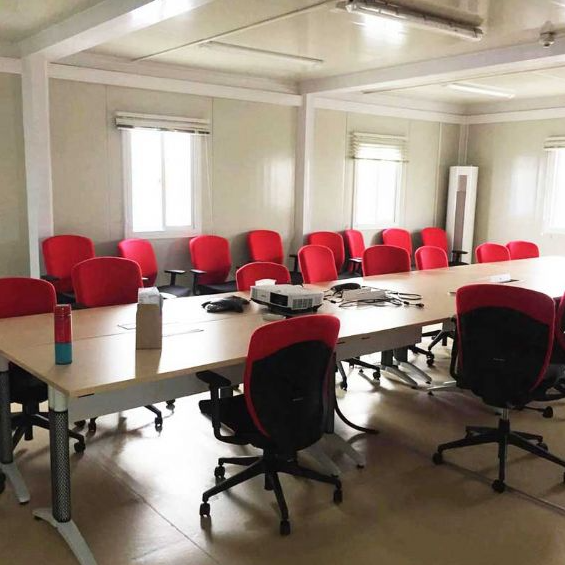 Anti-corrosion Flat Pack Container Offices by TD Container House
Restroom facilities
The restroom facilities of a shipping container office are designed with simplicity and functionality in mind. Equipped with modern fixtures and amenities, the restrooms offer a clean and comfortable experience for all users.
Located within close proximity to the workspaces, they are meticulously cleaned and maintained to ensure cleanliness and hygiene.
Featuring modern fixtures and amenities, such as clean toilets, sinks with running water, and hand dryers or paper towels, these restrooms offer convenience and privacy.
Utility And Storage Room
The utility and storage room is a key component of any shipping container office or workspace. It serves as the central hub for housing electrical and plumbing systems, as well as any other utilities needed for day-to-day operations. This multifunctional space also provides ample storage for tools, supplies, and inventory.
When designing this room, ventilation, insulation, and organization are key considerations. Shelving units should be installed to maximize storage capacity and ensure easy access to essential items.
A well-designed utility and storage room in a shipping container office or workspace allows for efficient operations and optimal productivity. Its simplicity and readability make it easy for most English speakers to understand.
IT Room
The IT Room of our Shipping Container Office is a practical and contemporary space dedicated to supporting your technological requirements. It has been thoughtfully designed with a focus on functionality and understated style.
Equipped with the latest technology and furnished with a minimalist aesthetic, this room offers an ideal setting for managing the various IT operations of your business.
From network administration to server maintenance and troubleshooting, the IT Room is designed to facilitate smooth workflows and ensure accessibility for all your IT needs.
Reception Area
The Reception Area is a welcoming space designed to greet and accommodate visitors. With its modern and minimalist design, this area creates a professional and inviting first impression.
It features comfortable seating and a stylish reception desk, and is adorned with tasteful decor elements. The open layout allows for easy navigation while natural light floods in through large windows, creating a bright and inviting atmosphere.
Every detail has been carefully considered in this shipping container office, ensuring that the reception area leaves a lasting impression.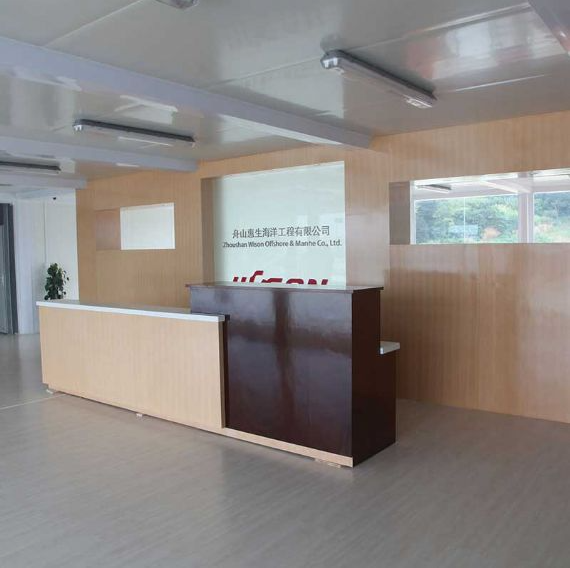 Prefabricated Fast Assembly Container Office by TD Container House
Pros Of Shipping Container Office And Workspace
If you're looking for an affordable office or workspace solution, shipping container offices are a great option. Here are a few reasons why:
Cost-effective
Save money and make your workspace dreams come true with a shipping container office or workspace. Forget about costly brick-and-mortar buildings and embrace the affordability and convenience of these modular spaces.
Shipping containers are surprisingly cheap, making them an ideal choice for businesses seeking to reduce their costs. What's more, you can easily expand or relocate your office as needed, without the expensive renovations or moving expenses required by traditional buildings.
Plus, by joining multiple container units together, you can create an even larger office combo at a fraction of the price. So why spend more on a traditional office when you can get a cost-effective, modern, and professional container office?
Quick and easy setup
Setting up your workspace just got simpler and more efficient. With shipping container offices and workspaces, you can have a fully functional setup in no time.
Pre-built structures provide quick and easy setup, reducing construction costs and saving you valuable time. The units come with insulation to ensure a comfortable working environment no matter the weather.
Whether you need an office container at a construction site, a ticket booth at an event, or even a restroom facility, these containers can be customized to suit your needs.
They're conveniently located at ground level, making them easily accessible for employees and visitors. Plus, they have plenty of storage space for equipment and supplies.
Need a break? Step into the container's break room and recharge before getting back to work.
Shipping container offices and workspaces provide unparalleled convenience and functionality for any business or project.
Durable and robust
Designed for long-term use, these steel shipping containers are the perfect solution for those looking to set up a ground-level office or a shipping container home.
Their robust construction ensures they can withstand extreme weather conditions while keeping your valuable equipment and documents safe.
With attention to detail, these converted shipping containers provide a secure and comfortable workspace or living space. Additionally, their mobility allows for easy relocation if needed.
If you're in search of a versatile and reliable option that will remain strong and resilient, these containers are the ideal choice.
Two-Story Flat Pack Container Office By TD Container House
Customizable and adaptable
If you're looking to create a truly unique and personalized space, shipping containers are the perfect solution.
These modular containers are customizable and adaptable. They allow you to create a workspace that reflects your individual style and meets your specific needs.
Shipping container offices can be outfitted with windows, doors, insulation, electrical wiring, plumbing, and other amenities.
This provides a comfortable and efficient working environment. The modular design also allows for easy expansion or reduction if your workspace needs change in the future.
Whether you're looking for a temporary solution for field operations or a permanent workspace, shipping containers offer flexibility, durability, and endless possibilities for creating a functional office space.
Versatility
Shipping container offices offer a multitude of possibilities for creating a workspace that fits a variety of needs.
These containers are incredibly adaptable. You can use them in remote areas or bustling cities for short-term or long-term projects.
Shipping containers are easily customizable to meet specific needs, such as adding windows, doors, electrical wiring, plumbing systems, or creating a workspace that can withstand harsh weather.
For those seeking a highly functional and versatile workspace, shipping container offices are a great option.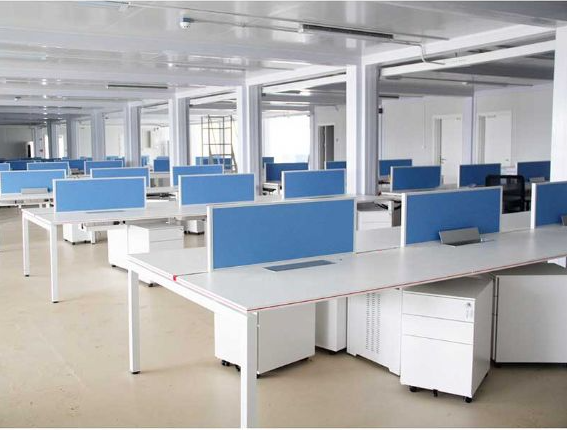 Two-Story Flat Pack Container Office By TD Container House
Sustainable and eco-friendly
Reusing shipping containers for workspaces is not only beneficial to the environment, but it's also an effective way to make use of existing structures and reduce waste.
Containers are a great way to create sustainable and eco-friendly workspaces. They can be repurposed into home offices, storage spaces, or even recycled and converted into other structures if they are no longer needed.
The ability to customize shipping containers offers flexibility and a range of design and layout options, allowing individuals or businesses to create unique and personalized workspaces.
From container sales and leasing offices to transforming a shipping container into an office, these versatile structures provide an economical and eco-friendly alternative for meeting workspace needs while minimizing environmental impact.
Mobility and portability
Shipping containers are highly portable and easy to transport to any location, making them the perfect solution for businesses on the go.
These containers offer a practical, ground-level workspace that can be stacked together to create additional space.
Mobility and portability are key benefits of shipping container offices, allowing businesses to choose their workspace location with ease.
Whether it's a construction site, a temporary venture, or a permanent solution, these containers can be easily moved. They are also highly versatile and can be customized to fit individual business needs.
Combining practicality, portability, and flexibility, it's no wonder that shipping container offices are becoming a popular choice for businesses looking for an efficient and convenient office solution.
Cons Of Shipping Container Office And Workspace And How To Address Them
When considering a shipping container office or workspace, there are some potential drawbacks to be aware of.
Limited Space
Working in a shipping container office can be a challenge due to the limited space. To address limited space in a shipping container office, make the most of the available room by using it efficiently.
Plan the layout carefully and use vertical space by installing tall shelves or cabinets for storage. Consider using furniture that can be folded or rearranged to create more space when needed.
Keep the area clean and organized by removing unnecessary items and storing important documents digitally.
Utilize natural light and incorporate glass partitions or windows to make the space feel bigger. Provide flexible workstations that can be easily rearranged to suit different needs.
With the right design and layout choices, you can make the most of your limited space and create a productive working environment.
Insulation Issues
Shipping container offices present a challenge when it comes to temperature control. They're often used to create office spaces, but without proper insulation, they can become unbearable during hot summers or freezing cold in winter.
To fix this issue, modifications are necessary to provide insulation and keep the workspace at a comfortable temperature. This can include adding insulation materials such as foam or installing HVAC systems specifically designed for container workspaces.
Companies can ensure their shipping container offices are comfortable and conducive to productive work by addressing insulation issues.
Structural Challenges
When it comes to creating an efficient and safe workspace, there are certain structural challenges that must be addressed when modifying shipping containers.
Container offices are a great solution for field operations and when you need a new office space quickly. However, it's important to be aware that cutting windows, doors, and installing amenities can weaken the container's structural integrity.
It's important to work withprofessionals who understand the challenges to ensure the space is safe and meets your requirements,
They will assess your needs and work with you to come up with a plan that maintains the container's strength. This might include reinforcing the structure with additional supports or using alternative materials.
Attention to detail is key here, as any compromise in structural stability can have serious consequences.
Noise and Acoustics
Creating a comfortable office environment inside a modified shipping container doesn't have to be a challenge. Several solutions are available to address sound issues and create a productive and comfortable space.
Installing acoustic panels on the walls is a great way to reduce external noise and minimize echoes.
Adding carpets or rugs will also help absorb sound and reduce reverberation.
Incorporating sound-absorbing furniture and room dividers can create designated areas for focused work or collaborative discussions.
Taking the time to address noise and acoustics in your modified shipping container office will create an environment that encourages productivity and minimizes distractions.
Permits and Regulations
Navigating the complex world of permits and regulations for using modified shipping containers as office or workspace can be a daunting task.
Depending on your location, there may be zoning restrictions or building codes that limit or prohibit the use of shipping containers.
To avoid any potential problems, do your research and understand local regulations before setting up a shipping container office or workspace.
This includes obtaining any necessary permits, checking for noise regulations, and considering power and plumbing requirements.
Additionally, you should decide whether to purchase new or used containers, as this may affect permit requirements. Each site may have different rules, so make sure to pay close attention to the permitting process.
How To Build A Shipping Container Office
If you're looking to construct your own shipping container office, there are some important steps to consider.
Plan and design
Designing a modern, innovative office space out of a shipping container is a unique and practical way to maximize efficiency and productivity. This office can be taken anywhere, so careful planning is essential.
Consider the size and layout of the office, as well as the materials and equipment needed. Make sure employees have enough space to work comfortably and include features like ergonomic furniture, proper lighting, and storage solutions.
Find a suitable shipping container
Now that you've designed your shipping container office or workspace, it's time to find the perfect one. Consider factors such as size, insulation, windows, and doors. You can choose between new or used containers, depending on your budget and preferences.
Begin your search at local suppliers and online marketplaces. Choose one in good condition, free from damage and rust.
Selecting the right container can give you a comfortable and functional environment for your workspace.
Prepare the site
Before you can start building your perfect workspace, it's essential to clear and level the area where you plan to place your shipping container.
Start by removing any debris or obstacles from the site, ensuring that there are no trees, rocks, or other objects that could hinder the placement of the container.
Check the ground for levelness and stability. If needed, consider laying a concrete foundation or using concrete blocks for a solid base.
Take into account any drainage issues and make adjustments as necessary.
Preparing the site well will set you up for success in creating a functional and efficient workspace in your container.
Insulate and seal the container
Creating a comfortable and energy-efficient workspace starts with properly insulating and sealing your shipping container walls, ceiling, and floor.
Shipping containers aren't typically insulated, so it's important to take extra steps to ensure a comfortable environment.
You can use insulation materials like spray foam or rigid foam boards to insulate the walls, ceiling, and floor and create a thermal barrier.
To prevent air leakage, make sure to seal any gaps or openings in the container.
Following these steps will make your workspace both comfortable and energy-efficient.
Install windows and doors
Enhance the natural lighting and ventilation in your workspace by installing energy-efficient windows and doors. This will create a comfortable and productive environment inside your shipping container office.
Low-emissivity coatings and double-glazing can help regulate temperatures, reducing the need for excessive heating or cooling.
Make sure the windows are securely installed and sealed around the frames to keep your workspace dry and energy-efficient.
With these details in place, you can enjoy a well-lit and well-ventilated space that promotes productivity and comfort throughout the workday.
Electrical and plumbing work
For a functional and efficient workspace, it is important to hire licensed professionals for electrical and plumbing work.
An electrician can install the necessary infrastructure, including electrical outlets, lighting fixtures, switches, and data connections. This will ensure that your office has enough power and connectivity for all your devices and equipment.
Similarly, a plumber can install plumbing fixtures such as toilets and sinks to provide a comfortable working environment.
Hiring these professionals can give you confidence that everything will be installed correctly and up to code. This attention to detail will help you create a workspace that meets all your requirements.
Flooring and interior finishes
Transform your office into a stylish and inviting space with the perfect flooring material. Whether you opt for laminate, vinyl, or carpet tiles, you can be sure of durability, ease of maintenance, and a wide range of design choices.
Laminate flooring is a cost-effective solution that mimics the look of hardwood, while being resistant to scratches and dents.
Vinyl flooring is versatile, waterproof, and perfect for high-traffic areas.
Carpet tiles provide comfort and can be easily replaced if needed.
Finish off the look with interior finishes, such as paint or wallpaper. Consider colors and patterns that match your brand or personal taste, creating an inspiring and productive space.
Furnish and decorate
Transform your shipping container office into a comfortable and inspiring workspace by selecting furniture and equipment that suits your needs and style.
Prioritize ergonomics when choosing desks and chairs to ensure productivity and comfort during long hours of work.
Maximize space efficiency with storage solutions like wall-mounted shelves or multi-functional furniture with built-in compartments.
Invest in additional equipment required for your specific line of work, such as a standing desk converter or specialized tools.
To make the space aesthetically pleasing, add personal touches such as plants, artwork, and other decorations that reflect your individuality.
Every detail counts when furnishing and decorating your office, so be sure to create an environment that is both functional and visually appealing.
Connect utilities
Connect your electrical and plumbing systems to the main supply, so you can power up your productivity and wash away any obstacles.
Ensure that all connections are properly installed and meet safety regulations. Doing this will create a workspace that is both functional and efficient.
To ensure the electrical system is safe, follow proper wiring techniques and use the correct materials. Test all outlets, switches, and lighting fixtures to make sure everything is working correctly.
For plumbing, pay attention to detail when installing pipes and fixtures. Install sinks and toilets correctly to avoid any leaks or water damage. Test the system by running water through all faucets and drains.
Final touches
Give your office the perfect finishing touches to make it both stylish and productive.
Start by adding some decorative elements like artwork or plants to bring life to the space. Adjustable lighting fixtures can be a great way to cater to different tasks throughout the day.
Invest in ergonomic furniture to promote good posture and comfort during long hours of work. Make sure to organize your equipment efficiently, keeping frequently used items close by.
To personalize your workspace, incorporate storage solutions that maximize space while still maintaining an organized appearance.
Don't forget about window coverings for privacy and sun protection – they can also add a touch of style.
These final touches will ensure that your shipping container office is both efficient and aesthetically pleasing, creating an enjoyable yet productive work environment.
Conclusion
In short, shipping container offices and workspaces offer a cost-effective solution for entrepreneurs looking to set up their own space.
Despite potential drawbacks such as limited space and legal considerations, these containers come with many benefits like mobility, durability, and sustainability.
With the right planning and an understanding of local laws, building a shipping container office is a viable choice for the modern age.