Greetings from Salt Lake City! 🙂
We are starting the new year off right here at Container Home Hub with another incredible exclusive! The owners of Mod3 Design shared with us one of their newest tiny shipping container homes with an asking price of $85,000. It is clear through our last post that you, our readers, really enjoy getting the scoop on new container homes all over the world.
From Mod3 Design:
Named after our Head Interior Designer, our first ABODE³ prototype build is something that we are extremely proud of. We took liberties with this build and pushed ourselves beyond our comfort zone to prove just what could be done with shipping container architecture. This 320 sqft studio unit is fully customized with unique touches such as sleek matte black kitchen cabinets, handmade encaustic tile in the huge walk-in shower, limewashed plaster walls, and wood furnishings that have been finished in the "Shou Sugi Ban" ancient Japanese technique.
The interior design on this particular unit was done by Chelsea Ridd, who not only picked out and helped with installing the finishes such as tile, trim, fixtures, etc. for the ABODE³, but also single-handedly furnished and staged this unit for our Open House events.
The combination of warm and cozy accessories with loungy, comfortable furniture makes you feel welcomed as soon as you enter through the front door. The 'boho-chic' styling of the space begs you to lay back on the couch, kick your feet up on the ottoman, and gaze around at all of the details and features of this beautifully modern ABODE³.
One of the details that we are especially proud of, is how we chose to hide the seam that exists when two containers are joined. At the walls, we used Knotty Alder to create pillars/columns that add texture and give the appearance that they are structural load-bearing points. Then, on the ceiling, we installed a custom fit LED channel that spans the length of the containers and provides warm ambient lighting that can be dimmed to fit your mood. These small but important details, help hide the fact that you are in a modular structure and truly make the entire unit feel as though it is one.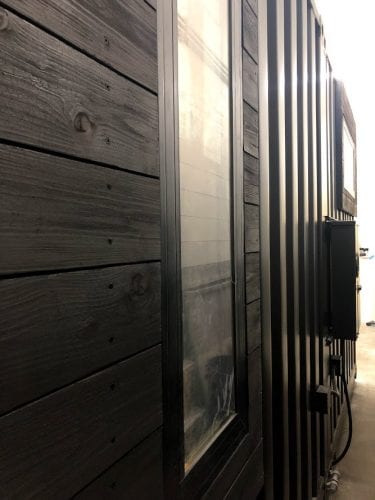 Just beyond the living area of our ABODE³, is the bedroom. Big enough for a queen bed, it also contains a ceiling height wardrobe that houses the LG all-in-one washer/dryer, energy efficient tankless water heater, and an abundance of closet space. For even more storage, the bed we chose for staging also provides three additional drawers for clothes, sheets, linens, etc.
Since our ABODE³ is an open floorplan studio unit, we decided to build a custom divider that creates separation from the main area while still allowing it to feel open and spacious throughout. Finished in the Shou Sugi Ban technique, the divider also serves as shelf space for any knick-knacks, thingamajigs, and whatnots you may want to display.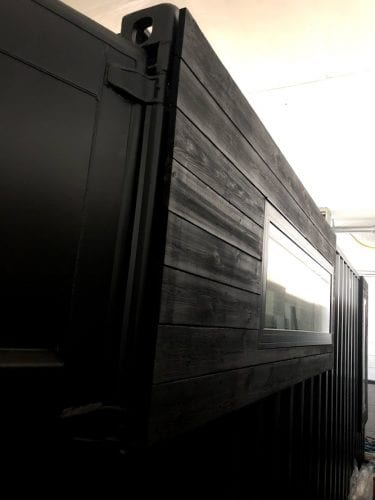 A small shelf, finished in the same technique, serves as a nightstand and a place to set your phone or other devices while they are plugged into the 3.6A USB charging outlet.
Dark. Moody. Sexy. The bathroom of the ABODE³ is perhaps the one room that is capable of stealing the entire show. Once you step in, you just don't want to leave.
This spacious and luxurious bath is painted in black limewash paint and gives the walls such a hypnotizing texture, your eyes need your hands to confirm that it's in fact not an illusion.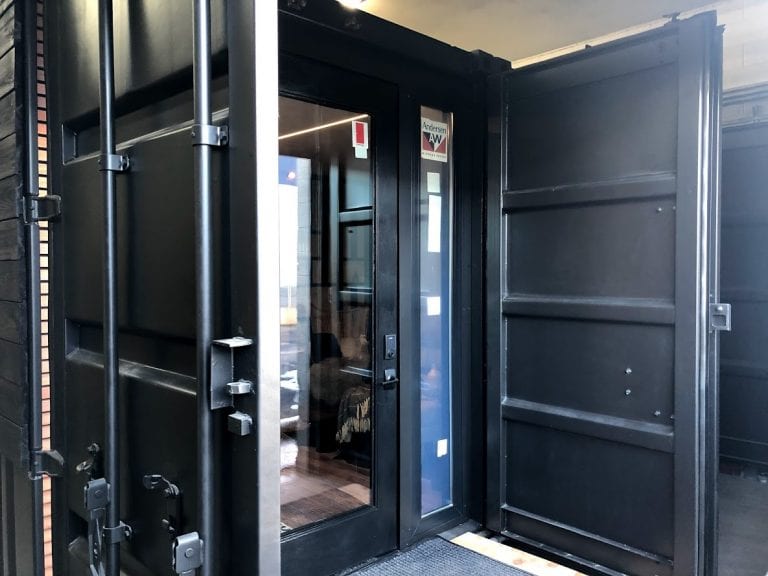 A custom vanity, designed from a West Elm midcentury modern dresser, topped with white quartz and an oval vessel sink, sits at the entrance while a dim, Edison bulb-lit pendant lamp and gorgeous custom sunrise mirror and shelf float overhead. Meanwhile, the ceiling-mounted full height custom barndoor made from charred and brushed Cedar closes behind you and brings privacy and even more richness to the space.
The beautifully tiled, curbless walk-in shower is accented by an Encaustic Cement Tile wall. These rich, black, starburst-patterned hexagon tiles were arranged to form geometric triangles that draw your attention to the open, spa-like retreat. A planter box has been custom-built into the window ledge and brings the outside-in by allowing beautiful greenery to take advantage of the warm, steamy shower air.
The kitchen of our ABODE³ follows the same dark, sleek aesthetic that is seen throughout the unit. Matte Black IKEA cabinets (made from recycled water bottles) are topped with a granite countertop in 'Absolute Black', and house a Black Stainless Steel refrigerator from Samsung, and Toshiba Toaster Oven.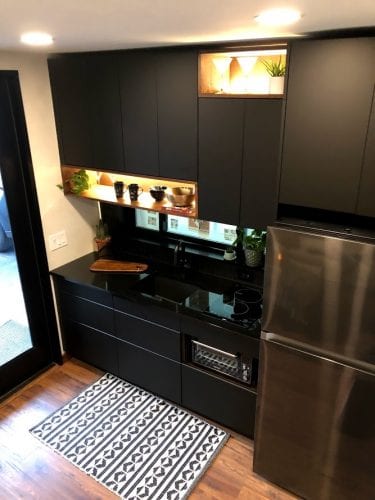 For those that love to cook, a two-burner inductive glass cooktop from Summit Appliances makes the most of the counter space. Inductive cooktops are not only more efficient, but they are also less dangerous as all heating happens inside of the specially designed cookware which is included with this set. In the center, a matte black Delta kitchen faucet hovers above a generously sized, single-bowl black quartz sink. Up above, two custom-built Knotty Alder open-shelf boxes are backlit by LED lighting, allowing you to show off your best glassware or favorite plants.
With an all-black color scheme, some might think the exterior of our ABODE³ looks, well, stealthy. But don't be fooled. Even though it's wrapped in Sherwin Williams DTM 'Black Magic' and accented by Shou Sugi Ban charred Cedar Siding around the black Andersen Windows, there's no way this beauty is flying under anyone's radar. Once our ABODE³ is installed on its foundation, it will receive a modern monopitch roof that will slope upward toward the front of the home and provide over 4ft of overhang and protection from the elements.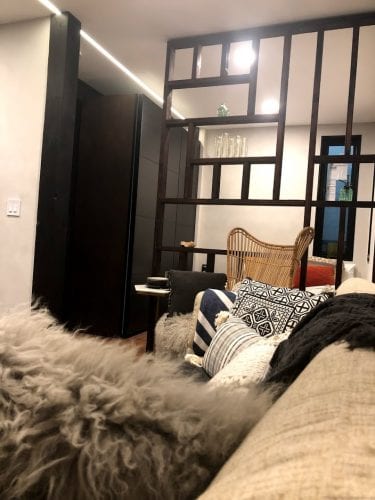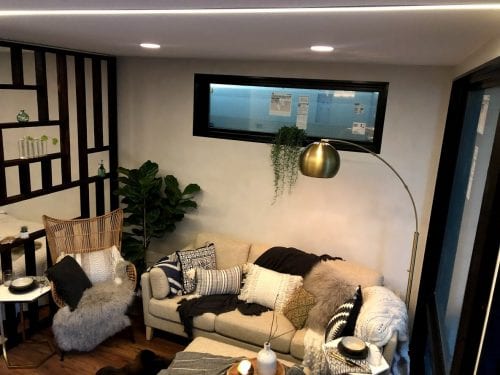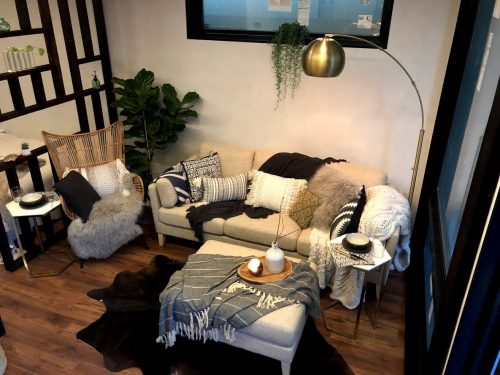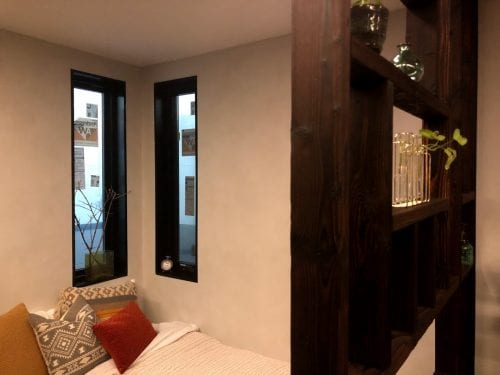 Features:
Exterior Finishes
Exterior Paint in Sherwin Williams DTM Black Magic'
'Shou Sugi Ban' Charred Cedar Shiplap Siding*
Modern Entrance Wall with Redwood Slat Siding*
Sand Black 2-Light Integrated-LED Wall Mount Entrance Lamp
20A GFCI Outlet with Black While-in-use Weatherproof Outlet Cover
Monopitch Roof with 4' Front Deck Overhang
Kitchen:

Samsung Top Freezer Refrigerator in Black Stainless Steel
Summit Two-Burner Digital Induction Cooktop with 7-piece Cookware Set
Toshiba Digital Convection/Toaster Oven in Black Stainless Steel
IKEA Kungsbacka Cabinets in Matte Black
3CM Granite Countertop in 'Absolute Black'
Jet Black Basalt Picket Limestone Mosaic Backsplash
Delta Trinsic Faucet in Matte Black/Black Single Bowl Quartz Undermount Kitchen Sink
Knotty Alder Box Shelves with LED Ambient Lighting*
Living & Sleeping Area:

Open Concept Living
8'5" Ceiling Height Throughout
8' Therma-Tru Full-lite Door with Low-E Glass in Sherwin Williams Sher-cryl 'Tricorn Black
Schlage Latitude Lever and Z-Wave Touchscreen Deadbolt in Matte Black
Andersen 100 Series Low-E Double-glazed Composite Windows Throughout
8' x 8' Window Wall in Living Area
Recessed LED Wafer Lighting
Recessed Full-length LED Channel Ambient Lighting**
Plastered Drywall Finished in Limestrong 'Umber' Limewash
'Shou Sugi Ban' Knotty Alder Columns*
Lutron Rocker Switches and Diva CL Dimmers
Leviton 20A Tamper Resistant Outlets (3.6A USB Outlet in Bedroom)
Distressed Brown Hickory Laminate Flooring
Knotty Alder Baseboards
'Shou Sugi Ban' Doug Fir Room Divider*
Sleeping Area Accommodates Queen-sized Bed
'Shou Sugi Ban' Doug Fir Bedside Shelf*
Black Recessed Window Casing
Shelving/Built-in IKEA PAX Wardrobe*
Full-height 'Shou Sugi Ban' Cedar Sliding Bathroom Door*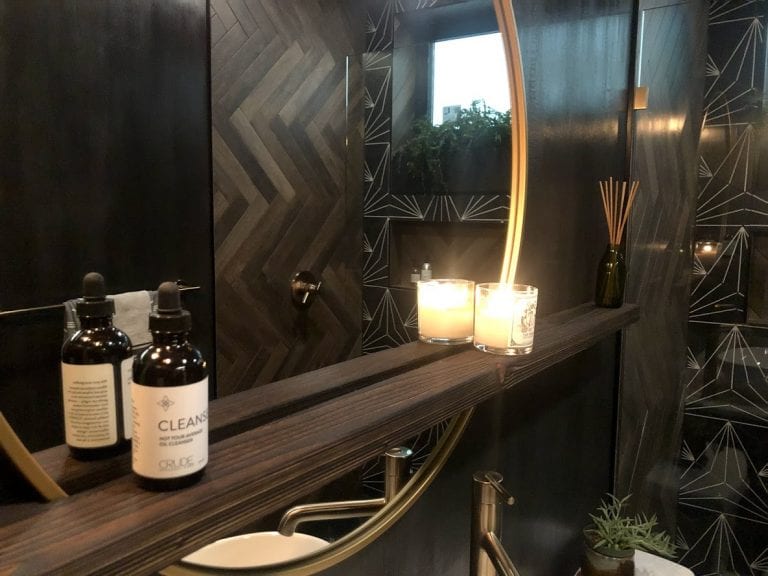 Bathroom:

West Elm Wright Mid-century Modern Vanity with Brass Drawer Pulls*
2CM Quartz Countertop in White Marble Effect
White Vitreous China Oval Vessel Sink
Delta Trinsic Faucet and Bathroom Fixtures in Champagne Brass
Plastered Drywall Finished in Portola Paints 'Gray Matter' Limewash
Delta Foundations 2-piece Elongated Toilet in White
32" Brass Round Mirror and 'Shou Sugi Ban' Redwood Sunrise Shelf*
West Elm Sculptural Glass Globe Pendant
35"x78" Frameless Glass Shower Panel
Diagonal Pattern Multi-width Wood Plank Porcelain Floor Tile in 'Midnight Black'
60" Full-width Linear Shower Drain with Tile-insert
Herringbone Pattern Wood Plank Porcelain Shower Wall Tile in 'Carson Ridge Brown'
Geometric Triangle Pattern Hexagon Encaustic Cement Accent Shower Wall Tile in 'Nola Black'
Shower Window 'Shou Sugi Ban' Cedar Planter Box*
Delta Trinsic Ceiling Mount Rain Shower Head in Champagne Brass
Delta Breez 50 CFM Whisper-quiet Bathroom Fan
Energy Efficiency:

All LED Lighting/Energy Star Appliances
R-21 Closed-cell Spray Foam Insulation in Walls
R-35 Closed-cell Spray Foam Insulation in Subfloor
R-21 Closed-cell Spray Foam Insulation + R-30 Rigid Foam Insulation in Ceiling (R-50+ Total)
Low-E Double-glazed Andersen Windows
Low-E Double-glazed Therma-Tru Entrance Door
High Seer Energy Efficient Mini Split Heat Pump
Energy Efficient Propane Tankless Water Heater
Square-D Homeline Solar-Ready Electrical Panel
So what do you think? Would you live here? 🙂
Information Source: MOD3 Design
Photo Source: MOD3 Design
» Follow Container Home Hub on Facebook for regular shipping container home updates here «