Greetings from New York! 🙂
Situated on nine acres of fields and woodland, this shipping container home is tucked into a secluded oasis a mile from the hamlet of Tivoli, New York. This house was designed and built by Arnaud Cornillon as a model for sustainable living. It seems like a very charming and comfortable house; perfect for brainstorming retreats, family, or friends coming together.
The exterior has a quirky feel that is perfect for artists, writers and all manner of luminaries. We love how the rawness of this shipping container house is bared for all to see. It is one of the things that makes it so interesting to look at.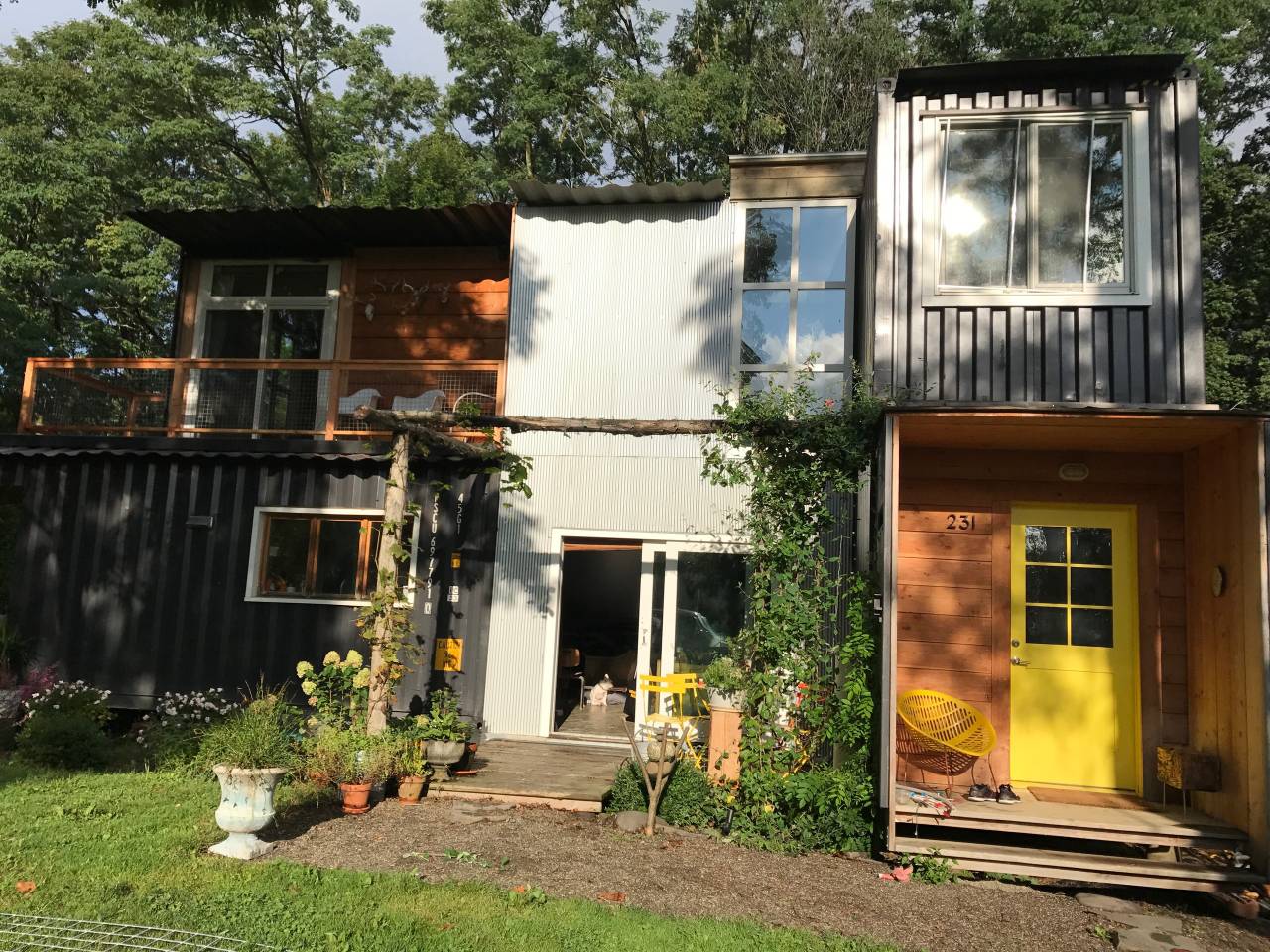 We love the mismatched original paint of this shipping container house and the way it pays homage to the containers' intended use. One of the main reasons to build a shipping container house is to upcycle things that might not otherwise be used. This is a great way to showcase that in a modern, but rustic way.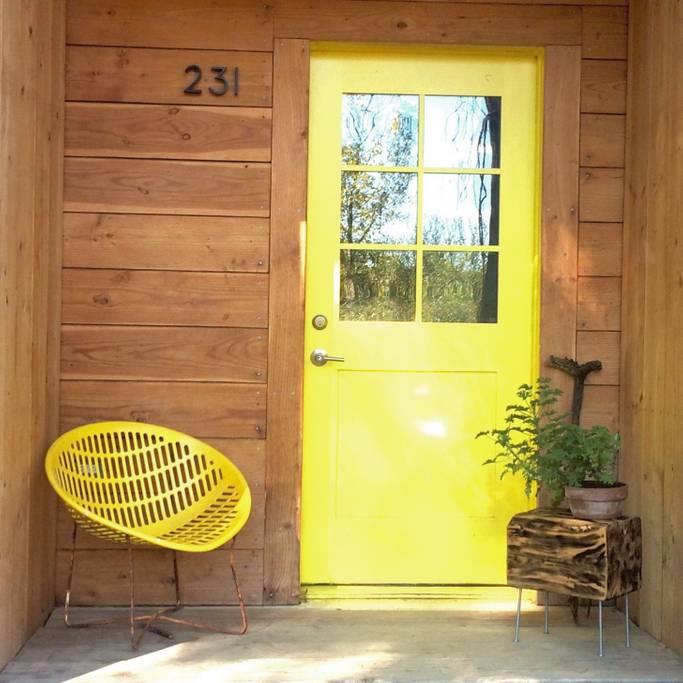 One enters on the ground floor to an open floor plan, with large windows on all sides. There is a floating staircase leading to the second floor, where the bedrooms and two bathrooms are located. Each bedroom has a balcony and the master has an electric fireplace.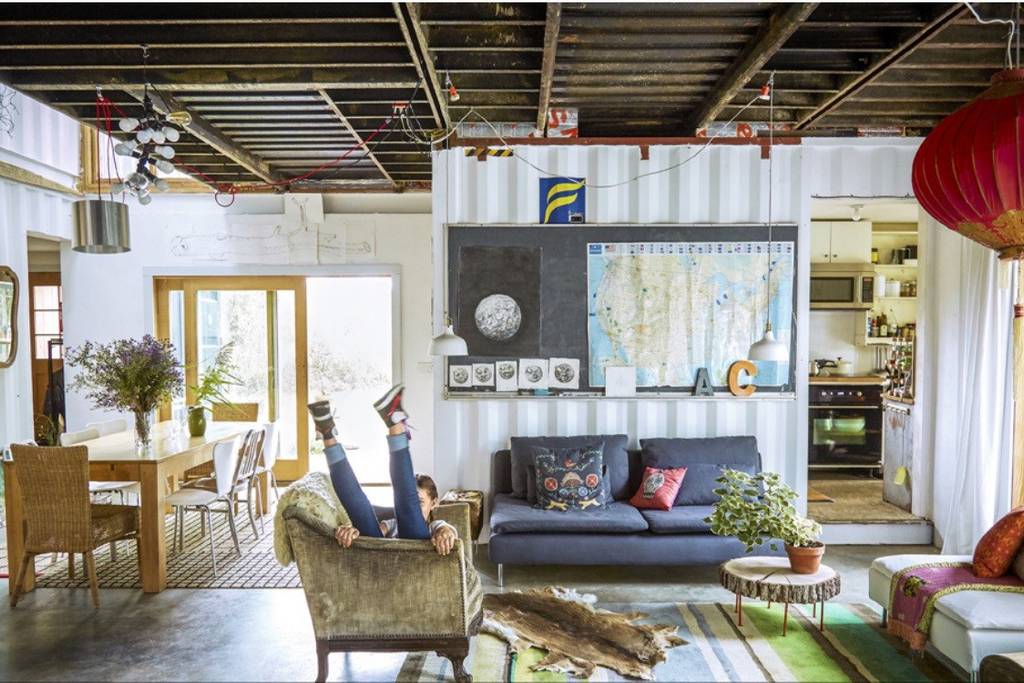 The interior is just as fun and funky as the exterior. The complex pattern of beams on the ceiling give an amazing illusion of height that is perfect for making any shipping container house feel taller. When a home is short on space, this is always a welcome feature.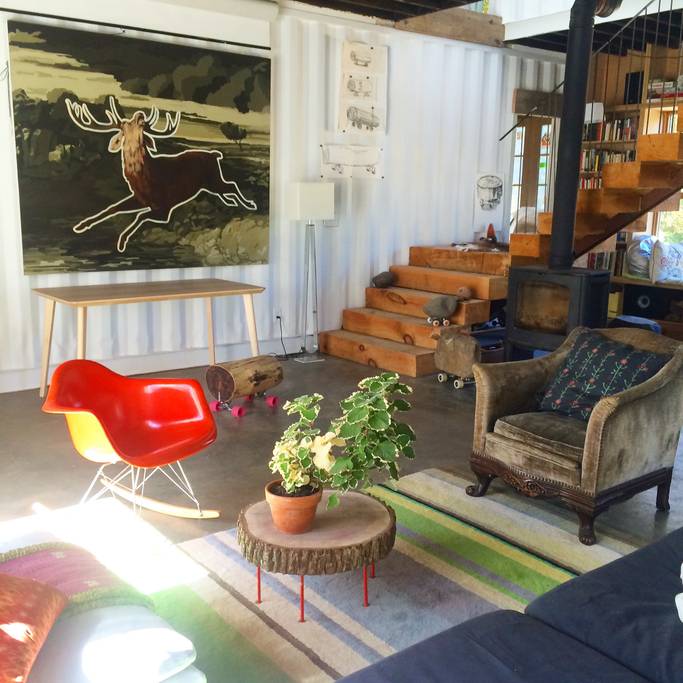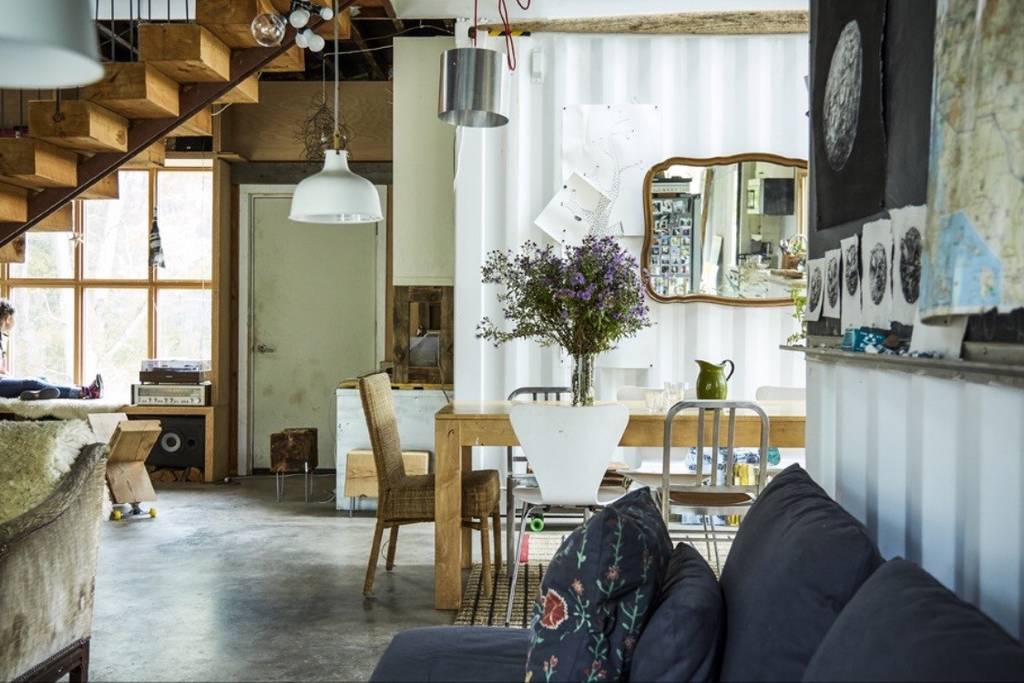 The corrugated metal siding of the containers and the polished cement floors give off a modern, industrial feel. Combining this with the soft, rustic furnishings creates a contrast that we love to see in any shipping container house. It creates a feast for the eyes that feels both brand new and lived in at the same time.
The covered terrace is by far one of the most interesting features of this shipping container house. Combined with the Victorian-style chandelier, it brings a touch of class to the outdoor eating area. We love the clashing styles here and feel that it gives the whole shipping container house its own, unique style.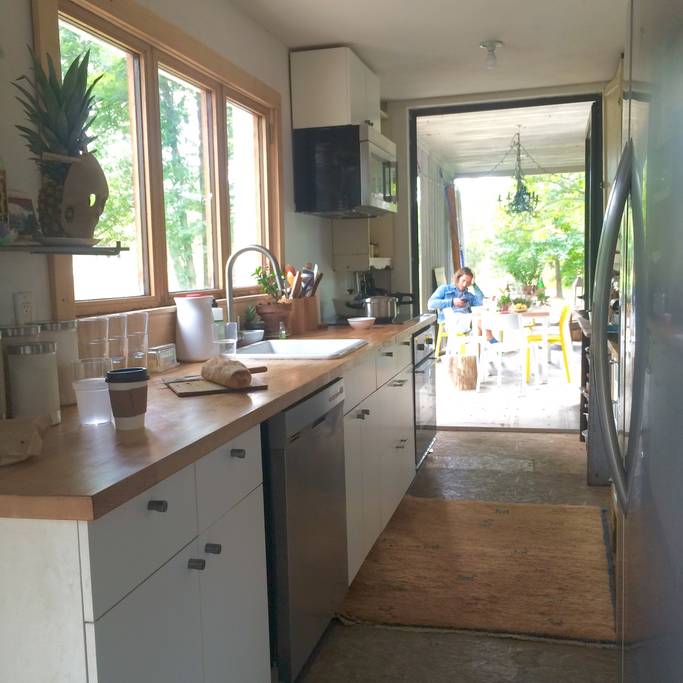 The bedrooms are a stark contrast to the rest of the house. These inner sanctuaries have a clean, contemporary look that is uncluttered and very different from the rest of this shipping container house.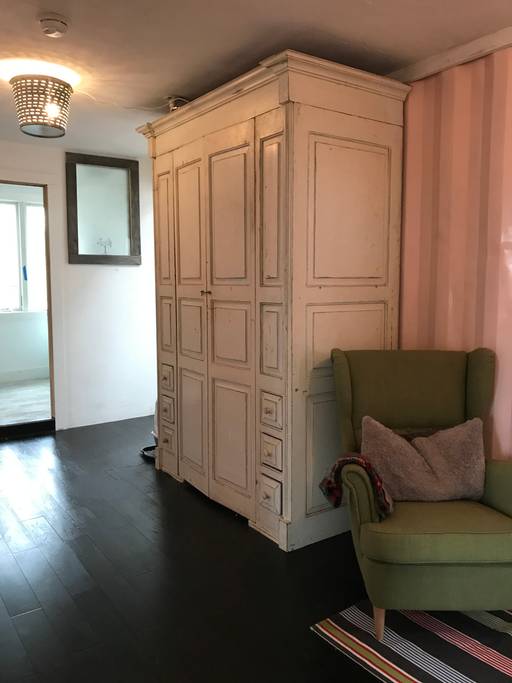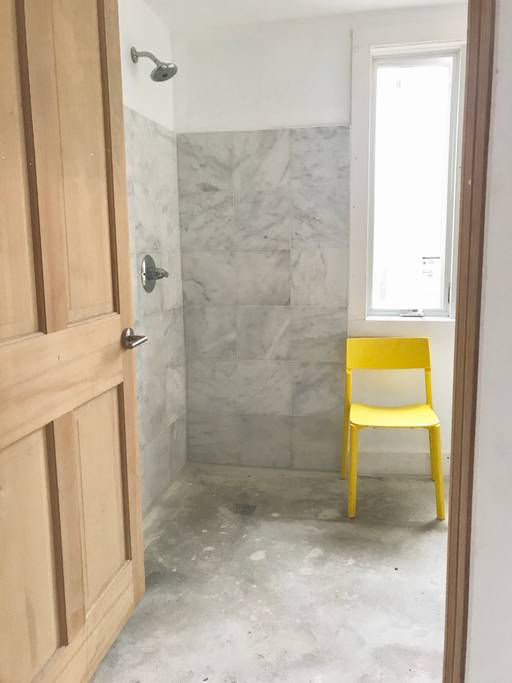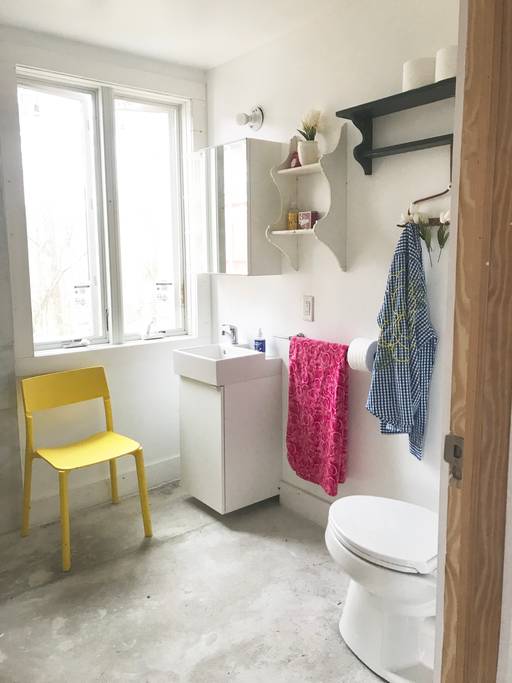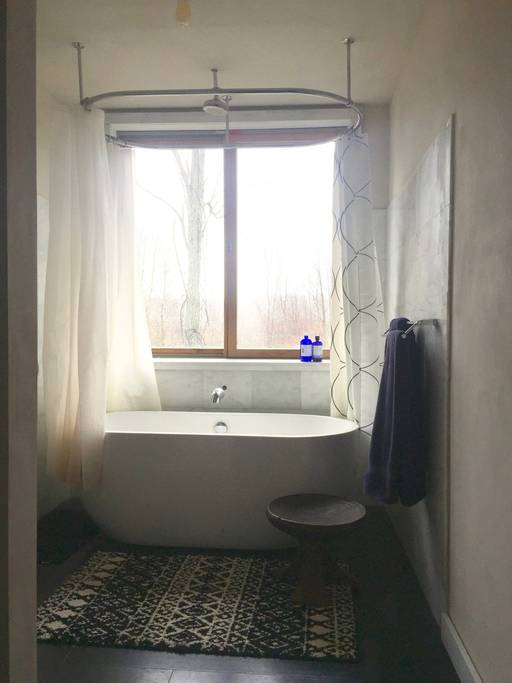 The bathroom is also wonderfully decorated with a large, vessel tub and a picture window for daydreaming with an afternoon bath. We love the dark flooring and the way that it contrasts with the rest of the bathroom's furnishings.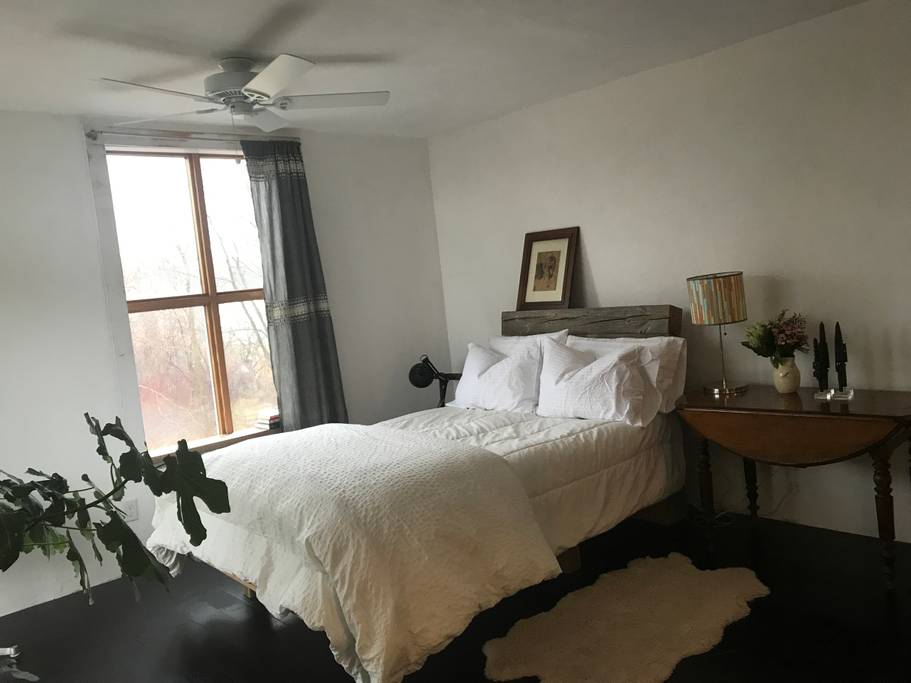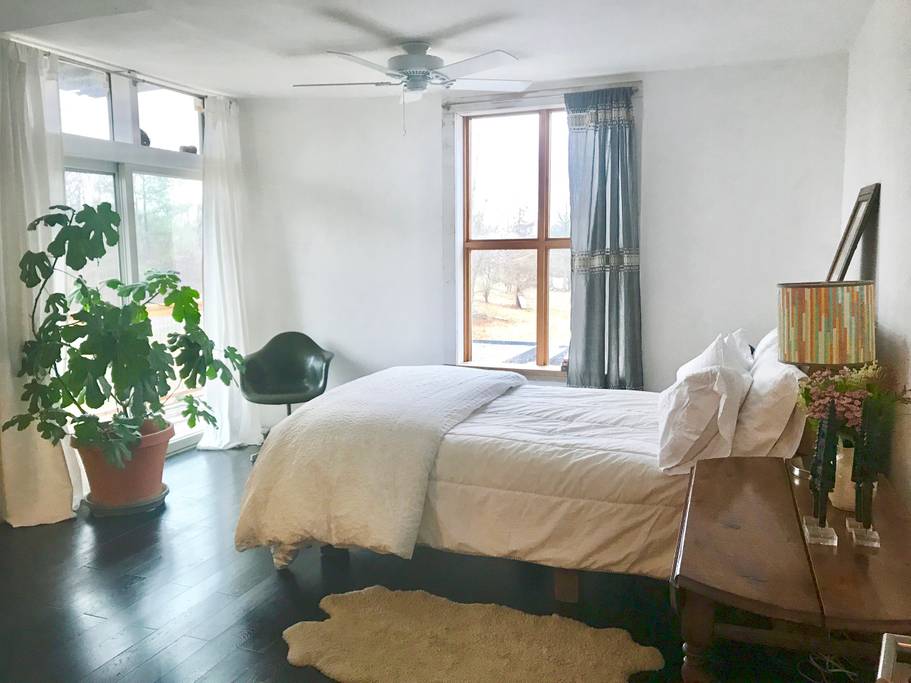 A radiant floor gives a gentle warmth and ceiling fans a summer breeze. Enjoy outdoor meals on the covered terrace and breakfast under the honeysuckles for a unique stay you will never forget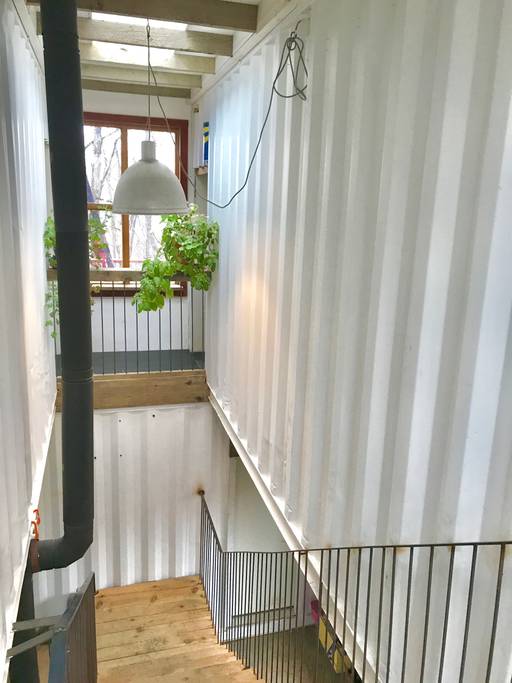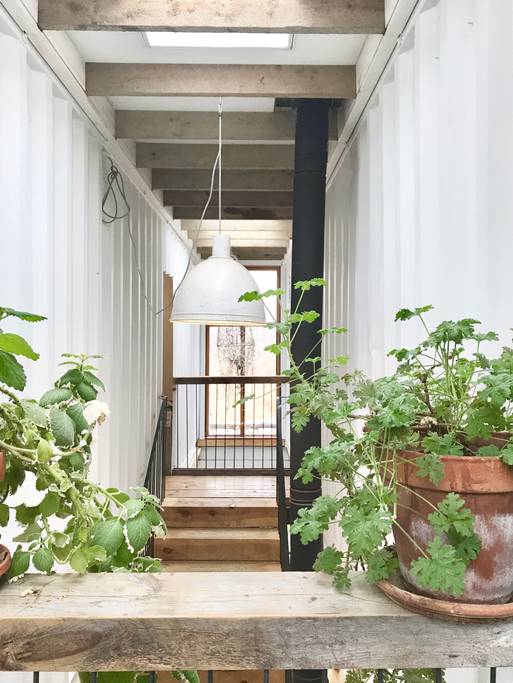 The outdoor area is just as kitschy and beautifully decorated as the interior. With a rock garden and a partial wraparound porch, there are almost no spaces in this shipping container house where you won't find something intriguing and beautiful to enjoy.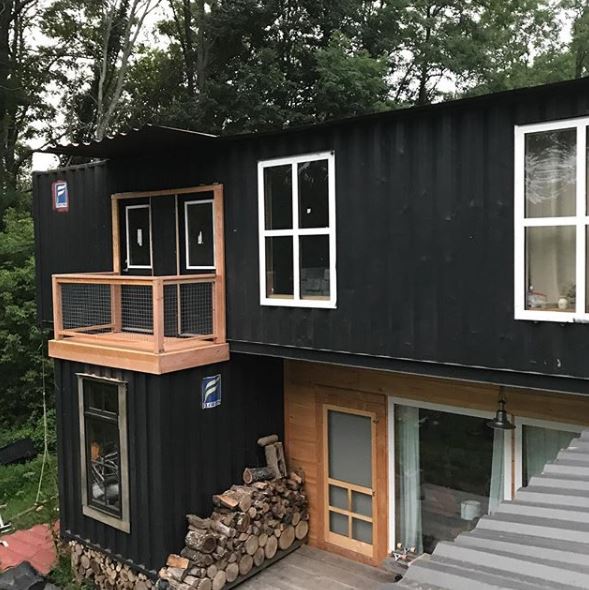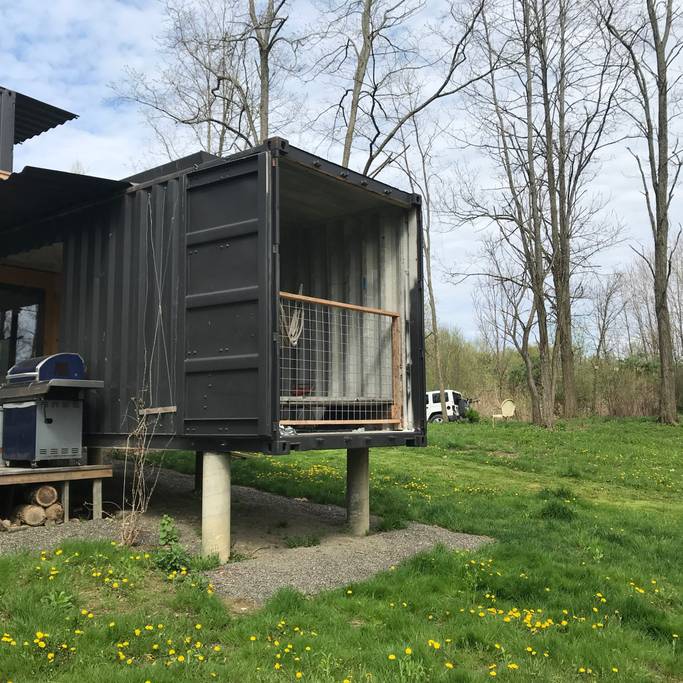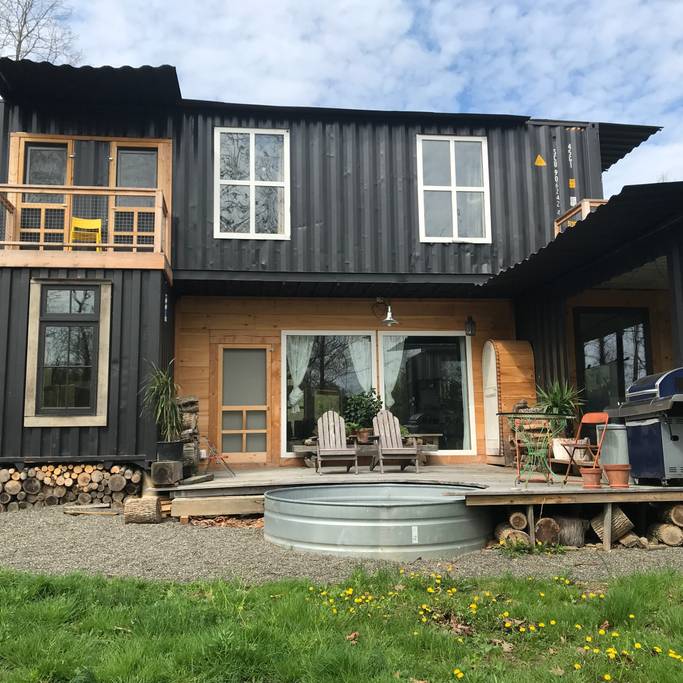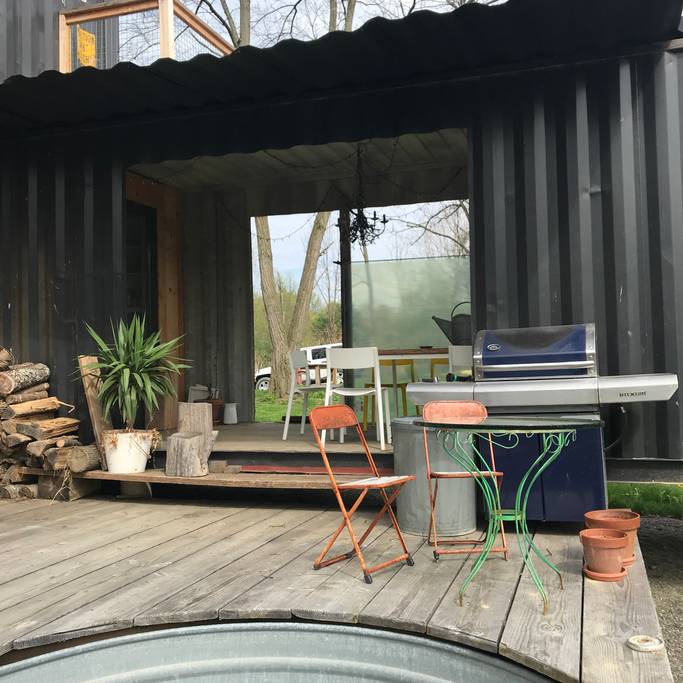 Across the road from Tivoli Bays, 1,722 acres of protected conservation land, with extensive hiking trails, and a canoe launch, and a short walk to Bard College. It is easy to take a three hours stroll along the bays and not cross a single road from across our driveway.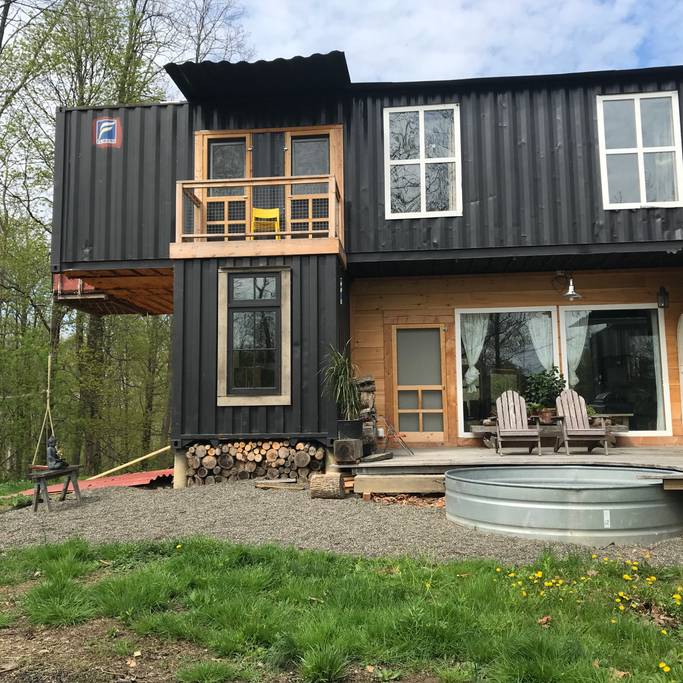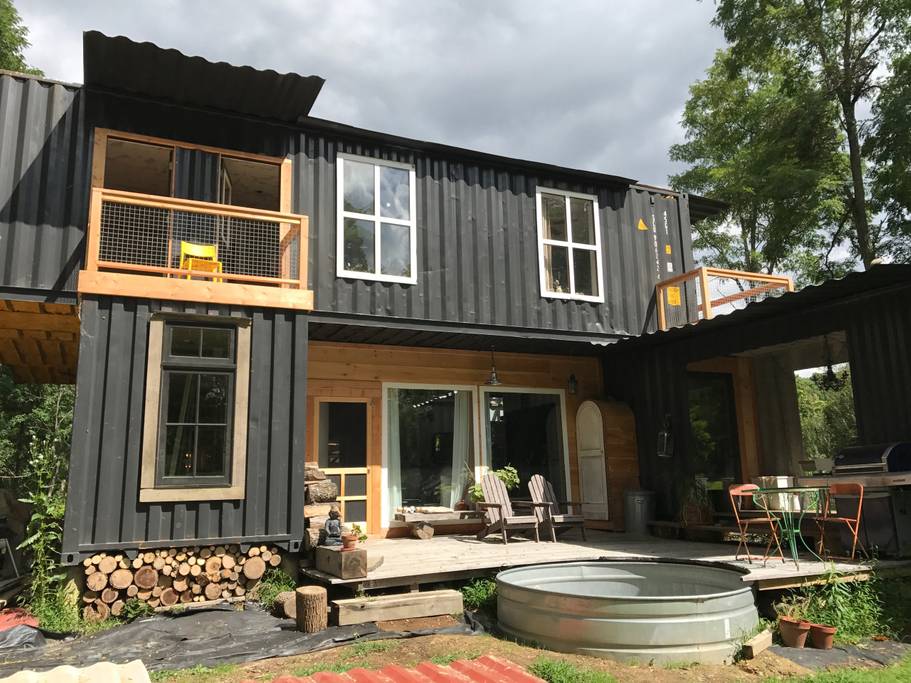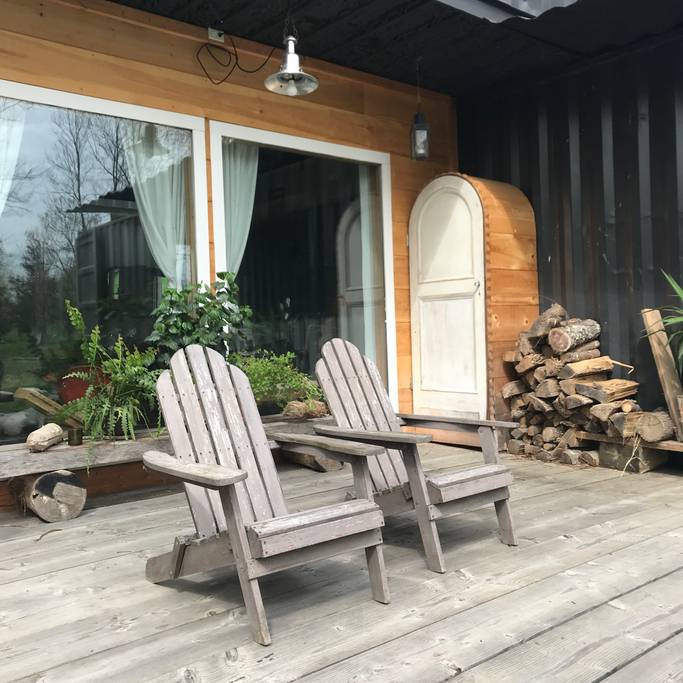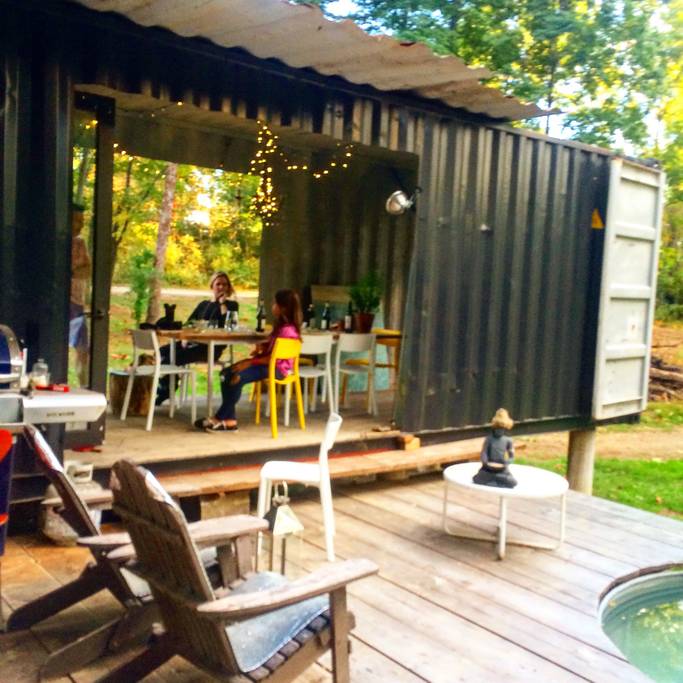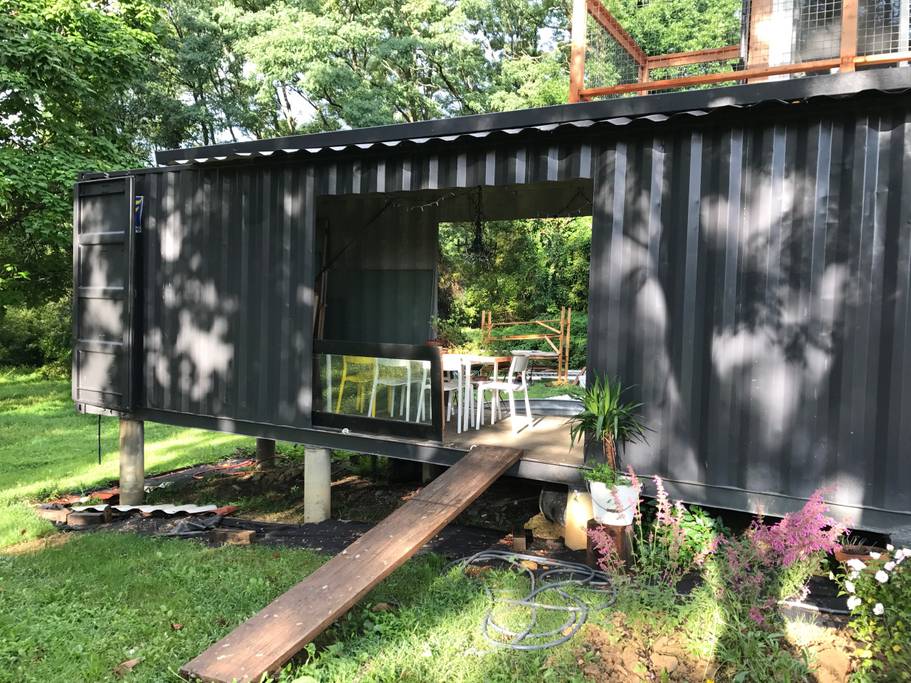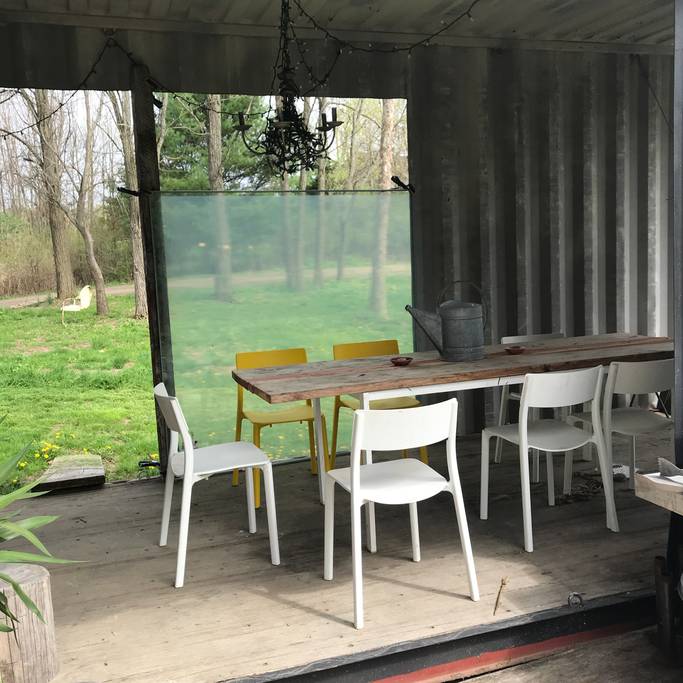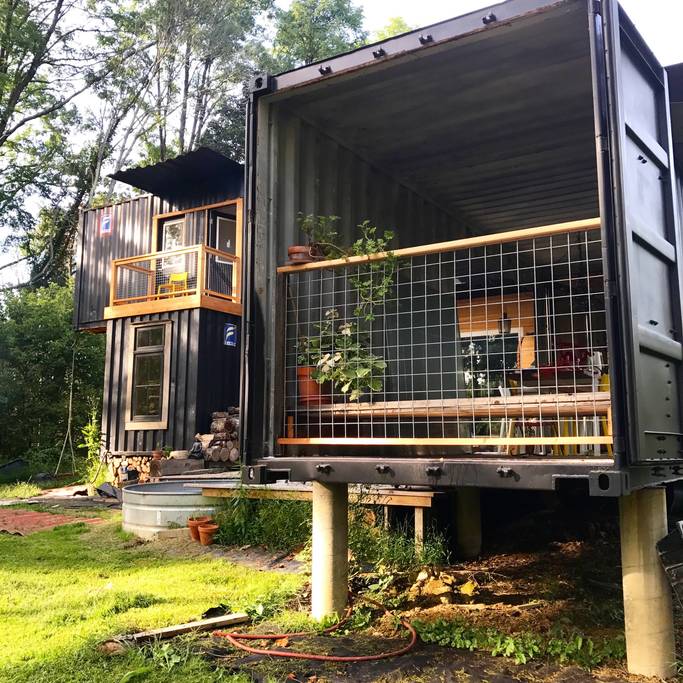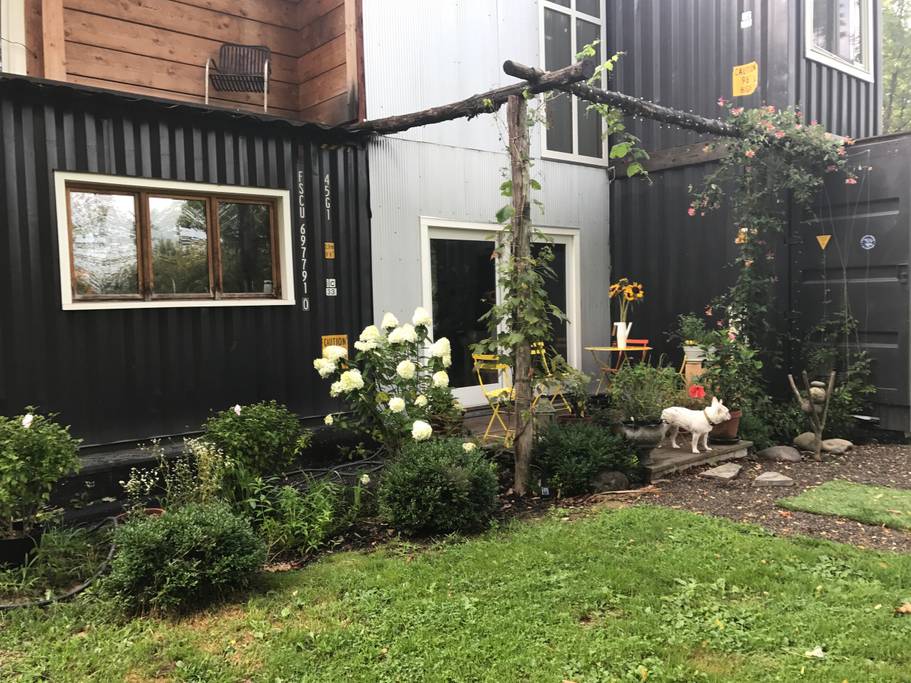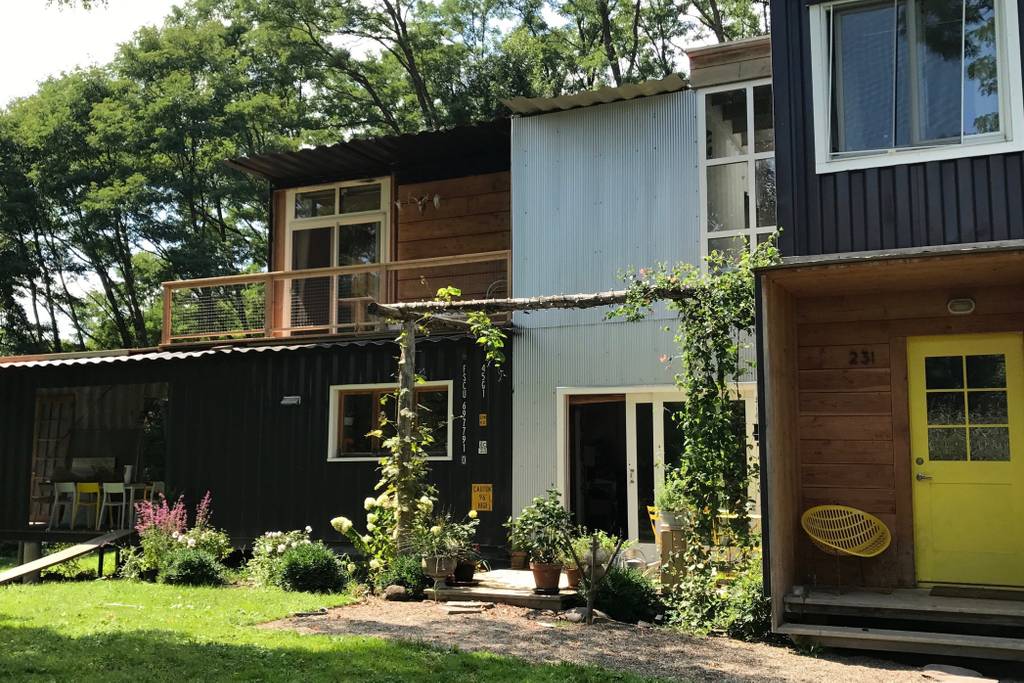 Located between Hudson and Rhinebeck, it's an ideal location to visit Olana, Claremont, Montgomery place, Art Omi, the Fischer Center, Opus 40, the Duchess county fairgrounds, and many exquisite restaurants.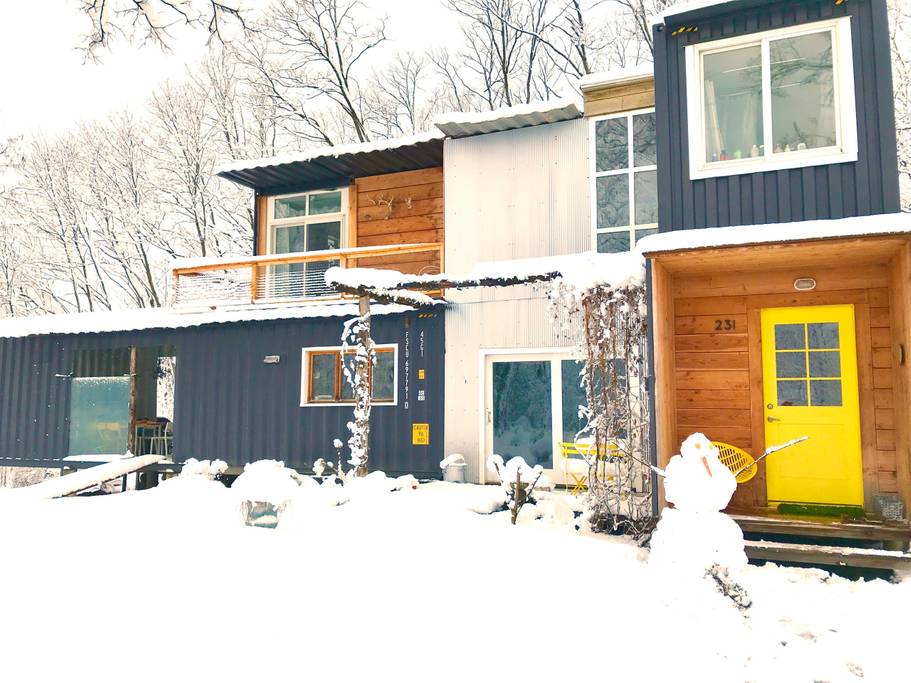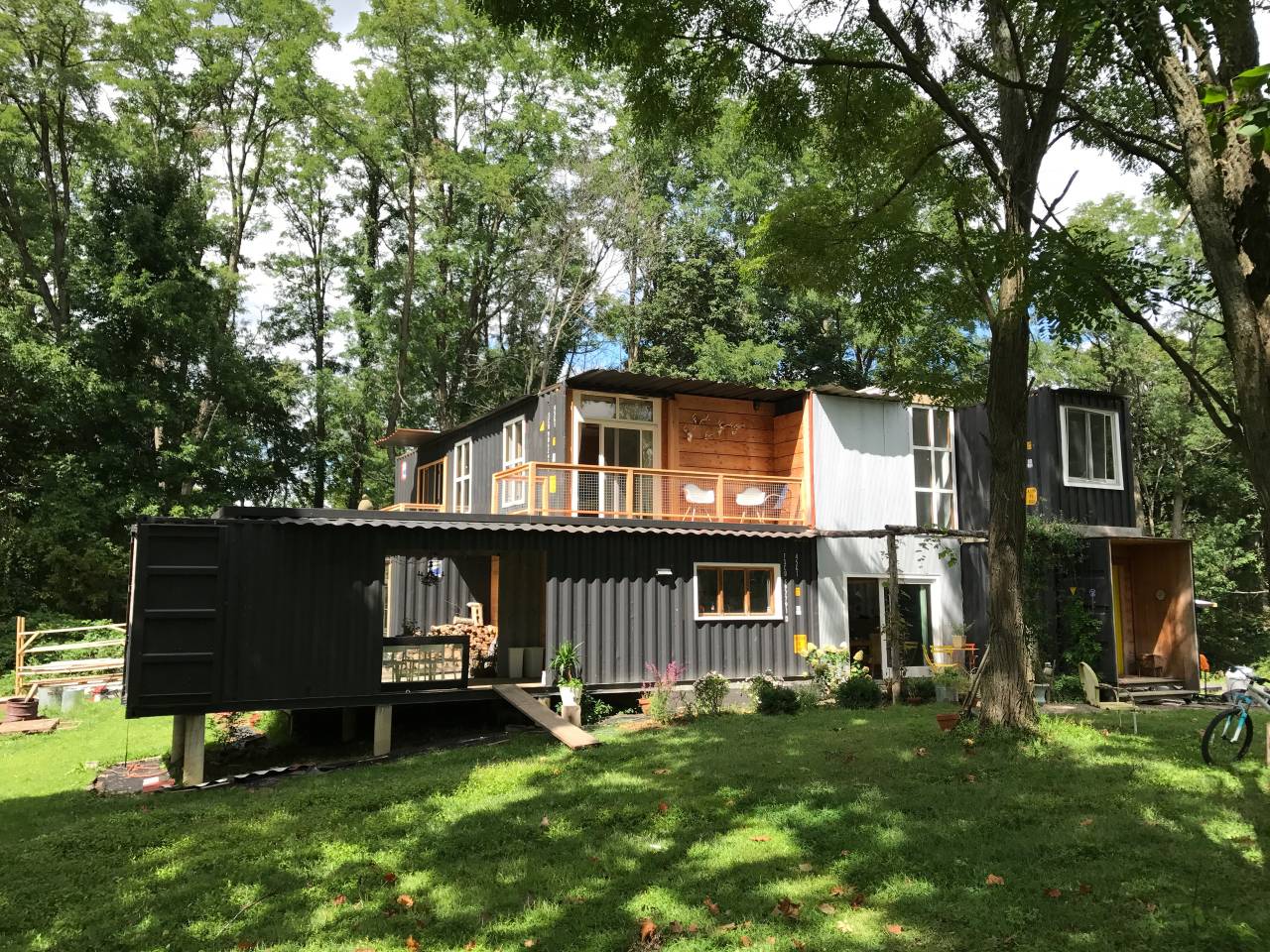 While researching this container home on Airbnb after first seeing it on Instagram; you can either rent the entire home, the first guest bedroom, or the second guest bedroom. How cool is that?! Such an impressive shipping container house!
So what do you think? Would you stay here?
Information Source: Airbnb
Photo Source: Airbnb
» Follow Container Home Hub on Facebook for regular shipping container home updates here «