What if you could commit to long-lasting, sustainable living without breaking the bank? If you have dreamed of designing your perfect home but have been turned off by the schedule, cost, and material waste created by a new build, you should consider investing in a shipping container home in Iowa.
Originally designed by an American businessman to ease the shipping of international goods, steel frame shipping containers have been reimagined as schools, hostels, and, most recently – single-family homes. Since the early 2000s, shipping container homes have only been growing in popularity!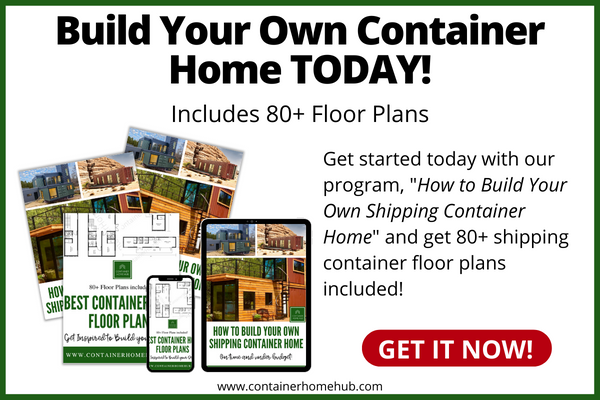 Read on to learn more about the shipping container home trend and how you can start building a shipping container home in Iowa today.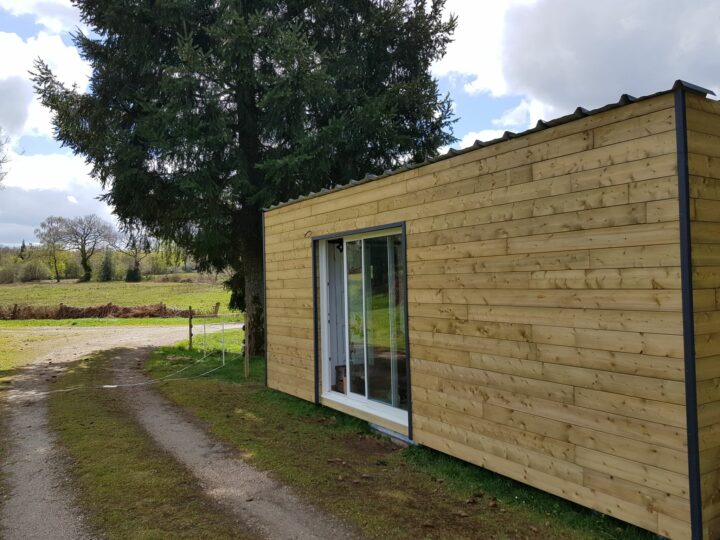 Shipping Container Homes in Iowa
Iowa may house more pigs and presidential primaries than any other state in America. But its high amount of state-wide agricultural land also means you can combine the peace and quiet of farm life with your new shipping container home build. Or, with the affordable cost of a shipping container home, you can purchase land near the bustling urban spaces of Cedar Rapids or Des Moines. Your budget-friendly custom home in Iowa is easier than ever with the help of shipping container homes!
There are only three steps you need to consider when building a shipping container home in Iowa – the location, the layout, and financing. Once you purchase the land and have designed the floor plan, your shipping container home can be constructed in as little as eight weeks.
What is a Shipping Container Home?
Shipping containers have been redesigned for a variety of uses since their invention in 1956. But it's thanks to an Australian couple in 2012 that we now have an international vision of converting shipping containers into residential spaces.
A shipping container home combines creativity and repurposed materials to give you one of the newest trends in custom homes. It's exactly what you think it is – a shipping container that has been transitioned into a cozy living space. You can achieve the sleek facade of a modern building without having to pay for the construction of a new building. And because the frame for a shipping container home already exists in the form of a steel freight container, all that's left for you to dream up is the floor plan!
Why Should I Build a Shipping Container Home in Iowa?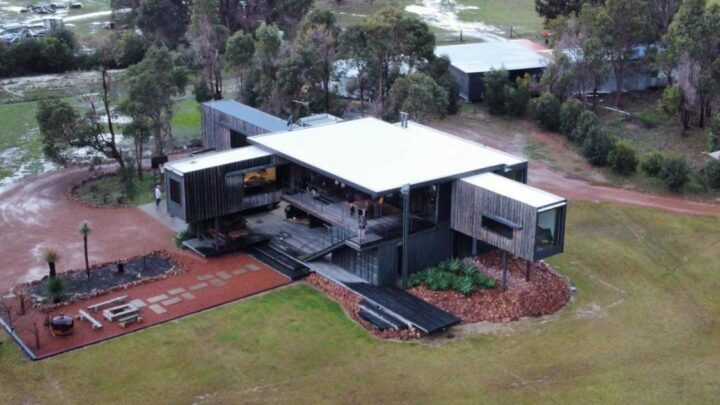 With the help of a shipping container home, you can commit to eco-friendly living in a durable and affordable housing structure. You will decrease your carbon footprint through the open concept of a small shipping container home that will last for years. Or the easy interlocking design of shipping containers means you can combine several together to customize the square footage of your home.
These houses require little foundation support, which can also decrease the cost of your new build. On top of this, because shipping container homes were initially designed for transport ("shipping" is in the title), the materials for your home are easier than ever to get to your building site!
Commit to a unique structure and budget-friendly design when you start your shipping container home project today!
How Much Does a Shipping Container Home in Iowa Cost?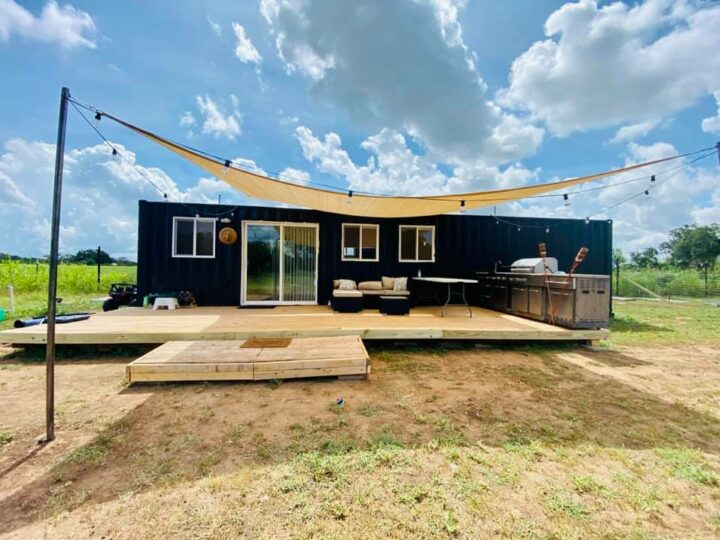 Shipping container homes are one of the most affordable new-home builds on the market today, but that means it's more important than ever to keep your budget in mind. If you want to keep costs low, then you need to be prepared to compromise on square footage or that second-floor balcony off the master suite. By understanding where you most want to spend your money in your new construction, you can design a shipping container home that perfectly fits your budget.
A shipping container home in Iowa will usually cost somewhere between $15,000 and $50,000. In contrast, the average cost of a traditional newly constructed home in Iowa is around $550,000. And unfortunately, the price of housing materials has only increased recently.
When you compare the price range of a shipping container home to the average traditional home new build cost in Iowa, you can better understand the value of investing in a shipping container home. You will still need to purchase the land where you plan to build your shipping container home in Iowa, but even this addiction will keep the overall cost of your shipping container home construction at a much cheaper level than a new traditional build. Plus, the value of your shipping container home will only increase as the housing trend grows!
Shipping Container Home Builders in Iowa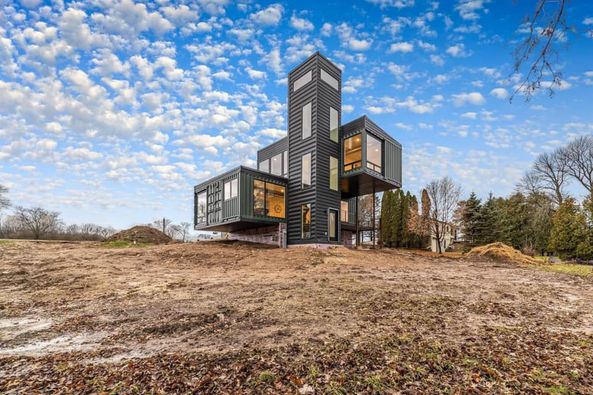 Next to purchasing the land for your new shipping container home build, choosing a quality builder for your shipping container home is crucial. You want to make sure you connect with a company with experience in building shipping container homes and working with metal building construction. This is how you will guarantee your shipping container home's high standard and eco-friendly longevity.
While Iowa does not currently have any construction companies that specialize in shipping container homes, there are several reliable builders whose work experience would apply to a shipping container home project. Read on for two great construction companies that would work as shipping container home builders in Iowa:
Bart Ruba Construction, Inc
Bart Ruba is an expert construction company based out of Iowa City. With the company's 18 years of experience with metal and post-frame buildings, they would be a great contender for your shipping container home construction.
Heritage Building Systems
Heritage Building Systems is based out of Little Rock, Arkansas, but they proudly serve Iowa as well. With their background in customized metal building construction, they can help your shipping container home become a reality.
Shipped.com helps buyers learn what shipping container is suitable for them and help them. With over 60 depots and thousands of containers on hand, they offer great prices for shipping containers. They have online direct checkout and a digital cart to help you find what you are looking for!
Midwest Storage Containers
Voted the best place to work in 2022, Midwest Storage Containers is a great place to find your next storage container to suit your need. Whether you are looking for a new or used one, they will help you find the one that is right for you.
Harper Steel
Harper Steel has been in business since 2001. They have been providing high-quality shipping containers for their customers since then. They have 10, 20, and 40 shipping containers available for you to choose from.
Designing a Floor Plan for a Shipping Container Home in Iowa
After purchasing the land for your shipping container home in Iowa and connecting with a shipping container home builder you can trust, you need to consider the floor plan for your shipping container home. Your ideal floor plan for your shipping container home will determine how many shipping containers you need to purchase and where you most want to stretch your budget.
For example, do you want to create a custom shipping container pool, or do you want to aim for a rustic design for your shipping container home? How many bedrooms and bathrooms do you want in your shipping container home? Are you aiming for a tiny home layout, or do you want to create a larger custom shipping container home? Make sure you have a list of the top custom details you want to be included in the square footage of your home to better determine the actual size you want your shipping container home to be.
Are you still waiting for inspiration to strike for your shipping container home design? You don't have to start from scratch on shipping container home ideas, thanks to our shipping container home gallery.
To help get your creative construction brain going, check out these five homes from our shipping home container gallery:
How to Finance and Get Insurance for your Shipping Container Home in Iowa
Many individuals are initially attracted to shipping container homes because they lost their previous houses in a natural disaster. While shipping container homes are more resilient and long-lasting than other traditional builds, building and home insurance will guarantee the money you invest in your new shipping home container is never lost.
However, it's important to note that obtaining financing and insurance for shipping container homes isn't always easy. The main reason for this is that insurance companies and mortgage lenders have not updated to match newer housing trends, and as a result, they don't know how to determine the value of your new home.
The best way to guarantee financing for your shipping container home in Iowa is to ensure you are informed. Research building codes in your area, and make sure you have a detailed plan for your home design before reaching out to your preferred shipping container home builder. You can also reach out to a home appraiser in your area to help collect measurable data that an insurance company or home finance company will know better how to process. And there are always current shipping container homeowners you can connect with to find out how they worked through this process for their shipping container home project.
Conclusion
Now that you've read through our Iowa guide, the only thing left is to start building your shipping container home! Feel free to also check out our shipping container home FAQs, including our shipping container home insulation guide. Or read more about shipping container homes on our blog, where you'll see content like shipping container home interior inspiration.