It's amazing what can be done with shipping containers. The modern, artistic home creations that can be created from shipping containers are truly astounding.
However, there's also a lot of charm in some good old-fashioned rustic shipping container homes that don't do much more than dress up the basic container. Here are six very cool rustic shipping container homes that take a minimalist approach.
1. Rustic Tiny Container Home | A 40′ Cozy Vacation Getaway by Shelley Carter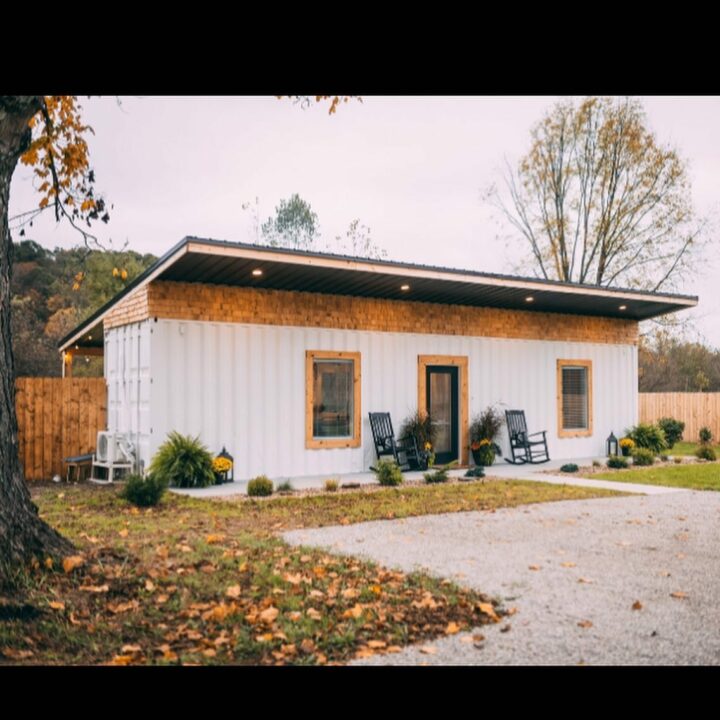 This adorable 40′ Cozy Vacation Getaway by Shelley Carter in an Ohio forest is simple, warm, and endlessly charming. Little touches like a rack to hold firewood on the front porch, a couple of rocking chairs, and wood shingling where the container meets the roof give it the rustic feel that makes it a country dream.
Inside, this little home features a fresh, white, bright feel along with rustic touches like lovely wood floors and a wooden countertop. Overall, the combination of rustic appeal and clean white modern design makes this an absolutely lovely little home.
2. Rustic Retreat XL Tiny Shipping Container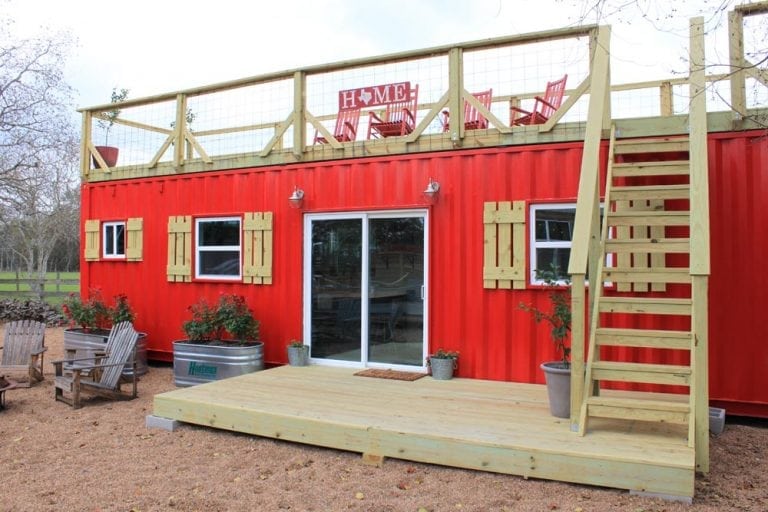 The Rustic Retreat XL Tiny Shipping Container is the perfect camping or hunting retreat. It takes full advantage of every inch of space, with a roof that is fully railed and accessed by a staircase.
A collection of rocking chairs on the roof is the perfect place to take in the beautiful views of the sunset. The home is painted a fun red shade, and the original walls are left untouched on the outside, so it doesn't too far from the shipping container it once was.
Inside, it has lovely white paneling on the walls and natural wood paneling on the ceiling, helping to bring the rural feel inside. A barn door separates the bathroom from the kitchen area.
3. The Little Red Hen Cabin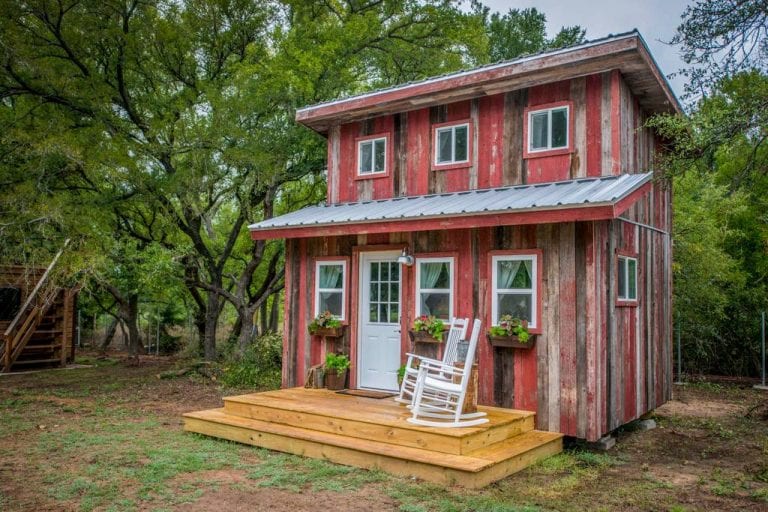 The Little Red Hen Cabin is absolutely adorable and loaded with rustic charm. The exterior walls are made of faded redwood panels of different shades, making it truly a sort of rustic art.
This wood was reclaimed from a barn in Waco Texas that is 100 years old. Inside, there is more beautiful wooden paneling, this in various shades of natural wood instead of red, creating a lovely accent wall. The other walls and ceiling are weathered white painted panels.
A rough wooden staircase is a functional way to get to the second story but also brings a lot of charm and a cozy feeling into the primary living area.
4. Tex the Container Home
If you're looking for a shipping container home that's as close to the original container as you can find, look no further than Tex the Container Home. This cool little home still has the original red container paneling on the outside.
A small section of thin slats positioned between the front door and the window and the simple word "Tex" are all that distinguish it from a working container. Inside, a lovely natural wood ceiling and matching accent wall provide a lot of style. The rest of the walls are paneled in a simple, clean white. A barn door separating the bathroom from the living area matches the rustic feel perfectly.
5. Little Box on the Prairie Shipping Container Home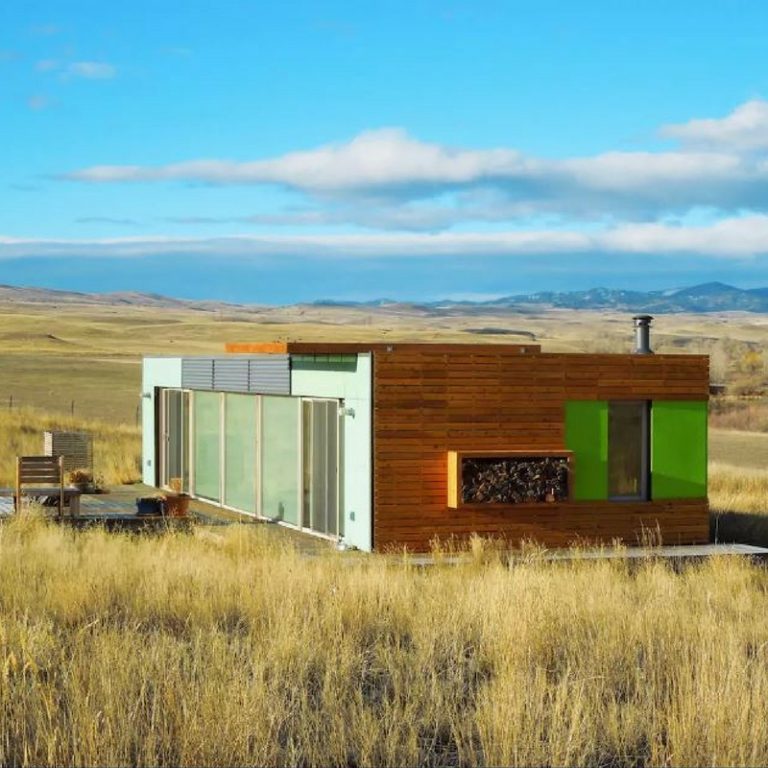 This Little Box on the Prairie Shipping Container Home provides a superb combination of modern amenities and rustic charms. It's placed on 10 acres of rolling prairie, offering some truly stunning views.
It takes in the views with three huge plate-glass windows across the entire front of the shipping container. It has all of the country touches that you would expect, like rocking chairs on the front porch, a firewood rack built into the wall, and a fire pit out back.
However, it also has plenty of modern touches that almost give it an abstract art feeling. This lovely little container home is a great compromise between modern and rustic.
6. Blue Steel: Tiny Home in The Cedars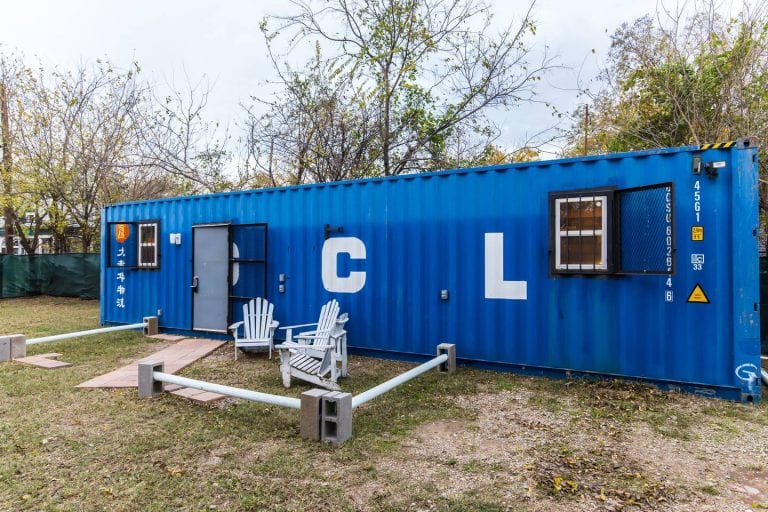 Blue Steel: Tiny Home in The Cedars isn't far removed from its shipping container past. In fact, it even has the original block letters and Chinese characters from its previous life as a shipping container.
Inside, a number of different types of wood paneling create a warm, artistic feel that you're sure to love. Amenities like a great gas oven and range and a cool bunk bed make this the perfect getaway. A couple of Adirondack chairs tossed outside tend to make you imagine cooking something great up on the range and then sitting outside in the shade of the container to enjoy it.
Be Inspired by Rustic Shipping Container Homes
A great rustic shipping container home is an opportunity to be reminded of how little it really takes to create something amazing just from an old shipping container or two. These homes can be placed just about anywhere and packed with style and personality.