It's hard to contain our excitement over today's featured home, and as we make our way through this uniquely configured container home, we are sure you'll see why. Set in beautiful Lincoln, NE is an absolutely stunning, owner-built shipping container home. The craftsmanship is nothing short of impressive, and it is fair to say this was a true labor of love for owner Josh Nix.
Exterior
Upon first glance, this ultramodern and industrial home looks like it was taken right out of a magazine. The clean lines and sharp angles give the home an undeniably modern feel, while the use of shipping containers as the primary building material gives it a truly unique edge.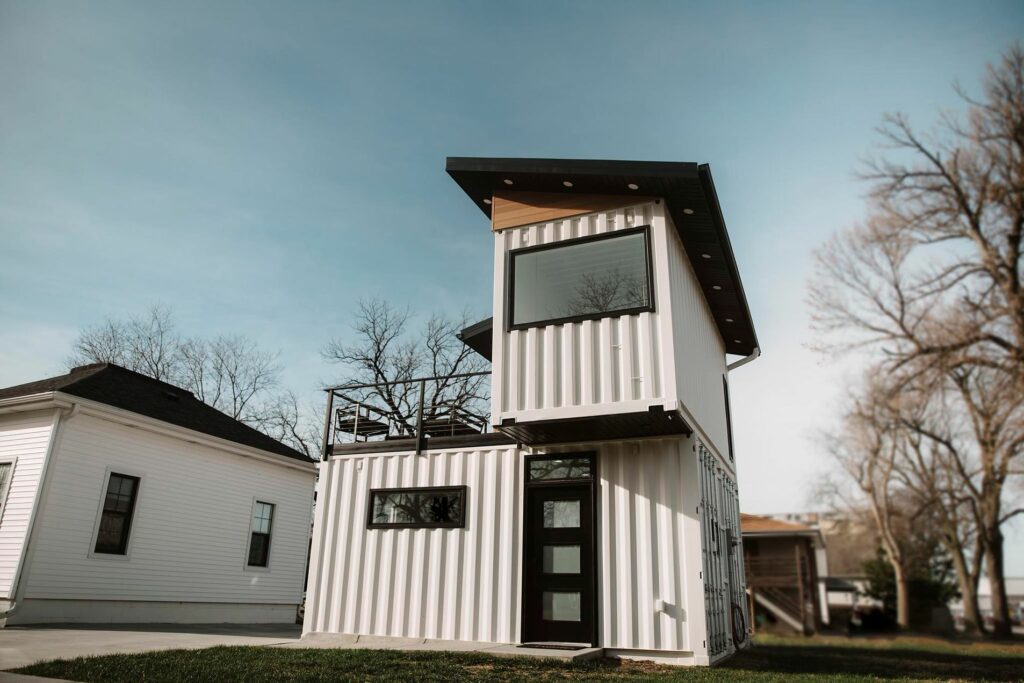 Three 20′ high cubes were used to create this multi-level home and with a bit of creativity and a lot of elbow grease, Josh was able to turn them into a veritable oasis.
One of the first things you'll notice as you approach the home is the second-level deck and outdoor living area. This is the perfect place to enjoy the Nebraska summer evenings, and with plenty of seating, it's ideal for entertaining.
The use of light natural colors on the exterior walls mixed with the black front door, roof, and window trims gives a nod to the industrial roots of the modern shipping container home.
Interior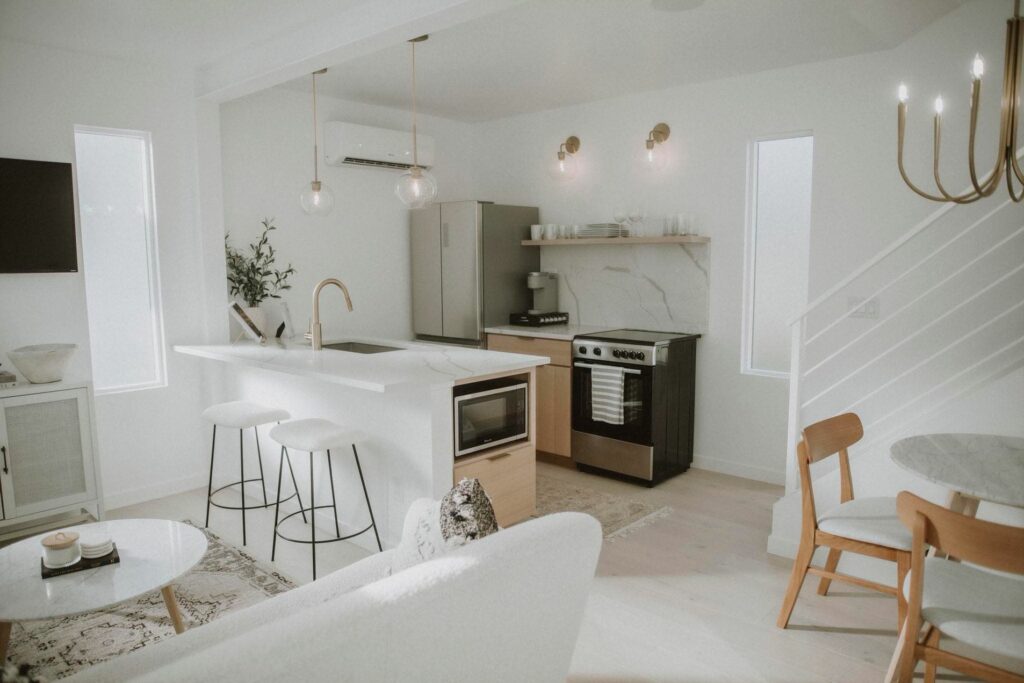 In case you thought things couldn't possibly beat the stunning exterior, just wait until you see the interior. The use of light colors and large windows creates a bright and airy living space, while the mix of wood, metal and various textured fabrics gives it a modern edge.
The open concept floor plan means that the kitchen, dining area, and living room flow seamlessly together, making entertaining a breeze.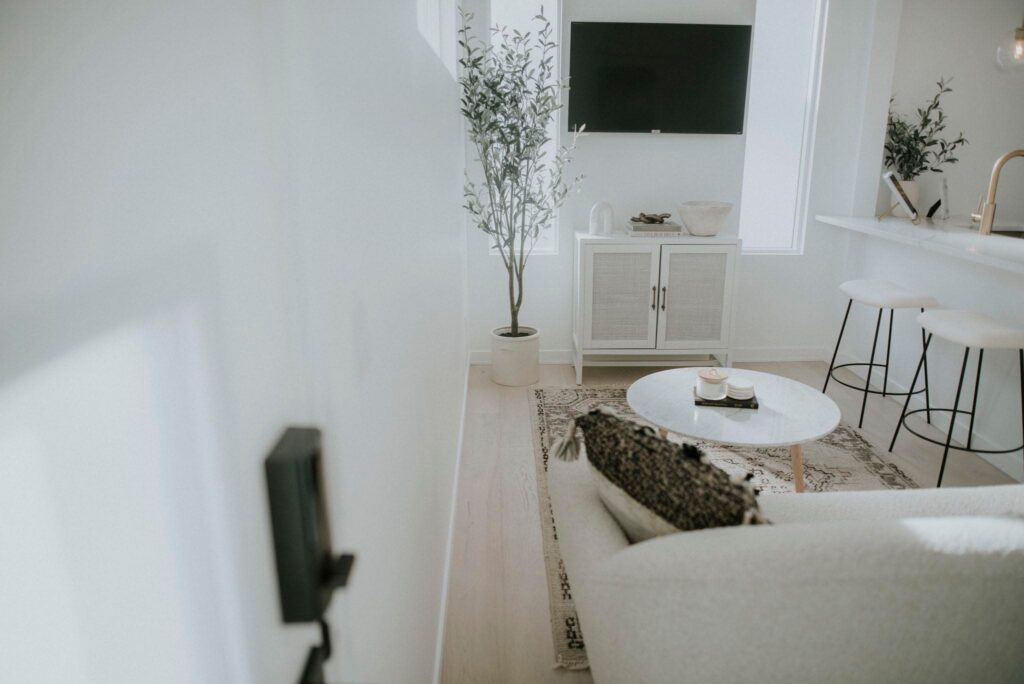 An alternative angle shows the intimacy of the space, and while the square footage is modest, there is nothing stuffy or cluttered about this home. The use of white, neutral, and cream colors throughout the area ensures everything about Josh Nix's Lincoln, Nebraska container home feels fresh, new, and clean.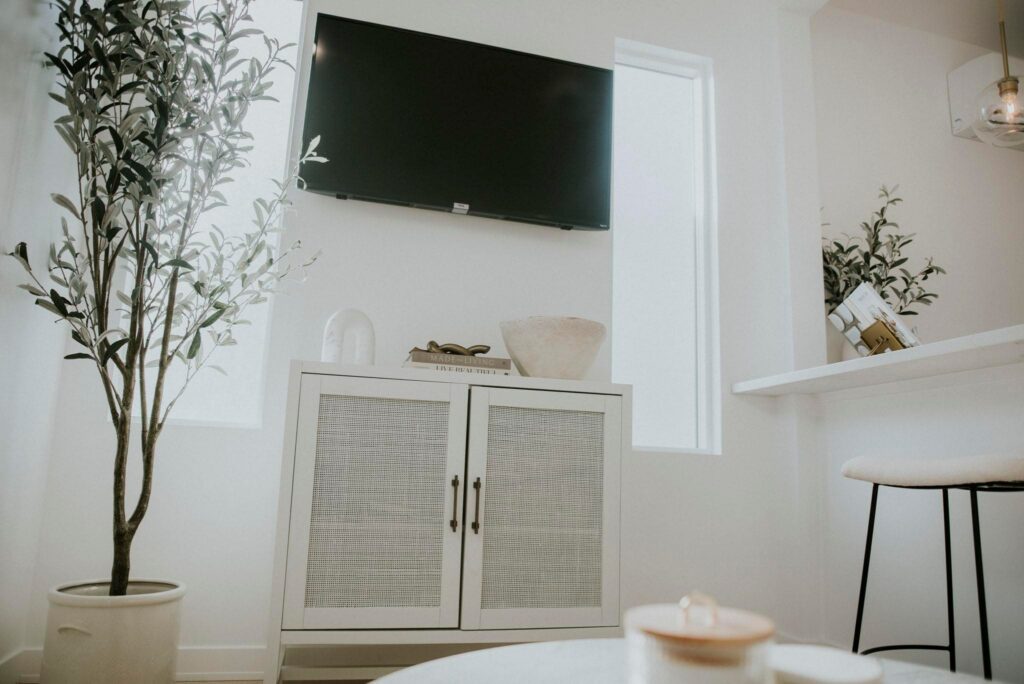 It is worth noting that Josh Nix's Lincoln, NE container home is simply stunning in part for its expertly curated furniture and decor items. These include a beautiful mix of vintage and modern pieces that come together to create a truly unique aesthetic. Staying true to the entire project's theme, Nix blended various materials, fabrics, and metals to create an envy-invoking space.
The living room area is the perfect example of this, as it houses a comfortable mix of mid-century modern furniture, vintage decor, and eclectic accent pieces.
Though nearly impossible to pick a favorite area of this modern container home, the possibly perfect kitchen is a front-runner for most. Boastfully minimalistic, Nix's kitchen features everything one would need to create a divine dish. The combination of light-colored wood, white walls, and countertops softens the high contrast between the stainless steel appliances.
Subtle details throughout the kitchen come together to create a large impact. Gold fixtures, marble style backsplash, open, floating shelves, right down to the perfectly matching hand towel- every element has been carefully considered.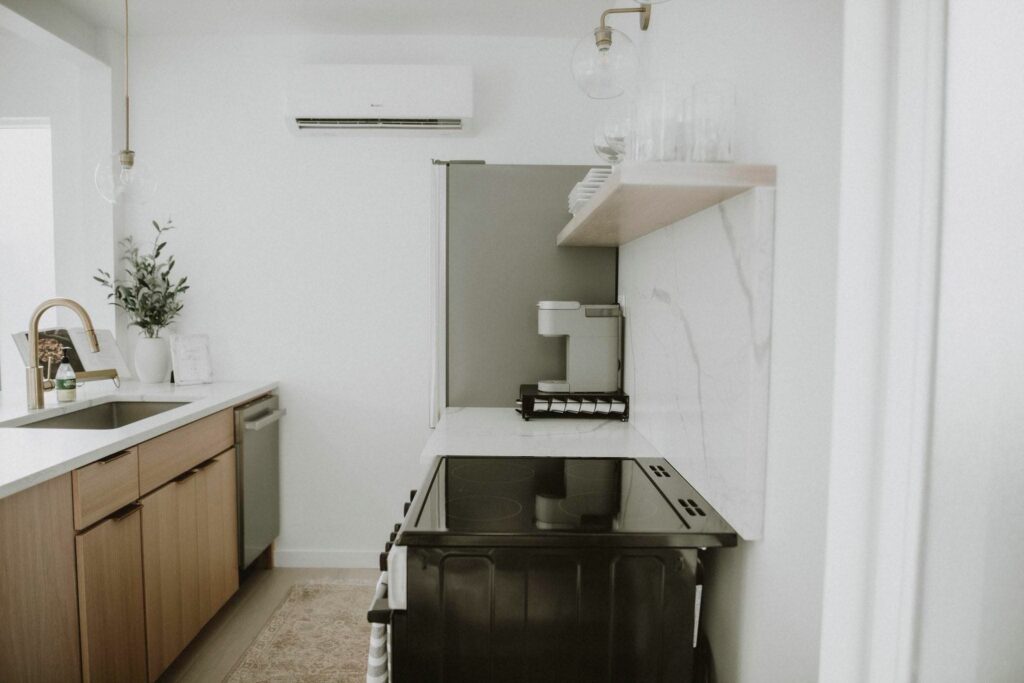 Peaking around the corner, we can see the light wood cabinets which offer ample amounts of storage space as well as a large under-mount sink, stainless steel dishwasher, and even a perfectly camouflaged air conditioning unit. It is an impressive feat to add an air conditioning unit into a kitchen and tie it into the decor so perfectly that, not only does it not detract from the decor, it arguably adds to it.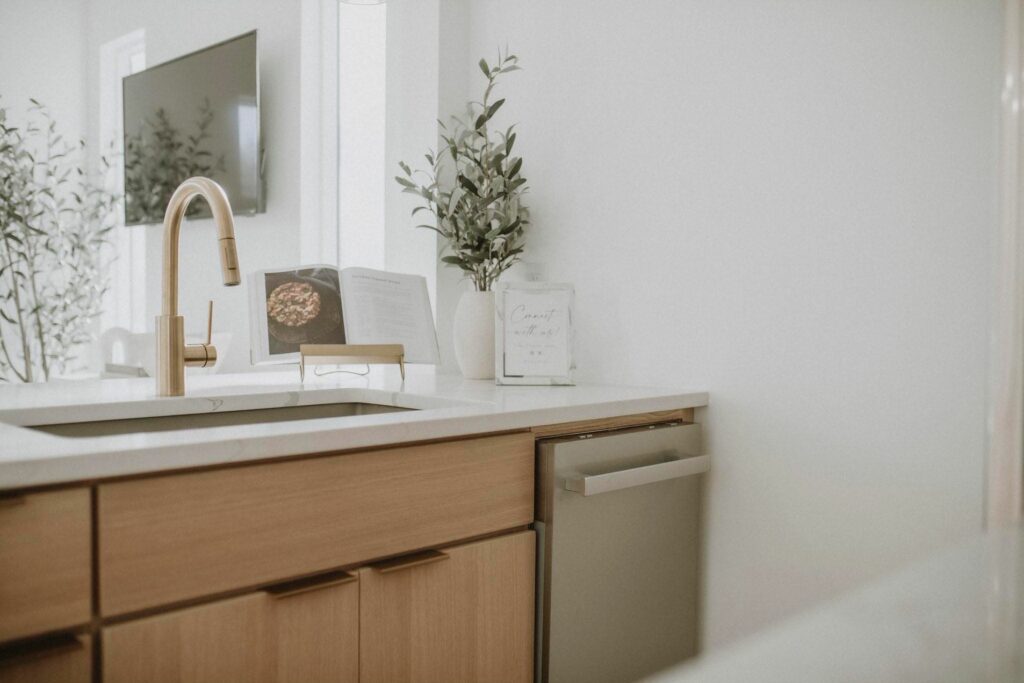 A closer look at the kitchen sink proves the perfectly planned decor with even the recipe holder matching. In the background, we can see the two vertical windows which let the natural sunlight stream in and illuminate the entire room.
Further views of the kitchen show the ample counter space, as well as unique stools (you can almost feel the softness of the fabric), which make for an ideal spot to enjoy a morning coffee or intimate meal for two.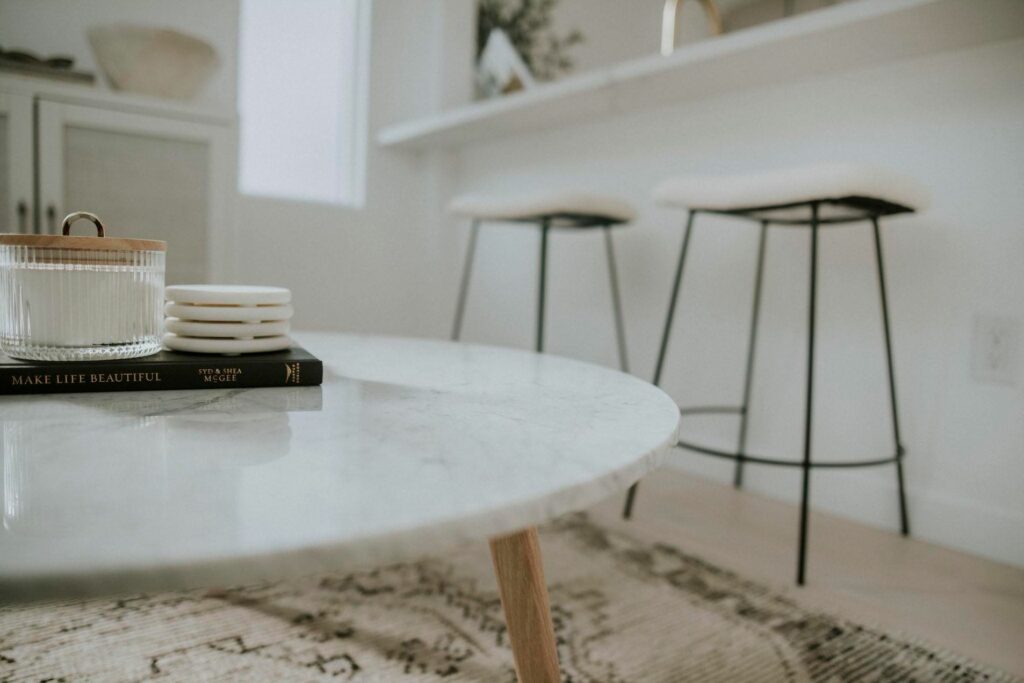 The subtlety in decor choices continues as we can faintly see the coffee table features the same marbled effect as the kitchen backsplash. The use of organic materials and muted colors throughout the home give it a calming feeling, but it is still undeniably stylish.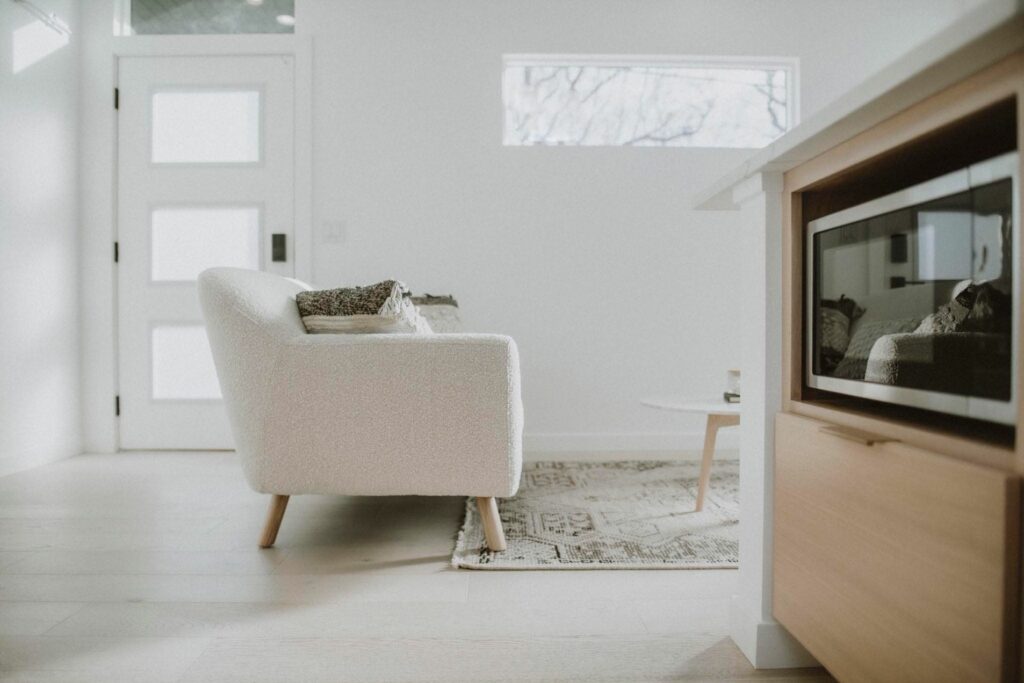 Another angle provides a glimpse back into the living room where we find continuity in the matching couch, which down to its small feature (light wood footings), ties in with the entire space as a whole. You wouldn't suspect from this view that the alternative side of the door is stark black as this angle is all softness and light.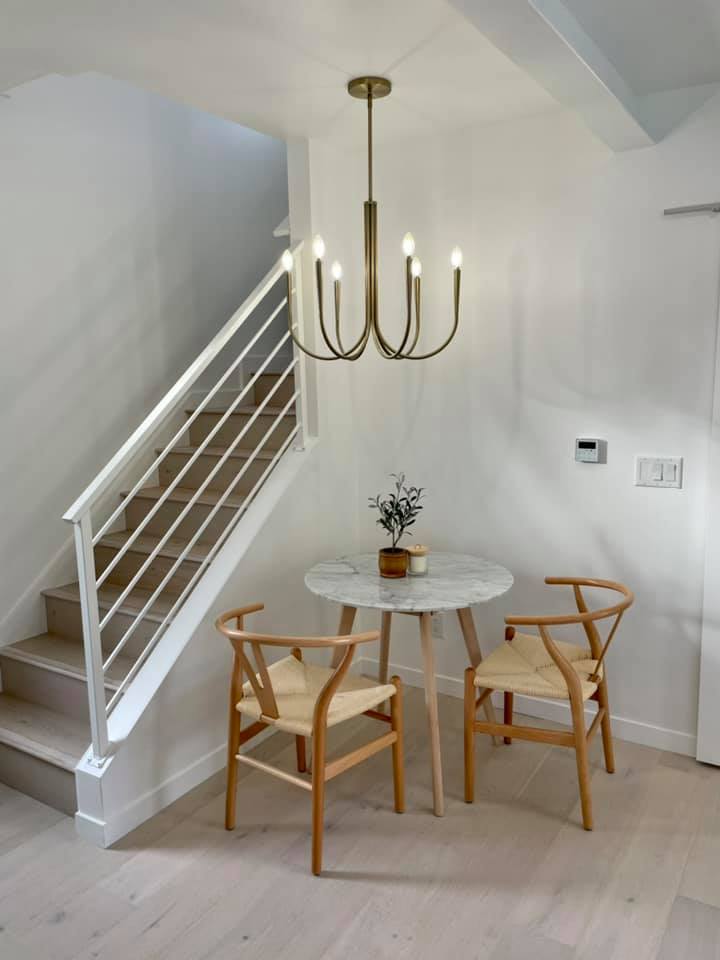 Before heading upstairs, we find a tucked-away dining space. Making use of every inch of space in this Lincoln, Nebraska container home, this is the ideal spot for a more formal dinner.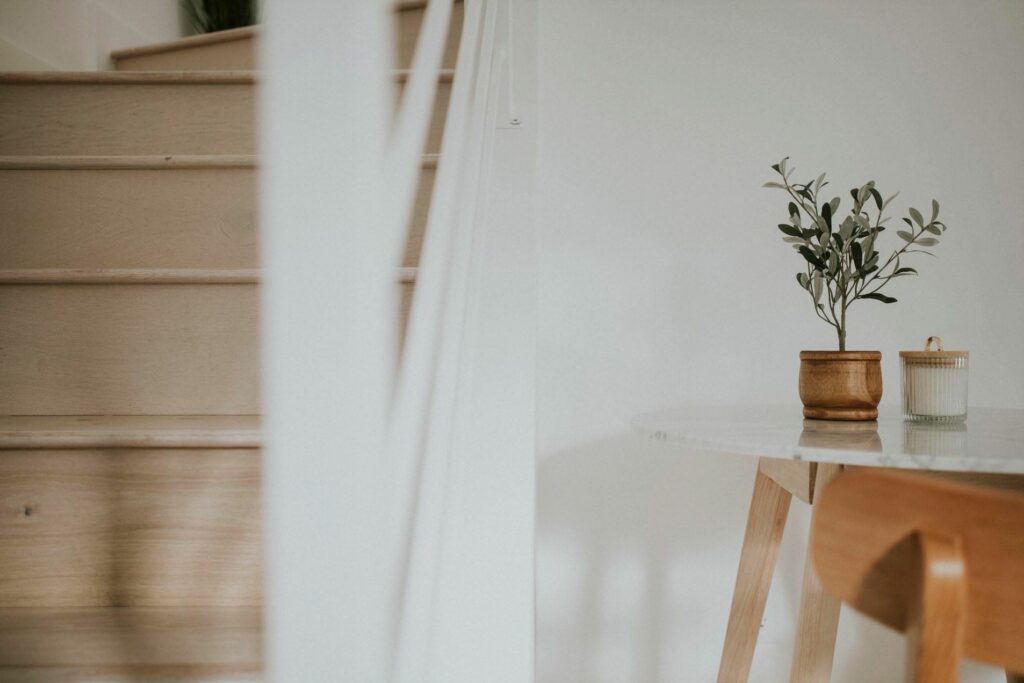 The natural wood and white staircase provides both function and style. On theme, every bit of decor continues to match throughout this amazing container home as a whole, while still managing to provide a unique touch. Opting for white railings instead of wood or potentially black iron keeps the interior crisp and seamless.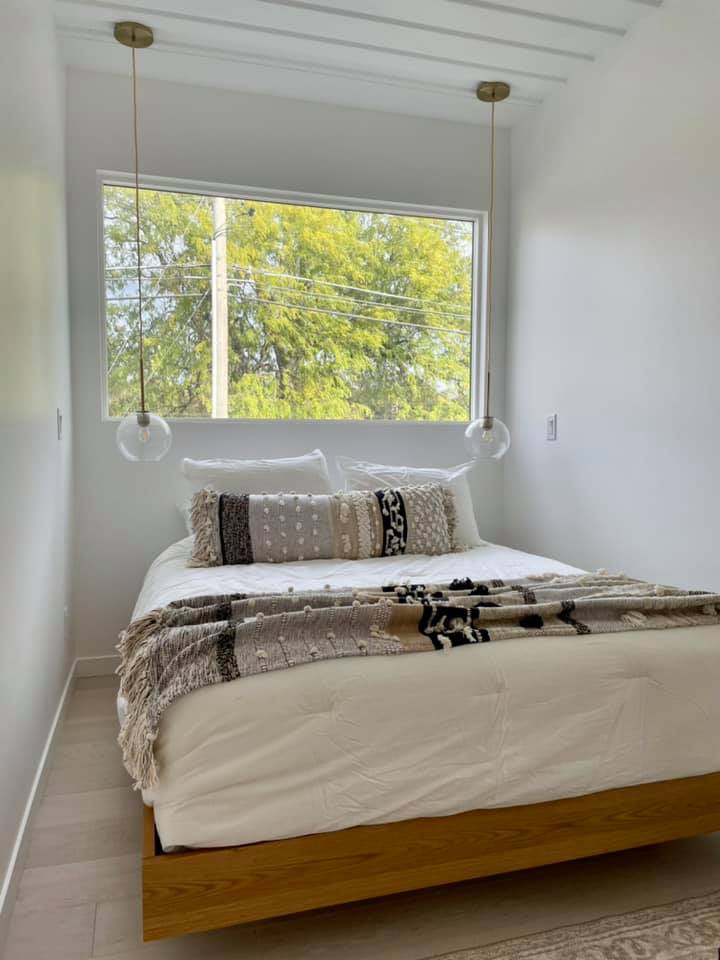 The bedroom is kept relatively simple with white walls and light wood furnishings, which manages to be both cozy and chic. The bed frame is simple and understated, but the addition of a plush comforter and pillows in a variety of textures and colors gives it a touch of luxury.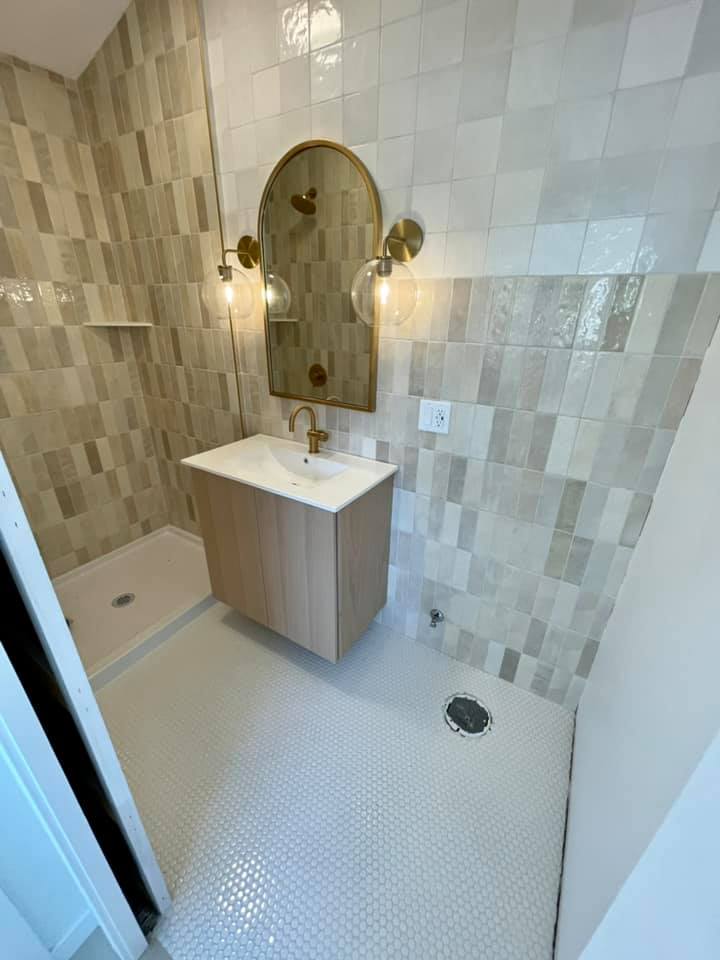 The final stop on our tour is the beautifully detailed bathroom. While an obvious feature has yet to be installed, we can only surmise that the finished project is absolutely stunning.
Heavily detailed tiling on the floor as well as throughout the entire room gives a dramatic and luxurious feel to the space. Pops of gold fixtures and features ensure the same crisp and modern feel is brought up from the main floor and into the bathroom.
Every element has been perfectly planned and executed to create a one-of-a-kind home that is both stylish and functional.
Whether you're looking at it from the inside or out, there is no denying that this is a truly extraordinary home. It is a perfect example of what can be accomplished with a little creativity and in-the-box thinking, and we are absolutely in love with it!