One of the biggest challenges when building a shipping container home is designing the interior. With limited space, it can be difficult to create something that feels roomy and functional. However, with a little bit of ingenuity, shipping container home interiors can be incredibly comfortable. Knowing what other builders have done can help you make the right choices for your particular home.
In this article, we have offered a peek inside shipping container homes around the world. Getting a feel for what is possible can help you come up with your own perfect design. With the right arrangement and planning, you can get an amazing result. Taking the time to think about your needs and wants is essential and will make your home more than a novelty.
Have a Look Inside Shipping Container Homes
This is one of the most astounding shipping container home interiors in the world. We absolutely love the subway tile that lines the walls and creates an amazing look and feel. The combination of the tile and natural wood brings everything together and mixes organic with synthetic. This is a classic design technique and is executed so incredibly well here.
The split-level design of the floor plan also offers a lot of space and an open feel. One of the best things about this container home interior is its use of limited space. Having the other rooms down in the lower level gives everything its own sense of space. This is incredibly important with container home interiors and is done very well here.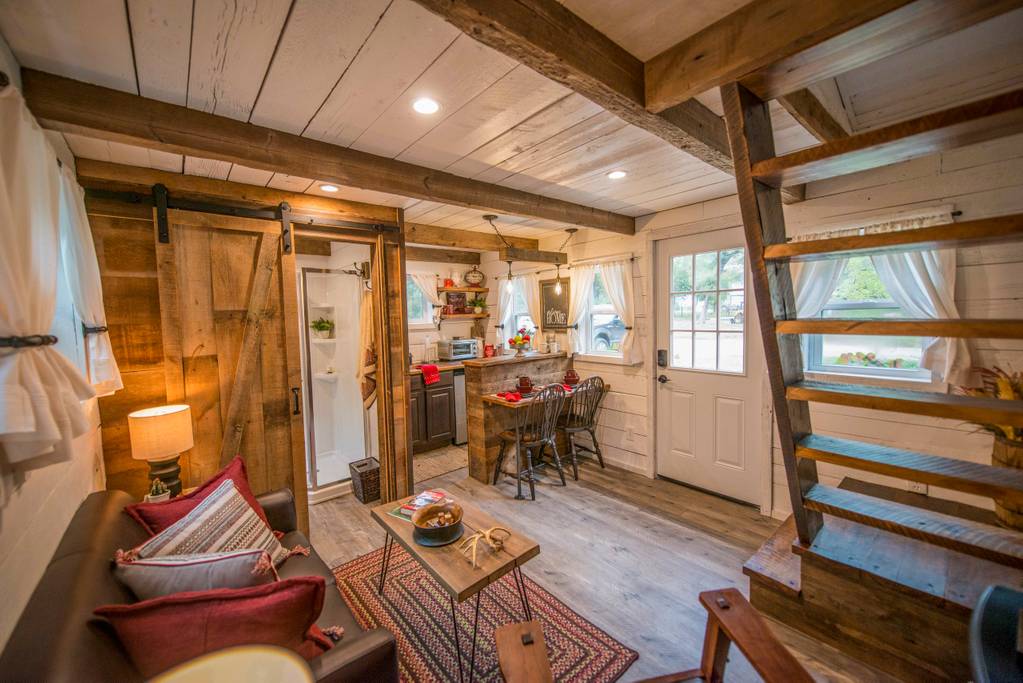 If you are interested in the country cabin style a shipping container home is a great option. The Little Red Hen Cabin is a great example of the warmth and homey feel you can have. We absolutely love all the natural wood and organic feel of this interior. It makes perfect use of the small size and creates a fantastically comfortable vibe in this home.
Shipping container home interiors give you the opportunity to have all kinds of interesting elements. We absolutely love the ladder going up to the top floor. This gives it something of a treehouse feel, which is typical of many shipping container home interiors. It is also not something that you normally see in a traditional home.
The Blue Steel Tiny Container Home looks simple from the outside but the interior is all design-oriented. We love the different colors of the wood slats that line the walls. They give the interior a rustic, beautiful look that is unlike anything else we've ever seen. It is unique but also subdued enough that it is not as overwhelming as you might imagine.
One of the great things about designing shipping container home interiors is the ability to do something different. Since you have to work within the parameters of the space you have, you can come up with interesting solutions. This interior is a great example of this concept. The folding table and chairs bring the whole thing together and fit in with the wood of the walls.
When you have a small amount of space to work with, you need to make decisions regarding possessions. The designers of shipping container home interiors have to come up with ways to save space. This is illustrated especially well here. The small countertop and minimal storage create enough room to be functional without adding too much clutter.
Everything in this container home has been meticulously designed and well thought out. We love the small table and chairs and the open floor plan. By keeping everything in one space, the designers were able to make it as functional as possible. There is nothing that doesn't need to be there and everything has its own space.
Shipping container home interiors give you the opportunity to create amazing spaces. This modern kitchen combines all kinds of textures and materials. It also has incredibly functional design elements that make it completely usable. This is one of the challenges of a small space and it is done incredibly well here.
We absolutely love the lighting and sparse design that is used here. The organic materials create a homey feel while also giving it a well-loved, yet modern aesthetic. The tile also keeps everything looking clean and uncluttered, which is important. We also adore the metal basin sink that is small but large enough to be used every day.
The container home interior is one of the most breathtaking examples of space utilization we have seen. Everything from the colors to the materials work incredibly well together and create a cohesive look. The interior is larger than it appears and it gives the home a roomy, open feel that we absolutely love. The stainless steel appliances have a modern feel that is essential with a design like this.
Open floor plans are almost necessary with shipping container home interiors. However, the kitchen island here gives the kitchen its own space without shutting it off. Having this kind of separation can make your home look bigger than it is without combining spaces. We absolutely love this container home and feel that it is incredibly impressive.
Conclusion
By seeing inside shipping container homes, you can get a good feel for what is possible. Shipping container home interiors are always some of the most interesting aspects of them. Because of the creativity needed to make them work, you can end up with some amazing results. Sometimes, limitations are your best friend when it comes to design.
If you would like more interesting guides like this one, check out the rest of ContainerHomeHub.com. There, you will find all kinds of helpful information and featured container homes. These featured homes can get you thinking and give you some great ideas. When the time comes to build your own home, you can be ready with some incredible ideas.