Are you looking for inspiration or just daydreaming over your ideal shipping container home? These top 10 shipping container homes are sure to spark your creativity and curiosity.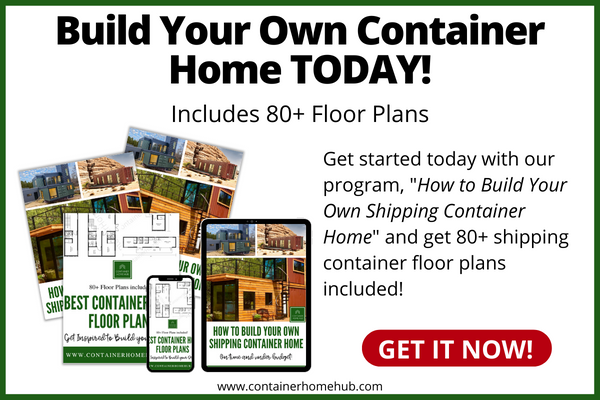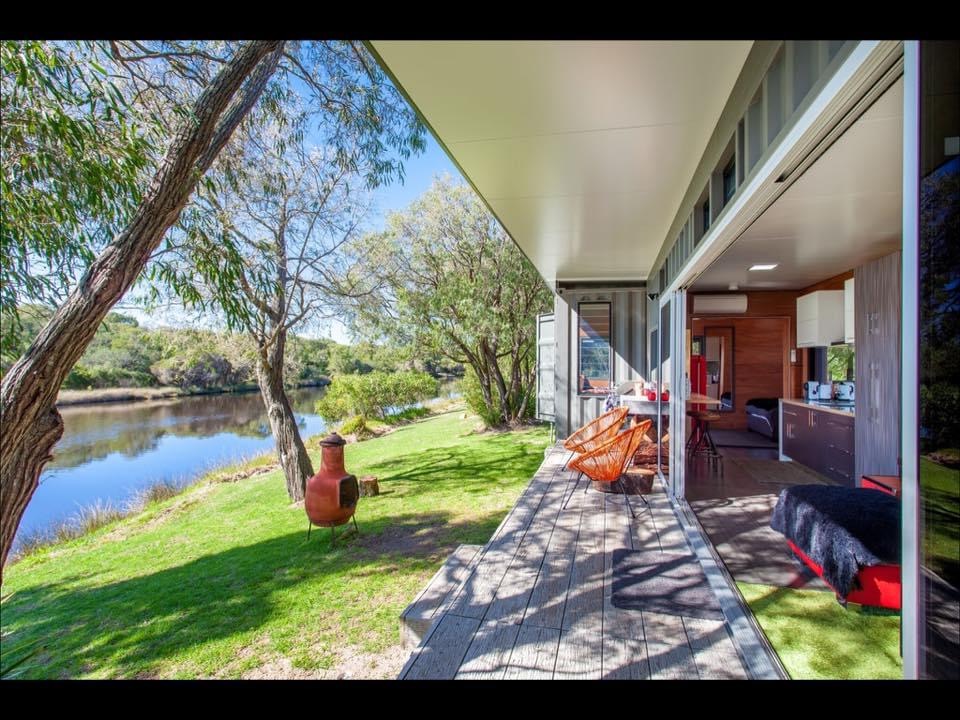 If you think that shipping container homes are prone to feeling stuffy, take a look at this stunning Australian container home. A series of doors open to allow the living area to look right out onto the porch, making it a part of nature and giving super views of the gorgeous water in front of the space.
Wide picture windows fill the entire home including the kitchen and bedroom, making you feel like you are part of nature as you enjoy this beautiful space.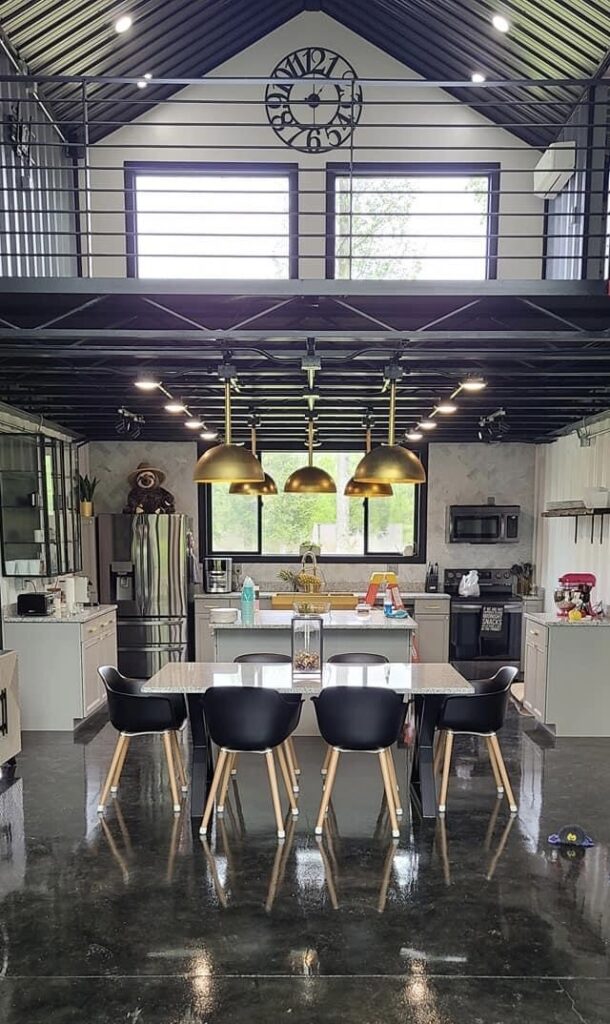 This container home does an incredible job of building a full-size home that you would never realize at first glance is made of containers. A large open living area is marked by two huge picture windows, and the kitchen and dining area feel expansive thanks to an open ceiling that connects to a loft.
Stylish stairs leading up to the second floor have a modern but also pleasant effect. Even the bathrooms of this home are large and have a very modern feeling. If you've ever wondered whether you can build a house that has the feel of a full-size home from containers, this is the house for you.
One of the greatest charms of a container home is the sense of simplicity with which they can be built, and this Ohio home exemplifies this principle. The original exterior has been kept intact; you can still see the Chinese Mandarin characters and "China Shipping" across the front of the home.
Inside, however, this cabin is wonderfully cozy. Wide glass doors make it feel much bigger than it is as well as providing beautiful views of the outdoors. The inside has been paneled with beautiful natural light wood that gives the home a very classy feel. This space has everything you need in a simple one container home.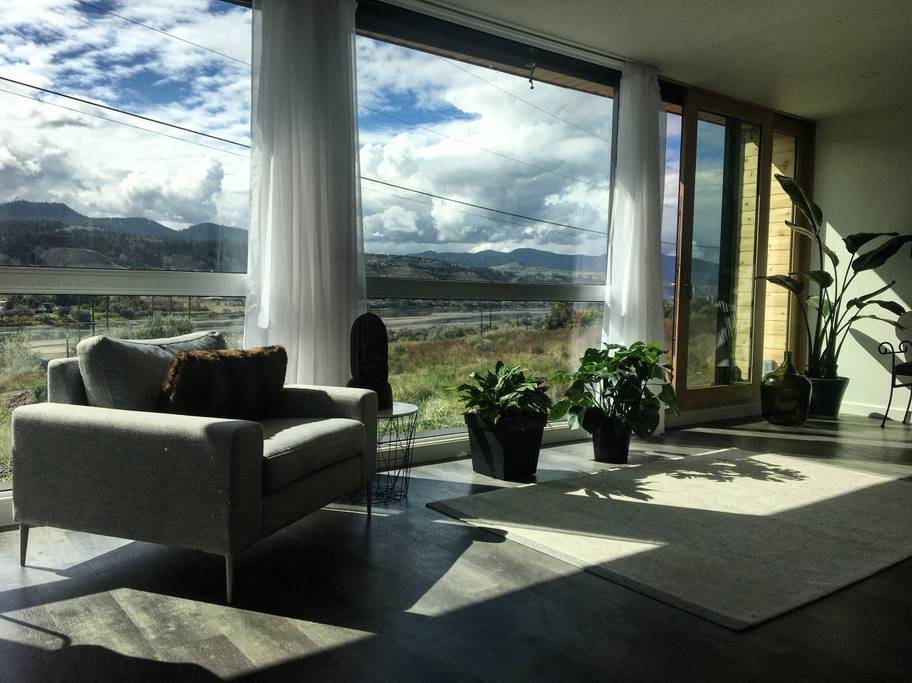 Can a home made of shipping containers be sophisticated? This British Columbian space makes it very clear that it can be. This gorgeous home is nestled into the mountains, featuring a sweeping view of the countryside.
The entire wall of the home is made of glass panels, enabling superb light into the house as well as a lovely view of the river. Elegant white curtains hang in front of the windows for when privacy or less light is desired.
Modern furnishings and plenty of houseplants give this space a wonderfully sophisticated feel. A separate studio space has a garage-style glass door that when opened up provides an unobstructed entry into the outdoors.
Would you like a shipping container home that has all of the charms of a country cottage? This South African home is a wonder in white, with simple natural wood trim on the doors and windows that give it a modern cottage feel that is absolutely delightful.
Inside, there is more space than you would expect to be accommodated by a shipping container home. A lovely loft takes advantage of the full height of the shipping containers, and this adorable home has all of the amenities you could want with an abundance of style.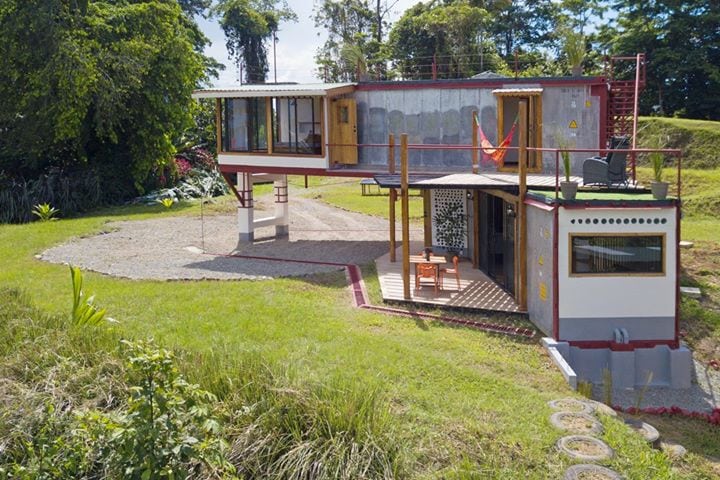 One of the greatest things about a shipping container home is how it can be suspended easily up in the air, apparently defying physics. This Costa Rican shipping container home is a great example of this idea.
One shipping container has been suspended over the other, providing a great breeze in this hot area and also enabling a superb view. Plenty of patio space is also provided in which to soak up the rays. If you question whether you could have a decent bathroom in a shipping container home, this one will blow your mind, with a huge bathroom with glass panel walls that let in plenty of light.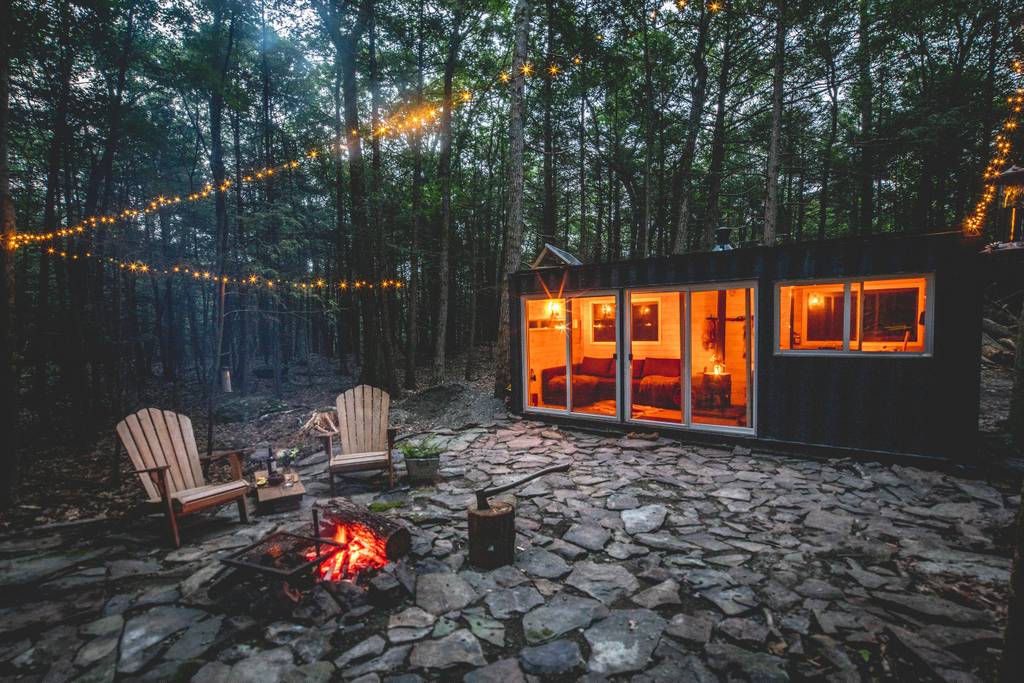 A shipping container home doesn't have to be big to be delightful. This cozy cabin in New York is a tiny home that brings you straight into nature. Most of one wall is composed of sliding glass doors, while the rest of that wall also has significant windows, making you feel like you are part of the gorgeous forest in which this home is situated.
A natural rock paver patio extends far out from the cabin, providing space for outdoor enjoyment. The entire interior is paneled with rustic wooden paneling. Touches like a deer hide on the floor make this the perfect cabin escape.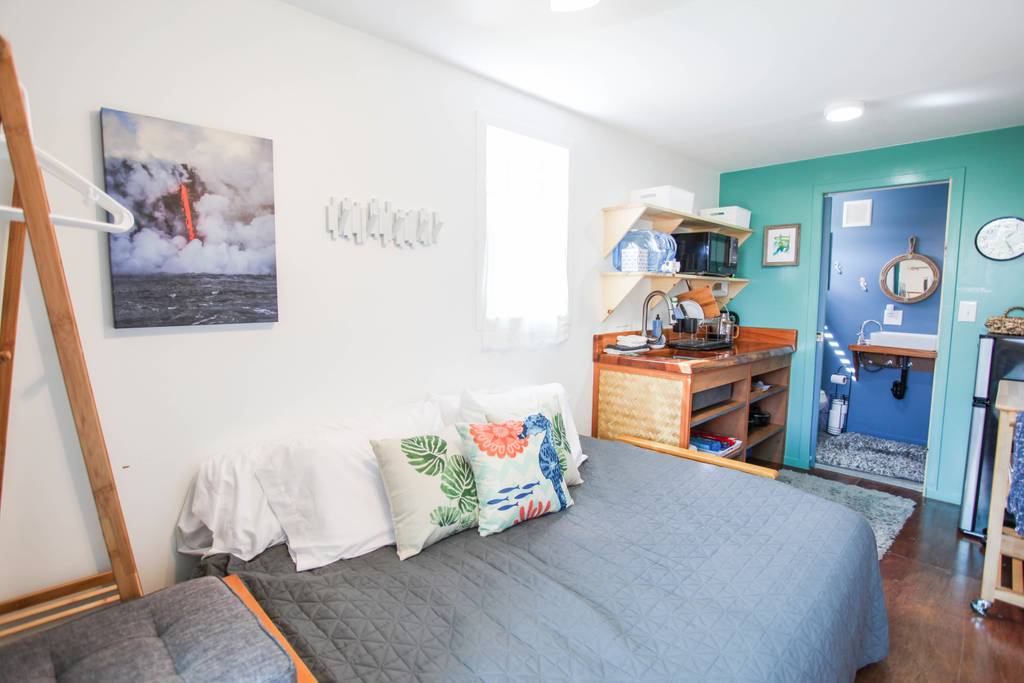 This tiny Hawaiian shipping container home packs a lot of style and comfort into a miniaturized studio space. Bright, light colors and plenty of natural light flowing in from the windows and doors make this home feel warm and inviting despite its small size.
This home must have been very affordable to create, and yet it provides everything you need after a day of surfing in the Hawaiian waves.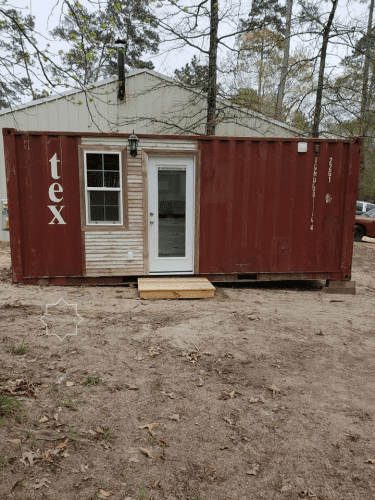 This tiny container home pushes the parameters of how small and simple a shipping container home can be while still being cozy, comfortable, and charming. The outside of this simple home is nearly unaltered from its shipping container past, still boasting its rustic red exterior.
A little bit of paneling around the window and door is enough to provide a great deal of charm to this exterior. Inside, a combination of natural wood and whitewashed paneling creates an adorable effect, and everything you need, including a kitchen, bedroom, and bathrooms are included.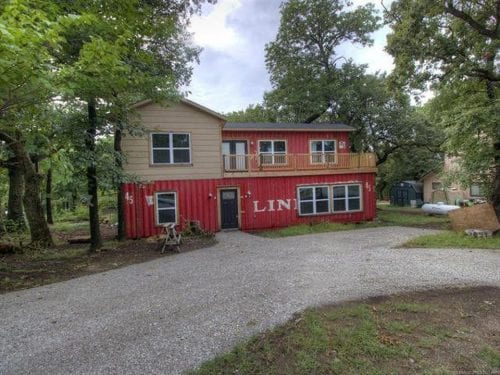 This little lake home in Oklahoma is packed with charm. The original shipping container exterior has mostly been preserved, but nonetheless, this home gives the effect of a charming suburban house thanks in part to the peeked roof.
The two floors have lovely wooden flooring. This home boasts a surprisingly spacious open-concept kitchen and living area. Plenty of large windows let in the light, and a large patio on the second story invites you outside.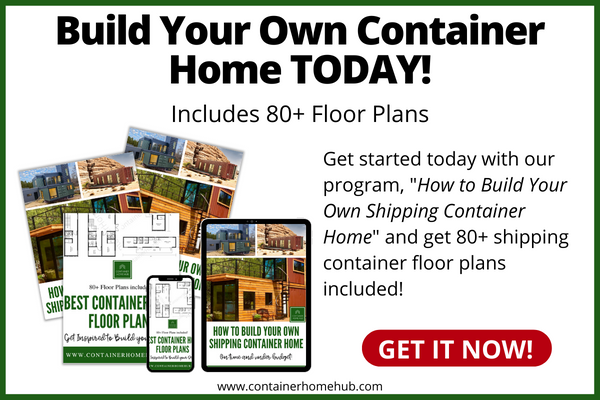 Dream Up Your Shipping Container Home
Whatever you are imagining for a home made of shipping containers, you may be amazed by how practical your dreams really are. The endlessly versatile shipping container provides options for all kinds of incredible designs, like these.