Today's featured home on Container Home Hub is this incredibly unique and fantastically designed Indiana container home by Malcom Hill. With so many amazing features and such an intricately thought-out layout, this home screams individuality and is very specific to the style and taste of the owner. We think this is what building your own shipping container home is all about and it really embodies the spirit of this kind of project.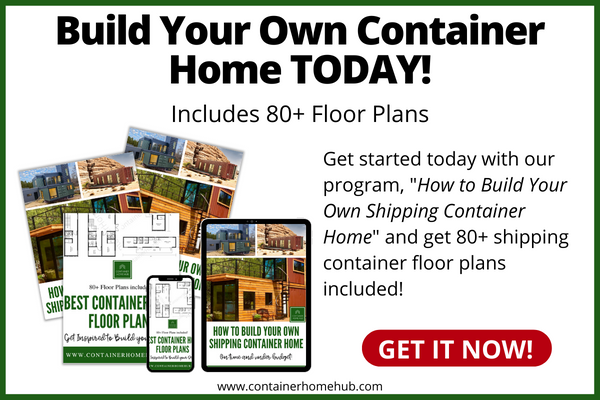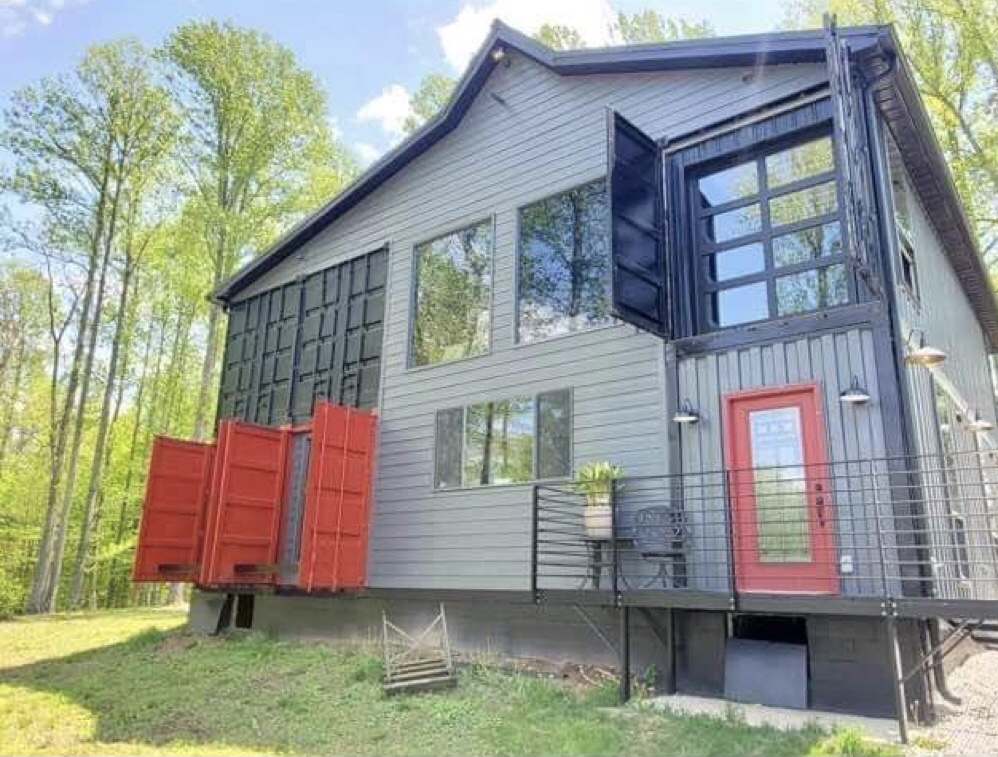 Exterior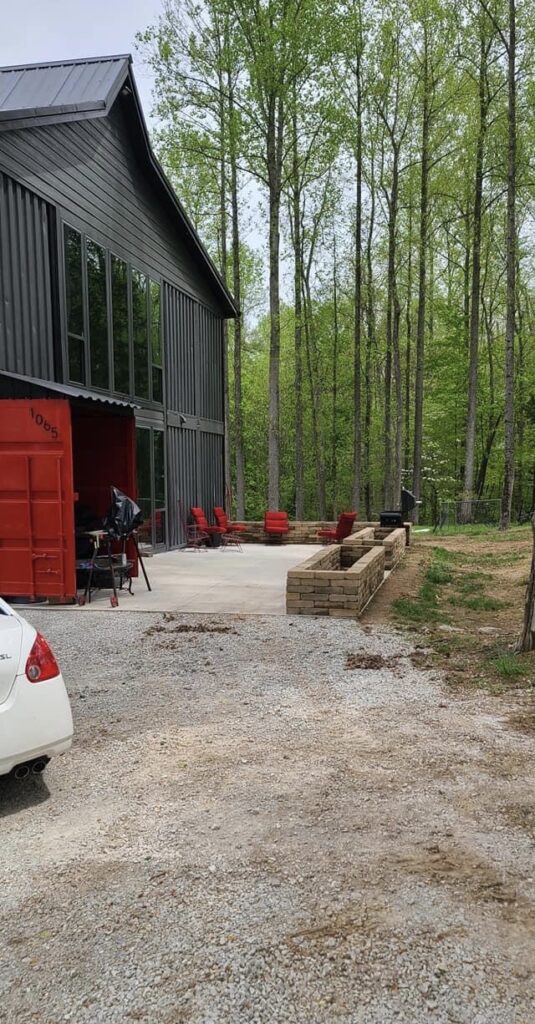 The first thing you might notice about this home is its surroundings. Located in the woods of Southern Indiana, this home is a perfect contrast to the area it is built in. With some of the modern furnishings and design elements, it doesn't have the austere, rural look that you might expect of a home in this area, but that's one of the things that makes it so interesting. There are no rules when it comes to designing your own home and this one encapsulates that spirit perfectly.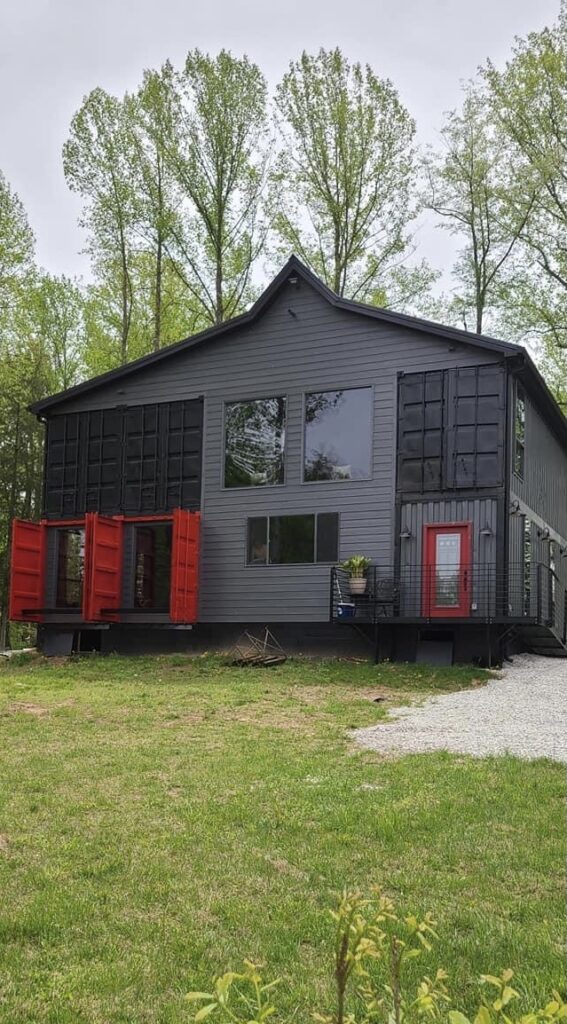 The other thing that stands out right away with this Indiana container home is the color scheme. There is something about the red, black and gray that works so well here among this beautiful natural setting. Having some of this modern style among the trees is a great idea and it really makes for a wonderful design.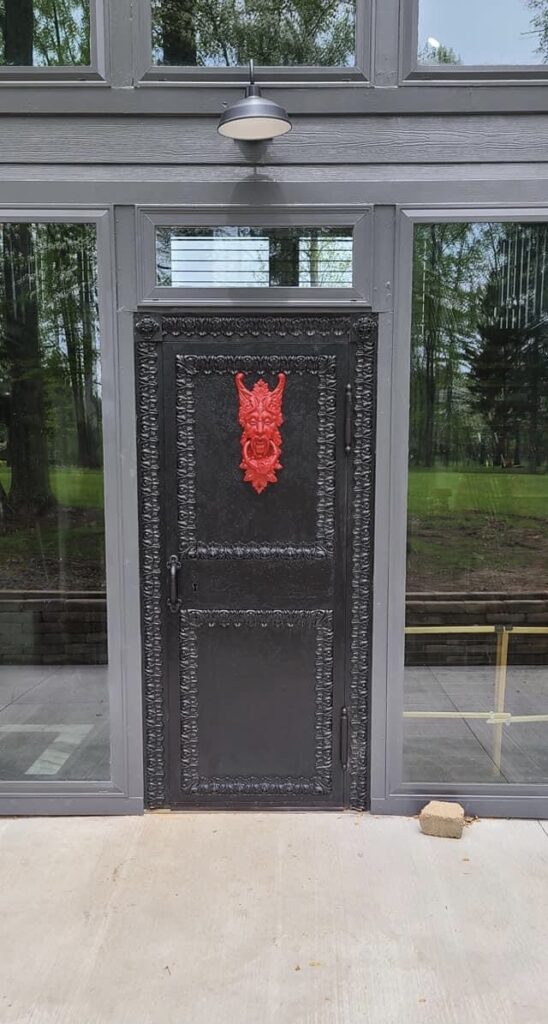 Of course, we can't talk about the exterior of this Indiana container home without talking about the front door. The ornate metal work and the amazingly gothic door knocker give off the feel of an eccentric mansion and it is such a wonderful touch that we think more container home builders should think about incorporating. These of the small details that can take an ordinary house and turn it into something you have never seen before.
The outside lighting on this home is another element that is just beautiful. As you can see here, it is designed to highlight some of the more unique details and it works wonderfully to really show off some of these things that the designers want to draw your attention to. It is pointed and specific and takes the look of this Indiana container home to the next level.
Living Area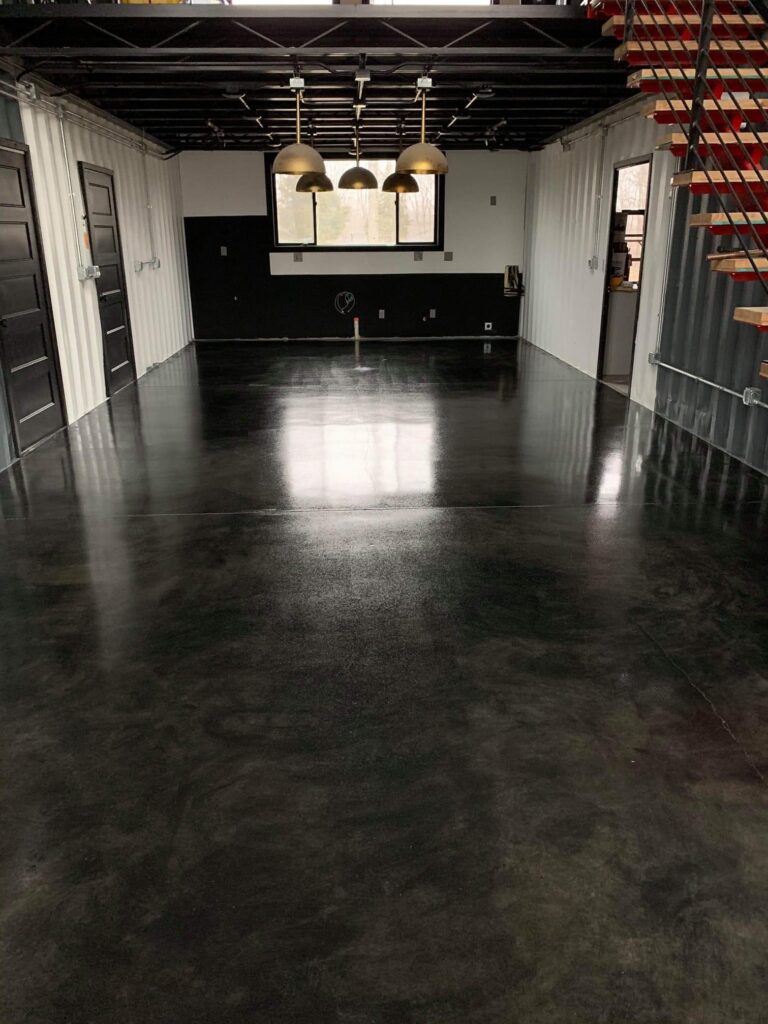 The outside of this home is very beautiful but the inside is absolutely stunning. One of the first things you might notice when walking in is the polished and stained cement. This is a trend that is getting more and more popular with homes that are built on top of a concrete slab and we think it is a great look. Not only does it give the whole home an elegant, classy look, it also helps keep it cool in the summer.
One of the things his Indiana container home has an abundance of is windows and we think that is a fantastic feature that really evens out some of the more modern elements for a wonderfully balanced look. Since the surrounding landscape of this home is so beautiful, it makes sense that the designers would want to incorporate that into the interior design and include enough glass to make it a part of the inside as well as the outside.
Kitchen
The kitchen in this Indiana container home is a modern masterpiece with such amazing functionality and style. The layout is fantastically thought out and features some great workspaces separated into individual stations. This is a kitchen that is meant to be heavily used and it comes through that the owners of this home are passionate about cooking.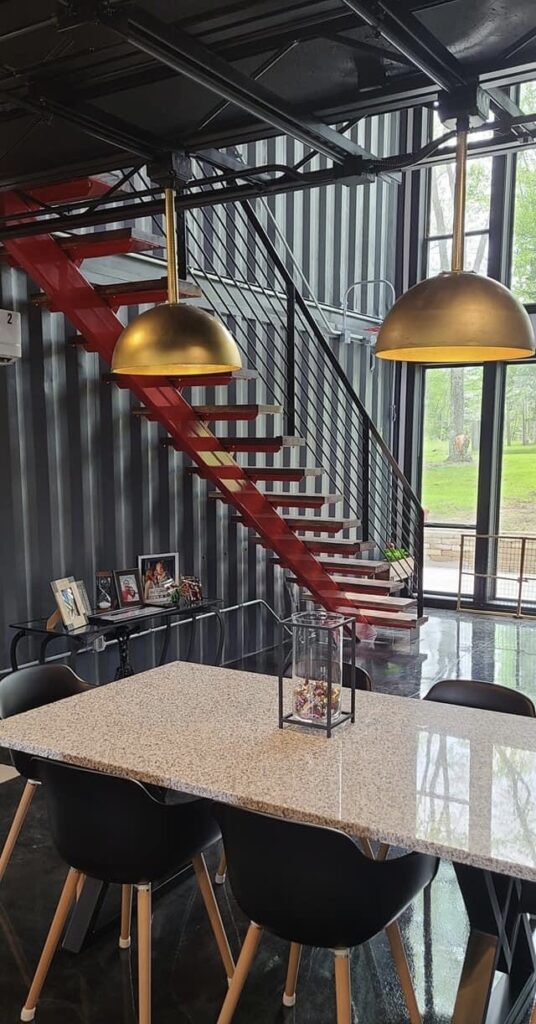 The dining area sits right next to a staircase that has that same modern, unique feel as the rest of the home. We love that the designers of this Indiana container home have decided to leave that corrugated metal from the original containers bare in the interior. It gives off an industrial vibe that helps offset some of the comfortable, homey elements without feeling cold or sterile.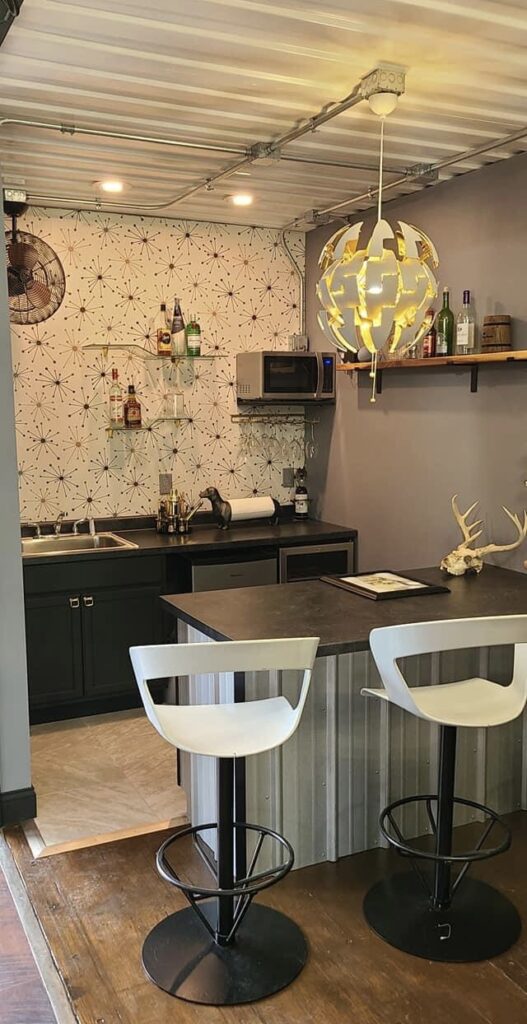 Bedroom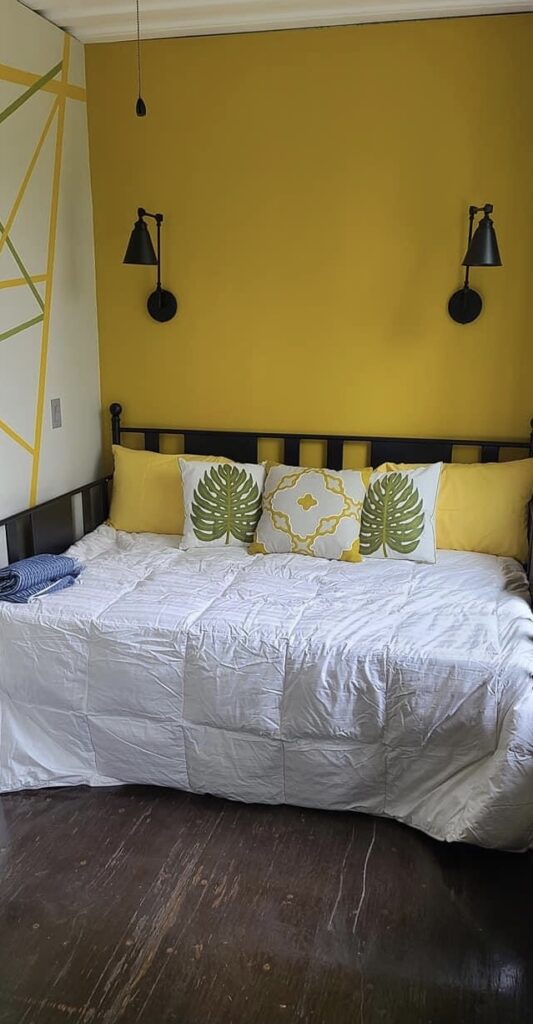 Whereas the rest of this home features dark, contemporary colors, the bedroom makes use of soft light and pleasing hues. We think this Indiana container home is incredibly well thought out when it comes to how each room is going to make you feel. The designers have taken the time to consider how each space will be used and make the best decisions possible for that particular use.
Bathrooms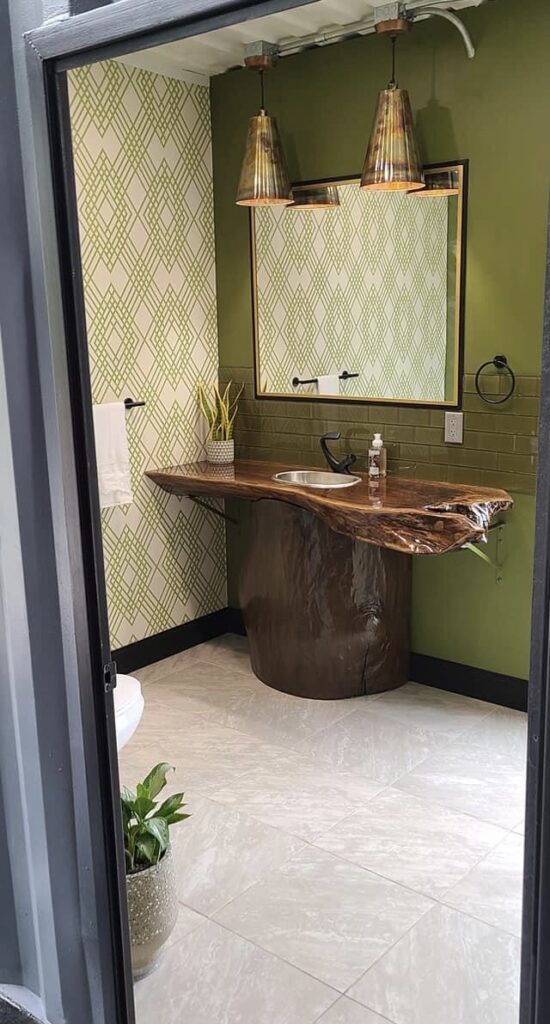 A perfect example of this comes through in the bathrooms. There are so many amazing elements such as the live edge vanity and the soft, mid-century colors and patterns. This is a bathroom that is meant to be luxurious and comfortable and we think it is done incredibly well.
Each room in this Indiana container home is meticulously crafted and full of purpose. The shower room has that modern feel but also features elements like a rainfall shower head and large shower pan so you can get all the best of both worlds. We just love this home and think it will continue to be one of the most well-designed we have seen.