Today's featured home on Container Home Hub is Simon Howard's amazing Australia container home that has so many wonderful design elements and a connection to the outdoors that it's hard to know where the outside stops and the inside begins. This is one of the great things about building a shipping container home like this. You really get to choose the exact home that you want and make it as unique to you as you want. Not all custom homes will allow for that kind of freedom and creativity and that's why we love shipping container houses.
Exterior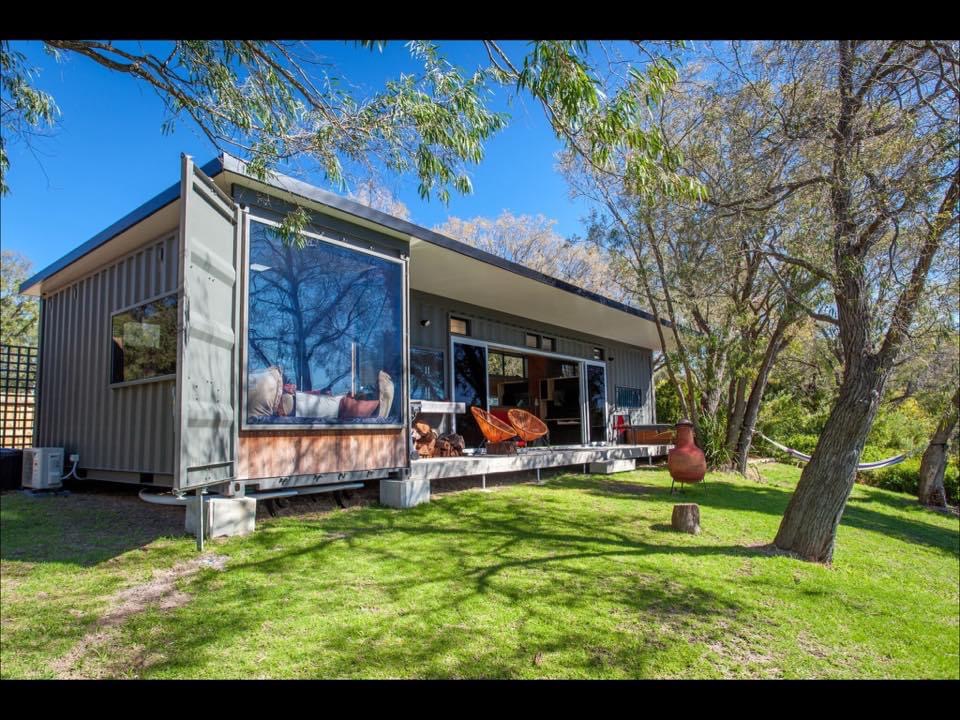 One of the first things you'll notice about this Australia container home is the visibility it has. So much of the square footage of this home is made up of windows. This is one of the most important things you can consider when building a shipping container house. When space is at a premium, windows are your best friend. The designers of this container home knew that and utilized them perfectly.
Even at night, this Australia container home makes good use of the banks of windows along the facade. With such a large area in the front to enjoy, it is important that the designers of this home utilized that space. As we will cover later on in this article, they did a great job of this and it really is the focal point of this entire container house.
With such a beautiful view of the river, it's no wonder there is a large focus on opening up the front of this Australia container home and making it as airy and connected to the outdoors as possible. The entire front facade can be opened in order to let in some of that beautiful natural light on the front porch and extend that to the living area. We think this is one of the most amazing uses of those large glass doors that we have seen. It's a fantastic take on the sun porches of the American midwest done in an entirely new style.
Interior
Living Area
This opened up feature of the front facade is a great way to use the entire space allotted for this Australia container home. When all of those doors open, you would never even realize that the actual living area is so narrow. The designers have included that beautiful front porch and really made it a part of the living area instead of being separated from it. This is a unique design idea that adds to the flow of the whole home and connects it with the beautiful outdoor landscape.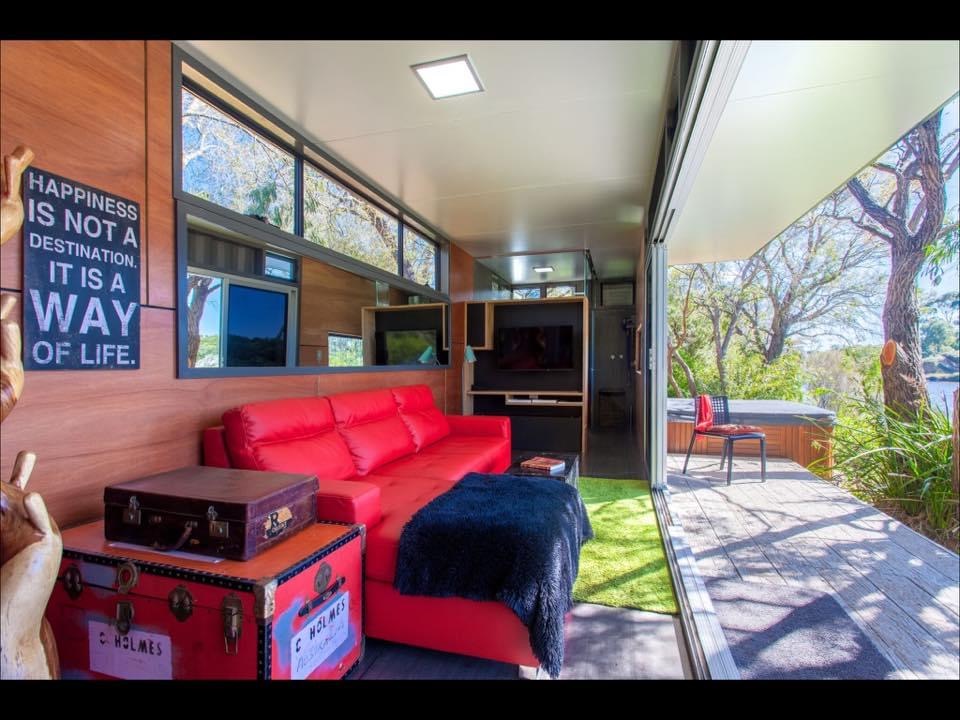 We love the inclusion of the turf flooring material along with the traditionally indoor furniture that sits in this living area. This blurs the lines between outside and inside even more. Clearly, the owners of this Australia container home are fans of the outdoors and wanted to make sure that it was never far away, even if they were sitting inside. Plus, the fact that those sliding units are all glass means even when they are shut, there is still a wonderful view to enjoy as you sit.
Kitchen
One of the interesting things about the floor plan of this Australia container home is that all the areas are clearly demarcated. This is incredibly apparent in the transition between the living area and the kitchen. Having these separations means that every room has its own use and it's own space, which is a great way to deal with working within a small area.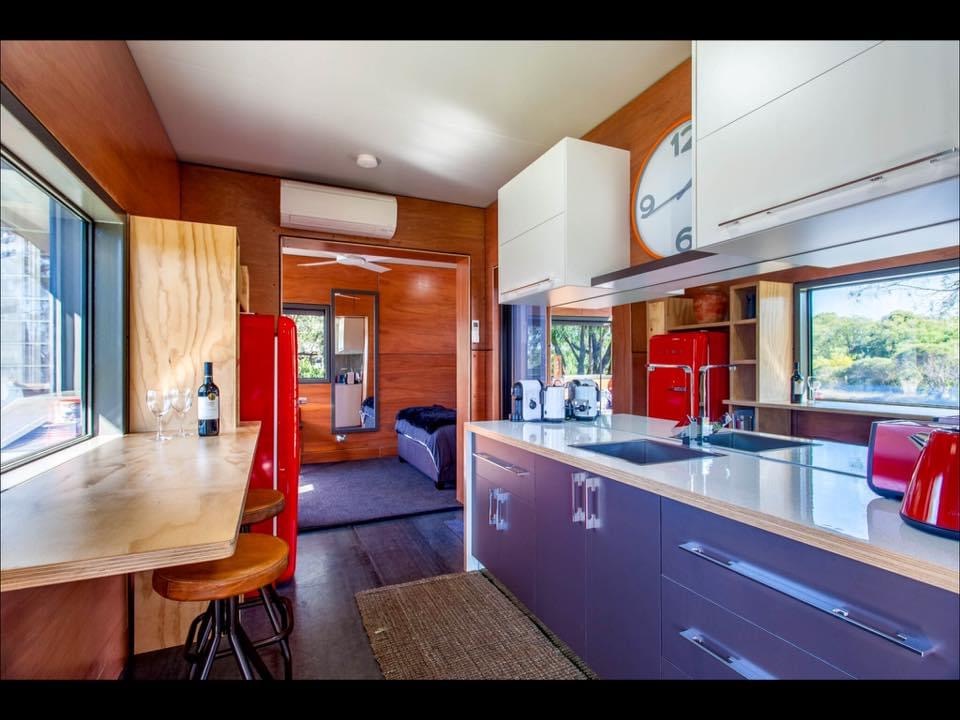 While the living area may have to rely on the outdoor space to get its size, the kitchen doesn't need that at all. This kitchen is absolutely huge for a container home and it is clear that the owners wanted a space they could use and wouldn't feel cramped in. The mirrored wall is a great way to give an illusion of even more space and we think it's a tasteful, functional addition to this Australia container home.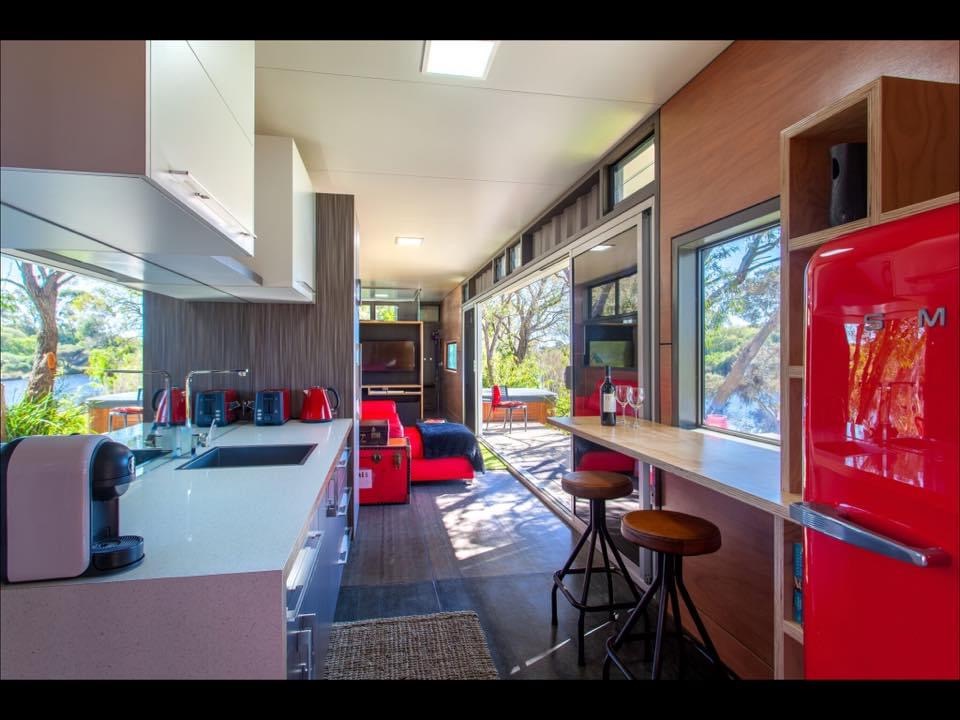 Bedroom
We absolutely love the wood paneling in the bedroom of this home. It gives the entire room a welcoming, cozy feeling without feeling cramped or cluttered. If there is one thing that this Australia container home does well, it's making good use of space and making an area feel bigger than it is. We also love the abundance of windows for that beautiful, natural light that is so important to making a home feel airy and open.
Bathroom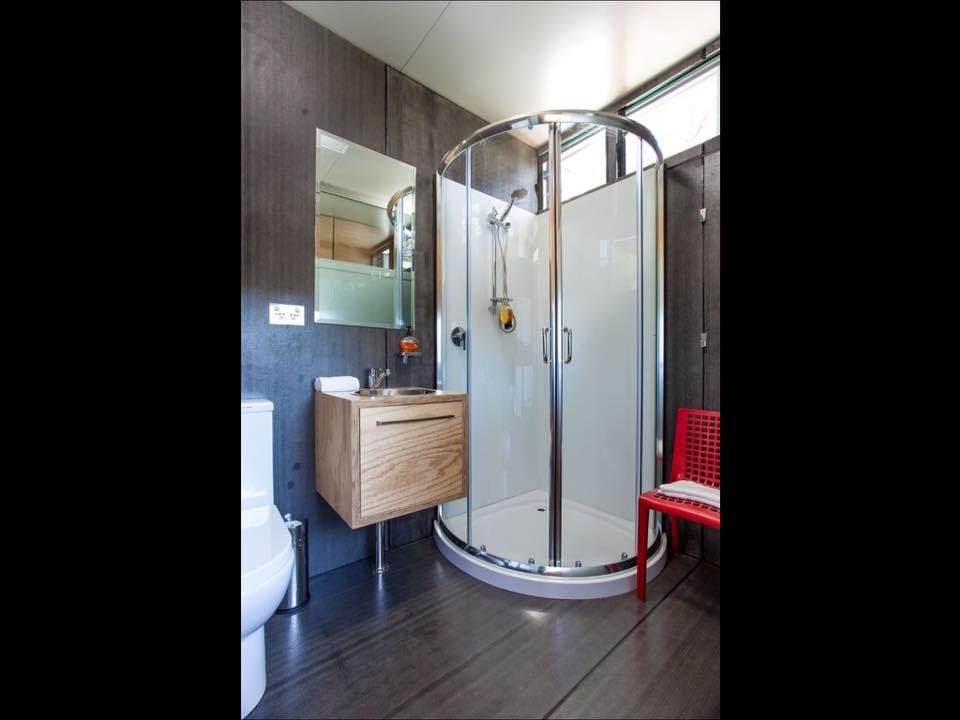 The bathroom features darker wood paneling that still feels clean and tidy without giving off a sterile vibe at all. Plus, the unique custom vanity gives off a nice, rustic feel that fits in perfectly with the rest of this Australia container home. Just like the kitchen, the bathroom is incredibly functional and features a large shower that might be found in a home that is twice the size of this one.