If you are looking for a rewarding challenge, building your own home is a great place to look. Being able to design your own space and make it completely customized to you and your family is an amazing thing to do and could be well worth the work it takes to get it done.
However, if you have ever looked into what it takes to build your own home, you were probably immediately stopped in your tracks. The amount of money it costs and the amount of red tape that you have to cut through to get a project like that up off the ground can be enough to put a stop to anyone's fantasies about what it would be like.
That's why building a container home in Colorado could be such a great choice for so many people. Because of their lower cost and easier construction (always an issue in Denver!), container homes are much more accessible to people than building traditional homes. They are open to all kinds of people and are getting more and more popular. With the alternative housing movement booming, more people are building things like container homes, barndominiums, and tiny houses. Banks and builders understand this and they are starting to come around to the idea.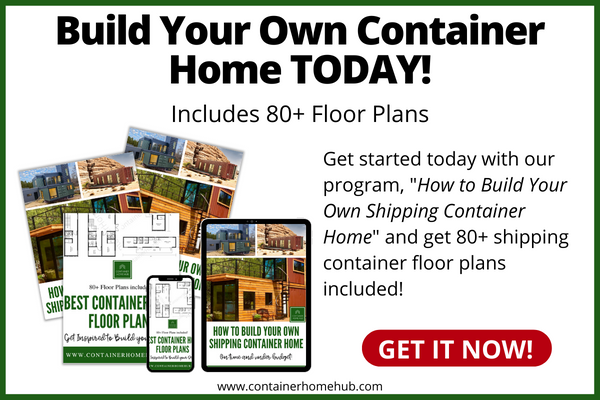 In this guide, you will learn everything there is to know about building a container home in Colorado. This can help you on your journey to build your custom home and give you the information you need to get your project up off the ground.
What Is a Container Home and What Are Some of the Advantages?
A shipping container home is a house built out of metal shipping containers, which are usually used for shipping goods on trains or boats. Because of their prefabricated nature, the dimensions of the containers make them a great choice for spaces in a home if they are artfully arranged. The shape of the containers also makes the homes that they are built with look very interesting. The modern aesthetic of shipping container homes makes them a great choice for people who have a unique vision and want to have a house that reflects that.
One of the main benefits of building a container home is the price. Because these types of homes don't need any kind of framing or roofing, you can save a lot of money on construction costs and materials. This is what makes them so accessible for people who might not otherwise be able to build their own home.
One of the other big advantages of building a container home in Colorado is the look. The boxy configuration of the containers makes them a great choice if you like the mid-century modern look and want to incorporate it into your home. Because you are limited to the layout of the containers, you have to work within those boundaries and that forces you to come up with things that you normally wouldn't. This almost always ends up being a positive thing that results in a thoroughly unique home.
Cost of Building a Container Home in Colorado
When you are deciding on a budget for your container home in Colorado, you will want to do this by the square foot. This allows you to figure out how big your piece of property needs to be and how much home you can afford. Fortunately, containers are a set square footage, so you will also be able to figure out how many shipping containers you need to source in order to get your entire home built.
The cost of building a traditional home in Colorado is around $225 per square foot. This price does not include things like furnishings or countertops. It will only get you your basic structure and if you want to add the things that make a house a home, you will need to put some extra money in the budget. This is one of the things that makes building a house from the ground up inaccessible to a lot of people.
The cost of building a container home in Colorado, on the other hand, is just $105 per square foot. This lower cost means that you can afford many more of the custom touches that you will want to include in a home that you have built yourself. Things like furniture, electronics, and custom cabinets can all be included in your original build budget.
Container Home Builders in Colorado
One of the most important decisions you will make when building your shipping container home in Colorado is the builder you choose. It can be tough to find a builder because not all construction companies will have the knowledge you need when putting a home like this together. The construction business in general can be difficult to navigate, especially when you are working on a project as unique as this one. Luckily, there are some things you can look for in a builder that will help you in your search.
One of the most important things to look for in a builder for your container home in Colorado is expertise. Most builders will not have experience in working on shipping container homes and may not even accept the job if they don't know how to get it done. It is very important that you look for a builder who has expertise and experience in the industry.
You should also look for a builder who can deliver a good customer service experience. You will be spending a lot of time with your builder and their crew, so their interpersonal skills are very important. Look for builders who have positive reviews from their former clients and were able to deliver a good customer service experience to the people they have worked for in the past.
Colorado Container Homes
Colorado Container Homes offers all kinds of options for people who want to build a container home in Colorado. They have everything from prefabricated designs to DIY options. If you are looking for a builder who has a lot of different choices for you, they could be the way to go.
Container Home Network
Container Home Network is a one-stop-shop for your shipping container home needs. They have a network of builders as well as several different resources for people looking to build a container home in Colorado.
Metal Building Homes
Metal Building Homes specializes in all kinds of metal homes, but they also know a great deal about building container homes. If you want to work with a builder who is incredibly well rounded in the business, they could be a great option.
Shipped.com helps buyers learn what shipping container is suitable for them and help them. With over 60 depots and thousands of containers on hand, they offer great prices for shipping containers. They have online direct checkout and a digital cart to help you find what you are looking for!
Container One
Container One has been in business for 28 years providing shipping containers to both residential and commercial customers. Container One prides itself on its low prices, a 5-year structural guarantee, and a variety of sizes and shipping container qualities.
Western Container Sales and Rental
Western Container Sales is a division of Railbox Consulting and is employee-owned and operated. They are one of the largest buyers of used shipping containers throughout the United States. They offer containers to their customers at wholesome markup pricing and make the process of buying easy.
Conex Depot
Conex Depot provides friendly service to their customers to help them find the shipping containers they are looking for at the best price. Because of their long-established business relationships, they are able to find inventory throughout the entire world.
Container Home Financing in Colorado
Farm Credit of Southern Colorado
Farm Credit of Southern Colorado specializes in agricultural construction projects in southern Colorado. They have all kinds of loans that you can choose from to help you find the financing you need for your project. If you want to work with a bank that knows a lot about what it takes to build in this specific region, they could be a great choice for you.
Bank of Colorado
Bank of Colorado takes the time to get to know you when they work with you so they can understand your needs and the type of project you are working on. Because of this, they can offer very personalized loans and can help you find terms that will work for you and your specific financial situation.
Container Home Taxes in Colorado
You need to pay taxes on your container home in Colorado just like you do for a traditional home. However, because your container home will be very different from what the IRS is used to, you should make sure that you have guidance when it comes to your taxes. Work closely with a local tax assessor to find out what you should be paying every year for your property taxes. They will be able to look at the tax code and find out how your container home in Colorado is classified and what rate you should be paying.
Where to Find Container Home Insurance in Colorado
It is a good idea to find insurance for your container home in Colorado once it has been built. You can usually find insurance anywhere you get regular homeowner's insurance, but some companies may have a hard time figuring out how to get you coverage. Find an insurance agent that you can trust who will work with you and decide what kind of policy you should have. They will be able to help you cover your home and protect it in the event of a natural disaster or emergency.
Container Home Floor Plans in Colorado
The floor plan for your container home in Colorado is one of the most important things you will put together. To get it started, write out everything that you and your family need when it comes to living space and bedrooms and bathrooms. Then, take this to a professional draftsman. They will be able to use your list of ideas and put together a floor plan that you and your builder can use to build the perfect container home in Colorado.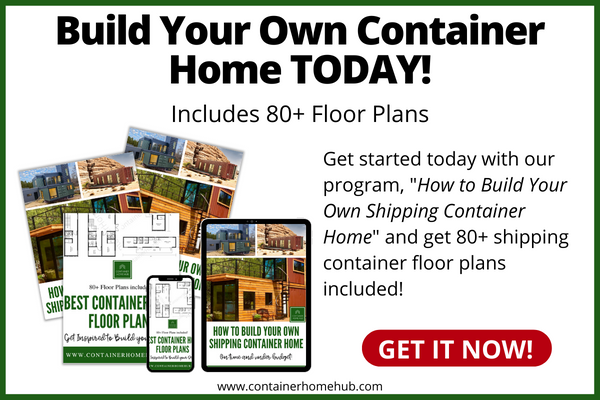 Conclusion
By reading this guide, you now know what the steps are for building a container home in Colorado. Having this information on hand can help you be prepared as you go through the process and will allow you to anticipate your moves.
If you would like even more information on building a container home, be sure to check out the rest of Container Home Hub. There, you will find all kinds of guides and tips and tricks from people who have built these kinds of homes before. You will also find featured container homes that can inspire you and show you what can be done with this unique form of housing.