Shipping container homes continue to rise in popularity for three main reasons. They are durable. They are eco-friendly. And they are affordable, especially with many shipping container homes under 50K throughout the housing market.
Sticking to a final dollar amount for new home construction can be tricky. Many final home prices will not include all the other bills you have to pay before moving into your new shipping container home. For example, new construction means you first have to purchase the land where you plan to build. Smaller layouts like those in shipping container homes usually require custom appliances to fit better in the space, and these can add up quickly.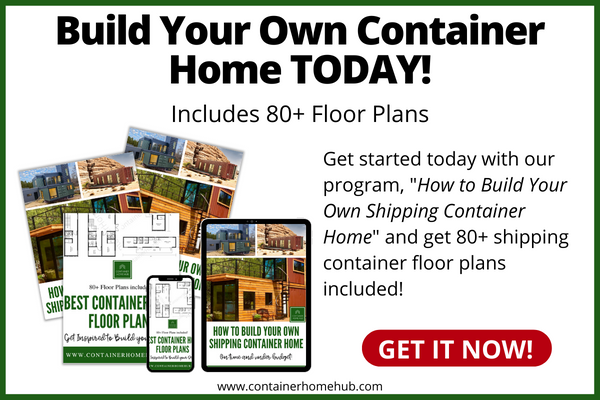 Also, shipping container homes may not require a poured foundation, but you'll still want to make sure you set up your home on a smooth flat area that won't be easily jostled. And if the land you've purchased doesn't already have space like this, you'll either have to reinforce the base of your home or pay someone to help make it that way for you. There are a lot of unexpectedly unique details that come with a shipping container home project.
In short, a metal construction building is a guaranteed good investment, but it's understandable if you don't want to sink all of your money into a new shipping container home immediately. These home designs are also really easy to add to over time. So your initial home design doesn't have to be your last!
Today we're excited to show off some of our top shipping container homes under $50,000 from all over the world. Read on to learn about some of the best shipping container homes under 50K – and how you can start building your budget-friendly shipping container home today.
Ben Homes Container Pool House Under 50K
This shipping container building was designed by Ben Homes in Ontario, Canada. It is made out of a 20-foot shipping container and is set up on a person's property as the pool house behind their primary residence.
Because it was not intended to be used as a residential space, the floor plan doesn't include a bedroom or bathroom. Instead, the space is set up with a changing room, wet bar, multipurpose room, and mechanical space.
Overall, this project cost $12,000 in Canadian currency to complete.
Tex the Container Home Under 50K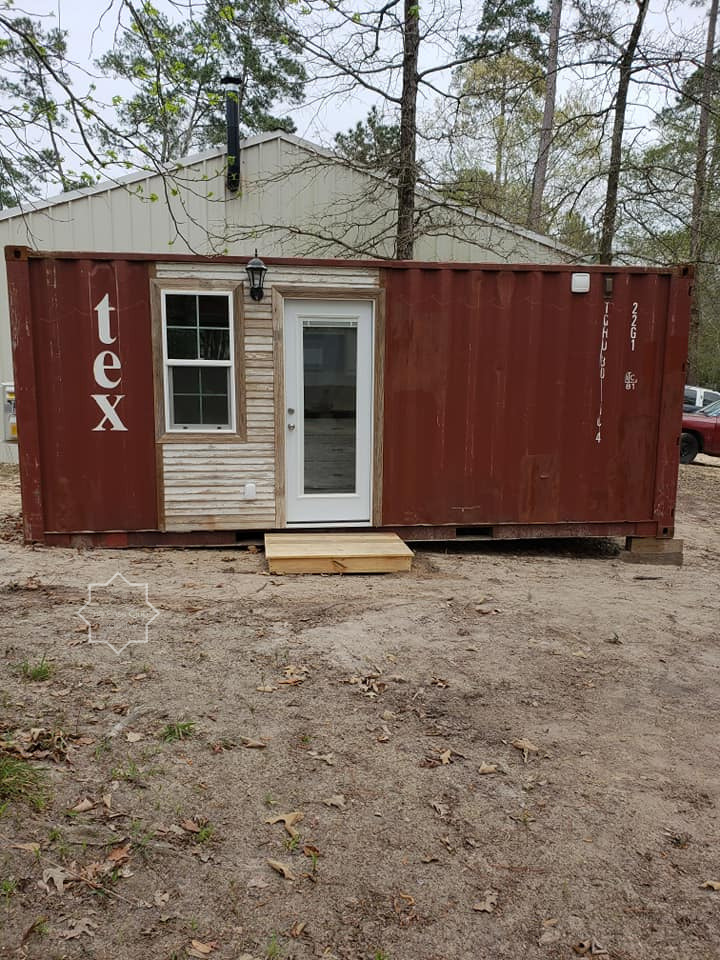 This shipping container home is so unique; it has its own name! Dubbed Tex by its maker, it is a rustic home made out of one 20-foot container. Every inch of this home has been designed to optimize space and cost. There are LED lights and shiplap-lined walls throughout the home. The kitchen space includes a touchscreen cooktop and microwave, as well as a large refrigerator with a focus on freezing space. The bathroom is covered in tile and includes a standing shower and a full-sized toilet. And then the main sleeping area includes room for a queen-sized futon and a flip-down upper bunk.
After all the attention to detail in this shipping container home, it was on sale for $28,000.
Buford Tiny Container Residence Under 50K
The Buford shipping container home is called such because it is located in Buford, Georgia. It is made out of a 20-foot shipping container, and it includes a sewer or septic tank hookup and room for a queen-sized mattress. With ample shelving throughout the unit, there is a lot of built-in storage. The kitchen is complete with a microwave, stovetop with cover, and a mini fridge. You access the bathroom and back door through the kitchen space.
Everything in this shipping container home is small and designed as a great getaway. But you also won't be in want of anything with all the intentional additions to this shipping container home's layout. This home is currently priced at $45,000.
Luckdrops Studio+ Tiny Container Home Under 50K
Luckdrops is a shipping container home designer in the state of Washington. Their goal with every shipping container home they create is to focus on the economy of building materials and well-engineered homes. This specific model is called Studio+, and it is made out of an upscaled 40-foot shipping container.
The exterior is coated in a temperature-reducing paint layer. Then the interior includes vinyl wood flooring, wiring for internet and electricity, and a full water and plumbing system. The kitchen includes a free-standing electric range stove, carbon monoxide and smoke detectors, and a double bowl sink. The bathroom includes an energy-efficient toilet, a built-in fan in the ceiling, and a modular shower.
Before adding any customization packages, this home checks out at $38,000.
Porta Pad Tiny Container Cabin Under 50K
The coasts in America are known for their raging summers, but Australia can give all of those spaces a run for their money. You might think it would be terrible to sit in a shipping container home as your getaway in Perth, Western Australia, but Porta Pad, the original designer of this shipping container home, respectfully disagrees. They designed this 20-foot shipping container home to be heat and weather resistant with the help of cell spray foam insulation and solar panels on the roof.
The interior includes self-adhesive vinyl flooring and a compost toilet. There are bunk beds installed just off the kitchen, with a storage shelf above them. Then the couch in the main sitting area includes a pull-out bed. There are sliding glass doors along the side and back of the shipping container for natural light and easy mobility throughout the space.
The original builders of this shipping container home set a budget of $15,000, and they were able to stay under it!
Hayhurst Brothers Container Home Cabin Under 50K
This shipping container home was designed by the Hayhurst brother builder duo in Bridgeport, Texas. It was made out of a 40-foot shipping container. Metal siding and metal roofing have been added to the home for extra insulation and durability.
The kitchen includes butcher block countertops, a refrigerator, a full oven, and a sink. The floors are made of poured concrete, and a washer and dryer is inside the full bathroom. The single-bedroom space is on the other side of the shipping container through the kitchen.
The overall price of this home is $34,900, and it is ready to be relocated by a home mover.
Kirkwood Tiny Container Home Under 50K
This shipping container home from Kirkwood, Iowa, was designed by students in the architecture of construction and engineering (ACE) program at Kirkwood Community College. The project was completed over 12 weeks, and the students did all of the planning, designing, and labor involved in creating the final product.
The Kirkwood Tiny Container Home was made out of a 40-foot shipping container. It includes an eat-in kitchen with upper cabinet storage and a murphy bed that can be stored out of the way when not in use. The main bathroom includes a toilet and a sink, along with washer and dryer hookups. Interestingly, the final product is not allowed to reside in the county where it was made, as Linn County does not allow homes under 660 square feet.
The closing value for the home was $24,000.
Budget Tips to Stay Under 50K
If you too want to create a shipping container home, but funds are tight, stick to these four main tips:
Use an upcycled shipping container. A small, single-use shipping container needs to be recycled after it's shipped goods overseas anyway. Using it to build your home is better for the environment and your wallet.
Stick with a simple layout. A more affordable shipping container home is a great option for your regular getaway. Don't plan to bring your whole life with you when you go on vacation.
Use the built-in features of your shipping container. When you alter the original shipping container as little as possible, your shipping container home will be more structurally sound and weather-proof for years to come.
Work with experienced professionals. Architects and contractors who have designed and built shipping container homes before will help you think through all the hacks and DIY details you can add to your home without breaking the bank.
Shipping container homes are versatile because of their natural industrial aesthetic. You can enjoy all the benefits of metal building construction with a shipping container home – as long as you permit yourself to keep your final design simple and affordable!
Conclusion
Now that you've read our guide to shipping container homes under $50K, the only thing left to do is get started on your new container home design! Feel free also to check out our shipping container home FAQs, including our tips on one-bedroom shipping container home floor plans. Or read more about shipping container homes on our blog, where you'll see content like this featured bright container house in Oklahoma.