When thinking about designing a shipping container home, you want to consider all your options. There are so many different ways that you can arrange the containers and create your home. No matter what kind of style you are looking for, you should be able to find the perfect look. Due to their construction, modern shipping container homes are incredibly popular.
If you like the minimalist, contemporary look of modern houses, container homes are a great option. You can create a wonderfully bold and unique home using the boxy look of the containers. In this article, we have compiled some of the best modern shipping container homes. Using these examples, you can come up with something that will fit your aesthetic and make a statement.
The Best Modern Shipping Container Homes
Modern Costa Rica Container Home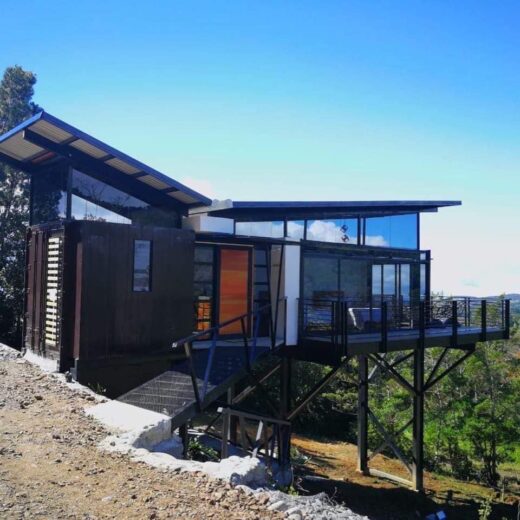 This modern shipping container home in Costa Rica is a great example of what can be done with some imagination. We love the fact that this home has been built on the side of a hill and featured fantastic views. Because container homes have a boxy appearance, they are perfect for this kind of layout. The porch leading out over the hill is another wonderful addition that brings everything together.
One of the things that makes this a modern shipping container home is the windows. The large array of windows on the top give this home a sleek design. They also provide more vista views that make this a fantastic place to live or work. The bold lines of the roof and the interesting design give this home its unique, amazing profile.
Gary Power's Africa Container Home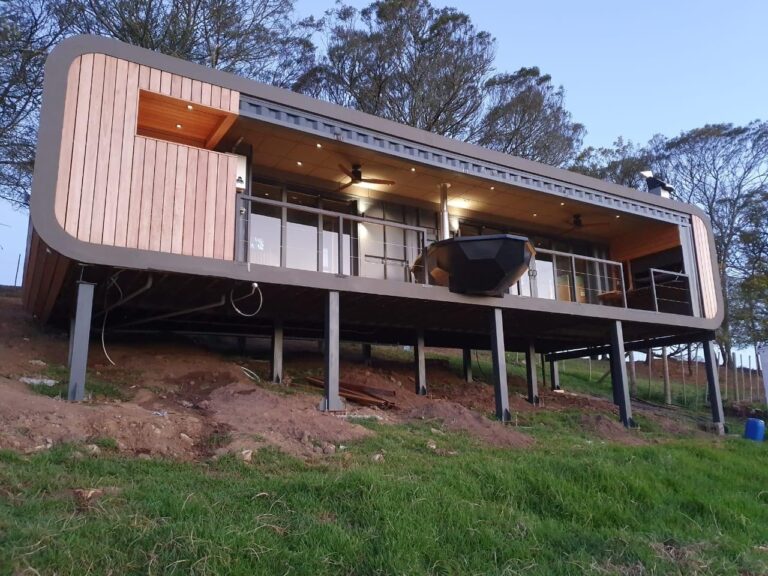 One of the hallmarks of modern shipping container homes is innovation. Nowhere is this more apparent than in Gary Power's Africa Container Home. There are so many amazing design elements on this home it's difficult to choose what to highlight. However, the extended hot tub is one of the things that stands out the most.
We also love the absolutely beautiful lines of this home's profile. The wraparound siding on the ends brings the whole home together and gives it a complete look. This home is also built on a hillside and features a beautiful porch for gazing at the horizon. This is a perfect modern shipping container home and is incredibly unique and interesting.
Black Box Container Home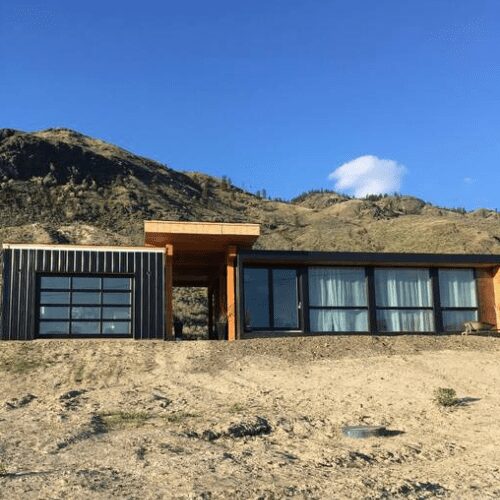 Modern homes are known for their striking lines and low profile. That is exactly what makes the Black Box a modern shipping container home. We love the short, sleek look of this home and the large array of windows looking out the front. The combination of glass and metal is a hallmark of the modern style and this home has a lot of that.
We also love the breezeway that connects the two portions of the home together. This gives the two spaces a cohesive, complete look. However, because this home is in the desert, it also gives you more outdoor space. This is a great combination of style and function that many modern homes feature.
The Oxford Tiny Cabin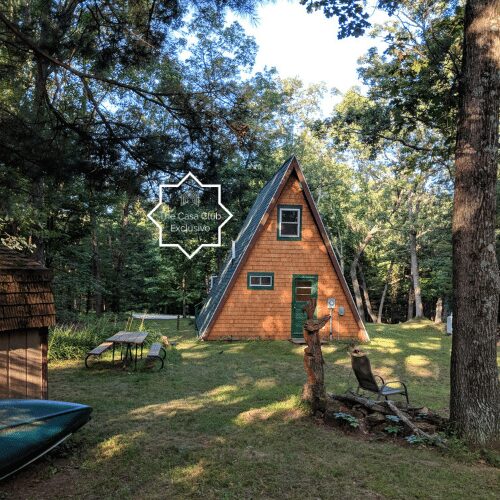 Many modern shipping container homes have a boxy, rectangular feel. However, this Oxford Tiny Cabin is an exception to the rule. Using different shapes and symmetrical lines will give a home the contemporary feel that is so desirable. This is done incredibly well with this home and we love the final result and the profile that it exudes.
This home is a great example of how you can literally think outside the box with one of these homes. The shape is not the only striking thing about this home, though. We also love the arrangement of the windows and the color scheme of the siding and roof. It is a great combination of contemporary style and a cozy, country cabin feel.
The Bundeena Container Home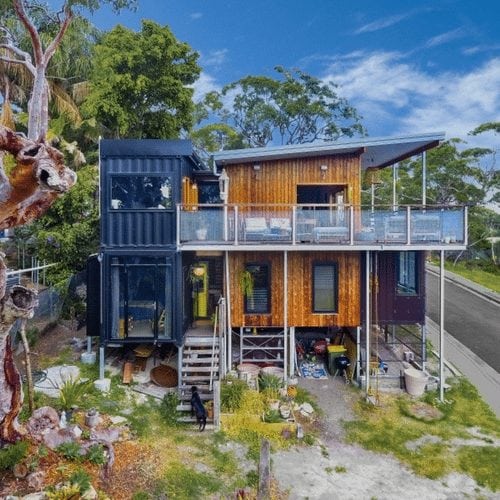 While many modern shipping container homes are incredibly simple, the Bundeena Container Home is an exception. We love that the designers of this home have used a wide variety of containers and design elements. This not only gives this home a lot of space, but it also provides many options for gatherings. There is so much room for people to hang out and that makes this home incredibly functional as well as fashionable.
When designing modern shipping container homes, many people wonder about color schemes. The nice thing about containers is that they come pre-painted. Here, the designers have used this to their advantage. By leaving some of the containers raw and installing siding on others, they have created a beautiful contrast.
Young Shipping Container Home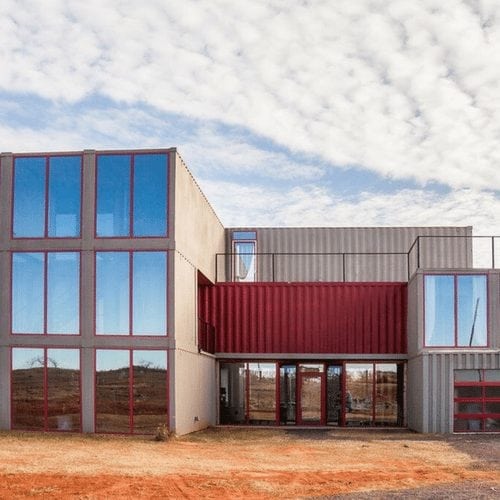 With modern shipping container homes, you are not limited to the same things as you are with traditional homes. The Young Shipping container home is a great example of how you can create something unique with a few simple shapes. This home features a large outdoor space on the second floor that is perfect for spending a summer night. It also almost doubles the amount of livable room without having to add more containers to the layout.
We also love the use of windows on this modern shipping container home. Having this many windows is a great way to bring some of the great outdoors into your home. This is done particularly well here and this home gets so much of that beautiful natural light. Just like with the outdoor areas, this home makes wonderful use of the space that is allotted and feels large and roomy.
Conclusion
Modern shipping container homes are some of the most beautiful examples of what can be achieved with these materials. If you are looking for a home that is both unique and functional, this could be a great option for you. Taking the time to understand the limits of the form and the creativity you can use is essential. If you want something that will be striking and beautiful, a modern shipping container home is a perfect choice.
If you would like more helpful guides like this one, check out the rest of ContainerHomeHub.com. There, you will find resources and tips and tricks from the pros. You will also find featured container homes. These will help you get inspired and get you thinking about your own custom dream home.