Today's featured home on Container Home Hub is a fantastic, mid-century modern style home that is original and eye-catching while staying true to the shipping container home ethos. This Africa container home has everything you could want from a full-size home but with all the interesting elements that are inherent with shipping container culture. There is a unique detail around every corner in this house and we can't wait to show you all the things it has in store for you.
Exterior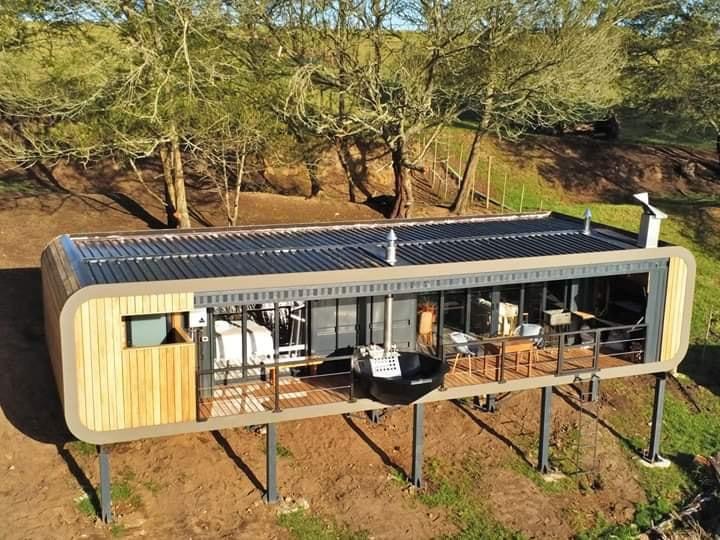 One of the first things that you just can't help but notice with this Africa container home is its amazing terrace. This is one of the things that is a mark of a well-designed shipping container house. If you can have a lot of usable outdoor space, you can move some of the action outside and give more room to the inside of the home. This is a great technique if you want to have guests over and don't want everyone to feel like they are standing on top of one another.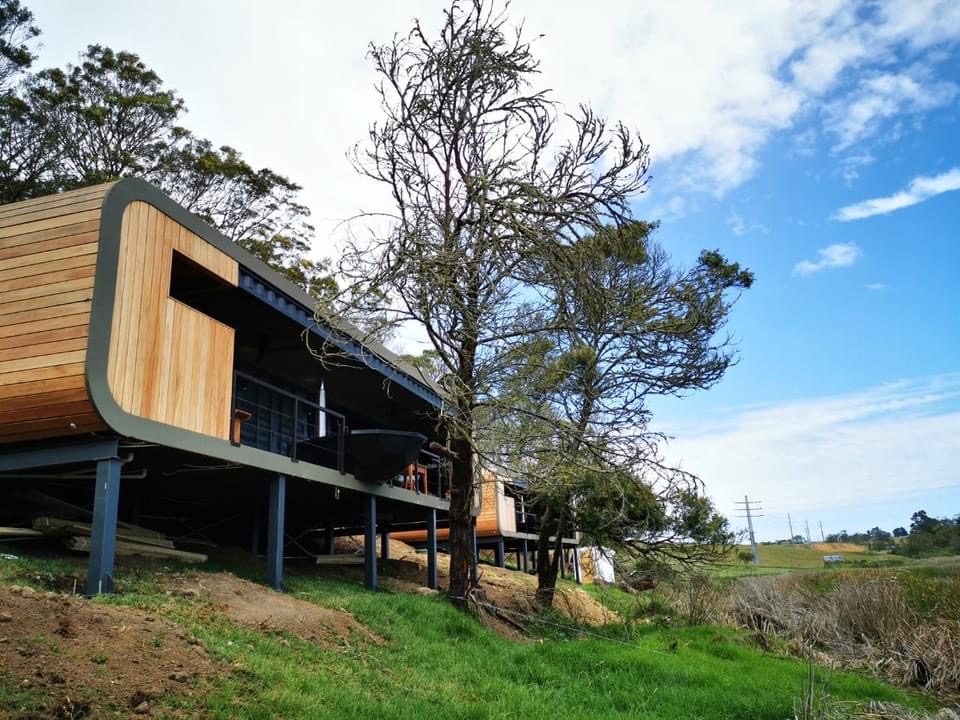 It helps that this Africa container home is in such a beautiful area. With a landscape like that to look at, it's no wonder that the designers wanted to make sure that they had enough space outside to gaze up on it. We love the stilt design that this home has since it allows the terrace to be cropped out from the hill, which is a fantastic way to take in as much of the view as possible and feel like you're on top of the world.
As we mentioned above, there are a lot of little unique details in this Africa container home and the pool is absolutely one of them. This little wading pool sticks out from the terrace and creates an amazing space where the owners of this home can relax and be even more connected with the surrounding nature. We think this is one of the more unique things we've seen in all our time looking at these homes and we absolutely love it.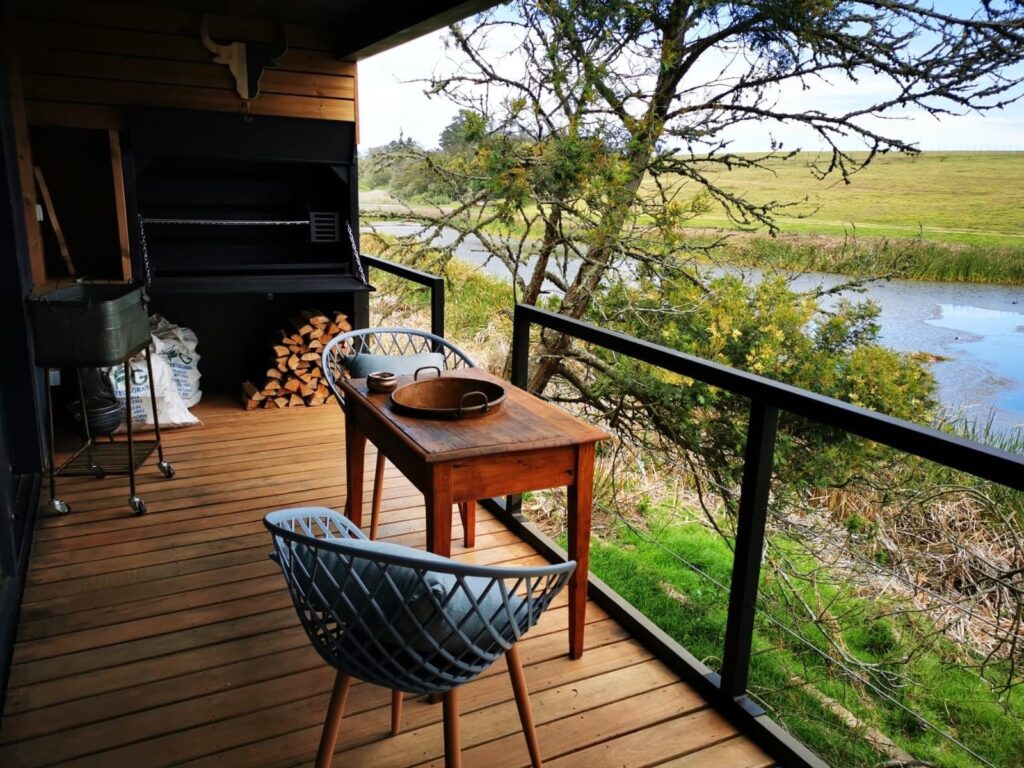 The colors that this home uses really make it feel like it is a part of the landscape in and of itself. The natural wood contrasts beautifully with the dark metalwork and creates a modern feel that is incredibly welcoming and comfortable. This, along with the beautiful wood furniture makes this outdoor area a fantastic place to relax and take everything in.
Interior
Living Area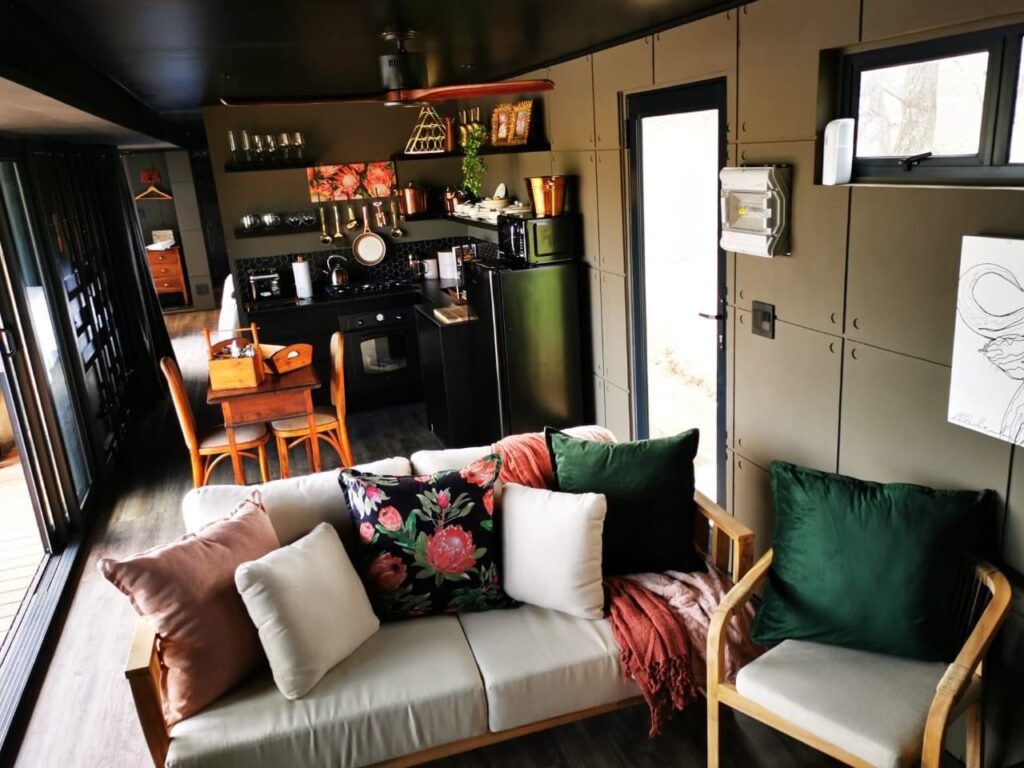 After seeing the exterior of this house, it is no surprise that the interior is so well-designed and beautifully appointed. This Africa container home is one of those small spaces that just doesn't feel small in the slightest. It has a wonderful, natural flow that we think suits it perfectly and is a great design for separating the different areas but still making them cohesive enough to work together and create a beautiful space that is as functional as it is attractive.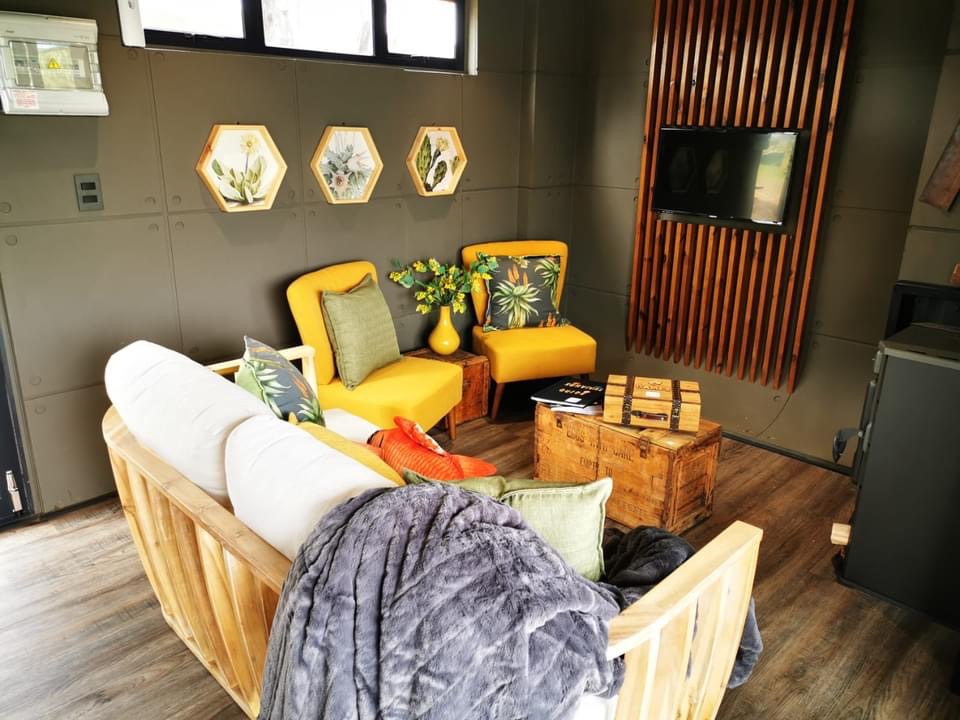 Kitchen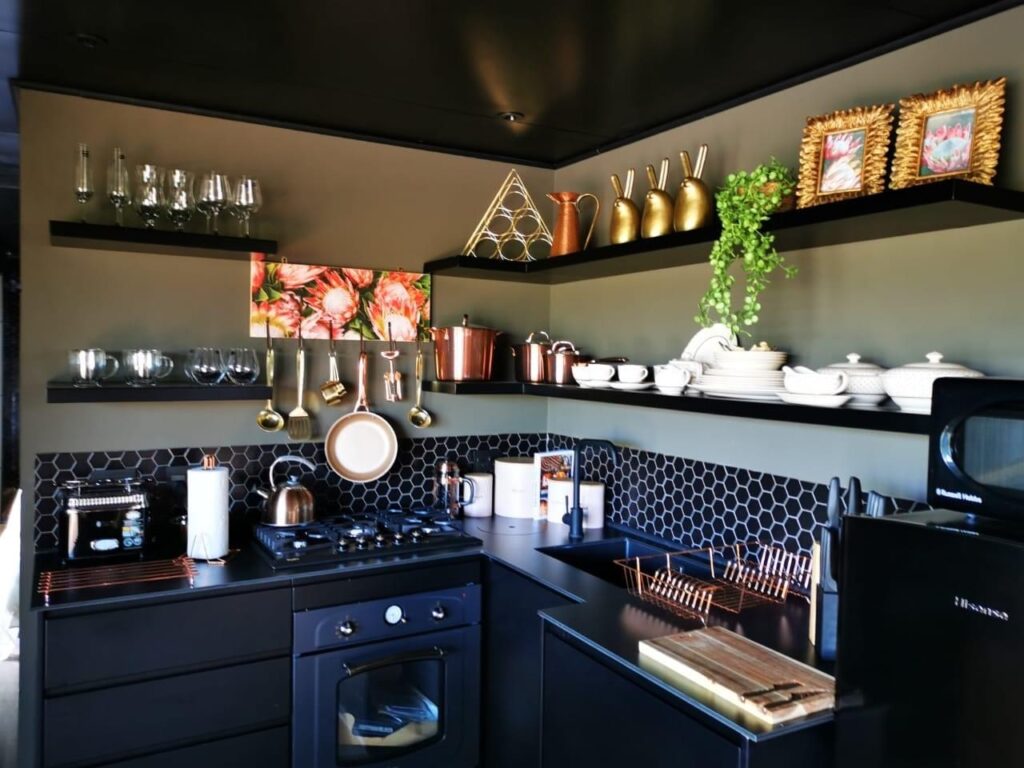 The kitchen continues that modern, contemporary feel but it doesn't give off a cold, sterile vibe at all. The dark colors and the high shelving units help give this Africa container home its functional design. Having those shelves up so high saves room further down below and doesn't crowd the kitchen like they would if they were lower. We love the patterned tile of the backsplash and think that it is a major source of the kitchen's wonderfully contemporary look.
Bedroom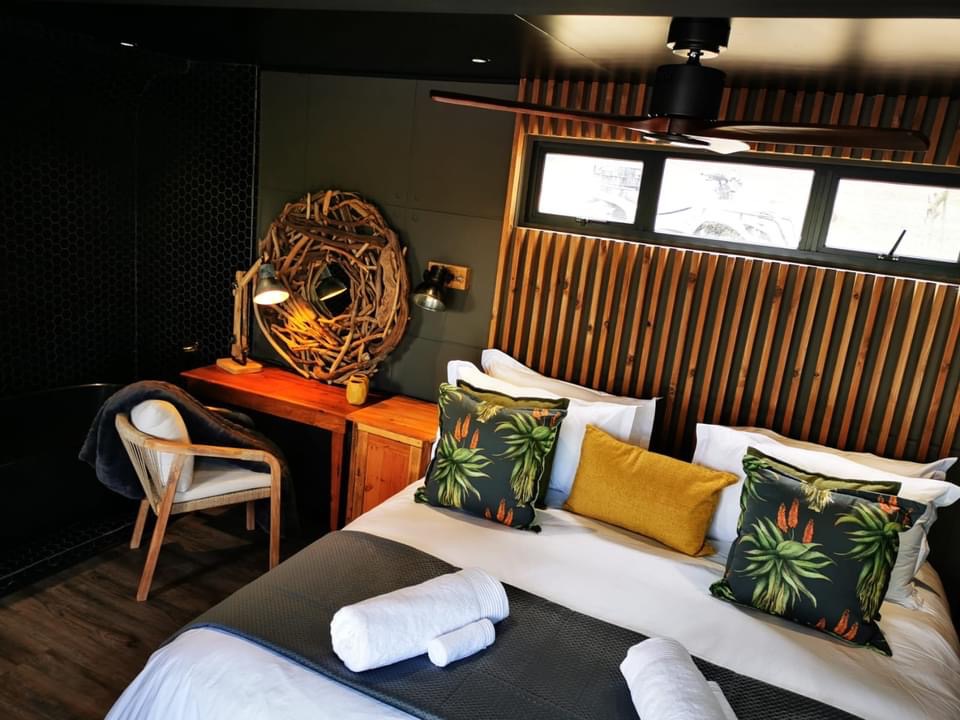 The bedroom in this Africa container home features more of those dark colors contrasted with stunning natural wood accents. The custom headboard has some amazing slats that come all the way down and give that wall a beautiful illusion of height and depth. This kind of attention to detail is what makes this room work so well. We love the beautiful cherry wood desk and the rustic, custom mirror unit that hangs above it as well. These details are what make this room pop.
Bathroom
One of the crown jewels of this Africa container home is the bathroom. As you can see, there is more liberal use of that beautiful tile that we saw in the kitchen. This is such a wonderfully unique design and not something that you see every day in a home like this. Usually, container homes are trying to fit as much functionality as possible into their designs and it can be difficult to think about accents and colors. This is not so with this container home and the attention to flow and detail is really apparent here.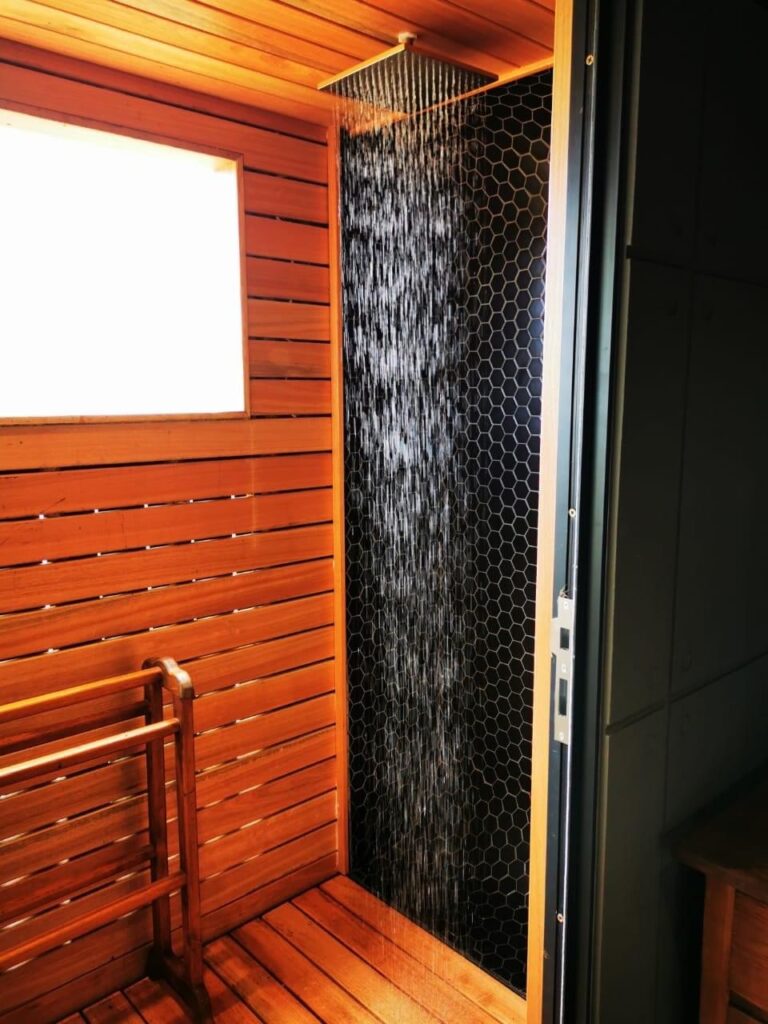 The shower room features more of that beautiful wood and a rainfall shower head that is the epitome of luxury and class. Just like the rest of this Africa container home, the shower room is beautifully designed down to the last detail and made to be enjoyed. With so much to look at and appreciate, we just love how every inch of this home has been thought about and perfectly executed.