Today, we will show you a home from Shelley Carter that you will adore! This one-bedroom, one-bathroom tiny container home is located in the Ohio forest and rented as vacation getaways. We'll show you everything we love about this home and give you all the details as we go!
Let's get started with our tour of this rustic tiny container home.
Rustic Tiny Container Home Exterior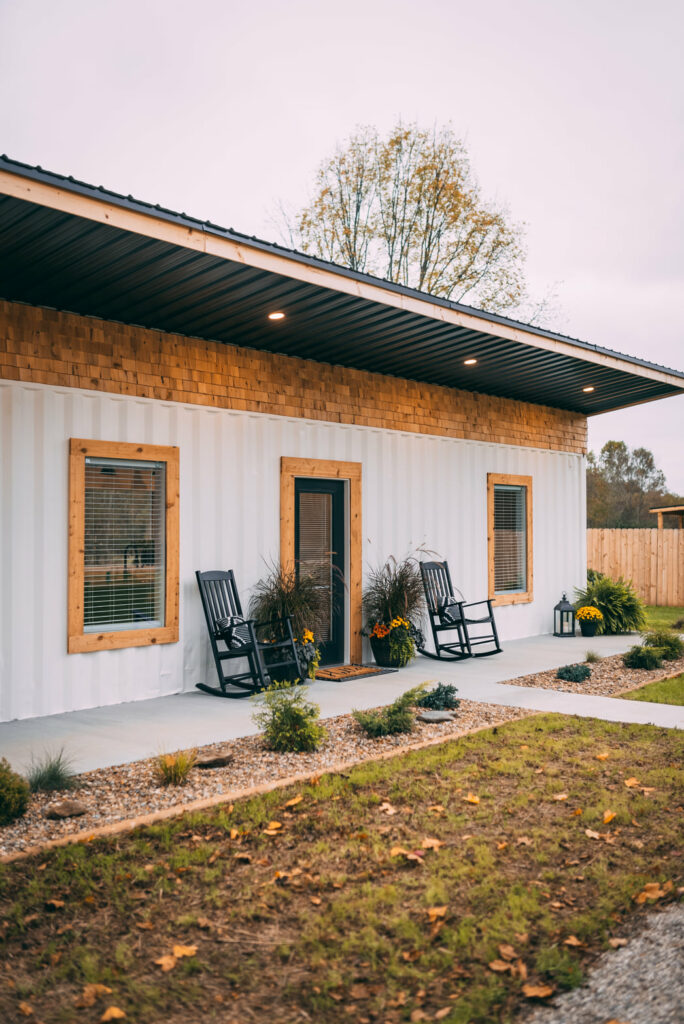 When you pull up to the house, you'll notice it has a unique design that you will love. We love this white container home with two wooden-framed windows and a door.
Two rocking chairs sit on the porch, perfect for overlooking the garden area. We love that this home is located near the woods, giving it the seclusion you may be looking for. You get all the privacy in the world, and you're not too far from nature.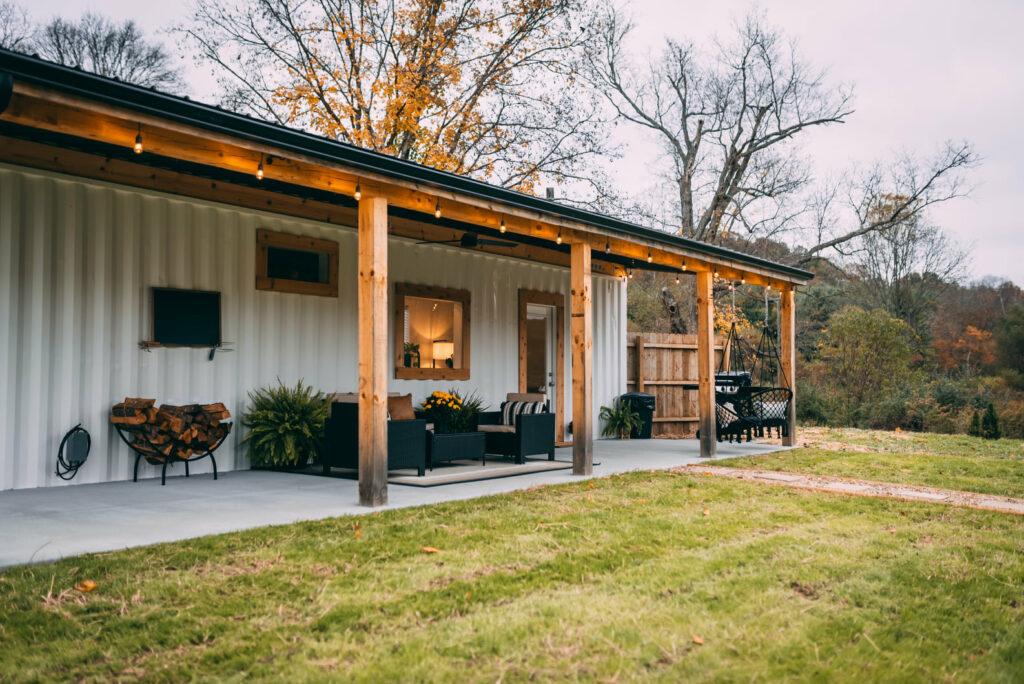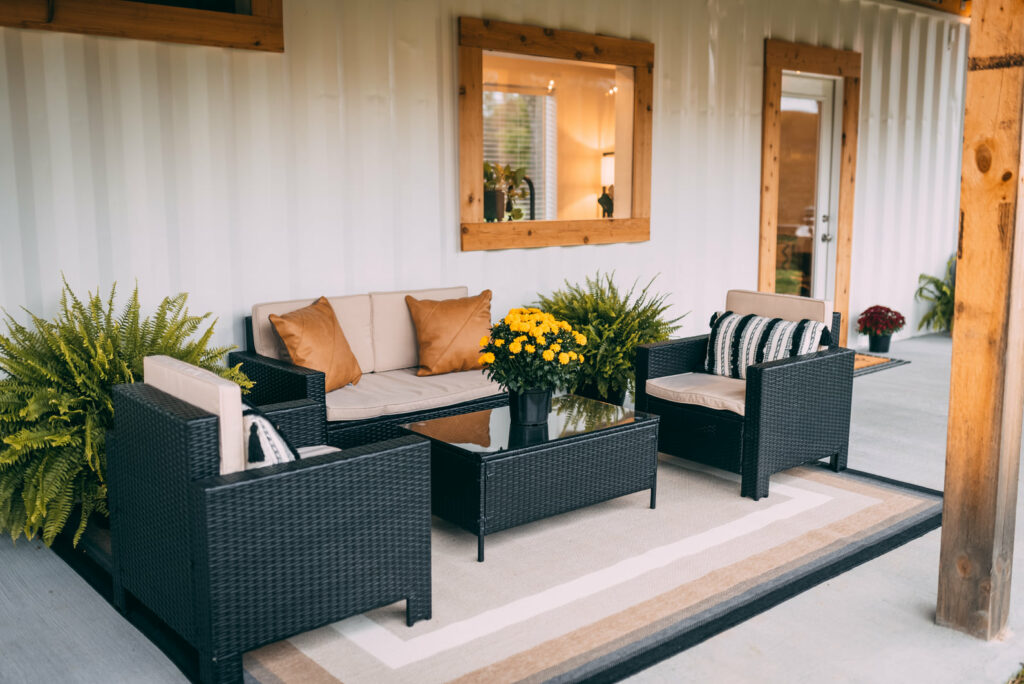 This area also gives you a grand view of the woods beside the home. You could get lost in them if you're not careful. You'll be surrounded by a sea of colors in autumn, making each fall something to remember. We love this home because of how much of a gorgeous getaway it is. For us, it's almost like a cabin in the woods. It's small yet serves its purpose overall quite well.
Rustic Tiny Container Home Interior
Dining and Kitchen Areas
Speaking of food, let's go into the kitchen. The kitchen has all the utensils you need, with a black cabinet with a light oak finish. Several wall shelves allow you to store extra plates, glasses, and other kitchen essentials in a space-saving manner you will love. It also comes with overhead lights and a sleek sink. You'll never get tired of the kitchen area.
With its storage, we imagine inviting guests over is a delight. There's plenty of room to grab a snack or cook a big meal if you want to. What we like is the area where the appliances are stored. How many times has an appliance sat in your kitchen and not been used for a long time? Being able to put it away but using it when you need it in an arm's reach is pretty convenient.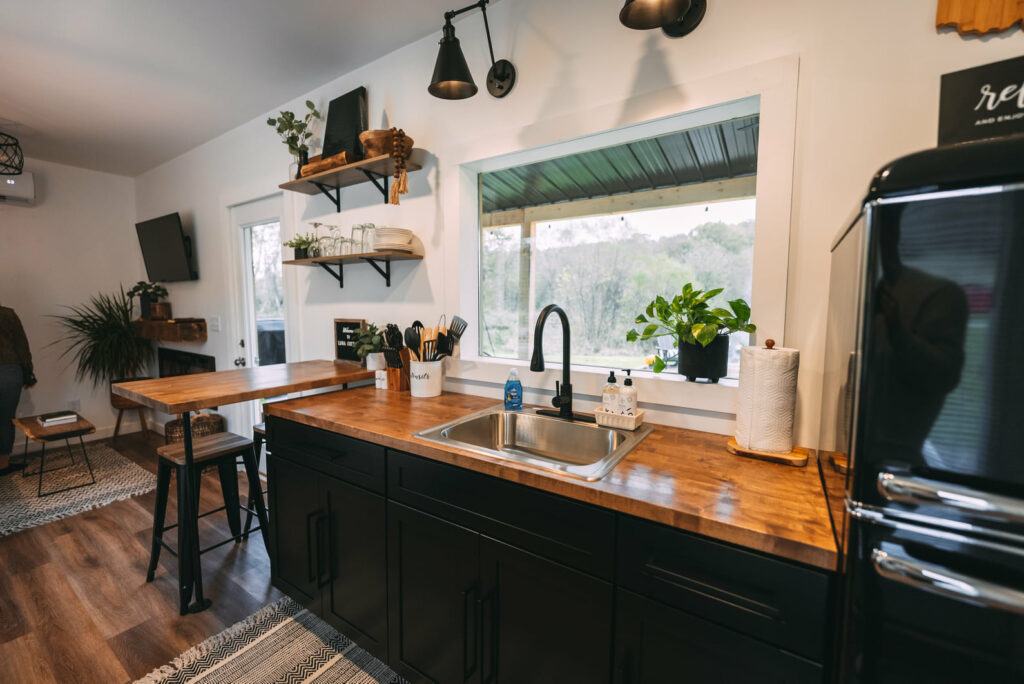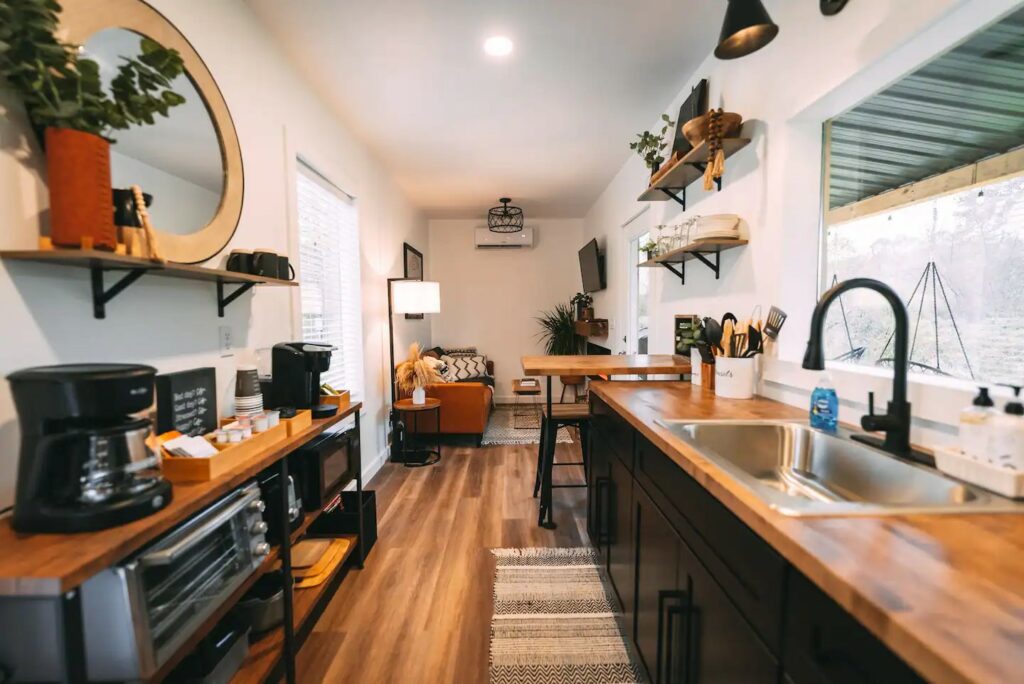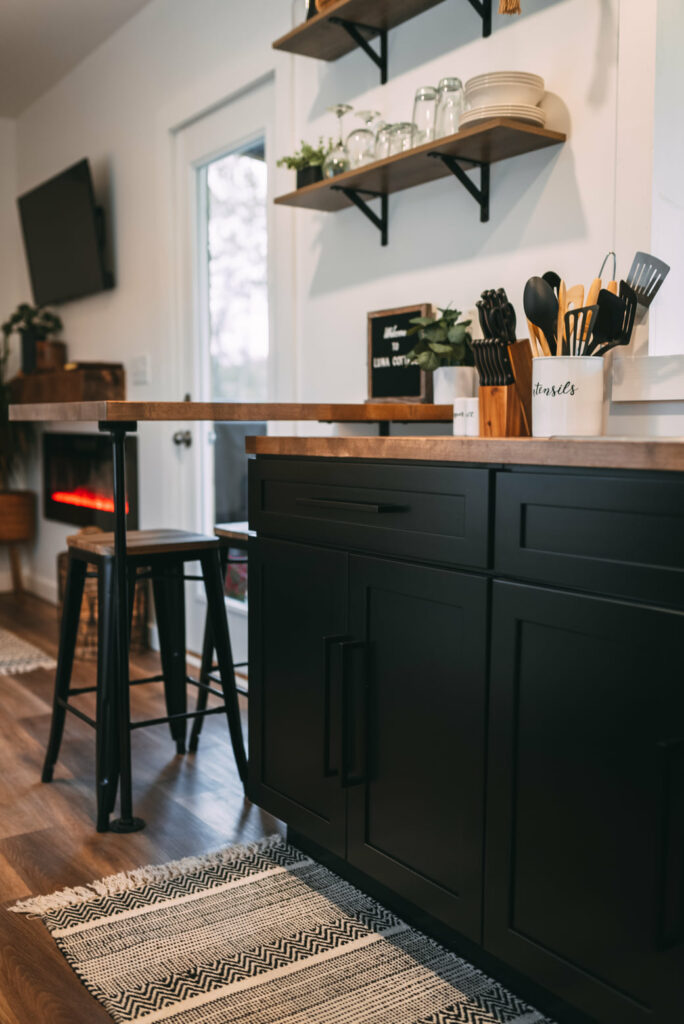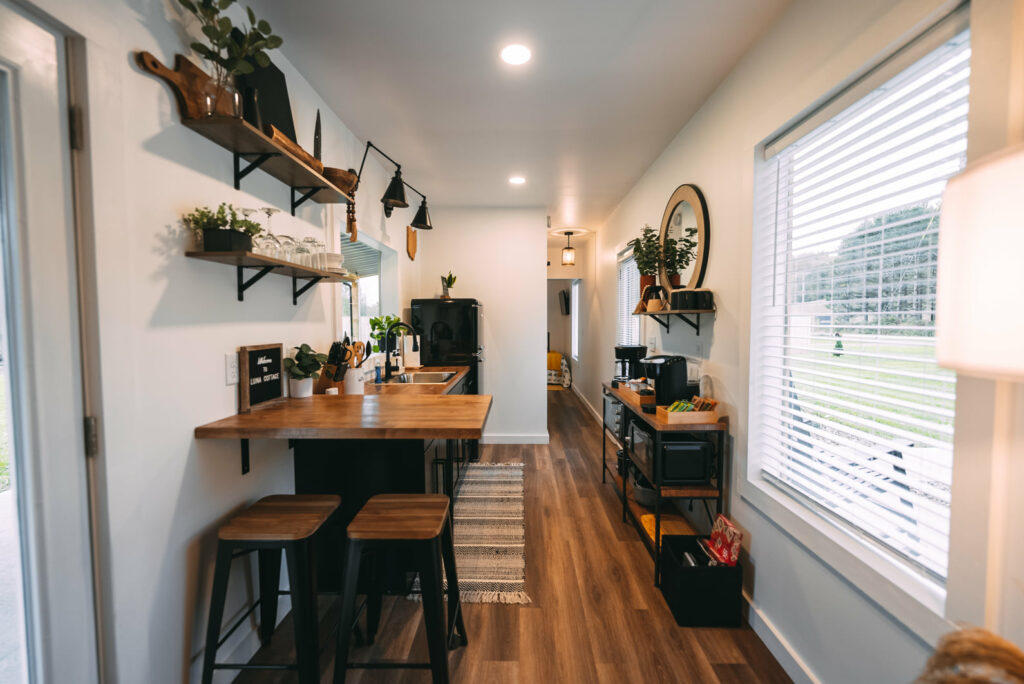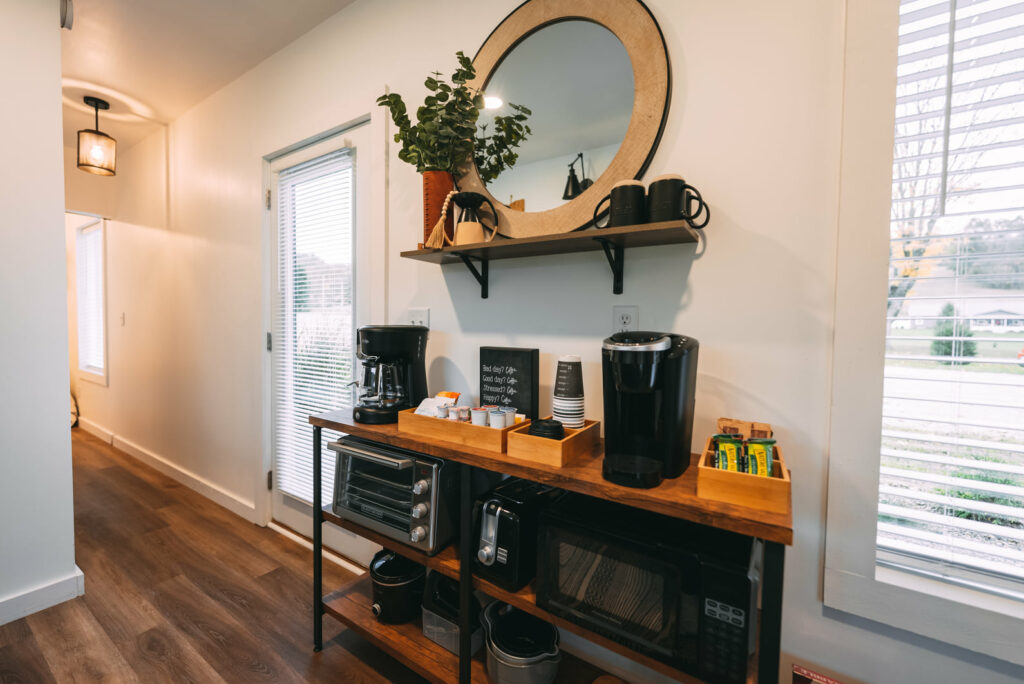 Oh, and speaking of never getting tired, nearby is a coffee area. This area has storage for your creamers, sugars, cups, and snacks, with a K-cup and carafe maker included. Below are other appliances in one convenient location, including a toaster oven, microwave, and toaster. Above it, a large mirror helps you see your tired face as you're waking up!
Living Room
Next to the kitchen is the living room. This cozy space comes with a wall-mounted TV. Below it is a fireplace, in front is the comfy leather couch and a wooden coffee table sits in the middle. There's also a mini-split AC, helping you keep cool on warm days.
The living room is excellent if you're a couple or have a small family. While it's not suitable for a party, there's still plenty of space for a company to sit outside or even around the kitchen area. With the house being so connected, it's easy to have a great time despite the limited space.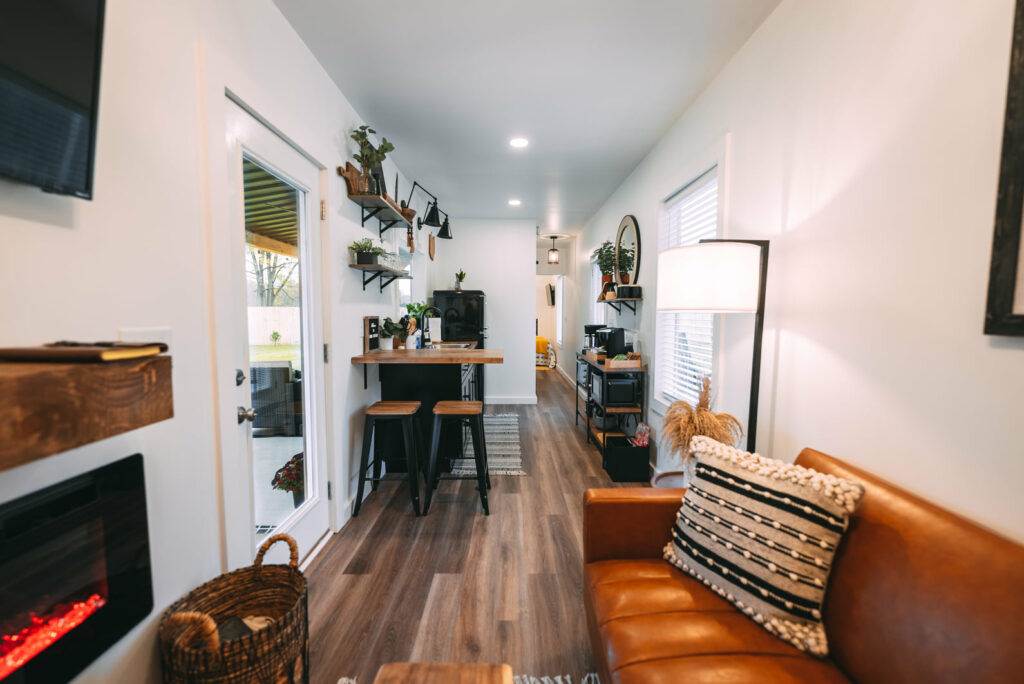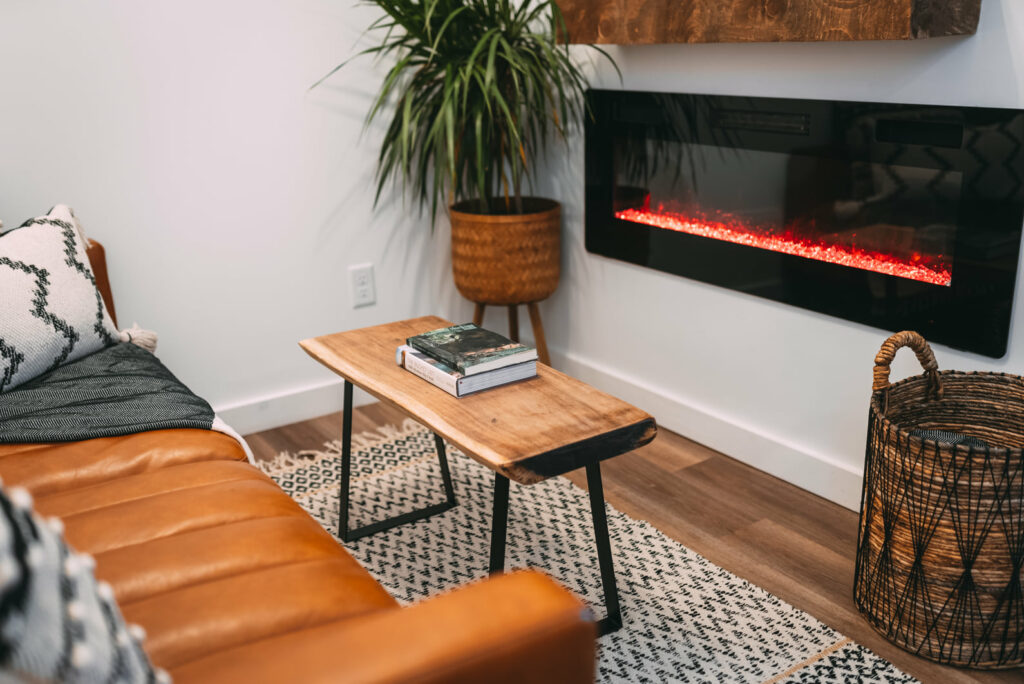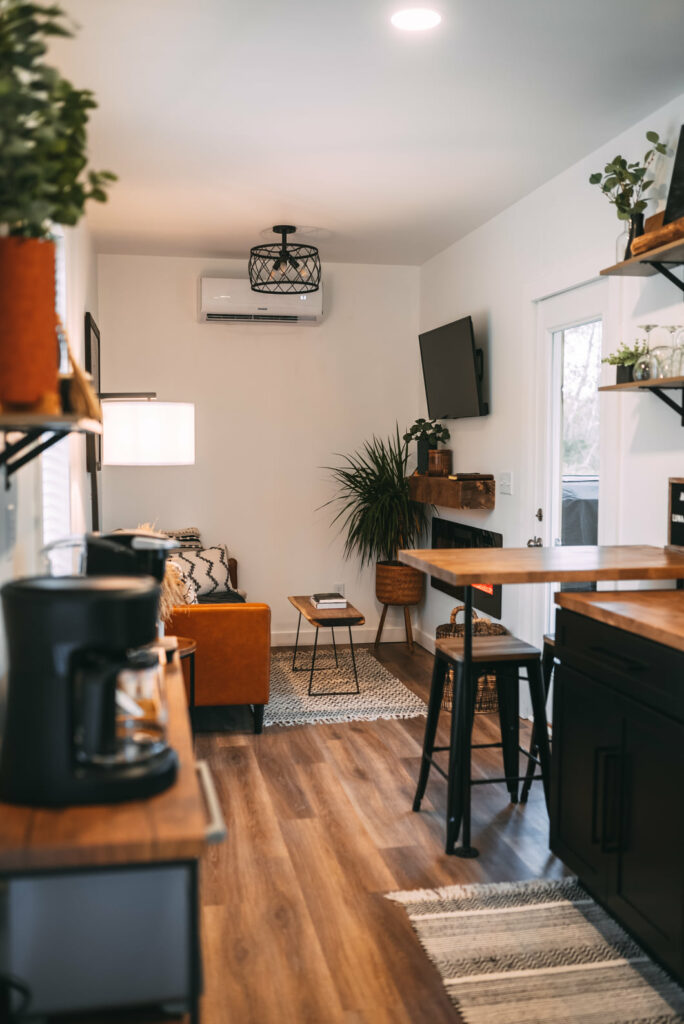 One thing you'll notice about this home while exploring it is that while it's small, it uses its spaces smartly. Having the kitchen table built-in allows for more space without feeling cramped in the kitchen. Once you enter the bathroom, you'll also notice that it feels pretty spacious despite its small appearance.
Bathroom
You'll see a gorgeous black and white sink complete with a large mirror and a shower in the bathroom. It even comes with built-in shelves to store all of your towels. Wall shelves again allow you to store all your toiletries without taking up too much space and below the shelves is the toilet. The shower itself is a comfortable step-in unit, letting you get clean rather quickly. It's a great place to begin and end your day. It serves its purpose quite well, which we want in a bathroom.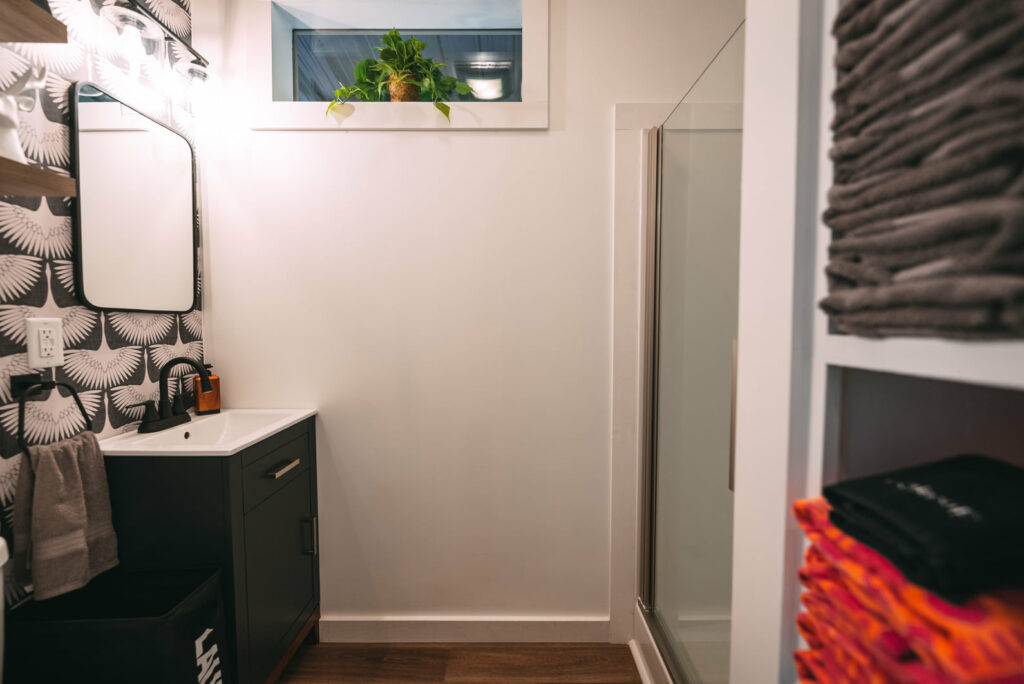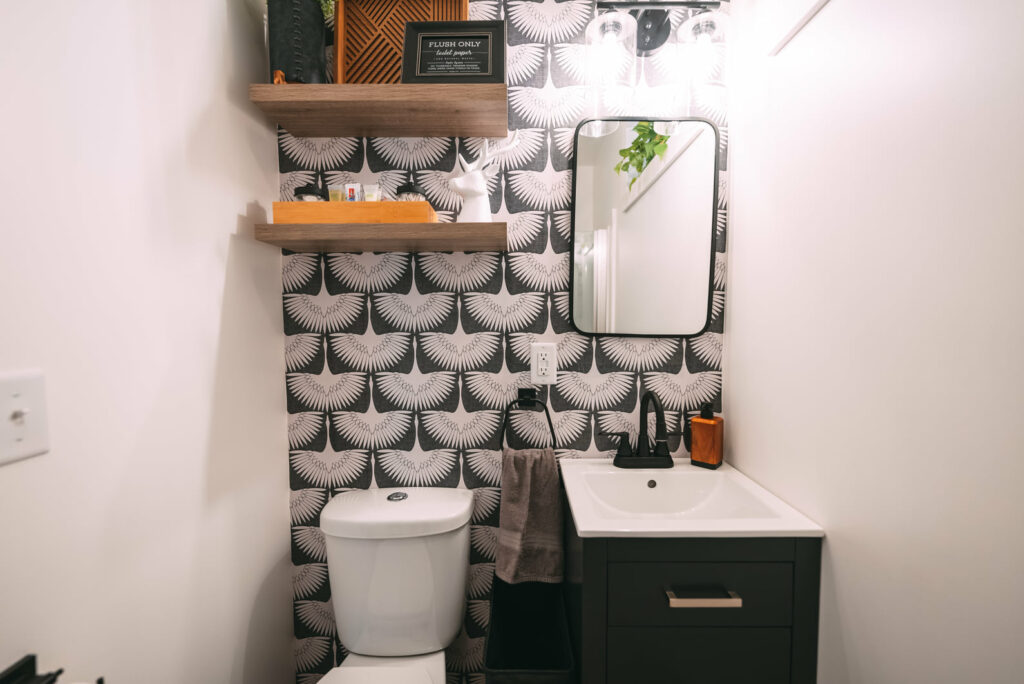 Bedroom
This small yet cozy bedroom is the place of dreams. The rustic nightstand and lamp give it a timeless look. At night, the black wall behind the bed helps you keep calm and relaxed whenever you're about to fall asleep, with a window in front to help you wake up when it's time for you to do so.
The bed has warm colors, allowing you to relax as you sink into its blankets. Also, by the bed, you'll see an area to hang up clothes and other necessities. Also included in the bedroom is a nearby closet for more storage. The bedroom is a small yet powerful sanctuary to help you fall asleep every night, which is what we love out of any bedroom.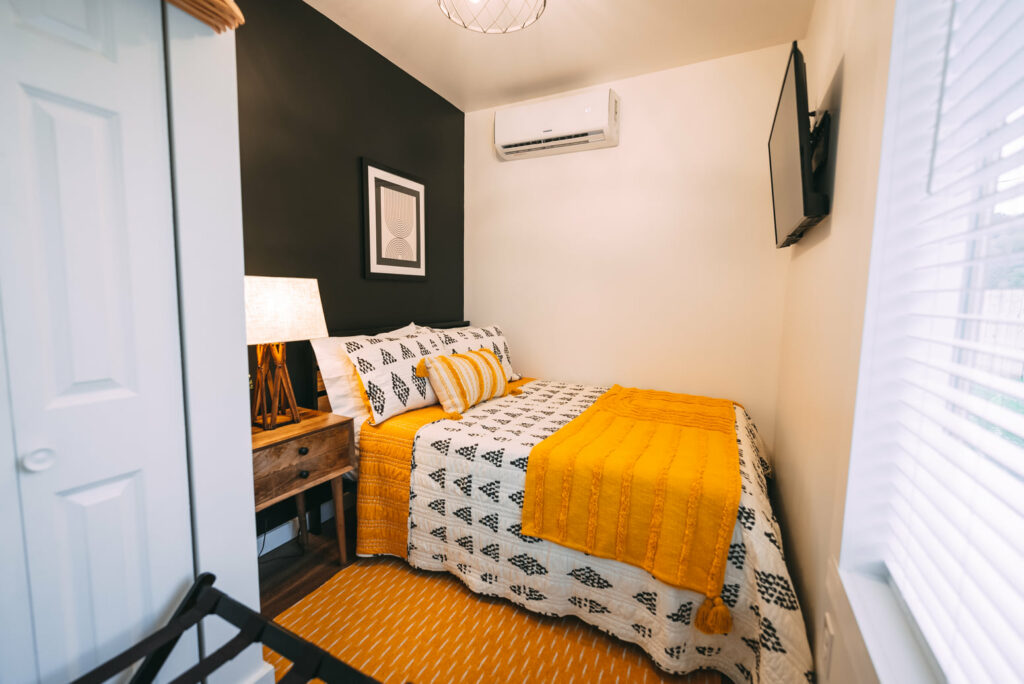 The bedroom also comes with its own split AC, helping you keep cool on those warm nights. There's a TV on the wall that allows you to view your favorite shows before you pass out. The floor consists of a warm-colored carpet to help you feel relaxed before you go to bed. We imagine that it's pretty easy to relax in a gorgeous home surrounded by trees no matter what time of the day it is.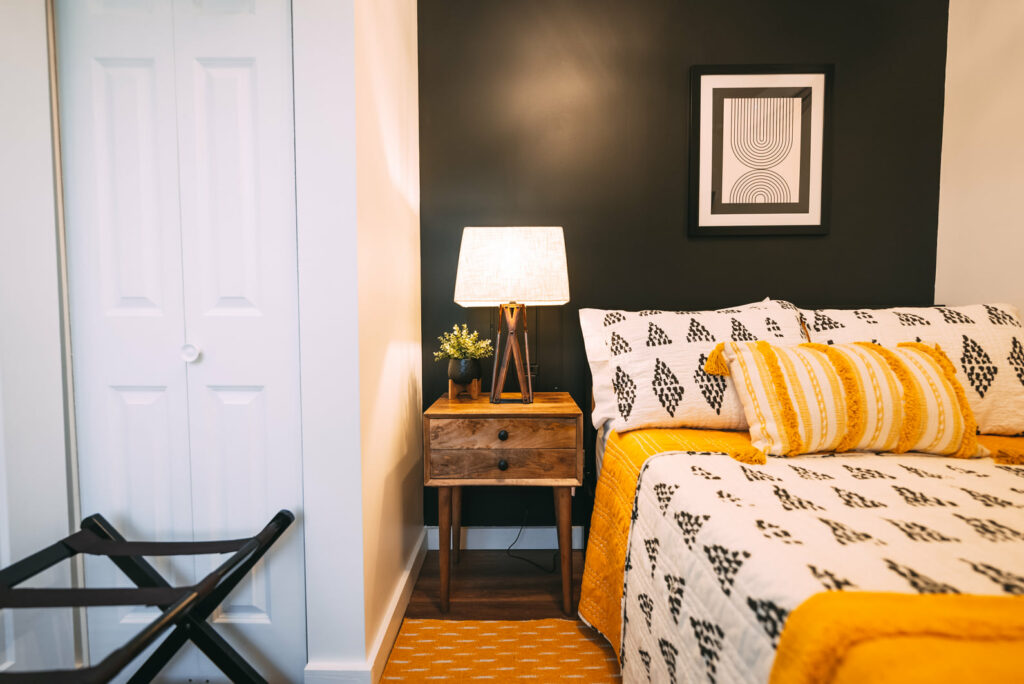 Outdoor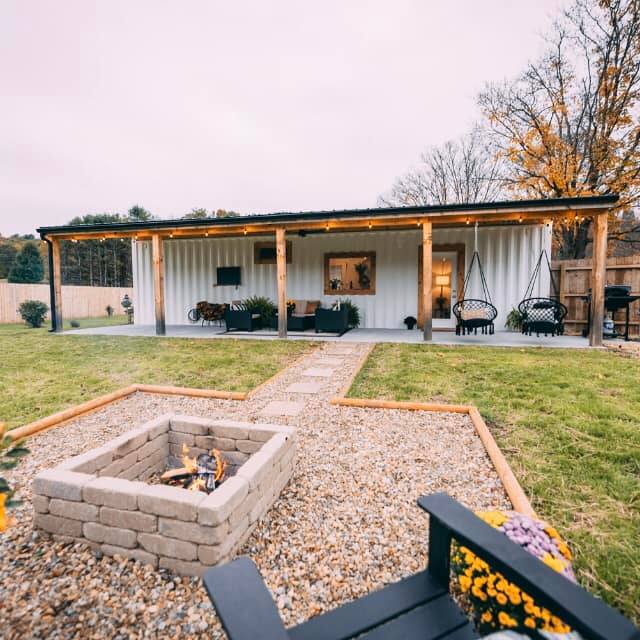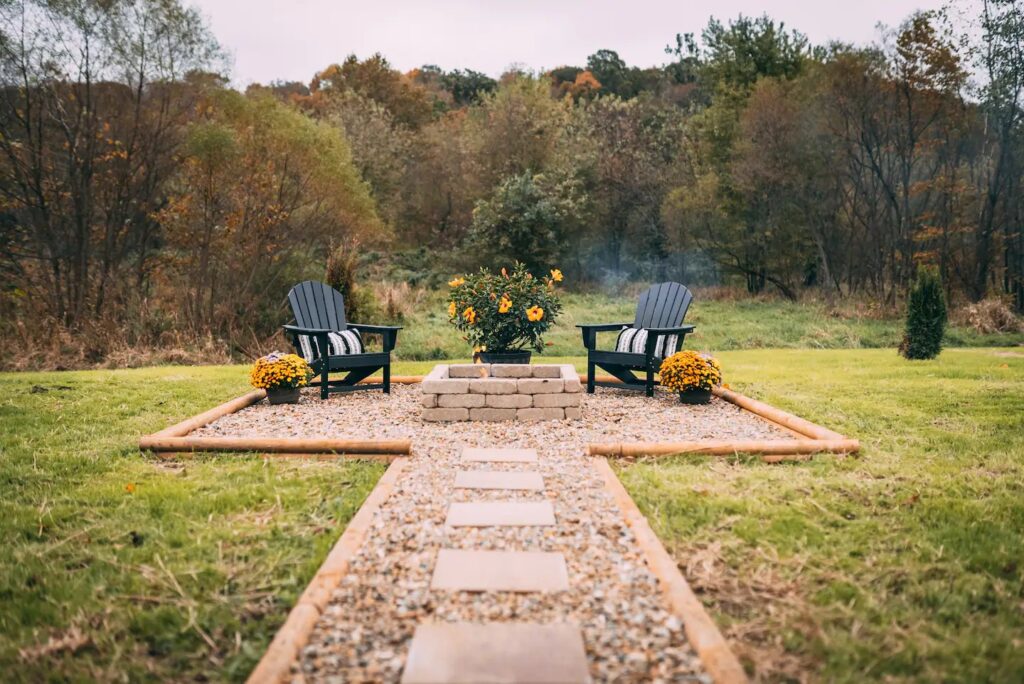 And that's our tour. We love this home, as it's a unique little forest retreat. What do you think about it?