If you're intrigued by the idea of using shipping containers as building materials – but you don't yet want to fully commit to the shipping container home lifestyle – a shipping container pool in Texas could be a great project to get your feet wet. See what I did there?
With the help of a shipping container pool in your backyard, you and your family can enjoy a quick dip on a summer day – without all the hassle and maintenance of blowup or traditional above-ground pool setup and maintenance. A shipping container pool withstands the test of time and doesn't break the bank with its initial construction.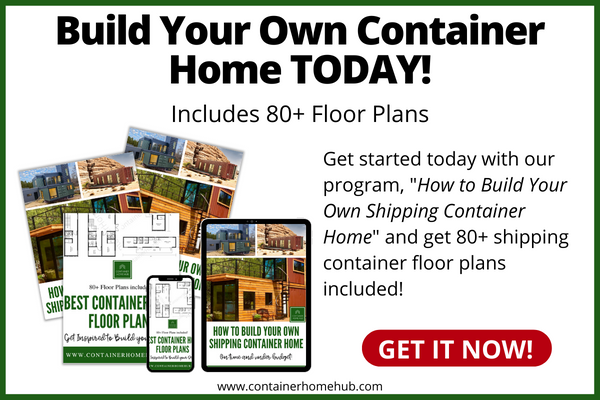 Read on to learn more about the unique aesthetic of shipping container pools and how you can start building a shipping container pool in Texas today.
A Shipping Container Pool in Texas
Texas may be in the news constantly for the state's unique political landscape, but most people move to Lone Star State for the southern hospitality and the affordable cost of living. Over 500,000 people moved to Texas for seven consecutive years, and in that time, Texas has joined the top 10 states with backyard pools. There is currently an estimated number of over 800,000 residential pools throughout Texas.
The weather in Texas is relatively moderate year-round, so you can enjoy your shipping container pool even longer. Plus, a shipping container pool can be designed and constructed in your backyard in less than a week. Your dream of hosting pool parties in the backyard of your Texas home is more possible than ever with a new shipping container pool!
What is a Shipping Container Pool?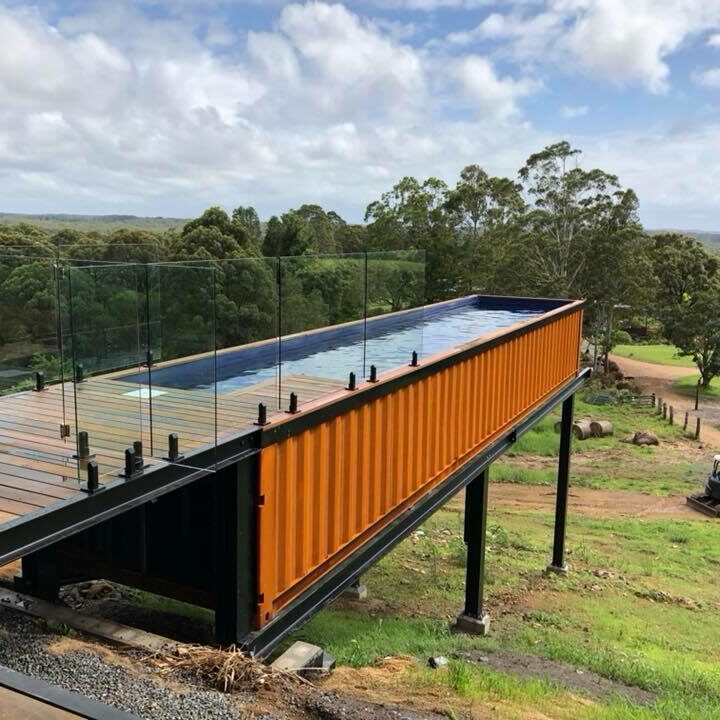 When you see shipping containers transported along the highway, you probably never have thought about how they might look in your backyard. But a shipping container pool encourages you to do exactly that. The basic concept of a shipping container pool requires you to purchase and repurpose a shipping container that has previously been used for the international transportation of goods.
The steel design of a shipping container means you already have some of the most durable materials on the market. Then, based on your decision to install your shipping container pool above ground or bury it, you will reinforce the pool with concrete and fill it with water. A shipping container pool in Texas is a simple project that is customizable to almost any terrain in your backyard. That's why you should consider building one today!
Why Should I Build a Shipping Container Pool in Texas?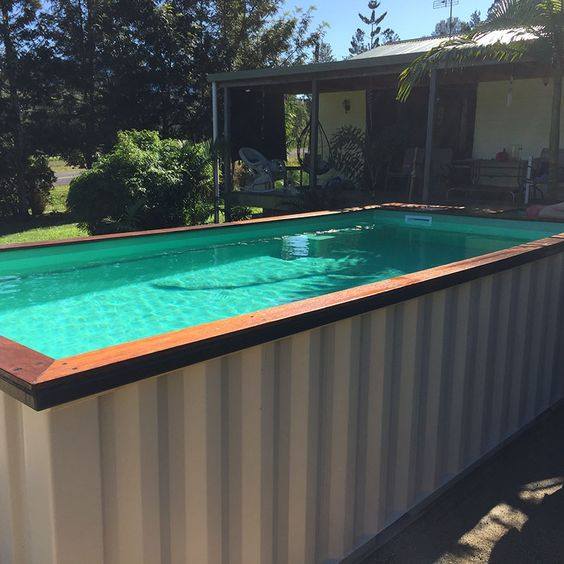 Temperatures on a July day in Texas can reach up to 100 degrees Fahrenheit or higher. This is why the majority of homes and businesses throughout the state are built with reinforced air conditioning units. But what if you want to enjoy the summer sun without dying from the heat?
Swimming has been proven to be a great stress reliever and an inclusive form of low-impact exercise. Plus if you don't have to leave your home to jump into a pool, you can benefit from this soothing relaxation option even more often.
With a shipping container pool at your Texas home, you will become the new family host and favorite neighbor for nearby kids to come to visit. If you've ever considered increasing the value of your home by adding a backyard pool, a shipping container pool kit can help make this happen.
How much does a shipping container pool in Texas cost?
Before you commit to any custom pool project on your property, you need to consider how many extra features you want to add to your pool design. Are you only looking for year-round access to water on your property, or do you want to make sure this add-on is as aesthetically pleasing as possible? Adding details like water jets, waterfalls, LED lights, or even a water heater will extend the time of your shipping container pool construction project and greatly increase the cost of your new home pool.
Shipping container pools are also unique because their design is long and lean. With a shipping container home, you can easily interlock multiple shipping container homes together to create as large or small a home as you want – but you really have to commit to the dimensions of one shipping container for a shipping container pool.
Adding any pool can increase the value of your property up to 5%, but it's not worth it to overextend your budget just for this long-term gain. A Texas shipping container pool will usually cost between $15,000 and $30,000. In contrast, the average cost of a traditional newly constructed backyard pool in Texas is around $60,000. Especially if you are hoping to mimic the durability of a shipping container pool with other metal construction supplies, you are only guaranteeing the cost of your construction will increase over time.
Looking at these two numbers side by side should make your choice between a shipping container pool and a traditional pool design a no-brainer. Remember, shipping container pools are only increasing in popularity, which means you have the opportunity to jump on an exciting new housing trend before it becomes too mainstream. You can finally experience the peace of poolside living with the fun design of your shipping container pool in Texas.
Shipping Container Pool Builders in Texas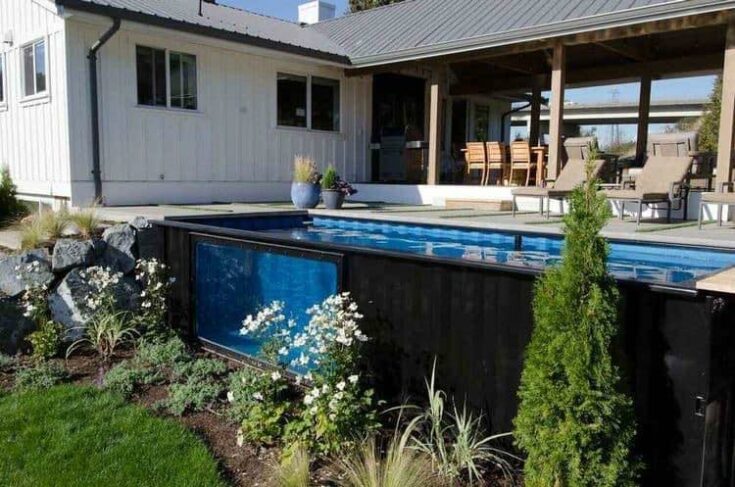 It is important to remember that the novelty of shipping container pools means you might have to look around and do your research online to get the supplies and support you need. But as metal home construction popularity continues to increase, you will be able to guarantee a local construction company can help you with the installation and initial maintenance once you've bought the supplies for your shipping container pool. Working with a construction company in your area means you can talk to previous customers and guarantee they have the right connections to help bring your shipping container home project to life.
Check out these three builders for your shipping container pool in Texas:
Modpools
Modpools is the top shipping container pool supplier throughout the state of Texas, and they ship pool kits throughout the United States. Their website lists them as the frontline experts on shipping container pools in all of North America. They are based out of Waller, Texas.
Seventeen Pools
Seventeen Pools is based out of Canada, but they also specialize in shipping container pools in Texas. They have been in the shipping container pool business for 10 years, and they also ship supplies throughout the United States.
Ecopool
Ecopool is based out of Georgetown, Texas, and their business model was inspired by piles of abandoned shipping containers stored in urban spaces around Texas. Now they offer industrial, sustainable pool structures. They are currently working on getting a patent approved for a combined shipping container pool design.
Designing a Shipping Container Pool Landscape
As you are preparing your property for your shipping container pool setup, you need to remember a few specific details.
First, any pool is going to be installed best on flat ground. This might mean you'll need to invest in leveling out the area where you plan to install your shipping container pool. However, because shipping container pools can be put up on a platform, they can be a bit more flexible on this point.
An inground shipping container pool is possible. But because an inground pool is more impacted by the freezing and thawing of underground water, you will need to invest in extra steel to reinforce the sides of your shipping container pool.
Your decision to install your shipping container pool above ground or to bury it will impact its permanence in your home. Shipping containers are portable, so if you keep your pool above ground, it can move with you and your family in the future.
You are limited in size when it comes to a shipping container pool. Shipping containers are usually eight feet wide and come in four conventional lengths – 12 feet, 16 feet, 20 feet, and 40 feet. This is important to consider as you pick the place you plan to install your shipping container pool.
It's also important to budget for labor and pool permits to make sure the setup of your shipping container pool is seamless and long-lasting.
Conclusion
Now that you've read through our Texas shipping container pool guide, the only thing left is to start building your shipping container pool! Feel free to also check out our shipping container home FAQs, including our fun facts and shipping container statistics when building your shipping container home. Or read more about shipping container homes on our blog, where you'll see content like two 40-foot shipping container home floor plans. Everything you need to know about shipping container home designs you can find on our website.