You've always thought about designing your shipping container home with one 40-foot container – now you can consider 2 40-foot shipping container home floor plans!
A shipping container home can come with a lot of unique design opportunities. Metal buildings are continuing to increase in popularity, and a lot of it is due to the longevity and sustainability of choosing home construction supplies like a shipping container.
However, choosing to build a shipping container home and finding the exact floor plans for your dream setup are two completely different adventures. It can be hard to figure out exactly how to make everything fit in the long and thin space of a shipping container. On top of this, you need to figure out if your building budget can afford to buy multiple shipping containers or if you need to consider specialized insulation based on where you plan to build your shipping container home.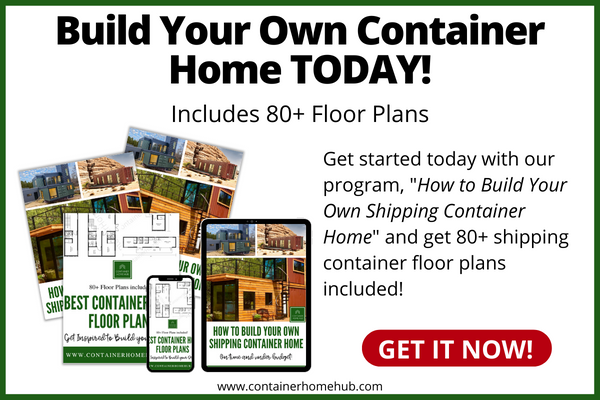 To pick the best shipping container home floor plans for your individual needs, you are left with two options. You can always pay a shipping container home designer to help bring your dream home to life. Or you can look through our vast online library of floor plans on Container Home Hub for inspiration.
Read on to learn what to consider when designing 2 40-foot shipping container home floor plans and some of our top layout ideas.
2 40-foot Shipping Container Home Floor Plans – Things to Consider
Choosing the right floor plan for your shipping container home is one of the most important steps in the home construction process. Most financial lenders for new home construction don't yet understand how to properly assess the value of a shipping container home. Extremely detailed floor plans can help give banks and mortgage companies a better idea of what it would mean to invest in your home.
A container home that uses two 40-foot shipping containers is meant to give you a home with fewer width restrictions than a single-container home layout. Even with that goal in mind, we've thought through some of the biggest roadblocks shipping container homeowners might face. These are the top four we encourage you to consider before choosing your 2 40-foot shipping container home floor plans:
Lifestyle
The way you plan to use your shipping container home on a daily basis will best determine how many bedrooms and bathrooms you need. If you want this to be a chic getaway from the hustle and bustle of your daily life, you might aim to include smaller bedrooms and more lounging areas throughout your shipping container home. If you plan to host a lot at your shipping container home, you might consider adding an eat-in kitchen so you can talk to your guests while you make dinner. Or, if you and your family love watching movies together on cold winter nights, you'll want to ensure you have a good communal living area that everyone can access from around the home.
Property Landscape
The land you've purchased for building your shipping container home should help determine the direction you want your home to face and how many windows you want to add to your shipping container home layout. A naturally wooded property might encourage you to add more skylight windows to help with the natural light in your shipping container home. Or if you've purchased a piece of land with amazing waterfront views, you'll want to make sure you add sliding glass doors along the side of your home with the best views.
Traffic Flow
Regular mobility throughout your shipping container home will determine how long your flooring will last and how big you want the public spaces of your home to be. Long and narrow hallways might work great for a home of one or two people. But as soon as you add pets, small children, or elderly individuals to your shipping container home, you are going to want to reconsider the accessibility to each area of your home.
You can also help reduce traffic flow throughout your shipping container home by ensuring you only include bedrooms on one side or floor of your home.
Storage
Shipping container home floor plans don't usually include options for attics or basements, so you need to be very intentional about storage options throughout your new home. You can include a storage room next to the utility closet in your shipping container home, or you may want to add large closets throughout your home. Storage can also be added to your home through a detached shed or garage if you've purchased enough land to add a secondary structure.
A shipping container home floor plan ultimately helps lay out the plans for your building budget. That's why it's especially important to think through where you most want to invest money and where you most will need space in your shipping container home layout.
2 40-foot Shipping Container Home Floor Plans with Pictures – Get inspired with these floor plan ideas
Who knew there were so many ways you could arrange two shipping containers to make a home? Check out five of our favorite 2 40-foot shipping container home floor plans, each with its own special layout details: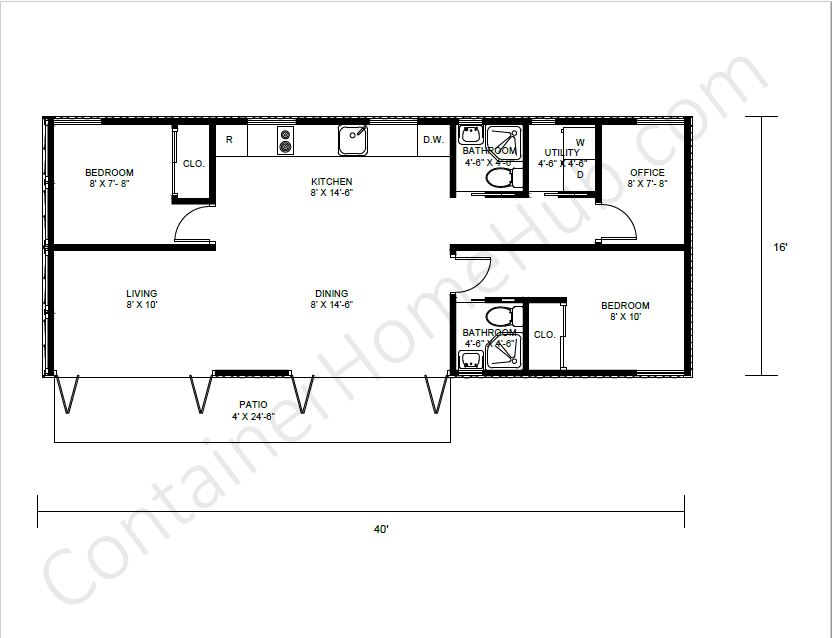 This first option includes two bedrooms in opposite corners of the shipping container home design, and one of them is set up with a full ensuite bathroom. With two shipping containers laid side-by-side for this layout, you get a lot of open shared living space throughout the kitchen, dining area, and living room. There is also an office that can double as a guest room behind the utility closet in this option.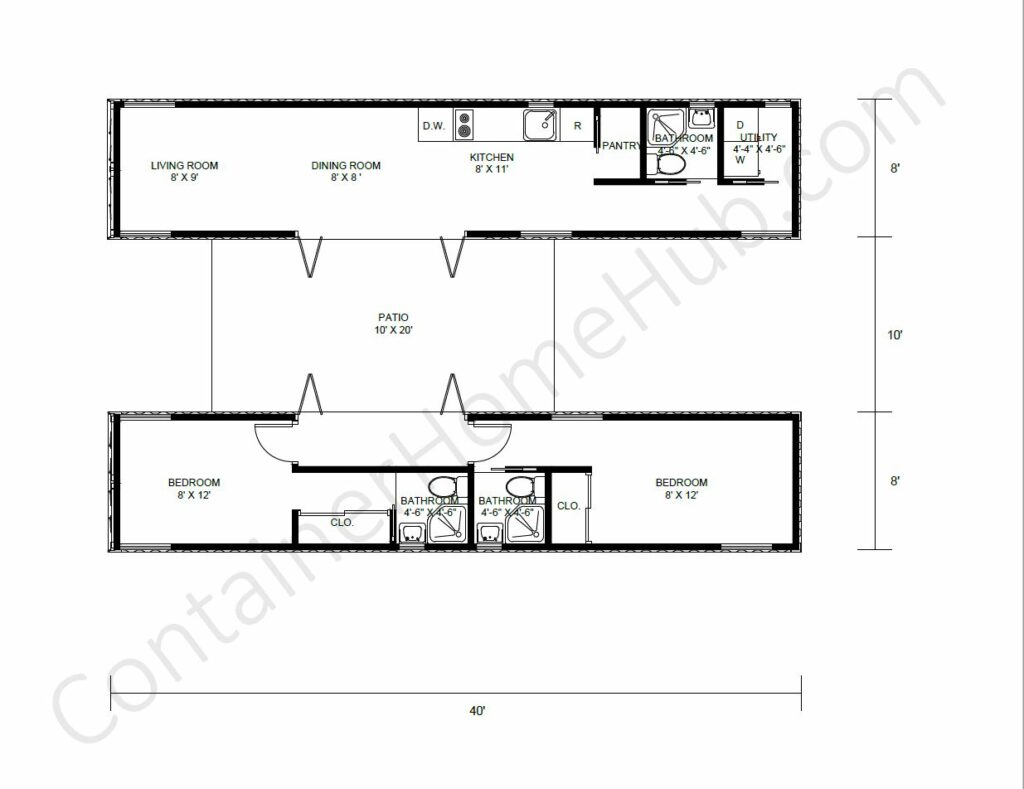 You can get all the benefits of a two-story home with this design, but instead, your entire property is still on one main floor. In one half of your home, there is the living room, dining room, kitchen with a pantry, a full bathroom, and utility closet. The second half includes two bedrooms with full ensuite bathrooms. Then each section of your home is connected across a communal patio with sliding door access.
Especially if you plan to build on a property where you want to emphasize the use of natural light and scenic views around the land you own, this distinct home design could be the right fit! There are one and a half bathrooms in this L-shaped home, with the full bath centered between the home's two bedrooms. There is also a galley kitchen with a large open dining room and pantry on either side. Then a patio can be accessed through sliding doors in either the living room or the kitchen.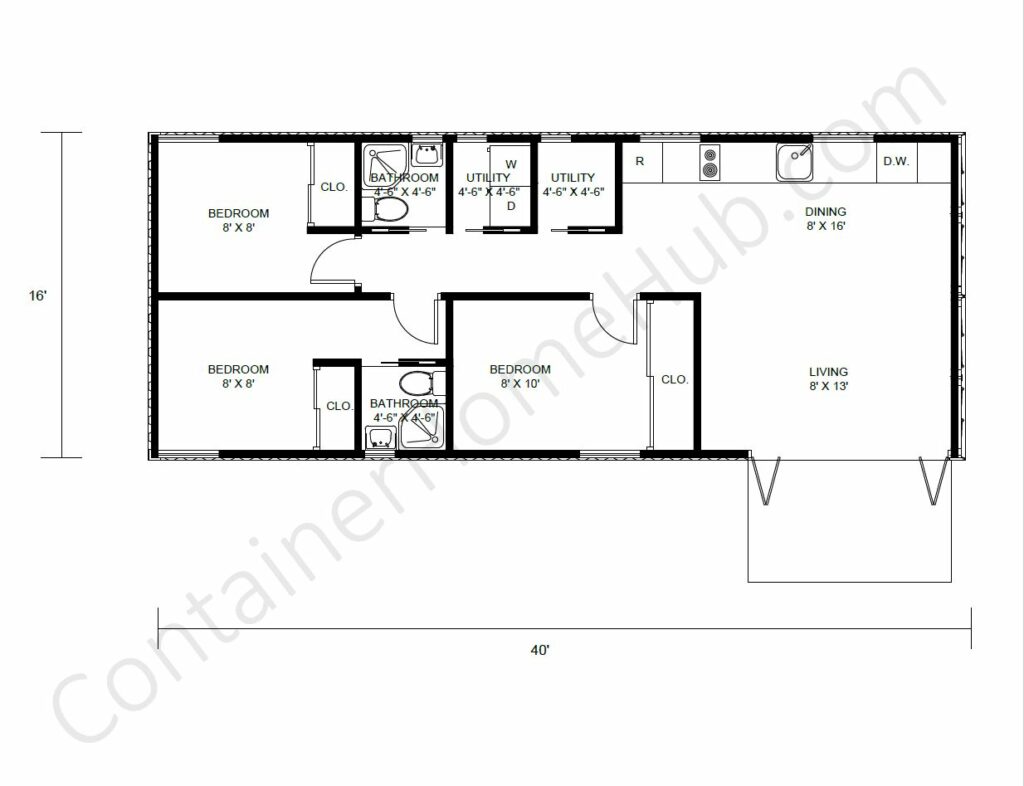 For those who need space for a growing family or want to plan to include a home office, a three-bedroom shipping container home floor plan could be greatly beneficial. Each bedroom contains a closet for storage, and there is also a secondary utility closet that could be used partially for storage. The galley kitchen opens right into the large living area, with sliding doors that are connected to a patio. Plus, the home design includes two full bathrooms.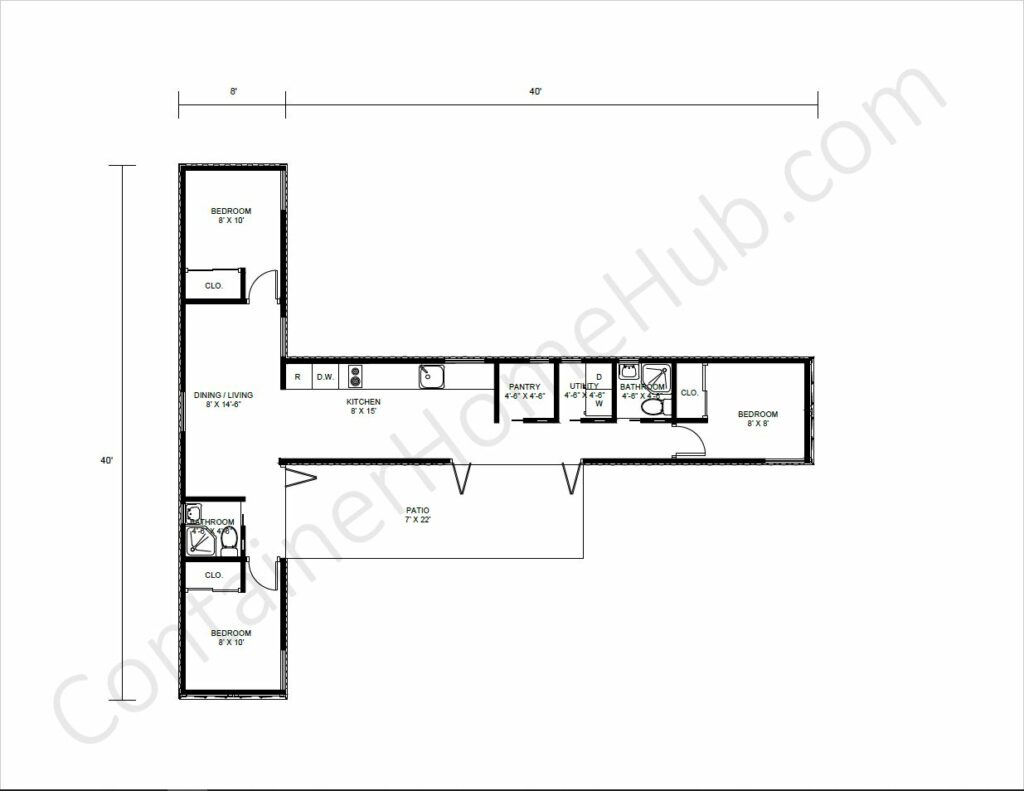 A T-shaped home still lets you have three bedrooms throughout your home layout, but each person can enjoy their own sanctuary away from the noise of other family members when they retire to their bedroom at night. The first two bedrooms are off of the combined dining and living room, with a full bathroom closest to the bedroom next to the home's main patio. Then you would access the third bedroom and another full bathroom by walking through the galley kitchen and past the pantry storage and utility closet. With this home setup, you are guaranteed a different view of your property from every window in your home.
Design Your Own 2 40-foot Shipping Container Home Floor Plans
You might also want to look into playing with free shipping container home design software. Some of these sites can even help connect you to builders and designers in the area where you've bought the land where you want to build. This would also allow you to take some of your favorite ideas you've seen in other shipping container home designs and combine them into one unique home layout that is perfect for your family's needs.
Conclusion
Now that you've read through our guide to 2 40-foot shipping container home floor plans, the only thing left to do is to start building your shipping container home! Feel free to also check out our shipping container home FAQs, including our tips on how to design your shipping container home to hold impact. Or read more about shipping container homes on our blog, where you'll see content like this featured intellectual tiny container home.