So many people fall in love with Florida because of its quirky beachfront towns and easy access to beaches. But what if you never had to leave your home and you could still enjoy hanging out by the water with your friends and family?
Thanks to a shipping container pool in Florida, you can host pool parties or enjoy a starlit dip on a hot day. You'll never have to stress about blowing up a plastic pool or buying a cheap kiddie pool to keep your dog, and kids cool again. Plus, the metal design of shipping containers is made to last, so you are guaranteed a pool free from leaks or excessive maintenance for years to come.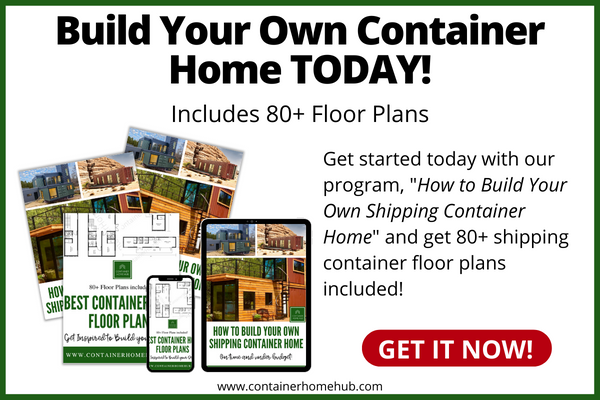 Read on to learn more about the affordable concept of shipping container pools and how you can start building a shipping container pool in Florida today.
A Shipping Container Pool in Florida
There are currently over 100 water parks in the state of Florida. That's one water park for every 10,000 miles throughout the state!
There is no question that Florida is a great place to kick back, enjoy a big glass of orange juice, and wander around in your swimsuit. But why spend all the money on the entrance to a water park when you can hang out poolside in your own backyard?
Clearly, a lot of Floridians agree it's better to invest in a residential pool, as there are currently over 1,500,000 home pools throughout the Sunshine State. And with the help of the sustainable supplies used to create a shipping container pool, you can create an affordable home oasis without breaking the bank. Besides the land where you plan to build, all you need is a recycled shipping container, some concrete, and (of course) water!
What is a Shipping Container Pool?
Shipping containers may have been designed to simplify international trade, but they have been repurposed as residential construction supplies for almost two decades now. Because of their eco-friendly design and long-term durability, shipping containers are great for various terrains, climates, and lifestyles.
But the shipping container pool trend is still relatively new. This idea converts a singular shipping container into an above-ground or buried pool structure for single-family homes. All you need to make a shipping container pool is the shipping container with your preferred dimensions (shipping containers come in lengths of 12, 16, 20, and 40 feet), then some concrete to reinforce the base.
Because a shipping container can be placed up on a platform, you can set up a shipping container pool on almost any backyard terrain. It's one of the easiest water features you'll ever add to your home!
Why Should I Build a Shipping Container Pool in Florida?
Thanks to the year-round warm weather in Florida, you don't ever have to worry about winterizing your shipping container pool. This makes maintenance even easier than it would be in other states.
Florida humidity is also no joke. Even though summer days in Florida usually stay around 80 degrees, you will still feel the weight of the heat stronger than you might in the desert terrain of another state.
With a shipping container pool in your own Florida backyard, you never have to wait in traffic or the long lines to enter a water park before you can enjoy the real mental health benefits of life by the water. Everyone will want you to host the next party when you have the unique design of a shipping container pool in your backyard!
How much does a shipping container pool in Florida cost?
Adding a pool to your home after you've lived there for a while can initially be a little tricky to finance, but you are guaranteed at least a 5% increase in the value of your home when you design a shipping container pool on your property.
One of the most interesting features of a shipping container pool is that it has to be long and lean. Shipping containers may be designed to interlock together. Still, when you add water to them, you can't use more than one shipping container without compromising the quality of all that is used in your shipping container pool project.
A Florida shipping container pool will usually cost between $16,000 and $40,000. In contrast, a traditional newly constructed backyard pool in Florida can cost up to $200,000. Even if you choose to create your own metal-construction home pool, steel sheets can be pricey based on when and where you purchase them.
Your decision to invest in a shipping container pool should be an obvious one. You will end up with a pool unlike anyone else's in your neighborhood, and it is guaranteed to be a great investment for your home over time.
However, it is especially important to set and keep a budget for yourself for any new home projects. Initial price quotes on home additions are only going to include the most basic structure, and custom add-ons can increase your final bill quickly. For example, you may choose to add LED lights to your pool or install a hot tub next to the length of your shipping container pool. A water heater can make your early morning or late night swims more enjoyable, but each of these customizations comes with an increase to your final project price.
Shipping Container Pool Builders in Florida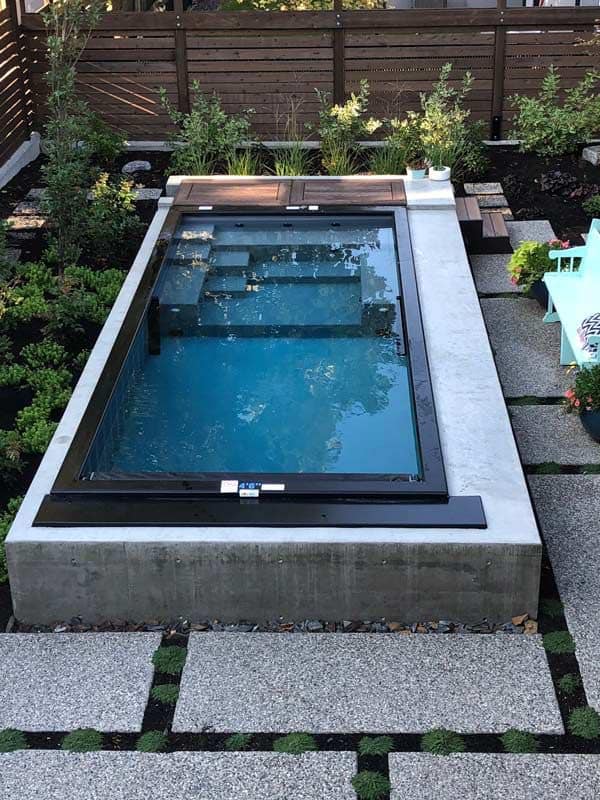 Any time you choose to invest in a new home project, it's important to work with a local contractor you can trust. However, shipping container pools are still new enough that you might have to first purchase a shipping container pool kit online before working with a construction crew in your area.
Make sure you connect with builders who have a history of working with metal building designs and who have a good network in the area where you're building. This means they will already be familiar with a lot of the problems you might face before they even come to light in your shipping container pool project.
To help you get started, check out these three builders for your shipping container pool in Florida:
Steelwater Pools
Steelwater Pools is based out of North Carolina, but they ship their customized shipping container projects all over the world. Each of their shipping container pools is specially made from shipping containers that end up at the local Surf City port.
Containers in Motion
Containers in Motion repurposes shipping containers for a wide variety of building projects. Their business is based out of Boca Raton, and they promise a shipping container pool price starting at $23,000.
Lucas Lagoons
Lucas Lagoons is completely based out of Florida, with a design studio in Sarasota and a construction site in Nokomis. They specialize in completely customized home pools that are nothing more than a work of art, including shipping container pools.
Designing a Shipping Container Pool Landscape
There are a few distinct characteristics of a pool construction project that you need to keep in mind as you prepare for your shipping container pool.
First, while a shipping container pool can rest on a platform, any pool is going to reside best on flat ground. This might mean you spend money on a landscape professional before starting your shipping container pool project.
You also need to consider the climate where you plan to build your shipping container pool. Florida is relatively temperate year-round, but an inground pool is still going to require more reinforced support to withstand the changing temperatures of underground water. This usually involves a thicker concrete base and more steel around the exterior of the shipping container you purchase.
When shipping containers were initially created, they were set up to be movable. For this reason, your shipping container pool can also be designed to move with you and your family if you ever choose to relocate. However, this will not be possible if you choose to bury your shipping container pool for an inground pool experience.
The budget for your shipping container pool should also include the purchase of a pool permit and hourly labor to help complete your project. Shipping container pools can be set up in as little as a week, but this will still require several hours of help from a contractor and their crew.
Conclusion
Now that you've read through our Florida shipping container pool guide, the only thing left is to start building your shipping container pool! Feel free also to check out our shipping container home FAQs, including the best shipping container home building classes when building your shipping container home. Or read more about shipping container homes on our blog, where you'll see content like a complete guide to building a shipping container home in Canada. You can find everything you need to know about shipping container home designs on our website.