What if you could get everything you've ever wanted out of a backyard pool – but with the benefits of affordability and sustainability? If this question got you thinking, a shipping container pool in California could be a fun project for you and your family!
A shipping container pool gives you all the fun and relaxation of a water park, without you ever having to leave your home. Plus, you'll never have to worry about patching a blowup pool or getting your above-ground pool ready for summer again. Shipping container pools are weather-proof and cost less than any other pool installation on the market.
Read on to learn more about the unique aesthetic of shipping container pools and how you can start building a shipping container pool in California today.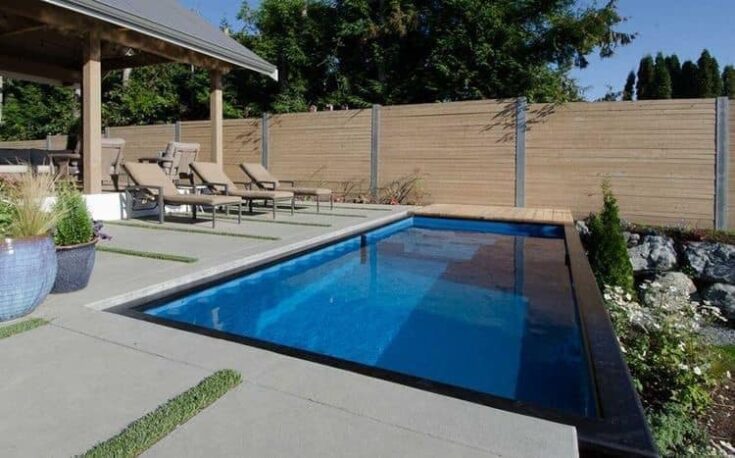 A Shipping Container Pool in California
While there may be fewer residential pools in California than there are in Florida, there is still a substantial home pool market in the Golden State. At the height of the 2015 drought throughout California, there was an estimated 1.2 million pools throughout California, and that number has only increased over time.
California contains over 160,000 miles of land, which means there are a wide variety of climates throughout the state. However, pools are most popular in California, where the weather is moderate, and sunshine is guaranteed year-round. Everything you see about Hollywood pool parties in the movies can be yours with the quick turnaround of a shipping container pool project.
What is a Shipping Container Pool?
A shipping container pool isn't any more complicated than its name implies. It is an international freight container that has been converted into a pool. Shipping containers have been redesigned as metal building materials for almost two decades now, but shipping container pools are still relatively new to the market. This means your backyard pool will be the talk of your neighborhood when you choose to go with a shipping container pool.
Shipping containers are made out of industrial steel, which is part of what makes them so popular as building supplies. Steel that has already been molded into the shape of a long, lean box will help you save on the overall cost of your shipping container pool project. And no matter where you're building your shipping container pool in California, you are guaranteed one of the most durable frames for your pool design on the market!
Why Should I Build a Shipping Container Pool in California?
California has recently recorded some of its hottest days in history, with temperatures reaching over 100 degrees Fahrenheit even into September. When days are hot, and the sun is warm, the last thing you want to be doing is waiting in traffic to get to a California beach for relief!
Even if you don't enjoy swimming, it has been proven that your mental health will greatly improve from the ability to sit poolside and watch the water. Let the stress of your workday and a hectic family schedule roll off your shoulders while you watch your kids play in your new backyard shipping container pool.
On top of this, buying a shipping container pool kit for your backyard means you have something to do with friends and family when they visit your California home. Put someone else in charge of food and drinks – because you're providing easy pool entertainment for everyone!
How much does a shipping container pool in California cost?
As with all new home projects, deciding where you want your money to go is important before you start. Shipping container pools are easily half the cost of traditional pool constructions, but your money can easily get caught up in any customizations you decide to add to your pool. Maybe you want to add a waterfall feature to make it look more appealing, LED lights to support late-night swims, or water jets to help aerate the water in your pool. Each of these additions can make your new shipping container pool more appealing, but they will also impact the timeline and final bill for your new pool design.
A shipping container pool can be designed and constructed in as little as one week. But one of the other unique factors you need to consider when investing in a shipping container pool is that you are limited to the proportions of traditional shipping containers. They are usually eight feet in width and anywhere from 12 to 40 feet in length. Other shipping container designs allow you to interlock multiple shipping containers to customize the size of your building project, but this isn't possible when you add water into your shipping container pool.
Usually, a shipping container pool in California usually costs between $28,000 and $50,000. The average cost of a traditional newly constructed backyard pool in California is up to $150,000. This can be even pricier if you attempt to create a metal construction pool without the predesigned structure of a shipping container. Steel sheets are valuable building materials, but they aren't cheap on their own.
You shouldn't have to think too long about which pool project is better for your family. Any pool project on your property can increase your home's value up to 8%, but that doesn't mean you want to break the bank for this long-term reward. Shipping container pools are currently trendy and can help your property stand out from others in your area. Enjoy life along your homemade shore when you invest in a shipping container pool in California!
Shipping Container Pool Builders in California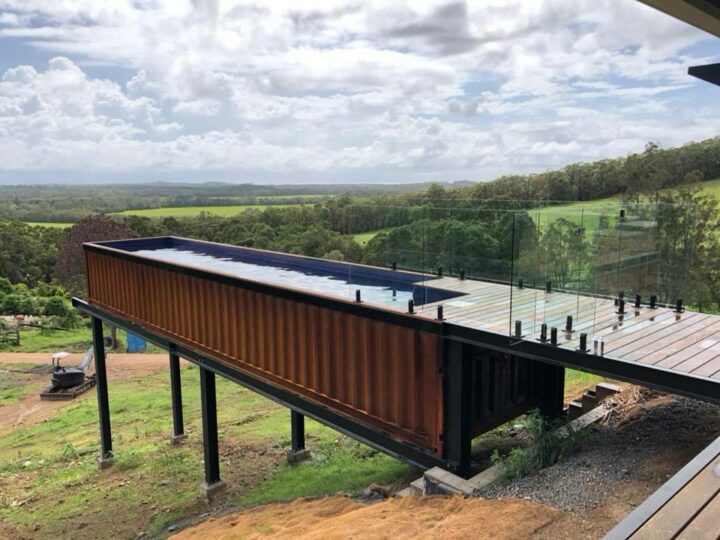 It's important to make sure you purchase your shipping container pool materials from a trusted supplier. Thanks to the internet, you don't have to only do business with a local merchant. However, it's still important to read online reviews or hear from previous customers before deciding on one specific business. No matter what, make sure you end up with someone who has experience in metal building construction and design.
One of the problems with shipping container pools still being relatively new is that you might have to pay for your ideal shipping container pool kit to be delivered to you. Then you should connect with a contractor in your area who can help walk you through the building codes and permits you'll need.
As you start your shipping container pool project in California, check out these three builders:
Containur Pools
Containur Pools has a warehouse in Las Vegas, Nevada, but they ship to California. They also specialize in hillside installation and Gelcoat shells on the exterior of their shipping container pools.
American Heritage Pool Corporation
American Heritage Pool Corporation is based out of Palm Desert, California. Their entire business is based out of designing outdoor water spaces for your home. They also offer guides to help California residents with responsible water usage.
Modpools
Modpools is one of the leading shipping container pool suppliers in all of North America. With offices in Texas and Canada, you should expect to complete most of your business with them online. But their years of experience in the shipping container pool industry could make them worth your time.
Designing a Shipping Container Pool Landscape
Any home pool project comes with a unique checklist to think through before you start, and this is especially true for shipping container pools.
While many shipping container pool providers have adapted to offer hillside installation, a pool is always going to be most easily set up on flat land. If your backyard isn't naturally flat, this can easily be fixed with the help of a professional landscaper.
You also need to decide if you want to install an above-ground or inground shipping container pool. Above-ground pools come with more maintenance, but choosing to bury your shipping container pool comes with more upfront cost to guarantee its longevity. It's also worth it to consider if you'd ever want to move your shipping container home in the future. Shipping containers are designed for transportation, which means you could move your shipping container pool to another area of your property or with you to a new home whenever your family decides to move.
Conclusion
Now that you've read through our California shipping container pool guide, the only thing left is to start building your shipping container pool! Feel free to also check out our shipping container home FAQs, including our tips on how to ensure your shipping container home can survive impact. Or read more about shipping container homes on our blog, where you'll see content like 2 story shipping container home floor plans. Everything you need to know about shipping container home designs you can find on our website. Start exploring today!