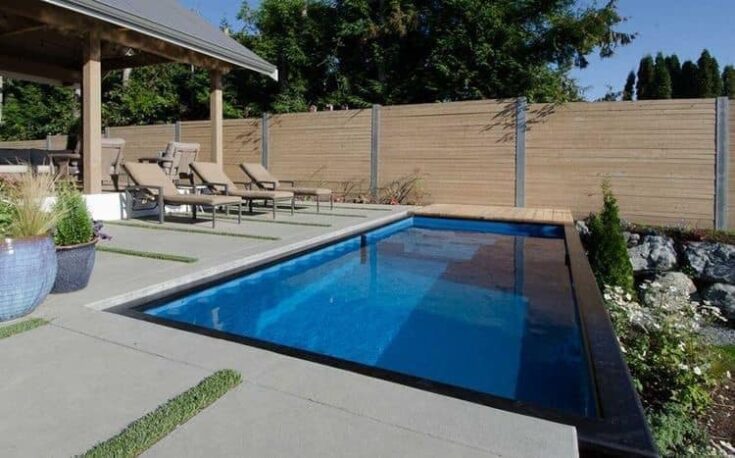 If you're looking for a unique way to cool off in the Arizona heat, building a shipping container pool is an excellent option. Swimming pools are a popular amenity in Arizona: 32.7% of homes in Phoenix alone have an in-ground pool in their backyard.
Of course, not everyone has the ability to build an in-ground swimming pool. But with their low cost, quick installation, and minimal maintenance requirements, shipping container pools have become increasingly popular among homeowners in the state.
Pools are a worthwhile investment that can be enjoyed by the entire family and can increase the value of your home. They provide a convenient way to experience endless hours of fun and relaxation. Now that shipping container pools are accessible, even those who don't want to commit to an in-ground pool can get one.
With this guide, we will cover everything you need to know about getting a shipping container pool in Arizona and how to choose the best pool builders in the area so you can swim in no time. Let's get started!
A Shipping Container Pool in Arizona
Building a shipping container pool in Arizona can be an interesting and inventive way to add a swimming pool to your backyard. With a desert climate reaching sweltering hot temperatures, Arizona is unsurprisingly ranked among the 10 hottest states in the country.
A shipping container pool can also be easily customized into stylish and creative designs that match the aesthetics of any home or landscape. Although you are more likely to see them above ground, you can also bury shipping container pools and customize them however you wish.
If you're looking for a creative and cost-effective way to add a swimming pool to your backyard, consider building a shipping container pool in Arizona. It's sure to be an eye-catching addition that will provide many years of enjoyment.
What Is a Shipping Container Pool?
Alternative pools, such as shipping containers and stock tanks, have surged in recent years.
Shipping containers, in general, are strong, durable structures that are capable of withstanding extreme temperatures. These containers provide excellent insulation that keeps them cool during hot summer days, which makes them a good alternative to traditional swimming pools.
The versatility of shipping containers is not limited to the construction of swimming pools, as they can also be converted into homes as an alternative to conventional housing.
Why Build a Shipping Container Pool in Arizona?
Arizona is known for its hot, dry climate, and it can be difficult to find ways to keep cool during the summer months. But with a shipping container pool, you can bring some much-needed relief from the heat without breaking the bank.
Shipping container pools are well-suited to the climate in Arizona. This is because they are durable and can withstand extreme temperatures due to their heavy-duty steel construction.
In Arizona, shipping container pools are becoming increasingly popular due to their low cost and ease of installation. Unlike traditional swimming pools, which require extensive excavation and construction work, you can have a shipping container pool up and running in no time at all.
Another key benefit of having a shipping container pool is that it does not require a lot of water and maintenance like traditional swimming pools do. This makes it an eco-friendly choice that can help conserve water in the desert.
Shipping container pools are also incredibly stylish and modern-looking. You can choose from a variety of colors to match your home's exterior or even add lights for a fun nighttime atmosphere.
If you're looking for an affordable, easy-to-maintain, and eco-friendly way to stay cool in Arizona, then getting a shipping container pool kit is definitely worth considering.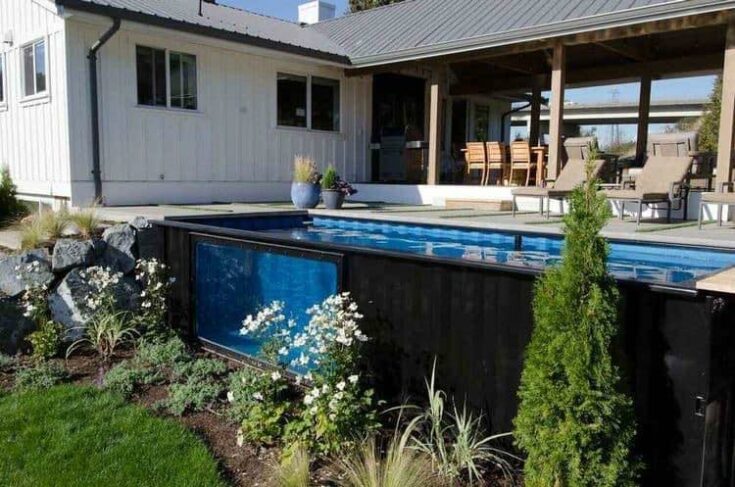 How much does a Shipping Container Pool in Arizona cost?
One of the most popular trends in pool construction today is the use of shipping containers to create a custom-built pool. Whether you are looking for an eco-friendly option or just want something unique, a shipping container swimming pool may be the perfect fit.
But how much does a shipping container pool cost in Arizona? The exact cost can vary depending on your specific project and needs, but typically, a shipping container pool kit will range anywhere from $15,000 – $20,000.
It is possible that additional costs may affect and increase the price upwards of $30,000 with all the bells and whistles, including any necessary modifications, excavation and installation costs, decking materials, plumbing, and electrical work, and whether the pool is installed above-ground or in-ground.
By comparison, this is still a far greater bargain than the average backyard pool cost in Arizona, which starts at $50,000 for a basic concrete in-ground pool and can exceed $100,000 for fiberglass pools!
Shipping Container Pool Builders in Arizona
Whether you're looking for something understated or prefer it grandiose, these experts will help you realize your vision with quality craftsmanship and attention to detail.
So if you're ready to make a splash, here are the best shipping container pool builders in Arizona.
TrekPools is a go-to shipping container pool builder in Arizona that proudly builds high-quality, durable swimming pools. They specialize in building custom pools to meet your exact specifications and are proud to serve customers with the highest quality products made right in the USA.
A Canadian company, TanglePools, ships anywhere within North America and creates a personalized experience to create your dream shipping container pool. You can count on them all throughout, from the planning stage to the completion of the installation with your local contractor.
A trusted shipping container pool builder in the United States and Canada, Modpools offers a wide range of customization options, including smart pools, hot tubs, and swim spas. With their custom 3D pool builder with real-time estimates, your experience with them is a breeze from the moment you get started.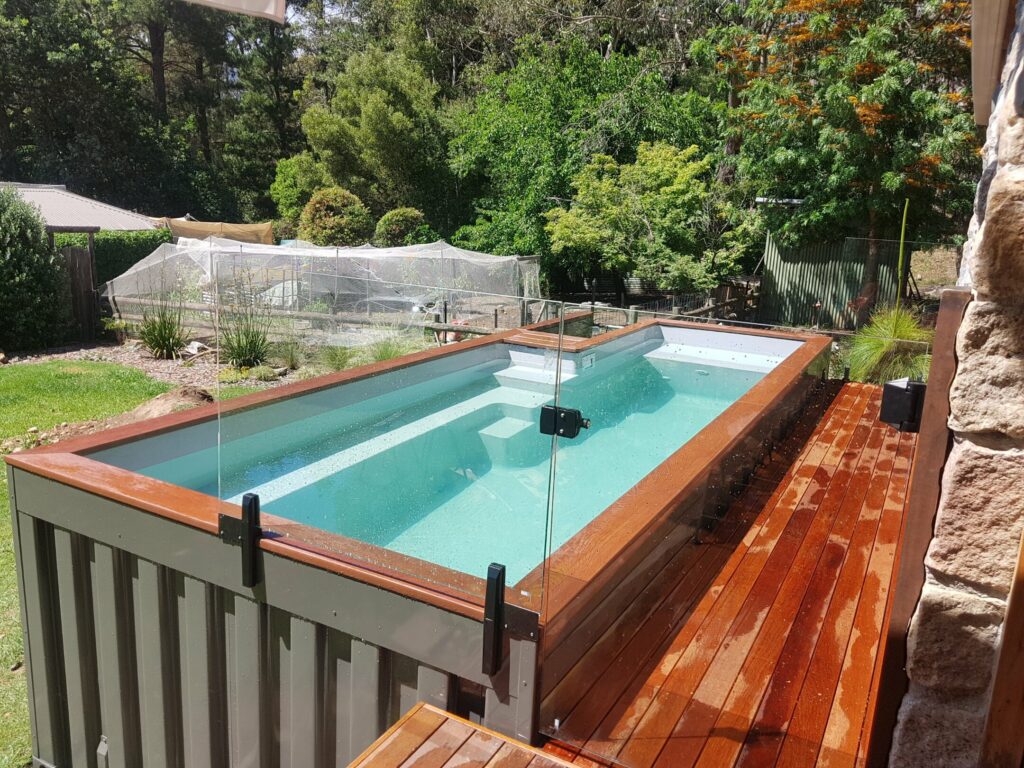 Designing a Shipping Container Pool Landscape in Arizona
Designing a shipping container pool landscape in Arizona can be an exciting and rewarding project. With the rising popularity of shipping containers as building materials, it's no surprise that people are looking at them as potential swimming pools.
Before you start designing your shipping container pool landscape, it's important to consider what type of pool works best for you. A common choice is to construct an above-ground swimming pool. This allows for flexibility in size and shapes depending on the size of the containers you choose.
Shipping container pools come with limited size options, usually 8 feet wide by 12 feet, 16 feet, 20 feet, or 40 feet long. This is something you should consider as you choose a location in your home to install your shipping container pool.
Once your pool is in place, it's time to start thinking about landscaping around it. A great way to enhance the look of your shipping container pool landscape is to use plants that are native to your area or ones that will thrive in a desert environment.
Since Arizona has a hot and dry climate, there is no shortage of cactus and agave plants, shrubs, and rocks and stones to choose from at varying price points.
To give the pool a more inviting atmosphere, consider adding some seating around it. This can be as simple as a few comfortable lounge chairs or as elaborate as an outdoor kitchen or bar. You can also add decorative items such as planters and wind chimes to create an attractive environment for guests to relax in.
Designing a shipping container pool landscape in Arizona can be an exciting experience for homeowners. With the right planning and creative ideas, transforming your yard into an inviting oasis is well within reach.
Final Thoughts
Now that you know the basics of how to construct a shipping container pool in Arizona, it's time to get your own. To learn everything you need to know about converting a shipping container into an innovative home or swimming pool, be sure to check out our FAQ page.
Custom homes can be one of the most challenging yet rewarding projects you undertake. There is a growing trend of prospective homeowners seeking alternatives, such as container homes, as a way to build an affordable and customizable home.
Not sure where to start? With the help of the Container Home Hub Program, you can make your dream of owning a shipping container home a reality. From creating a unique and customized plan to the construction process and move-in, Container Home Hub is with you every step of the way.