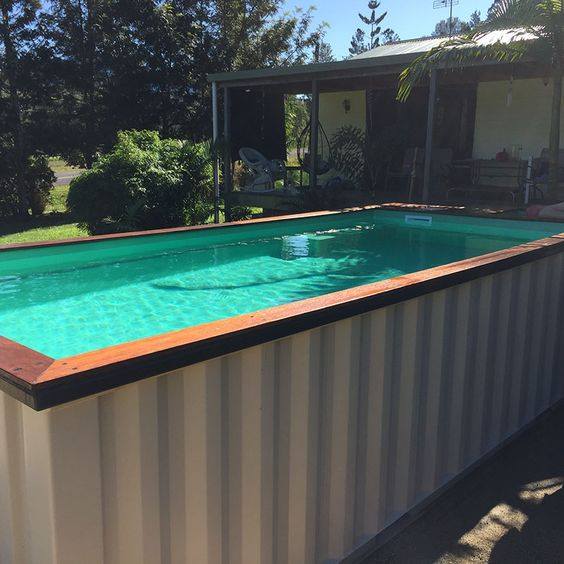 Shipping container pools rose in popularity recently as a more affordable and eco-friendly alternative to traditional pools. This alternative is made from repurposed shipping containers and can be installed in a fraction of the time and cost of traditional pools. So how much is a shipping container pool?
Before we dive into how much it costs. Let's examine why a shipping container pool might be your best option.
Why Build a Shipping Container Pool?
A shipping container pool is a great option if you want to have a pool in your backyard but don't want to deal with the hassle and expense of traditional construction. Shipping container pools are also a good choice if you want to be able to move your pool to a new location in the future.
Aside from being affordable and eco-friendly, they're also incredibly versatile. Shipping container pools can be installed above ground, semi-inground, or fully inground.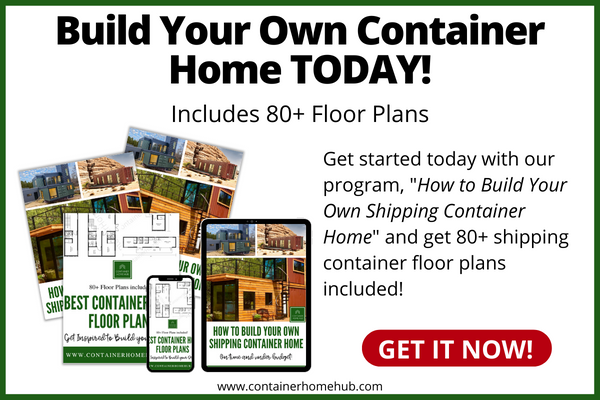 They come in various sizes and can even be customized with features like built-in seating and storage. You can even create a tiny container pool house to complement your pool.
Turning a shipping container into a pool can be a great way to save money and space. It's relatively inexpensive to buy and easy to find. Plus, you can usually get them delivered right to your door.
Shipping container pools are also eco-friendly since you're reusing a pre-existing object instead of building something new. And when you're done with the pool, the container can be repurposed for something else or sold.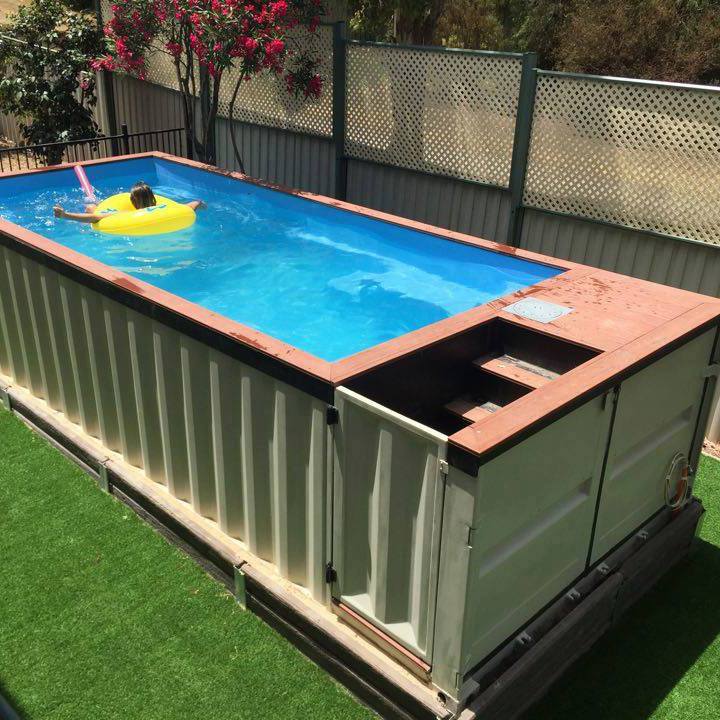 Benefits of Choosing a Shipping Container Pool
These are some of the other benefits of opting for a shipping container pool:
Sturdy
This swimming pool is one of the most sturdy options you can choose for your backyard swimming pool. Unlike above-ground or in-ground pools, a shipping container pool is made of steel, making it more durable and long-lasting.
Quick Construction
One of the main benefits of choosing a shipping container pool is the quick construction time. Unlike traditional in-ground pools, which can take weeks or months to build, a shipping container pool can be installed in just a few days.
This is because all of the components are prefabricated and simply need to be assembled on-site. This can be a great option for homeowners who want to enjoy their pool as soon as possible.
Eco-Friendly
These pools are a great way to reduce your carbon footprint, especially if you find container pools made from repurposed materials.
Another way to make your pool more eco-friendly is by making it water-neutral instead of adding chlorine. This will reduce the number of harmful chemicals released into the environment.
Transportable
Because container pools are prefabricated and installed as-is, you can take them with you when you move. This means that if you live in an area with strict pool regulations, or if you're simply not sure where you'll be living next year, a container pool could be the perfect solution for you.
How much is a shipping container pool?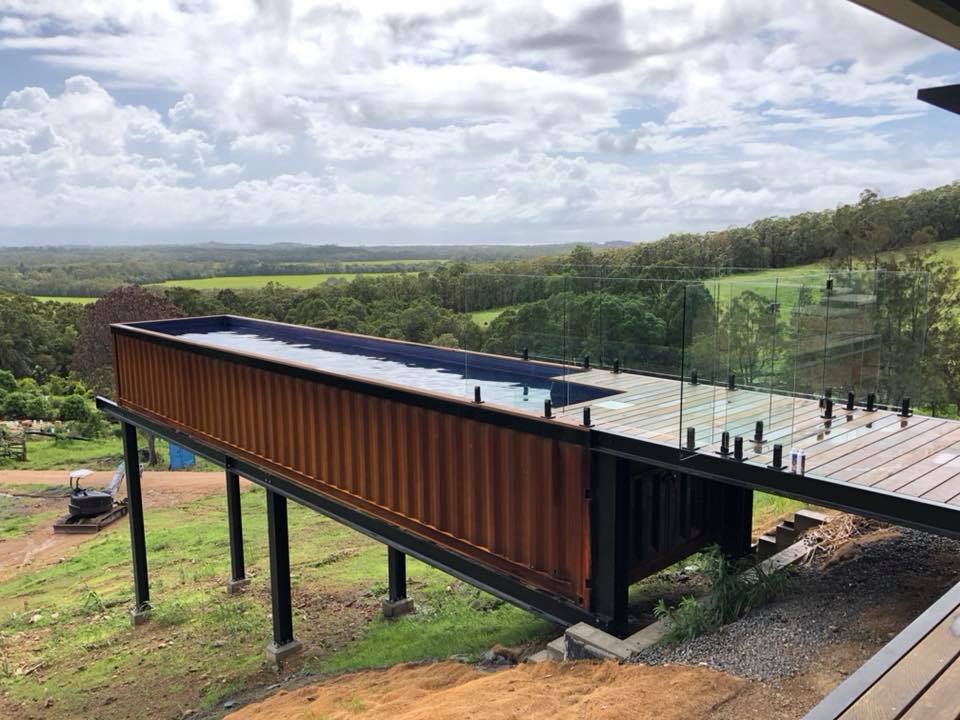 Cost to Build a Shipping Container Pool
Shipping container pools come in all shapes and sizes, so the cost to build one will vary depending on the size and features you want. The type of materials, labor, location, and size of your pool also plays a role in the final cost.
Here's an in-depth look at the different factors that affect the cost of building a shipping container pool:
Cost of Materials (Kit)
A significant chunk of the cost of building a shipping container pool depends on the materials you choose. The average price range for a kit is between $10,000 and $15,000 for a pool with an 8′ width.
Of course, the longer the pool, the more expensive it is. Note that this price doesn't cover the cost of shipping and labor.
Cost of Labor to Install
A container pool can take about two days to install with a professional team. The labor cost will depend on your location, the size and type of pool you choose, and the company you use. You can generally expect to spend around $1,500 to $3,000 on installation fees.
When choosing a contractor, be sure to ask for references and compare prices. Also, make sure the company is licensed and insured.
Cost of Above-Ground vs. In-Ground Container Pool
Above-ground pools are those that are not set into the ground, and they are less expensive. In-ground pools require more work to install since they must be dug out and set in place.
The overall cost of an above-ground pool can be as low as $6,000. Meanwhile, the average cost of an in-ground pool is $20,000.
Don't let the difference in cost affect your preference, though. After all, you will want to enjoy your pool for years to come.
Sizes They Come In and Their Impact on Price
A 12' plunge pool costs roughly $20,000, while a 16' swim spa is approximately $26,000. For the 20' container and 40' container, you can expect to pay about $35,000 or $48,000, respectively.
As mentioned, the usual width of container pools is 8'. However, you can find 12'-wide options, but they do cost a bit more.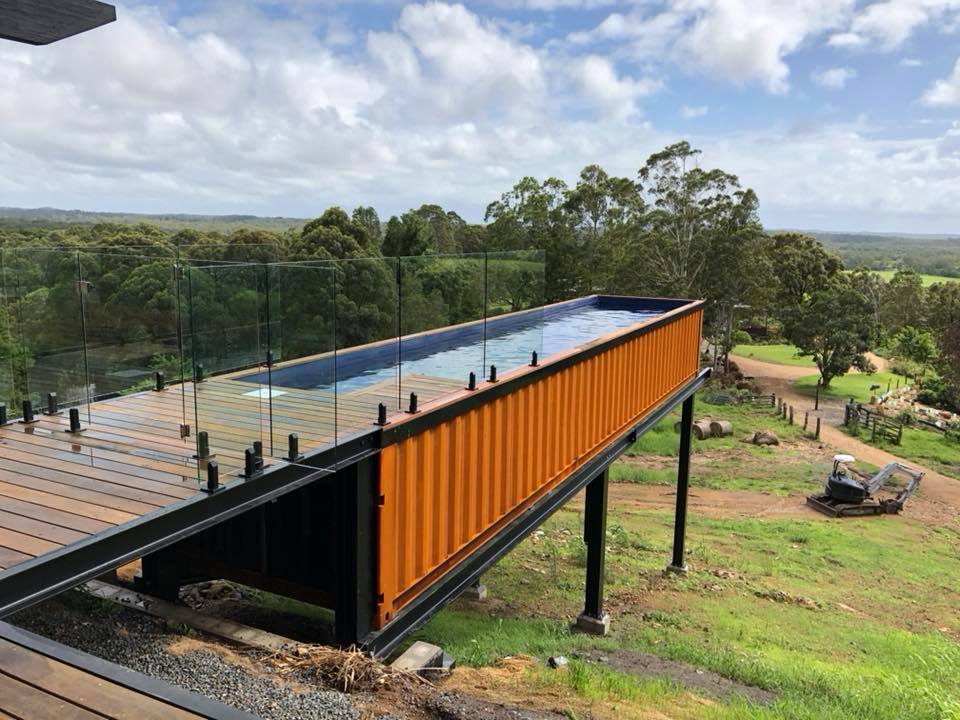 Takeaway
A shipping container pool is a more affordable option than traditional ones because they are made from converted shipping containers. They come in different shapes and sizes, but they all have one thing in common: they're eco-friendly and low-maintenance.