When it comes to finding the right shipping container home for you and your family, you need to keep your budget in mind. Shipping container homes are popular for their use of recycled building materials and overall low cost. They can also be as small or large as you want, as shipping containers are easily connected to make single-story or multiple-story homes. And if you play your cards right, you can even build shipping container homes under 100K!
However, as is true for any new build, the overall cost of creating your new home can skyrocket quickly. Between purchasing the land, building and custom interior supplies, and any landscaping you might want to add to your property, it's especially important to keep in mind how much you want to spend on your shipping container home construction. Prices can vary greatly based on where you choose to buy land and the resources that are currently available based on the housing market at the time of your project. That's why we're excited to feature some of our favorite shipping container homes under $100,000 today.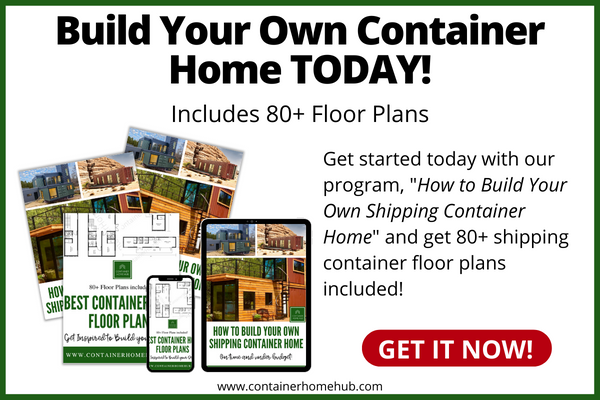 Read on to learn about some of the best shipping container homes under 100K – and how you can start building your dream shipping container home today.
Nieves Tiny Container Home Under 100K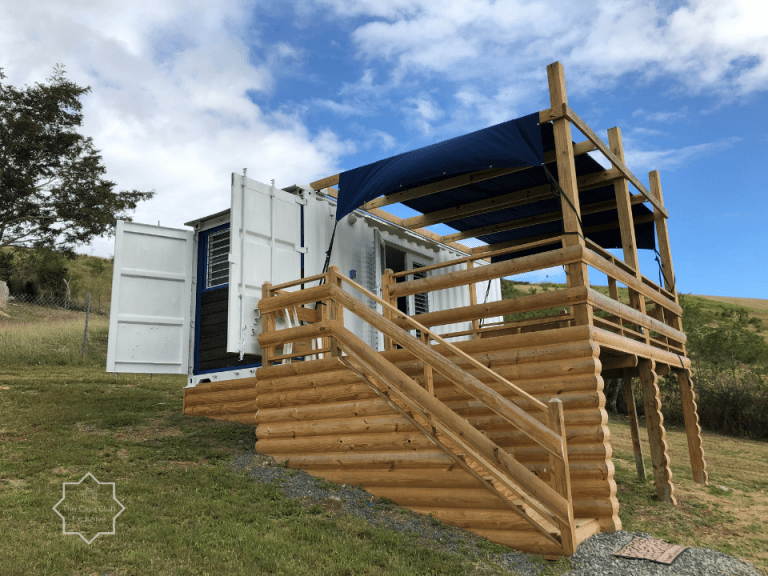 This shipping container home was designed in Cabo Rojo, Puerto Rico. It was first built in 2016 with a 20-foot shipping container and was designed as a vacation home for the couple who first created it. To help keep costs low, the owners used printed hardwood floor tiles and kept the original raw shipping container interior exposed for the walls. The owners were also conscious that they purchased land in an area that is prone to hurricanes. Hence, they kept the original steel shipping container doors as reinforcement against inclement weather. They also worked directly with a home development engineer to ensure their design was as durable as possible.
These shipping container homeowners picked a perfect location, as it is only 5 minutes away from some of the best beaches in Puerto Rico.
The overall design goal was industrial chic, which they achieved at a budget of $73,000.
Casita Container Home Under 100K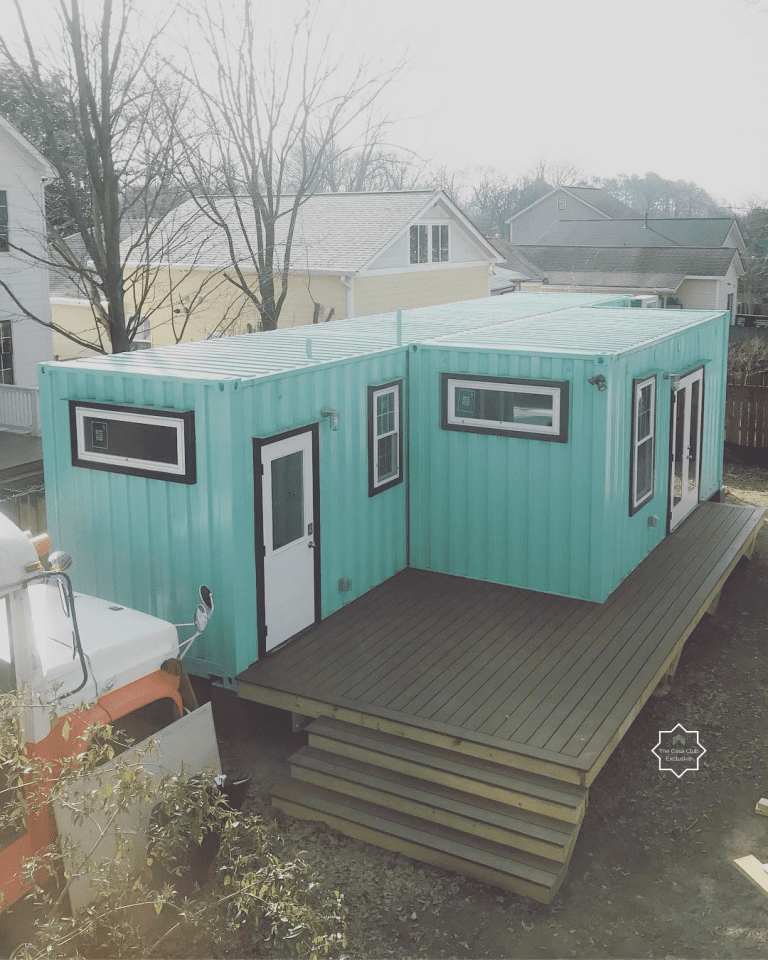 The Casita Container was built on the east side of Atlanta, Georgia, in a neighborhood called Reynoldstown. The owners opted for 20-foot high cube containers, allowing higher ceilings in their shipping container home. There are two bedrooms in this shipping container home, with the second bedroom doubling as a zen room thanks to an easily stored murphy bed. The original side container doors remain to let in more natural light and in the future the owners how to add a rooftop deck and screened-in porch.
Even in this smaller space, the layout still includes a rain shower and poured concrete floors with an epoxy finish to make them longer lasting.
The overall cost of this project is estimated to be around $65,000.
The Chelsea Adobe3 Container Home Under 100K
This Chelsea Adobe3 shipping container home was put together by Mod3 Design in Salt Lake City. Within the 320 square feet of space inside the shipping container home, made with the help of two 20-foot shipping containers, are matte black finishes and sneaky knotty alder wood pillars to hide the seam where the two shipping containers are connected. This matte black theme is also continued on the exterior of the home, where it has been covered with Shou Sugi Ban charred cedar siding.
The shipping container home includes a tankless water heater, along with a washer and dryer inside the main bedroom closet. Overall, the space is designed to be an open-concept studio, but there are also tasteful dividers added throughout the shipping container home to help break up the space and offer privacy.
The current asking price for this project is $85,000.
The Papaya Container Home Under 100K
The Papaya Container Home is located in Puerto Viejo, Costa Rica. Bio Caribe Real Estate owns it; a company focused on sustainable housing in the Caribbean. It is designed as the ultimate off-the-grid getaway on a large section of private land near the Panamanian Mountains. It is complete with a self-harvesting water system and an underground pipe system that functions as a natural air conditioner. To divide up the space made out of two 40-foot shipping containers, there are statement glass mosaic walls in the bathroom and just off the eat-in kitchen.
You can enjoy the beautiful views around the property on the patio's built-in hammock.
The current price range for this property is $51,000-$70,000.
Teterbuilt Shipping Container Home Under 100K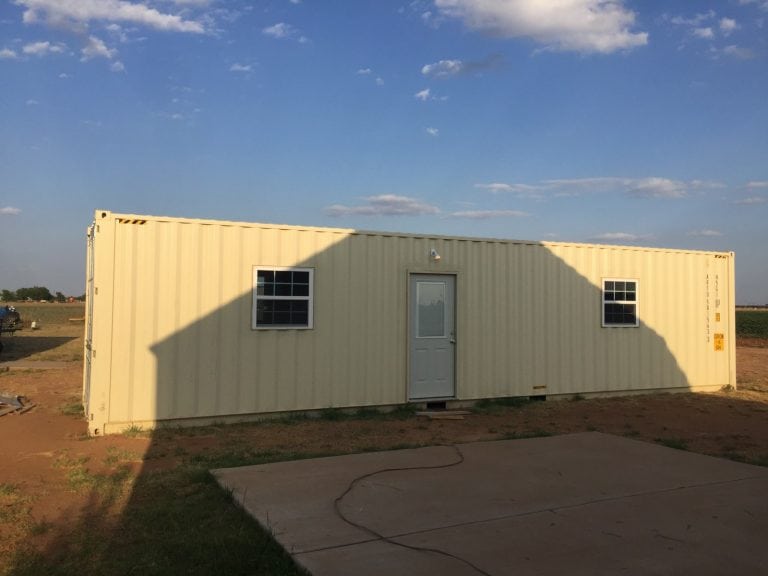 Some of the best new home trends continue to come out of Texas. The land is cheap, and it's easy to get building supplies transported to your new property. This continues to be true for the Teterbuilt Shipping Container Home in Lubbock, Texas.
The floor plans for this shipping container home include one bedroom and one full bathroom. It is made out of one 40-foot shipping container home, which makes for 320 square feet of living space. The home design houses a tankless water heater, a standing shower with a bench, outdoor storage, and mirrored closet door in the bedroom. The flooring is a wood lookalike made out of vinyl.
The current asking price for this property is $55,000, and the seller is offering free delivery within 250 miles of the home's current location.
The Sensualist Container House Under 100K
The Sensualist Container House was originally built in Lancaster, Ohio, just outside Columbus, by FUSION Design LLC. It was intended as a weekend getaway and family heirloom to be passed down as a starter home. The home is made out of one 40-foot shipping container, with a full bathroom and flexible office/bedroom space. The roof is already reinforced to be used as a deck space on top of the main living space inside the shipping container home. This deck space is also intended to work as a water collection system if needed.
All the walls inside the home are insulated for temperature and sound. Because this specific shipping container home was designed for travel, it includes an auxiliary 50amp hookup, or there is room in the home setup to include a battery for longer travel that wouldn't allow for an electric connection. The kitchen in the home is set up to include full-sized appliances instead of the usual smaller appliances included in shipping container homes. In short, there are a lot of thoughtful details included in this home, and it is ready to be lived in through any climate or weather conditions.
The current asking price for this shipping container home is $80,000.
Budgeting Tips for staying under $100k
If you love the idea of a shipping container home but are unsure of how to keep your budget in check, make sure to follow these steps:
Make sure to hire an architect and contractor with previous experience setting up shipping container homes. They will get the work done right the first time and save you money in the future as well.
Don't plan an extravagant design for your home. Instead, aim for an open-floor concept and multipurpose rooms.
Plan to start with a small shipping container. You can always add more space with other shipping containers in the future.
Build your home for the climate of your property. This will guarantee the longevity of your home against water damage and other problems that can come with an aging building.
Make sure to purchase land that doesn't require a lot of alteration to add your shipping container home. Since shipping container homes don't require a poured foundation, you can save money by making sure you have a space that is already smooth and flat to place your shipping container home.
Work with the original layout of the shipping container. The more customization you need to add to the metal frame of the shipping container, the higher your final price point is going to be.
Buy a gently used shipping container. By avoiding buying a brand-new shipping container, you can save a lot of money – and join in the eco-friendly benefits of a shipping home.
Remember, your shipping container home dreams are possible. You just need to know which corners you'll need to cut when putting together your budget!
Conclusion
Now that you've read through our guide to shipping container homes under $100K, the only thing left to do is to get started on your new shipping container home design! Feel free to also check out our shipping container home FAQs, including our tips on shipping container home insulation and the best shipping container home building classes. Or read more about shipping container homes on our blog, where you'll see content like this featured sweet container home studio.