Greetings from Atlanta! 🙂
One of the greatest parts of creating such a supportive community here on Container Home Hub for non-traditional homes is meeting the people who build them.
Today the homeowners of Casita Container, James and Jennifer, give us an exclusive look into their shipping container home that is almost finished! We took a slightly different approach for this Container Home Hub exclusive and made it a Q&A. Enjoy 🙂
Details:
Located in Reynoldstown, Atlanta, GA
Rough-in build by Bolder Container Homes
Architectural plans by Line + Angle
Structural plans by Smiley Structural Engineering
High cube containers allow for 8.5′ tall finished ceilings
Epoxy floors by Rejuvenate Flooring
Full bathroom with rain shower head
19,000 BTU mini split heater / AC
Full plumbing & electrical
One bedroom will have queen bed on platform for storage
Second bedroom be a zen room with murphy bed to allow for more space
Barn doors for the two bedrooms
Washer/dryer under countertop
Galley style kitchen
Container doors still open on the 20′ side to let in natural light and access to private patio
Custom cocktail & appetizer window to pass party fair to those on the porch
Phase two in 2020 will include the construction of a top deck on the full stretch of the roof, and a screened in porch off the open container doors
From Casita Container's homeowners:
Thank you so much for offering to share our container project! Gimlet is a 480 sq ft. high cube shipping container conversion by the parents of @eldonthebus – @iamjamesmartin + @thejenwestquest
Gimlet is considered an accessory dwelling unit and is located in Atlanta, GA. It's the first permitted residential container structure in the city and makes use of space by combining a 40′ and 20′ high cube container. We're the homeowners so everything we're doing is on our own (and with the help of some professionals as needed). One of our favorite components is that our bathroom has a direct door to the outside, not only allowing easy access during cookouts, but also giving guests that may like to stay in @eldonthebus personal access to a full bathroom. We can't wait to host backyard gatherings, creative residencies, and exciting guests within the space. Follow us at @casitacontainer as we approach our final three weeks of intense buildout, with the finish line in sight!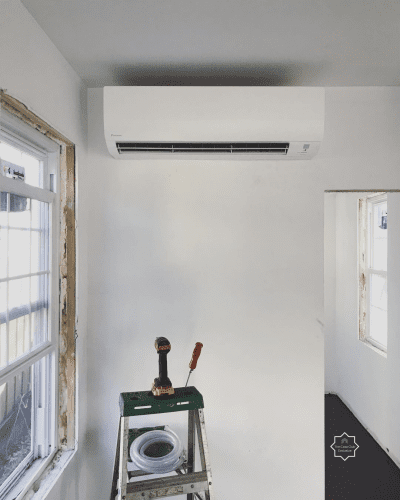 Q&A Interview:
1. How much do you think the entire project will cost you when you are finished?
We were able to do a lot of bartering for graphic design and marketing services, so our true bottom line won't be the same as someone going out of pocket might expect. In the end, we will have gone out of pocket close to $65,000. Cost for such a project highly depends on where you live and the resources that are available.
2. When do you think you guys will be finished?
Our goal is to be completely finished by early April!
3. Why did you decide to live in containers?
Once we finished @eldonthebus, we were officially bitten by the tiny house bug. A new ADU (accessory dwelling unit) ordinance was passed for our neighborhood in Atlanta allowing for a secondary dwelling unit. That was all the push we needed. After some research, building a container was a more affordable route than most, and also fit our tastes for the unique and curious. James designed the home, and worked with Line + Angle on developing the architectural plans used to submit for permits. We also had help from Smiley Structural Engineering on developing the system for attaching the containers safely and efficiently.
4. Was it easy to get it approved with the city and/or county?
We've been told that we are the first official licensed container house in Atlanta (though there are others that were grandfathered in). It was a long and tedious process, and by no means do they have it all figured out yet. But it was all worth it, for sure.
5. Have you visited other container homes before you decided to build yours?
Yes! The company that helped us fabricate the doors, windows, and other major components, Bolder Container Homes, had several demos that they showed at tiny house festivals which we were able to visit. We also explored a few of the grandfathered container homes already built in Atlanta to see what worked and didn't work for us.
6. What have been your biggest challenges building?
Jen and I are doing a lot of the building ourselves in order to save money, so there are moments where all of the small things left can be overwhelming. We've done a good job at focusing one day at a time and putting things in more manageable categories. We've had to collaborate with contractors throughout the process for certain things, and that can be a stressful endeavor. You're having to manage your time and work around theirs, and sometimes those don't always align the way you hope. Thankfully, we've had some really great partners and support throughout the process that greatly outweighs any of the hiccups.
7. What has been your favorite moment thus far building your home?
Oh man, there are so many moments that have stood out. The first time both containers were in the backyard and were side by side was surreal. We finally got to visualize what this thing would feel like tucked into our yard. Other huge moments for us were when we painted the exterior of the containers, finished the deck, hooked up all of the electrical, and installed the drywall. It's magical to be able to walk through the space and enter the rooms that had existed as just a drawn idea on paper initially. There are more to come too: the first time we run the shower, the first piece of furniture that's in place, the landscaping to unify the container and the main home, our first night's sleep. We can see those things happening very soon and we are so giddy about the prospect.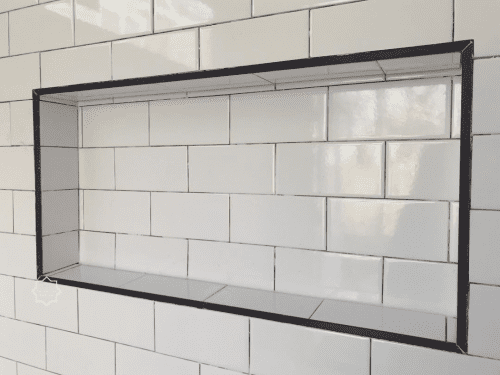 Such an excellent interview! Thank you James and Jennifer for sharing your home with our readers. We can't wait to see what the finish project looks like.
So what do you think? Would you live here?
Information Source: Casita Container's owners
Photo Source: Casita Container's owners
» Follow Container Home Hub on Facebook for regular shipping container home updates here «