One of the things that makes shipping container homes desirable is their price. Because they are built from sustainable, recycled materials, they are relatively inexpensive to build. In fact, many shipping container homes can be built for around 1/10th the price of a traditional home. Cheap shipping container homes make them a great choice for people who are first-time home builders or are on a budget.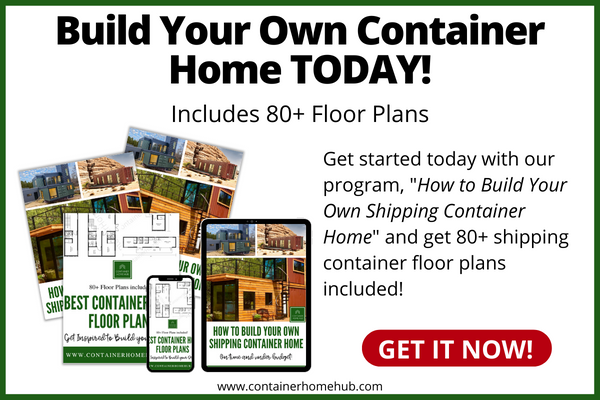 If you have been considering building a cheap shipping container home, it can help to get ideas. In this article, we have put together a collection of the best cheap shipping container homes. By understanding what is possible on a budget, you can create something incredibly unique. Knowing what other people have done with inexpensive shipping container homes is a great way to get started.
Check Out the Best Cheap Shipping Container Homes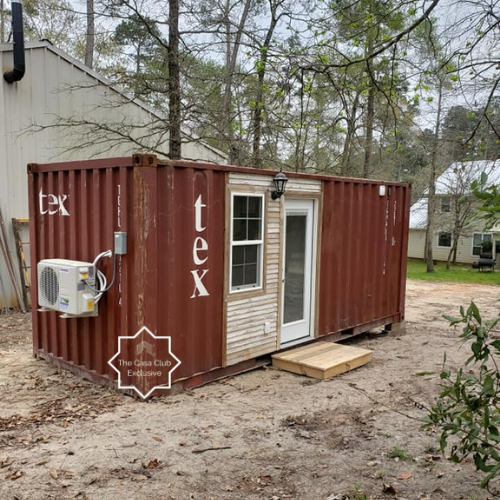 This home is incredibly elegant in its simplicity and rugged style. We absolutely love that the designers of this cheap shipping container home have left the exterior metal. It is a great way to acknowledge the previous use of the container itself. It also helps make it much more sustainable since no paint or other siding was used.
While this is an incredibly inexpensive container home, it is very functional.
It continues with the rustic style with the addition of lantern-style lighting out front. It also features a reclaimed window and door that brings the whole thing together. A container home like this can be built for next to nothing and can be a great choice for your home.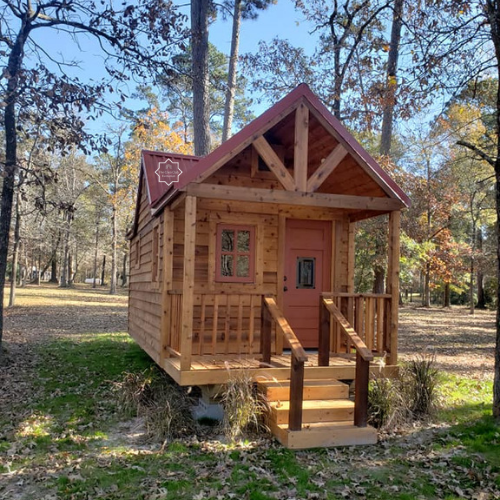 While this certainly fits in with the other cheap container homes, it also has something else entirely.
This is a great example of how you can take something relatively simple and turn it into something beautiful. We love the natural wood siding that has been used to create a cozy country cabin feel. It has all the trappings of a cabin and none of the expense of a modern country home.
We love the front porch and think it is one of the best features of this inexpensive container home. Having a feature like this instead of forgoing it for more space makes this home very special. We love the archway over the porch, and really brings the whole thing together. Unlike some of the other cheap container homes, this one is all about style and aesthetics.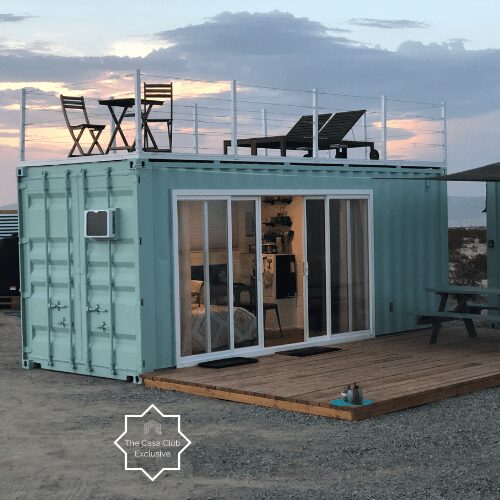 When it comes to cheap container homes, many people think that you have to sacrifice style or functionality. This container home in Joshua Tree proves that you don't have to make any sacrifices at all.
The upper deck portion is perfect for enjoying some warm desert nights and early sunrises. This is a great example of how you can use the space you have efficiently and with grand style.
We love the fact that this container home has a lot of extra outdoor space. This is a great way to have some extra room without spending a lot of money. The front deck is inexpensive but extremely versatile and provides some incredible curb appeal. If you want to build an inexpensive container home, take some cues from this beautiful example.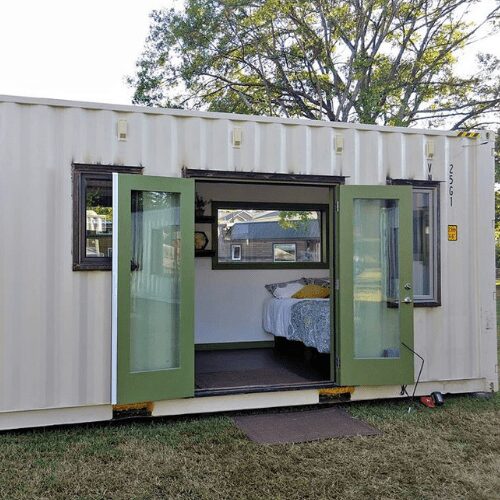 A great way to bring out extra space with cheap container homes is to use the outdoors.
This is done especially well here with the large double doors that open out from the main area. We love the color scheme here and can tell that it is still incredibly stylish while it didn't cost much. The raw paint of the container works very well with the little accent pieces and creates a comprehensive look.
We also love how many windows this inexpensive container home has. The windows are reclaimed and are arranged in a way that brings in lots of natural light. Even though this home doesn't have some of the fancier features of others, it is still incredibly beautiful. We love the attention to detail and the simple, modern style.
This is one of the more inexpensive shipping container homes on our list but also one of the most unique.
We love the dark, rustic wood and the gravel patio area. All of these materials are easy to come by and can even be found as reclaimed items. Even with the smart, contemporary design, it has a cozy country cabin look that we absolutely love.
One of the most interesting features of this cheap shipping container home is the rooftop.
While this is a striking thing, it isn't incredibly inexpensive. All you need is some reclaimed wood and an interesting design and you can create a fantastic home.
When thinking about cheap shipping container homes, you tend to think of simple designs. However, that doesn't always need to be the case.
This home is a great example with its large roof awning and wraparound porch. This is a great example of how this type of home is perfect for people with an artistic eye and good ideas.
We love the modern, striking design here and how it brings the whole home together. The designers were able to make something that is simple yet also very bold. There also aren't very many materials and everything is put together incredibly well. Even the large sliding door on the side adds to the whole look of this inexpensive container home.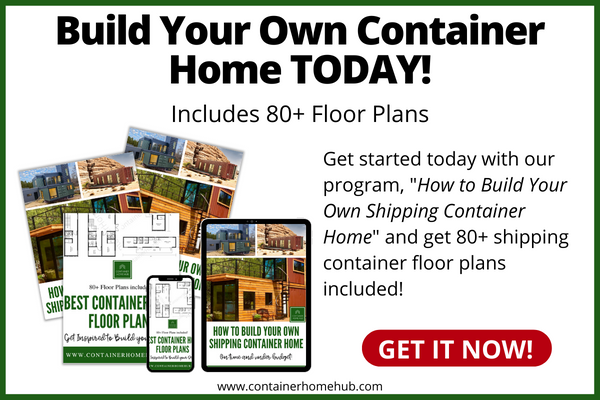 Conclusion
Cheap shipping container homes have the added benefit of being interesting as well as inexpensive. Unlike with traditional homes, you can save money while also adding unique design elements. This is one of the things we love the most about container homes. Their versatility and fantastic sustainability make them perfect for almost any sensibility.
If you would like more helpful guides like this one, be sure to check out the rest of ContainerHomeHub.com. There, you will find more tips and tricks from the pros as well as some featured container homes. These will help get you inspired so you can build your perfect dream home.