Greetings from California! 🙂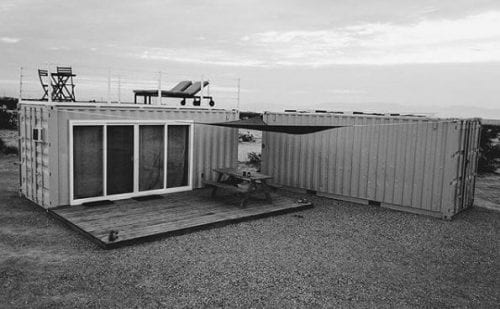 Happy December fellow non-traditional home enthusiasts! Starting our month off on the right foot, we have another Container Home Hub exclusive for you! This one is particularly special because the owners of the home and the builders both shared with us this awe-inspiring shipping container home. Located in Joshua Tree National Park, California, The Joshua Tree Container Home is a tiny home lover's off-grid getaway.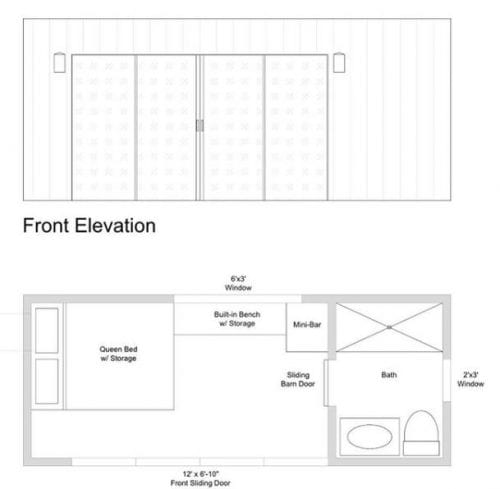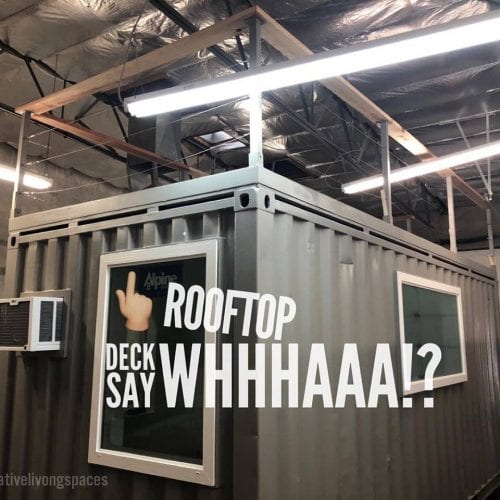 The owners of The Joshua Tree Container Home worked with Alternative Living Spaces and Container Guys International to make their container dreams come true. Made with a 20 foot container, this home includes a 12 foot wide sliding glass door, a roof top desk, wooden porch, and is completely off-grid.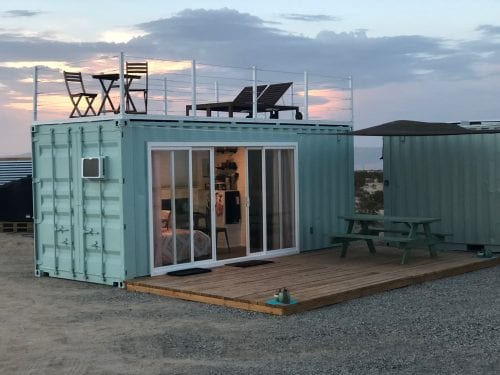 Perhaps the most striking thing about The Joshua Tree Container Home is its color. This mint green is a nod to the mid-century modern style that was so prevalent in the desert back in the late 50's and early 60's. This color is a fantastic throwback to simpler times, and isn't that what a container home getaway is all about?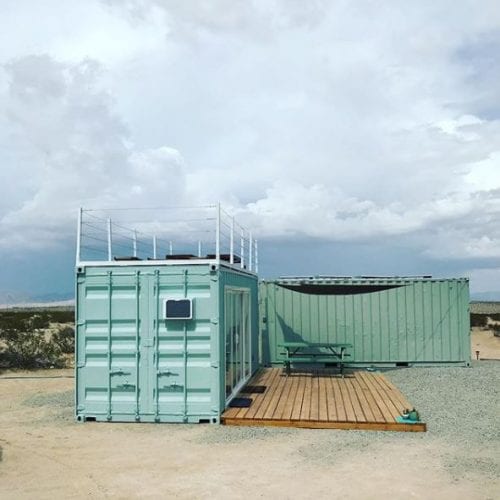 The other eye-catching feature of this container home is its rooftop patio. When you are dealing with a small amount of space, you are going to want to utilize as much of it as you possibly can and that is what the builders of this home have done with the patio. It is a perfect spot for dinner and drinks while the sunset paints the Joshua Tree desert all around you.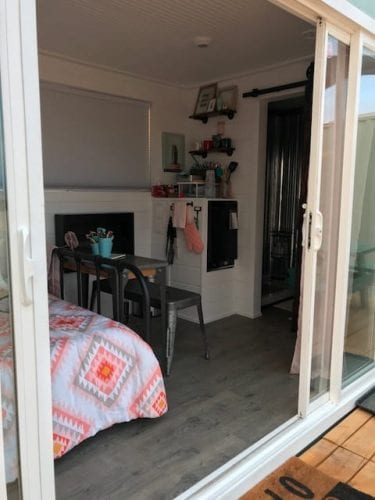 The entrance through the sliding glass front door of this container home leads you right to the main living and sleeping area. This no-nonsense entryway is a great way to make the porch feel like it is a part of the home. One of the benefits of desert-living is the dry, interior-friendly weather. This allows you to keep this slider open throughout all hours of the day.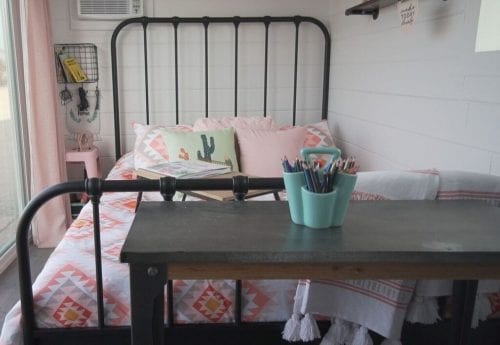 Once inside, this container home is just as kitschy and adorable as it is on the outside. The designers have brought some of the country cabin style into play with this interior. This gives it a warm and comfortable feel that is very much needed when living off the grid in a shipping container home.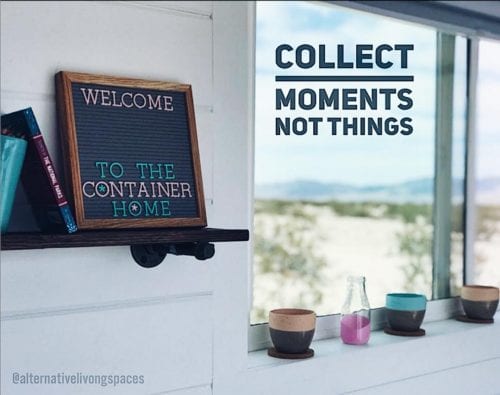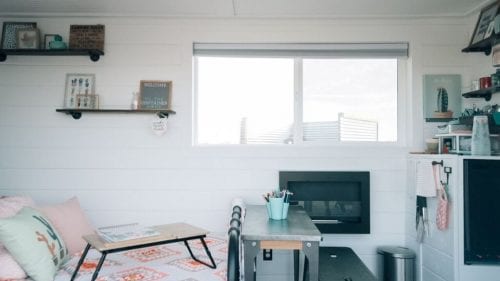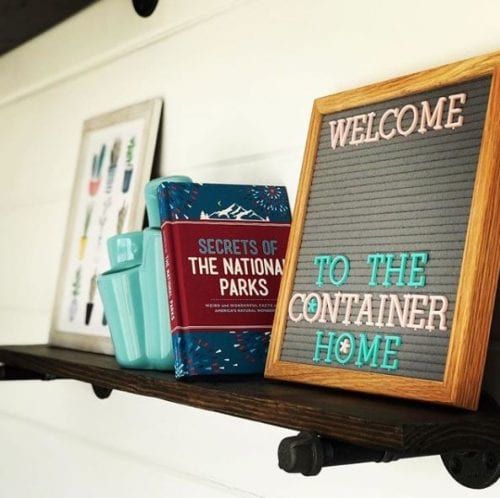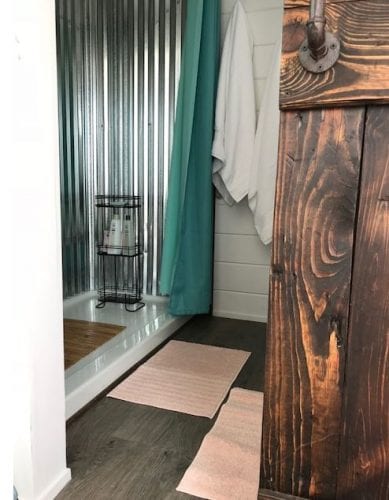 The reclaimed wood door that leads to the bathroom is another beautiful touch. It gives that touch of snugness that compliments the small floor plan incredibly well. We love that it also matches the wood of the mirror frame and the shelving. This simple design element ties the entire interior together and gives it a nice, cohesive look.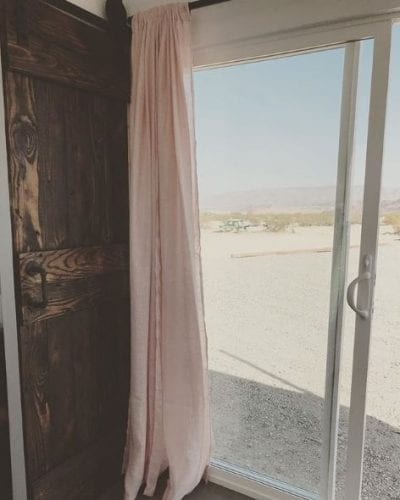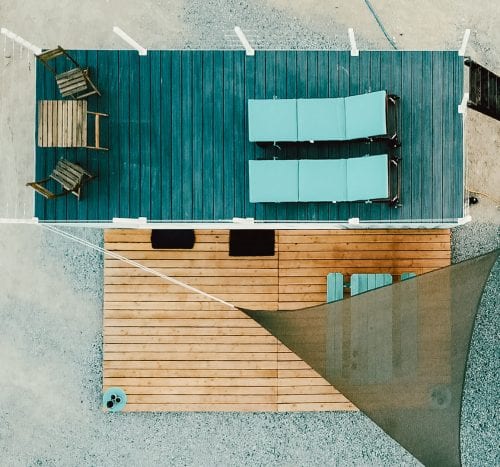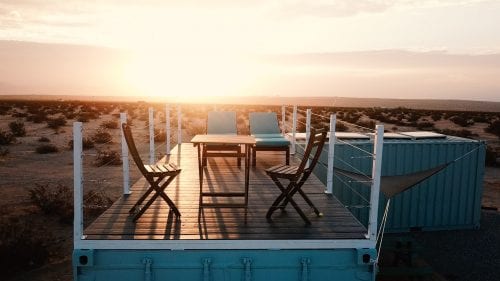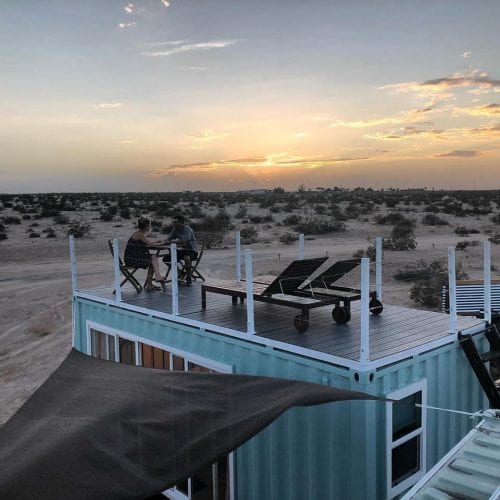 It is obvious that the designers of this home understood that the main event of this container home is its surroundings. By utilizing the space up top as well as the porch on the bottom floor, you can enjoy the incredible landscape from every angle. With the weather being so predictable in the desert, there are so many opportunities to take it all in and appreciate all it has to offer.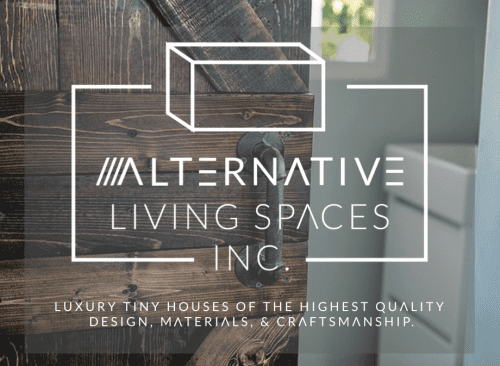 Located in Las Vegas, Nevada, this model is a 20′ container that is built out to be used for full time living, a guest room or as an Airbnb/ vacation rental to generate additional income. The unit is designed with the highest quality material and completed by master craftsman. This unit can be placed on a permanent foundation as an ADU (Additional Dwelling Unit) to a main home or it can be placed on a trailer which will classify it as an RV (You'd be able to place the unit anywhere you could place an RV).
20′ Container
143 Sq. Ft. Full Bathroom (Includes Corrugated Steel Shower, Vanity, Toilet and Mirror)
Kitchen with Granite Counter Top
Stainless Steel or Oil Rubbed Bronze Fixtures
Flooring (Multiple Options)
Custom Barn Door with Hardware
Shiplap Walls for the Interior
AC/Heater
Standard Electrical & Sewage Hook Up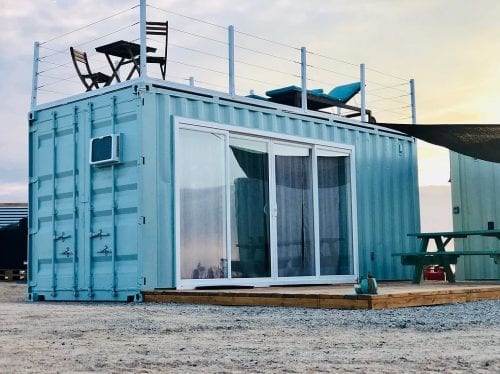 And they even did a really interesting interview with Container Guys! Check it out 🙂
This mint green tiny container home was/is actually intended to become an Airbnb rental. If you follow container homes on Instagram, as we do closely, you could have read that The Joshua Tree Container Home was broken into and vandalized. This is awful! Not only did the owners work tirelessly to make their dream of having a container home on Airbnb a reality but now they have secured a new piece of land to make sure it doesn't happen again. So for right now, their Airbnb listing isn't up, BUT if you want a tiny container home just like this…Alternative Living Spaces has the model up for sale.
The owners of The Joshua Tree Container Home did such a good job with their décor, the listing used the same pictures for the model. High five guys!
So what do you think? Would you stay here or buy your own?
Information Source: Alternative Living Spaces, Tiny House Listings
Photo Source: Alternative Living Spaces, Tiny House Listings, Alternative Living Spaces Facebook Page, Alternative Living Spaces Instagram, Joshua Tree Container Home
» Follow Container Home Hub on Facebook for regular shipping container home updates here «