Greetings from TCCHQ! 🙂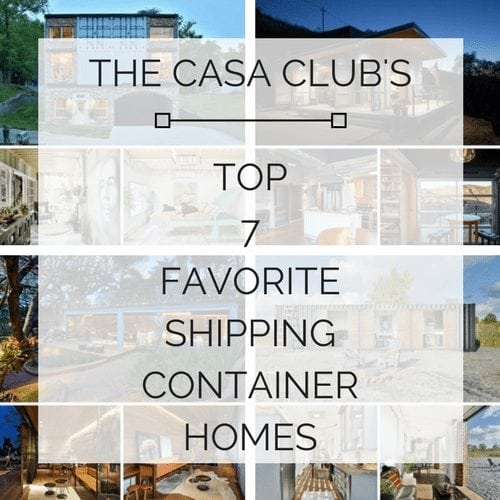 Today is a special post in honor of my birthday 🙂 I recently did a poll on Container Home Hub's Instagram asking if you wanted me to write some "Top or Best" type of posts. The response from Container Home Hub's 16.4k followers was an overwhelming YES! So I thought it would be fun to do one for my birthday this year. From the 215 shipping container homes that I have shared with you thus far, I am picking my favorite 7!
51ST HOME & SHIPPING CONTAINER GUEST HOUSE
When I was researching this house, I tried to read every single article to give you a better overall feel for the house. I discovered it was in fact a duplex with matching shipping container guest houses behind it separated by a privacy fence. With one unit already sold, Unit B, which mirrors the same floor plan with more feminine finishes, is being sold for $499,000. Also, I labeled this post under "Tiny" because to be fair, the shipping container guest house is tiny, and we talk about shipping container homes here on Container Home Hub. 😎 *this house has been sold since I featured it*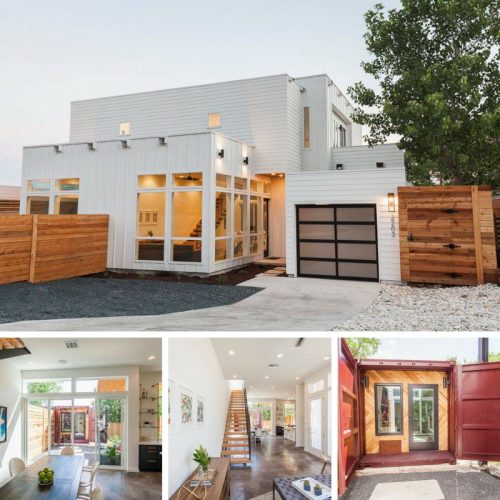 ST. CHARLES SHIPPING CONTAINER HOME
When Zach and Brie Smithey designed and built their container house, they left some of the metal uncovered, creating an effect that could be compared to exposed brick in a more conventional house. The art is by Zack, from a Mark Twain and Abraham Lincoln series. The couple doesn't remember how the concept was raised, but when the idea of a container house came on their radar, it immediately felt right. "I had never seen one before, and I wasn't even sure they existed," Zach says. Online searches convinced them and informed them that if they built a container house, they'd be the first in the area to do so.
ECO-LUXE-RECYCLED SHIPPING CONTAINER HOME
This hillside shipping container home looks so scenic it may have come out of a book of Australian fairy tales. Located in Tasmania, the one-bedroom, one-bathroom, eco-friendly home features a rustic yet contemporary feel with an added perk — a bathtub that's outside!
MCCONKEY SHIPPING CONTAINER RESIDENCE
Credited with being one of the first container homes in San Diego, this 800 square foot home was created from three shipping containers for Mike and Shawn McConkey from Obrarchitecture. The open-concept home is environmentally friendly, and even uses flame-retardant materials due to the location of the home, where fires are more commonplace than other locations. The home may be small but it's not lacking in features and amenities, including plenty of doors that can stay open when desired to let in air and available light, creating an airy, inviting space. In this photo, a garage door retracts to let fresh air inside the home.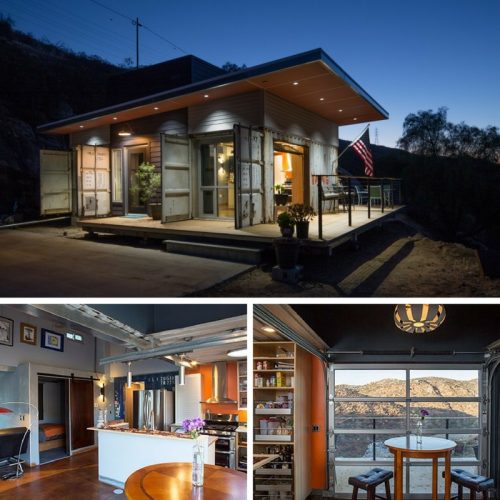 KAHNAWAKE CONTAINER LOFT/STUDIO
If this tiny shipping container loft/studio doesn't just take your breath away, I don't know what will. I mean look at these photos!! Built in 2015, this recycled container by M. CONSTRUK.NER completely designed by Maryse Mainville and sold as is. Towing delivery not included. Please check the legislation with your municipality. This 3 season model can be used as a hunting and fishing cabin, lodge or shed, cottage or residential extension.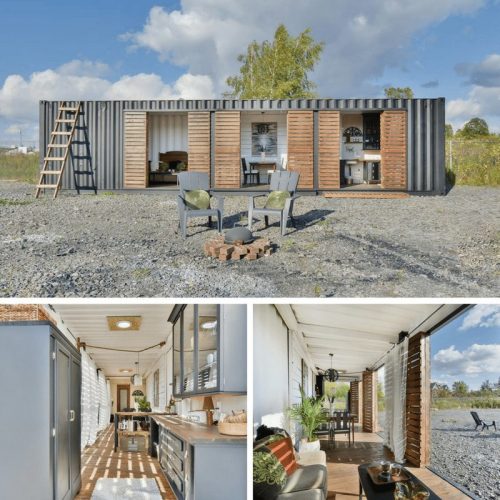 The Elma Container Cabin, available to rent right through this website! The Elma Container Cabin the perfect rental for vacationers looking to get away from it all. Whether you are looking for peace and tranquility or easy access to forests or a home base to explore the South Puget Sound and Washington coast, the container cabin is a great choice. Unlike the Tolt MacDonald cabin, the Elma Container Cabin is just like a small home. The two bedroom cabin has a small kitchen and living room, bathroom, and absolutely beautiful views of the forest from every window. Contact Jeff and Jessica to find out about availability.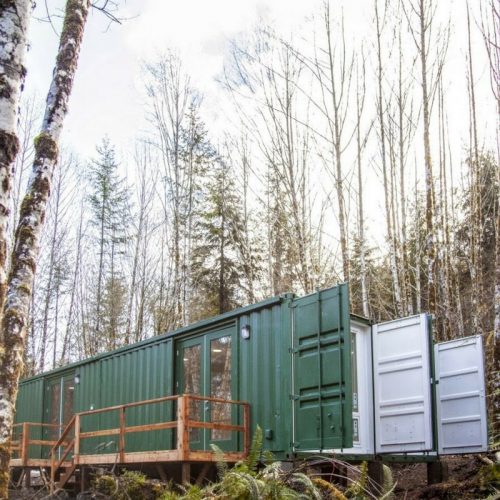 POCKET HOUSE TINY SHIPPING CONTAINER HOME
Welcome to probably one of the most jaw-dropping tiny shipping container homes I have ever seen! The "Pocket House" is a 320 square feet container home in Belo Horizonte, Brazil, designed by Cristina Menezes Arquitetura e Decoração. Taking a step closer, it's more than clear that The Pocket House is designed to blend seamlessly with its forested location and provide flawless flow from the interior to the exterior. The wooden decking is continuous with the floor covering used in the sublime living space, the glass facade can slide away for access, and a wall-hung herb garden brings the green indoors. The motorcycle isn't included!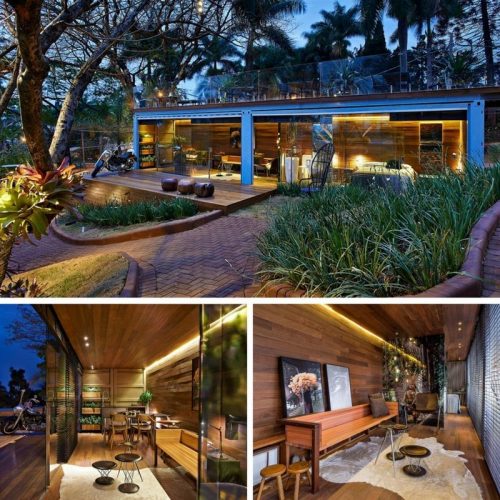 So what do you think? Would these be in your "Top" list? Which one out of the 7 is your #1? 🙂
» Follow Container Home Hub on Facebook for regular shipping container home updates here «