Metal building constructions are popping up all over the world, in both residential and business spaces. But did you ever think about using a shipping container to build a pool in your backyard? With the help of new building trends, you can even build a shipping container pool in Michigan!
Shipping containers give you all the benefits of metal construction, while also repurposing materials that would otherwise be left to sit and rust. This means you are supporting sustainability while also using some of the most durable building materials on the market. With the help of a shipping container pool, you never have to worry again about leaks in your pool lining or cold water on a hot day (remember – metal retains heat)!
Any pool is going to require a little more maintenance in a state with all four seasons. But with the help of a shipping container pool, you can set up and tear down your pool space every spring and fall without having to break the bank. Suddenly the opportunity for a pool in your Michigan backyard is more possible than ever.
Read on to learn more about the unique aesthetic of shipping container pools and how you can start building a shipping container pool in Michigan today.
A Shipping Container Pool in Michigan
People from all over the United States are drawn to Michigan for its access to natural shorelines along the Great Lakes. But when summer days in the Wolverine State can be over 95 degrees Fahrenheit, it's understandable why many individuals would prefer to cool off in the comfort of their backyard.
Currently, the state of Michigan includes over 280,000 residential pools. This statistic also doesn't account for any water parks or lakeside water access points throughout the 96,716 miles of Michigan land. It's clear Michiganders love their water in all forms.
As is true with any backyard pool in Michigan, you need to be prepared to winterize it for the cold, snowy months of December to February. This is easier than ever with a shipping container pool, as the steel metal frame is more resistant to extreme temperature changes. Shipping containers are also naturally designed to be moved, so you could even store your shipping container pool in Michigan during the months you don't plan to use it.
What is a Shipping Container Pool?
Shipping containers have been around since the 1950s, but it's only been since the early 2000s that people have thought of using them as building materials. They were first made popular as weatherproof repurposed homes, and shipping container pools have only been on the market for the past five years.
When you think of a shipping container pool, you might think of a large, bulky metal box with water. But thanks to fiberglass inserts and exterior gel sealing, a shipping container pool can look as sleek or industrial as you want.
A shipping container pool is also unique in its ability to be customized to hilly landscapes or laid inground. With the help of a platform structure, you can set up and tear down your shipping container pool without having to flatten out or backyard. Or you can enjoy your shipping container pool's permanence if you bury it just off your main patio space.
You can set up your shipping container pool in Michigan in as little as a week. But it's important that you do the research first to make sure you fully understand the product you're purchasing and how to guarantee its longevity in the future.
Why Should I Build a Shipping Container Pool in Michigan?
Michigan offers the bustle of college-town life in Ann Arbor and the lakeside ease of Ludington and Traverse City. You are guaranteed year-round festivals that celebrate the many fruits and vegetables harvested throughout the Great Lakes area, along with statewide pride for the Detroit Tigers and University of Michigan sports teams.
With the lower cost of living in Michigan, you also have the opportunity to customize your home to make it an oasis from all the other chaos in your life. A shipping container pool can also help you maximize the money you naturally save by living in the American Midwest. Swimming and living near water have both been proven to reduce stress and increase the quality of life for individuals. You don't have to buy a lakehouse far away from everyone else to enjoy waterfront living when investing in a shipping container pool in Michigan!
How much does a shipping container pool in Michigan cost?
When looking at the initial cost of installing a pool on your property, it's understandable to be a little nervous. Pool construction costs are easiest to fold into a new home design, as you can then include them in your mortgage. However, adding a pool to the property where you already live can increase your home value by anywhere from 5 to 8%.
With that in mind, it only makes sense to save money on your pool project from the beginning. A shipping container pool installation can be done in as little as a week and usually costs half the amount of a traditional pool installation. In Michigan, a traditional pool costs around $55,000. But a shipping container pool in Michigan will cost you only $25,000. The numbers speak for themselves in this situation.
Shipping Container Pool Builders in Michigan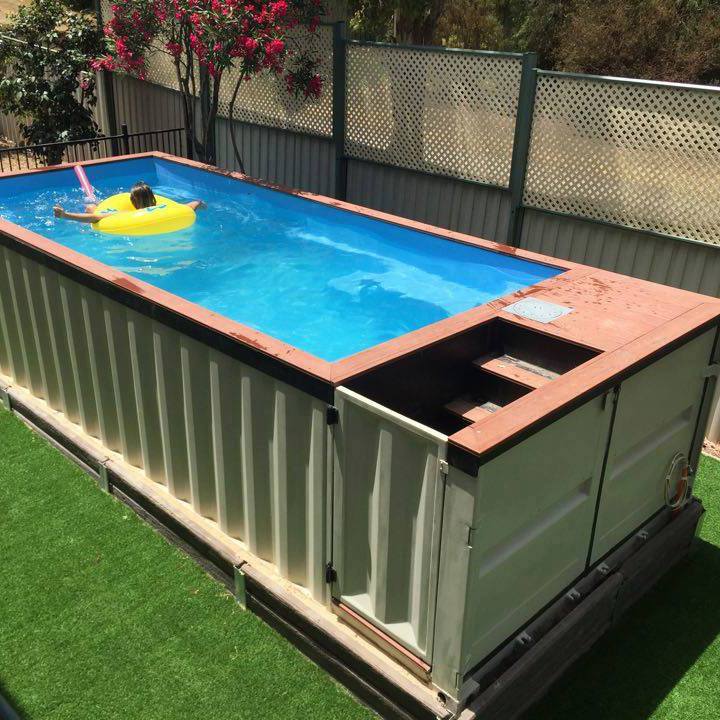 Once you've made up your mind to invest in your shipping container pool in Michigan, it's important to end up with materials and builders you can trust. The internet is a great resource to connect with former clients of shipping container pool suppliers. Also, because shipping container pools are still so new, you need to prepare yourself to pay for your shipping container pool supplies to be shipped to your preferred location in Michigan.
When it comes to shipping container pool designers, you either want to reach out directly to a shipping container building company or a contractor who has experience with metal building construction. To help you get started, we recommend you consider these three shipping container builders for your pool in Michigan:
Trek Pools
Trek Pools is based out of Anderson, Indiana, so you will still get the Midwest advantage for your business, especially if you are planning to build in Southern Michigan. Trek Pools are designed to connect to an app on your phone to help you control the temperature, lighting, and filtration of your pool.
Blox Custom Containers
Blox Custom Containers is based out of Grand Rapids, and their business began as a shipping container home provider. However, they have now expanded to also design shipping container pools and offices.
Advantage Structures
Advantage Structures is based out of Chicago, Illinois, but they serve the entire American Midwest as a shipping container supplier. Their website currently only includes shipping container building projects, but they could be a great starting place to at least get your shipping container to create your home pool.
Designing a Shipping Container Pool Landscape
As you work out the details for your shipping container pool in Michigan, you also want to ensure you have a comprehensive budget. How many customizations do you plan to purchase for your shipping container pool? Do you want to add a deck or a garden around your shipping container pool? Are you interested in providing shade around your shipping container pool for especially hot days?
You will also need to decide if you plan to keep your shipping container pool above ground or if you want to bury it. A buried shipping pool container requires reinforced sides to manage water freezing and thawing underground.
Shipping containers are eight feet in width and only come in four sizes for length: 12, 16, 20, and 40 feet. While you can usually connect shipping containers in other building projects to create your preferred size, the addition of water means you can only use one shipping container to design your backyard shipping container pool. For this reason, you will need to go into your shipping container pool project with your preferred shipping container size in mind.
Pool construction on your property will require specific permits, and you can navigate all of this better with the help of a local contractor and construction team.
Conclusion
Now that you've read through our Michigan shipping container pool guide, the only thing left is to start building your shipping container pool! Feel free to also check out our shipping container home FAQs, including our tips on how to build a shipping container pool in seven easy steps. Or read more about shipping container homes on our blog, where you'll see content like 6 rustic shipping container homes you'll love. Everything you need to know about shipping container home designs you can find on our website.