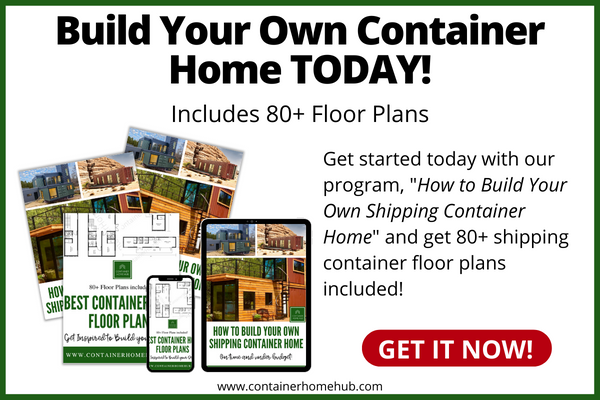 Greetings from Georgia! 🙂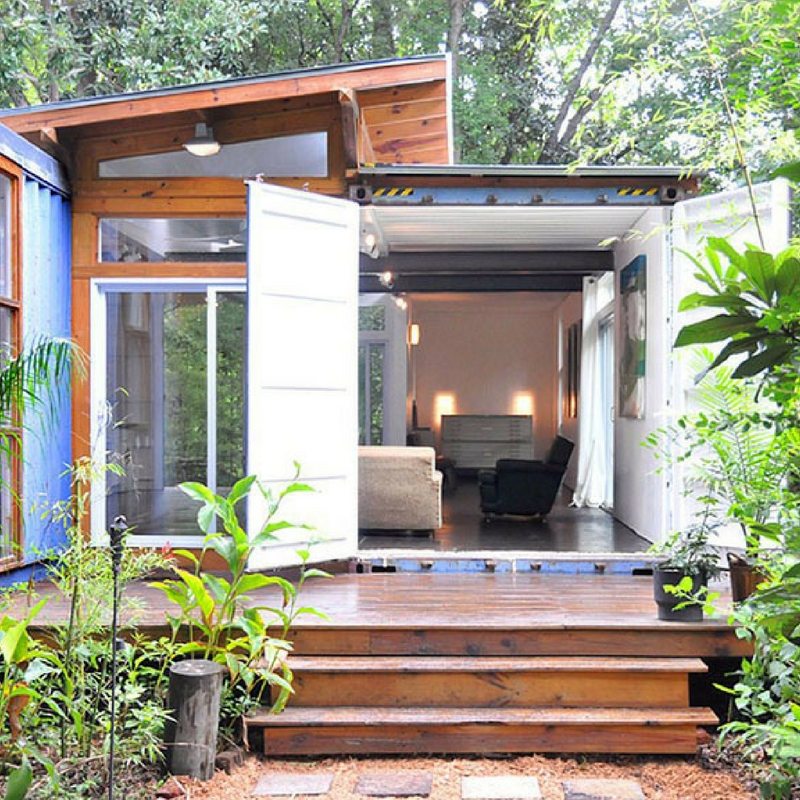 Today's home is incredibly special. So far, we have written about homes that are the homeowner's main residence, but this shipping container home is actually on a wooded compound which includes a main house and efficiency apartment.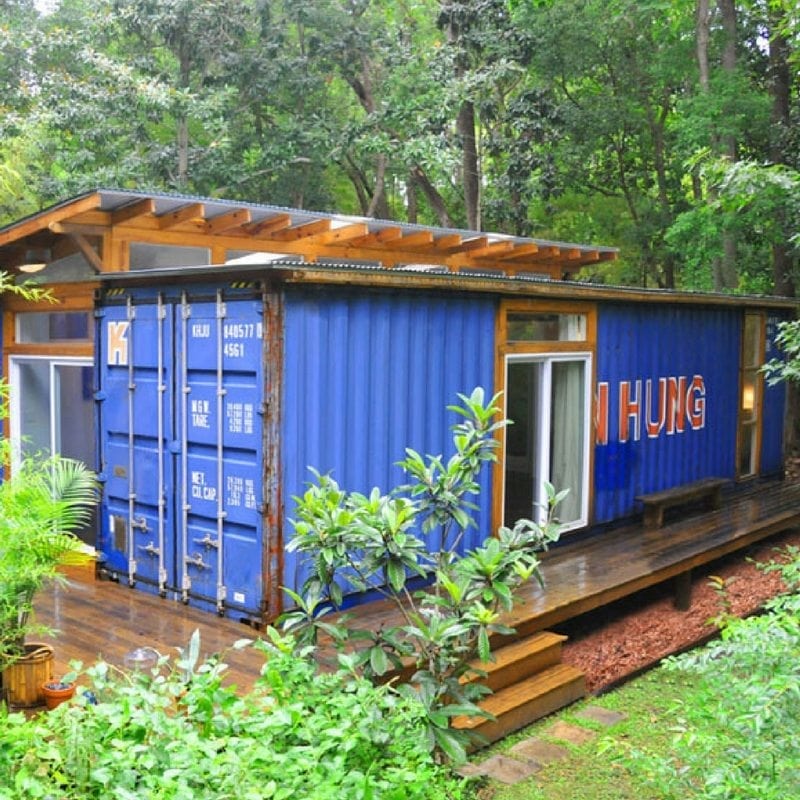 In putting this article together, we read several articles on the builders, why they built it, and how awesome it is!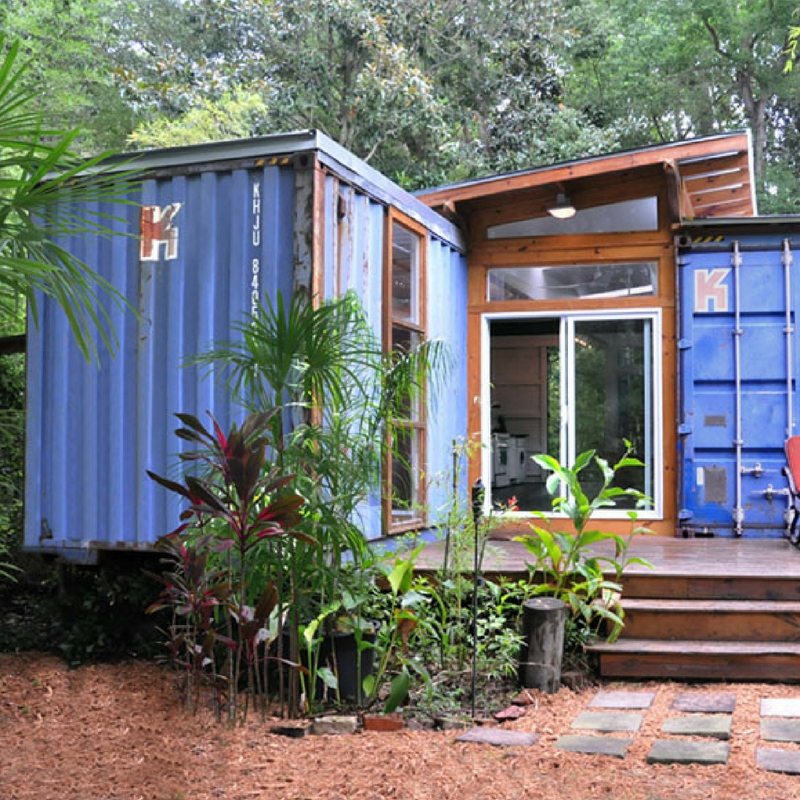 According to SmallHouseBliss, "Artist and designer Julio Garcia is known for his mixed media prints. When creating his own home and studio, he worked on a larger scale but still succeeded in joining disparate elements into a unified whole, working with industrial shipping containers, natural materials and the lush foliage of his lot in Savannah, Georgia."
"When I was in college, I had seen projects like this in Europe and was always intrigued," Garcia told TODAY Home. "When we needed to come up with a creative space for our company in Savannah, I pushed this idea through."
Known as "The Savannah Project," this shipping container home consists of two 40 foot shipping containers that were placed about 6 feet apart. The 6 foot gap was filled with a wood-framed floor and shed roof. Then, the container side walls were cut away to create a large open living area.
We love the large swinging doors that open up from the living area to the wraparound porch. It creates a connection to the outdoor space and gives the living area some much appreciated open air. This is one of the beautiful things about building a shipping container home: being able to utilize the exterior as an extension of the interior.
The recessed ceiling that houses a fan and lighting is a great way to add the illusion of height to this shipping container home. When you are working with reclaimed materials like a shipping container, it is incredibly important to make the most of what is already there. By adding this recessed ceiling, Garcia has given a taller, more open feel to this shipping container home.
Contrasting with the exterior, Garcia gave the inside a clean contemporary look. This shipping container home is about 970 square feet, which includes a bedroom, a bathroom, a long open kitchen, and an open floor living space.
The mixture of hardwood floors and polished linoleum is another great way to give space and grandiosity to a small area. If you would like to make a room look bigger, it is important to have darker colors lower to the ground and lighter ones higher up and at eye level. That is exactly what Garcia has done here and we think the effect is stunning and effective. This shipping container home has a large, open feel that helps hide the actual size of the container itself.
While the exact cost of building this home was not mentioned in any of the articles, Garcia did mention in an interview that a shipping container can be purchased for around $1000, while the finishing and building costs range from $70 to $90 per square foot. So this shipping container home is proof that luxury living doesn't have to cost a fortune.
For those hankering for their own sanctuary, Garcia's architectural services (a fabrication studio based in Miami) can be solicited via his company Price Street Projects. This is fantastic if you are loving this shipping container home and would like to have one of your own.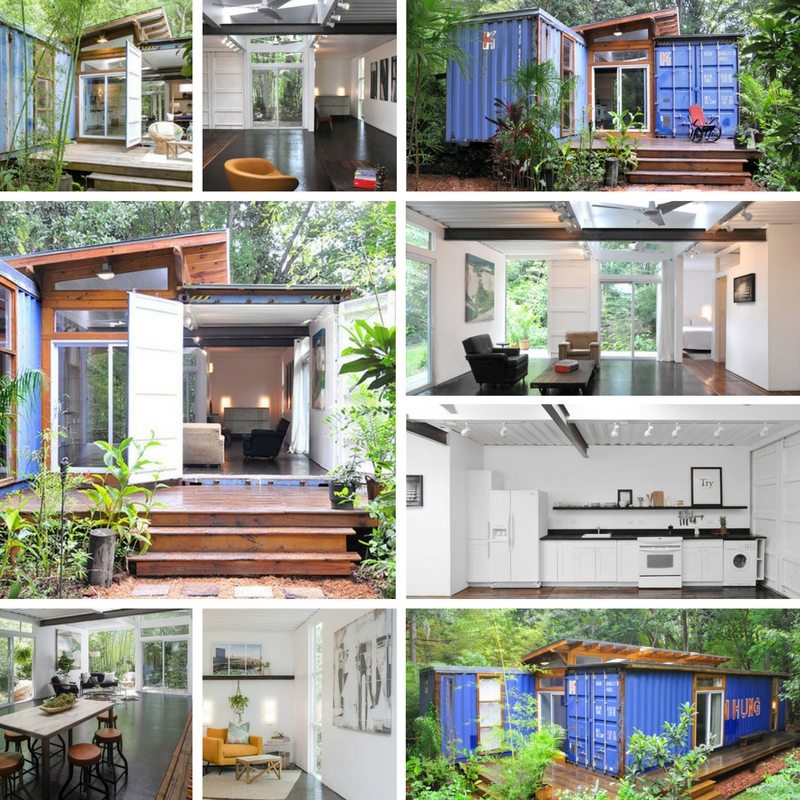 As evidenced here, Garcia's architectural style is said to "combine functional design with creativity to create sustainable, economical and innovative living and work environments…PSP specializes in building structures made from shipping containers, each unique to its site and use, blending art and architecture to explore the boundaries of the traditional construction/building model."
Photo credit: Blood&Champagne
» Follow Container Home Hub on Facebook for regular shipping container home updates here «