Having three or more children is such a joy. You're guaranteed never-ending fun and more willing participants at pillow fights.
However, building a dream home for a large brood can be a daunting task. Fitting five or more people in one dwelling and comfortably at that would require your creative juices flowing.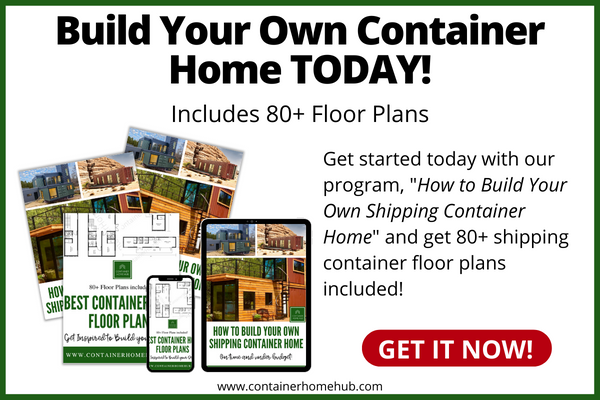 This is why you should consider using 4 bedroom shipping container homes using shipping container architecture in the construction of your future residence. They are durable, stable, flexible, and versatile too.
Check out the 8 4 bedroom shipping container homes and floor plans below for great ideas to pull off this project to a satisfactory conclusion.
4 Bedroom Shipping Container Homes, 6-Container Floor Plans with Master Suite
Having doubts as to whether 4 bedroom shipping container homes are the right foundation for your dream house? Is it because you've always wanted a master suite and you don't think a container home is a good fit?
Very well, check out the 4 floor plans below. They will not only blow your mind but change it, too.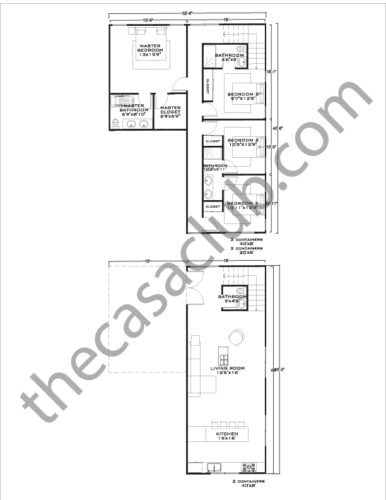 If you're keen on separating the living area from the sleeping quarters, then this layout offers a clever solution: a 2-story abode.
Two 40×8 shipping container homes create an expansive ground floor where a large family with at least three kids can converge and bond comfortably. It offers a spacious living room and a kitchen equipped with a 4-seater island. If you wish, you can even add a dining table, and it won't hamper your ease of movement.
On the second floor, two 40×8 shipping containers are situated atop the living area. Here, you will find 1 bedroom with its own bathroom, ideal for the eldest child. In addition, there are 2 bedrooms with one shared bath for the younger siblings.
Meanwhile, two 20×8 shipping container homes are attached like an overhang on the second story. This is the master suite, complete with its own master bathroom and master closet. It provides a shade to the space below, which you can utilize as a garage, a patio or a garden.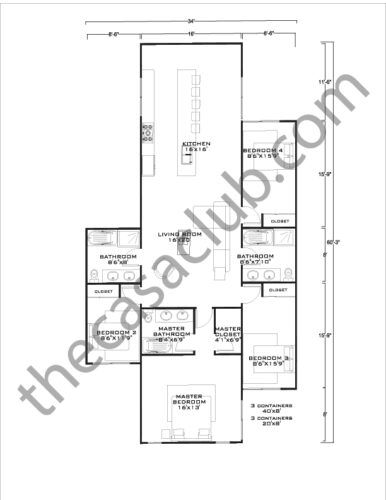 Should you be blessed with a large land, then you need not worry about housing your large brood. With 6 shipping containers, everyone can enjoy more than enough elbow and leg room. And you need not build a 2-story dwelling.
In this layout, accessibility is priority. It showcases how you can take advantage of the flexible feature of containers to make it work for you, not the other way around.
Three 40×8 and three 20×8 are strategically arranged so that the common areas are on one side and the sleeping quarters are on the other.
This 4 bedroom shipping container homes offers a huge kitchen with a 5-seater island. At the heart is the living room from which you can access the 3 bedrooms, 2 standalone bathrooms, and the master suite.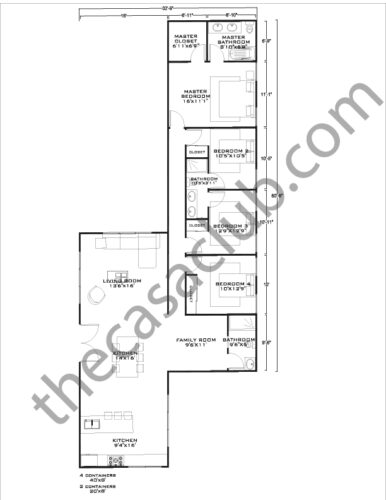 If your taste is a bit more traditional, then you may have just found your home in this shipping container home.
Two 20×8 containers are placed side by side to create a space for the living room, dining area and kitchen.
Meanwhile, four 40×8 are used to construct the section for the master suite and 3 bedrooms with 1 shared bathroom.
You might ask, "Do I really need 4 containers of that size just for the sleeping quarters?"
And the answer is yes. That is, if you'd like to add a family room with its very own bathroom. Yes, of course!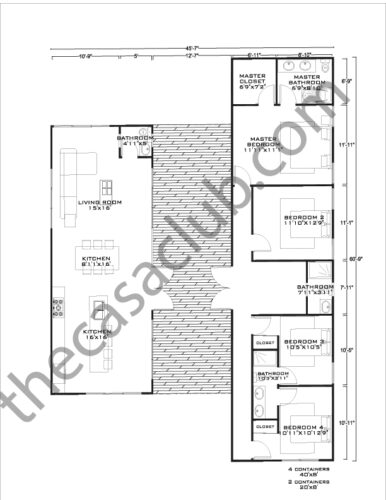 A coup de grace in container home design, this floor plan invites you to think out of the box and explore possibilities.
Like, what would happen if you put together a pair of 20×8 containers and do the same with four containers sized 40×8? Well, you get two distinct sections.
And what if you treat them as individual structures yet still two parts of a whole? As you can see above, you will be able to produce an extra zone which can serve whatever purpose you want it to. Maybe a children's playground. Perhaps a yard with a fire pit.
At the same time, you can indulge in your preferred delineation of territories: dining room, living room, kitchen with 3-seater island, and standalone bathroom in the smaller section, and 3 bedrooms, 2 bathrooms and master suite in the bigger one.
4 Bedroom Shipping Container Homes, 2-Container Floor Plans with Patio
We love patios! They provide a space to enjoy the outdoors when the weather permits, and without leaving the nest. A few minutes every evening to study the stars and bathe in the moonlight can do wonders to one's weary mind and body.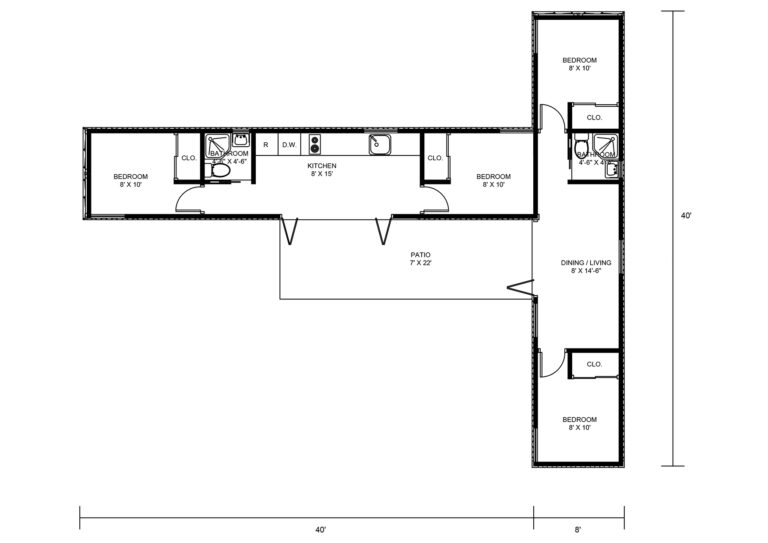 Attention, creative future homeowners! This is one dwelling you will fall for. Indeed, it would be impossible to resist a T-shaped house when you're looking for something different.
Two 40×8 shipping container homes are connected in a perpendicular manner to form the distinctive outline.
Another uncommon feature of this abode is the placement of the patio. Placed in the cross section of the two containers, it facilitates dual entrances to both the horizontal and vertical segments.
The 4 bedrooms in this 4 bedroom shipping container homes are distributed throughout the home with the common areas of dining-living, kitchen, and bathrooms between them.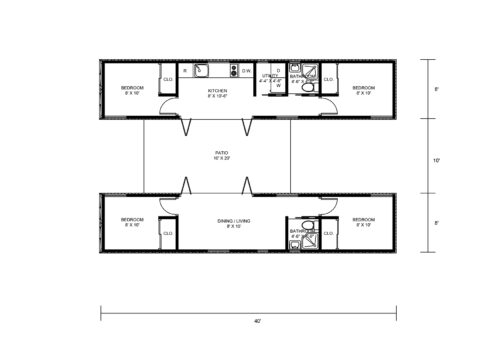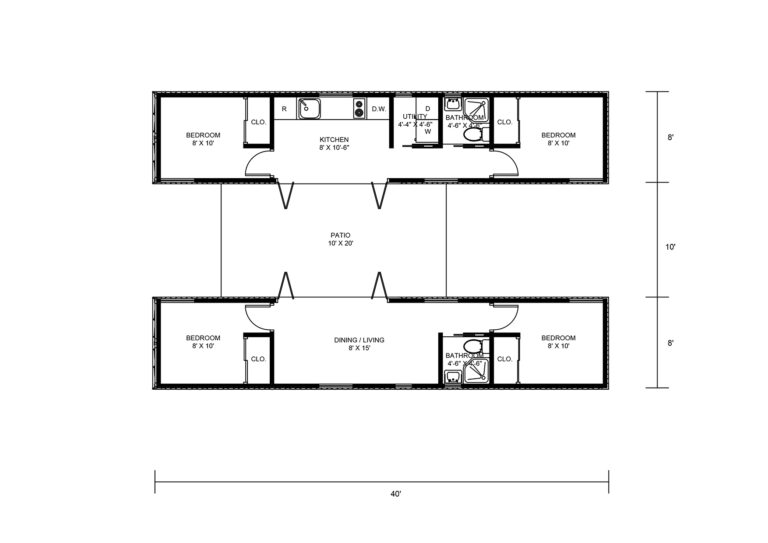 This blueprint is an iteration of the design above which employs two separate sections with an open, unroofed space in between. Here are their differences:
First, the open outdoor area is clearly defined as a patio that unifies the two structures. Second, each section houses 2 bedrooms and 1 bathroom. And third, the flexible dining-living room is found in one unit, while the kitchen is in the other.
As a bonus, a utility room is added beside the kitchen.
The main attraction of this layout is the patio that runs through 3/4 of the frontage length. Also, it boasts of three separate front entrances – two single doors and one double door between them.
An open flexible concept is applied to the dining-living area and kitchen in this 4 bedroom shipping container homes. Beyond it are 2 bedrooms with one shared bathroom in the middle.
The 2 other bedrooms occupy the other end of the home. One is split from the dining-living zone with a utility room, while the other comes with an adjacent bathroom.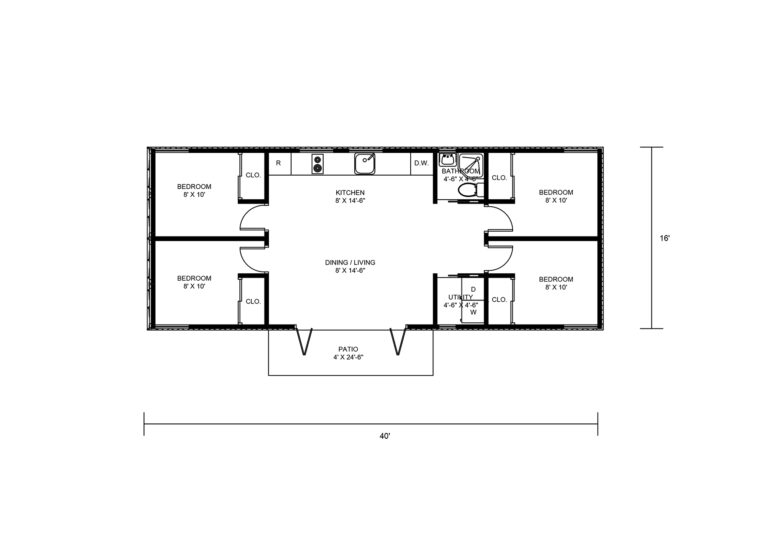 Some families require separate sleeping quarters for special reasons, such as odd working hours of one or two family members. If your lifestyle dictates this, too, then you'd be glad you laid eyes on this floor plan.
It's actually an iteration of the above layout. This time, two bedrooms are situated on each end of this home. In the middle, an open flexible concept is employed in the living-dining area and kitchen.
And since the occupants aren't together indoors most of the time, one standalone bathroom will suffice. But a utility room is thoughtfully added for storage and organization.
What's Your Pleasure?
We always want the best for our family. And that's more than enough reason to choose shipping containers as the foundation of your forever home. They are made of materials certified to last for a long, long time.
If you have a big brood, this matters a lot. Plus, you even have the freedom to design your abode according to the unique lifestyle of your household.
The 8 floor plans above for 4 bedroom shipping container homes could serve as your inspiration. And we encourage you to go for it!
Here are some of our other featured 4 bedroom shipping container homes.