Are you looking for something different than the typical cookie-cutter homes?
Shipping container homes offer a unique and innovative way of living. They are becoming more popular due to their stylishness and practicality.
In this article, we will go over the types of container homes, explain the benefits they offer, provide tips for choosing the right one for you, show you amazing examples of container homes around the world, and guide you through the process of building your own container home.
So, join us as we explore the possibilities of living in an alternative space!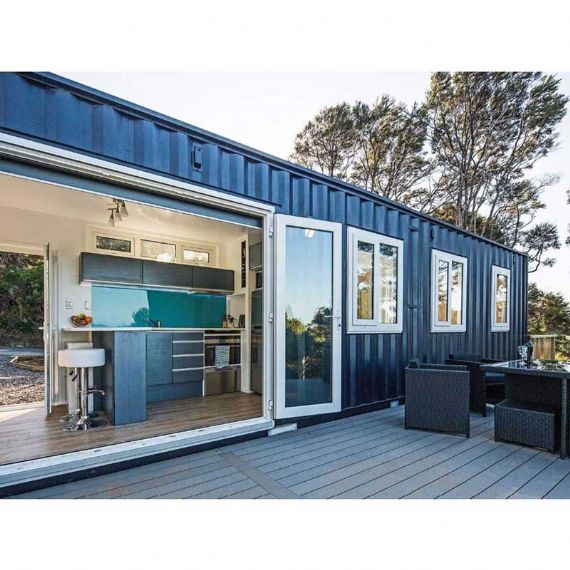 Photo from TD Container House
Key Takeaways
Shipping container homes are an innovative way to revolutionize your living space.
Not only are they an affordable and eco-friendly option, but they also provide a durable solution that can be tailored to fit your unique needs and style.
You can choose from a variety of designs, ranging from sleek and modern to cozy and rustic. Plus, with endless design possibilities, you can create a home that is truly your own.
Now that you know about this exciting opportunity, it's time to start your journey. Building a container home can provide you with the perfect retreat, whether it's a weekend getaway or a full-time living space.
So why wait? Set out on your journey today and explore the possibilities of container homes. Your dream home awaits!
What Are Container Homes?
Container homes are becoming increasingly popular as a sustainable and eco-friendly living option. These homes are created by reusing shipping containers as the building blocks of the structure.
Made from durable steel, these rectangular boxes can easily be transformed into stylish and functional living spaces.
The uniform size and shape of the containers provide great flexibility in design. Whether you're looking to build a tiny home or a larger dwelling, container homes can be arranged in various configurations to suit your needs and preferences.
Plus, with no need for traditional framing, customizing the interior is even simpler.
Container homes are revolutionizing the concept of sustainable living. Not only are they a great way to reduce your environmental footprint, but they also provide an aesthetically pleasing and contemporary solution for those looking to live a more eco-friendly lifestyle.
Why Shipping Containers Can Serve as Alternative Living Spaces?
Shipping containers offer a unique and unconventional alternative to traditional housing, making them an increasingly popular option for those seeking affordable and sustainable living spaces.
But why choose a shipping container home? Here are four compelling benefits that make them a great choice.
First, shipping containers provide an effective alternative to the status quo, offering a more unconventional living solution.
Secondly, rental costs are often lower than that of a typical house or apartment.
Thirdly, many container homes come with built-in decks, providing a comfortable outdoor area for relaxation and entertainment.
Finally, for the DIY enthusiast, shipping containers offer the potential for a fun and creative project, allowing you to customize and personalize your living space.
From their alt-living appeal to their affordability and customization potential, shipping container homes are an exciting option for those looking for style and functionality in their housing.
Types Of Shipping Container Home Design
Container homes offer a range of unique and stylish dwellings for those seeking a modern living space.
There are various types of shipping container homes that can be created, each with its own unique design and functionality. Here are a few examples:
Single-Container Homes
These homes are built using a single shipping container, which provides a compact living space. They are often designed for individuals or couples looking for a minimalist lifestyle.
Multi-Container Homes
Multiple containers are combined to create larger living spaces. By connecting or stacking containers, homeowners can design spacious and multi-story homes. These can accommodate larger families or individuals seeking more living space.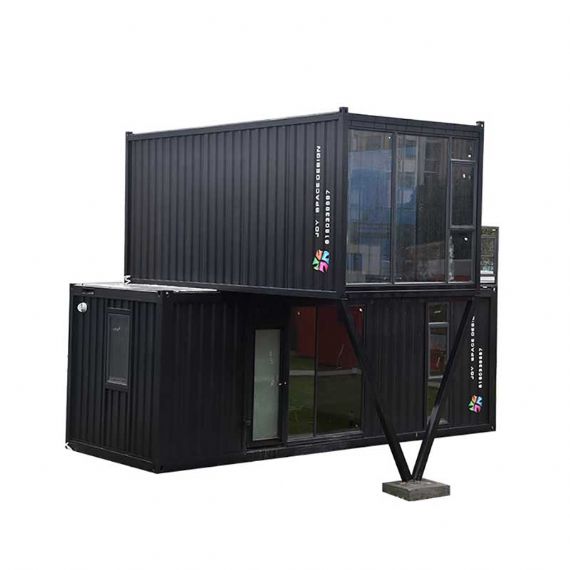 Photo from TD Container House
Hybrid Homes
Some shipping container homes combine container structures with traditional building materials such as wood or concrete to create unique designs. This allows for more flexibility in design and can provide additional living space.
Off-Grid Homes
Many shipping container homes are designed to be self-sufficient and off-grid, meaning they do not rely on traditional utilities. These homes incorporate solar panels, rainwater collection systems, and composting toilets to minimize their environmental impact.
Mobile Homes
Shipping containers can be converted into mobile homes. These movable homes are often mounted on trailers or flatbed trucks, making them ideal for people who enjoy traveling or want a temporary living arrangement.
No matter the type chosen, container homes can be customized with various finishes to create a comfortable atmosphere.
From sleek and modern to rustic and cozy, these dwellings are the perfect way to make a statement and create a home that reflects personal style.
Benefits of Shipping Container Homes
Shipping container homes provide an innovative and sustainable living option that can be tailored to any preference.
These homes are made from steel, making them durable and resistant to all kinds of weather and pests. Plus, they are eco-friendly since they repurpose unused containers that would otherwise go to waste.
When it comes to design and layout, the possibilities are endless. You can choose from one or multiple containers stacked together to create a multi-level home. Windows, doors, and partitions can also be easily added to further customize the living space.
Moreover, shipping container homes are cost-effective. The materials required for construction are affordable compared to traditional houses, and the construction process is quick and easy since the basic structure is already in place.
Shipping container homes offer versatility and convenience with their customizable design and eco-friendly nature. They are a great option for those looking for an affordable and sustainable living space.
Building Your Own Container Home
Building your own container home can be an exciting and rewarding experience. It allows you to express your creativity and create a unique living space that caters to your needs.
Here are four important aspects to consider when planning your container home.
Firstly, decide on the layout, size, and number of containers you'll need. Think about the internal features, such as natural light, insulation, plumbing, and electrical systems. It's also important to research local building codes and regulations and obtain any necessary permits.
Secondly, select a suitable foundation for your home. Concrete slabs and pier-and-beam foundations can both be used, but you must account for uneven terrain.
Thirdly, have fun with the interior design. Open floor plans, large windows, and rooftop gardens are just some of the features you can incorporate to make your home feel unique.
Finally, remember that the key to a successful container home is careful planning and attention to detail. With the right preparation, your dream home can become a reality.
Things To Consider When Choosing A Container Home
When selecting a container home, you may want to consider various factors such as the size of the house, your location, and budget.
Size is a critical factor to consider as it determines how much space you have to work with and how well the container fits on your property.
Consider the number of bedrooms and bathrooms you need, as well as any extra living spaces or amenities.
Location is also an essential factor to think about. Would you prefer the container home in an urban or a rural setting? Make sure the location aligns with your lifestyle and that the necessary infrastructure is available.
Finally, the budget should be taken into account. Determine how much you are willing to spend on purchasing the container, as well as any modifications or customization. It's also important to take into account the costs associated with permits, utilities, and maintenance.
Taking all these factors into account can help you make an informed decision on the best container home for you.
Shipping Container Homes You Might Want To Check Out
If you're searching for a unique home to set your alternative living space dreams into motion, you'll want to take a look at the incredible container homes available.
These homes showcase the incredible potential of shipping containers when it comes to creating unique and beautiful homes.
Oak Street Container House
The Oak Street Container House is a unique property located in Claremore, Oklahoma. Built with three 45-foot red shipping containers, this modern home offers year-round lake views and luxurious amenities.
Upon entering the 1,200 sq. ft. custom home, you'll be impressed by the light-filled open spaces that create a sense of openness and relaxation. The sleek kitchen features silestone counters, custom cabinets, and stainless steel appliances, including a gas range.
Upstairs, the versatile layout includes a large flex space – perfect for a second living area or home office. The oversized master suite boasts an expansive bathroom with a wet area and dual sinks.
Step outside onto the deck to enjoy the outdoors while overlooking the large irregular treed lot. There's plenty of space for a future pool. The front of the home is beautifully landscaped with an oversized driveway and parking area.
Ben Homes Container Pool House
The Ben Homes Container Pool House is a stunning, multifunctional pool house that has been repurposed from a 20-foot shipping container.
Situated in Cambridge, Ontario, this project is a shining example of ingenuity and cost-saving, as it only costs around $12,000 CAD.
Filled with thoughtful features, the Ben Homes Container Pool House boasts a compact yet fully equipped kitchen, a cozy living area, a change room, and a mechanical room for housing all the necessary equipment. Every inch of space has been carefully considered to maximize functionality.
Not only is this pool house functional and stylish, but it also showcases the power of sustainable design. Recycling materials and utilizing environmentally friendly solutions demonstrates how we can create something extraordinary while being mindful of our impact on the environment.
So, grab your towel and get ready to dive in! The Ben Homes Container Pool House will make you rethink what's possible with shipping containers.
Rochelle Dr Container House
Step into this luxurious modern container house on Rochelle Drive in Dallas, Texas and marvel at its spacious open-plan design and its stunning glass hangar door.
The door seamlessly blends the indoors with the outdoors, flooding the house with an abundance of natural light.
The living-dining-kitchen area is an incredibly flexible space, perfect for entertaining guests or spending quality time with your family.
The sleek kitchen is equipped with Silestone counters, custom-made cabinets, and stainless steel appliances.
Head upstairs to discover a large flex space that can be used as a second living area or a home office. There are also two secondary bedrooms and an oversized master suite.
Step outside onto the deck and take in the sweeping views of the large treed lot. This area offers plenty of space to build a pool if desired.
This Rochelle Drive container house is a one-of-a-kind gem in Dallas, combining modern design with luxurious amenities.
Tiny House Slovenia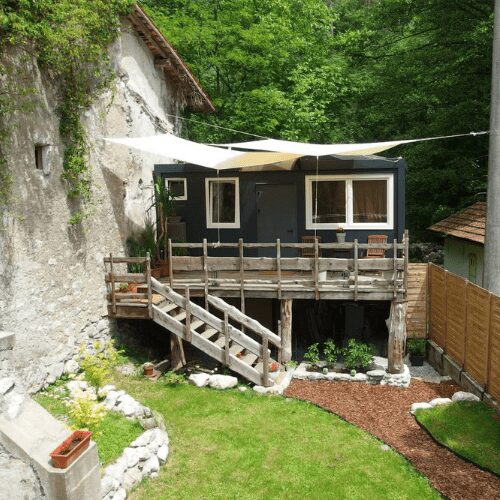 Tucked away in the stunning Soca Valley of Slovenia, this tiny house offers a unique and sustainable living experience.
Built from a 20-foot container, this home has been crafted with care and attention to detail, using locally-sourced wood and resources.
Inside, you'll find all the features you'd expect from a traditional home: a bathroom with shower, a cozy bed for two, a kitchen with sink, fridge, and induction hob, and a comfortable sofa.
But what sets this tiny home apart is its smartly designed layout that maximizes space and preserves comfort and convenience.
Outside, the large terrace overlooks a private, fenced garden. This is an ideal spot for relaxing and enjoying the natural beauty of the surrounding landscape.
With a half-hour hike to a 30-meter waterfall starting right outside your garden gate, and a natural pool fed by their local stream and mini-waterfall just steps away, you can experience the wonders of nature in your own secret paradise.
The Toronto Container House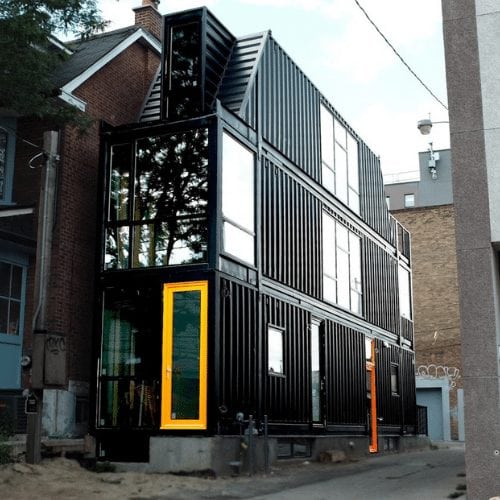 Behold a revolutionary piece of architecture – the Toronto Container House! This one-of-a-kind home, a collaboration between an undisclosed owner, Wonder Inc., Storstac Inc., and Glasshaus Living, has constructed a modern masterpiece on a 12′ wide lot.
The containers used in this unique design have an unusual depth of 53′, compared to the typical 8′ width. As you explore this extraordinary home, you will discover a full basement, a top-floor master bedroom with a steel-framed balcony, a fully equipped kitchen, cozy living room, and luxurious bathrooms. Parking is also available right outside.
The Toronto Container House showcases how sustainable living spaces can be both innovative and awe-inspiring. By embracing alternative construction methods, this home is a glimpse into the future of residential design.
Conclusion
Shipping container homes are a great way to revolutionize your living space. These alternative living spaces offer an affordable, durable, and eco-friendly option for those looking to get creative with their living space.
You can choose from a variety of sleek modern designs or cozy rustic retreats. With the endless possibilities available, these homes can be tailored to fit your own unique needs and style.
Now that you have the knowledge, it's time to embark on the exciting journey of building your own container home. Whether you're looking for a simple weekend getaway or a full-time living space, a container home will provide the perfect solution.
So set out on your journey today – your dream home awaits!