You've already taken a big leap by committing to more sustainable living with a shipping container home. With repurposed construction materials like these, you can create a home that is unmatched in your neighborhood. And thanks to the affordability of shipping container homes, you can finally invest in a brand new home that is created to fit your unique needs and tastes from its beginning. Maybe you can even consider 2 story shipping container home floor plans!
But how do you design a new construction with such unique building materials? Are you limited to a single-story home that is long and thin because of the structural design of shipping containers? How do you maximize the durability of a shipping container home based on the weather in your area?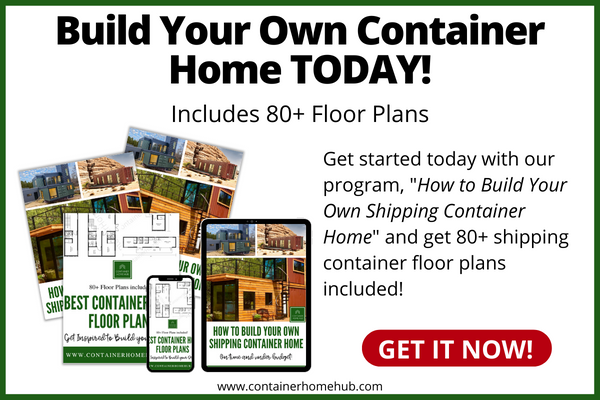 Ultimately, you are left with two options when putting together your shipping container home floor plans. You can always use a shipping container home designer like Discover Design based out of Chicago. Or you can look through our vast online library of floor plans on Container Home Hub for inspiration.
Read on to learn what to consider when designing 2 story shipping container home floor plans and some of our top layout ideas.
2 Story Shipping Container Home Floor Plans – Things to Consider
Before you commit to any floor plan for your new shipping container home, it's important to think through a few specific details about the life you plan to lead in your new home. Putting together detailed floor plan ideas will also put you in a better position to guarantee a bank or mortgage lender will offer you financial aid throughout your building process. For this reason alone, you want to make sure you don't just leap for the first floor plan that looks a little interesting to you. This part of your shipping container home project requires time and intentional thought.
Here are the top four things we'd encourage you to consider before choosing your 2 story shipping container home floor plans:
Lifestyle
Do you plan to use your shipping container home as an ultimate getaway, or is this going to become your primary residence? Are you interested in adding a shipping container pool to your new property? A vacation shipping container home might only require a small kitchen space and living area – or maybe a small bedroom and larger reading nook in one corner of your home.
If you have a larger family, your home could benefit from a zoned structure where bedrooms are upstairs and living quarters are downstairs. Or if you plan to live on your own, you can clean up your shipping container home faster for guests to visit if you break up some of the open concept designs of a shipping container home with walls and doors.
Property Landscape
Often shipping container homes are the most fun to design on a scenic property. Especially if you've chosen a shipping container home setup for your dream getaway, you might want to consider replacing one of the main walls of one shipping container with glass. This would help you best experience the scenic views of your new property from the comfort of your own couch. No matter the weather in your building area, the long walls of shipping container homes are great for framing nature year-round.
Traffic Flow
Choosing to live alone in your shipping container home is one thing. But if you plan to have pets or children around, this is going to give you even more reason to consider designing a larger shipping container home.
On top of this, you might decide more people in your shipping container home means your space would benefit from more side-by-side shipping containers, instead of just shipping containers stacked on top of each other. The greatest benefit of shipping containers is that they're designed to easily interlock with each other. So you never have to worry about people bumping into each other through long, thin hallways in a well-designed shipping container home.
Storage
One of the other benefits of 2 story shipping container home floor plans is that you can plan for attic storage in your new home. But it's also important to think through the type of storage you'll need for your shipping container home lifestyle as you plan out your floor plan. Do you want large walk-in closets, or could you use design drawers to fit under the beds in your home to help decrease clutter?
Remember, the floor plan of your shipping container home is also intended to be the roadmap for your budget. So it's crucial you think through where you most want to invest in custom add-ons for your home and how you want the overall aesthetic of your new space to feel.
2 Story Shipping Container Home Floor Plans with Pictures – Get inspired with these floor plan ideas
Check out six of our favorite 2 story shipping container home floor plans: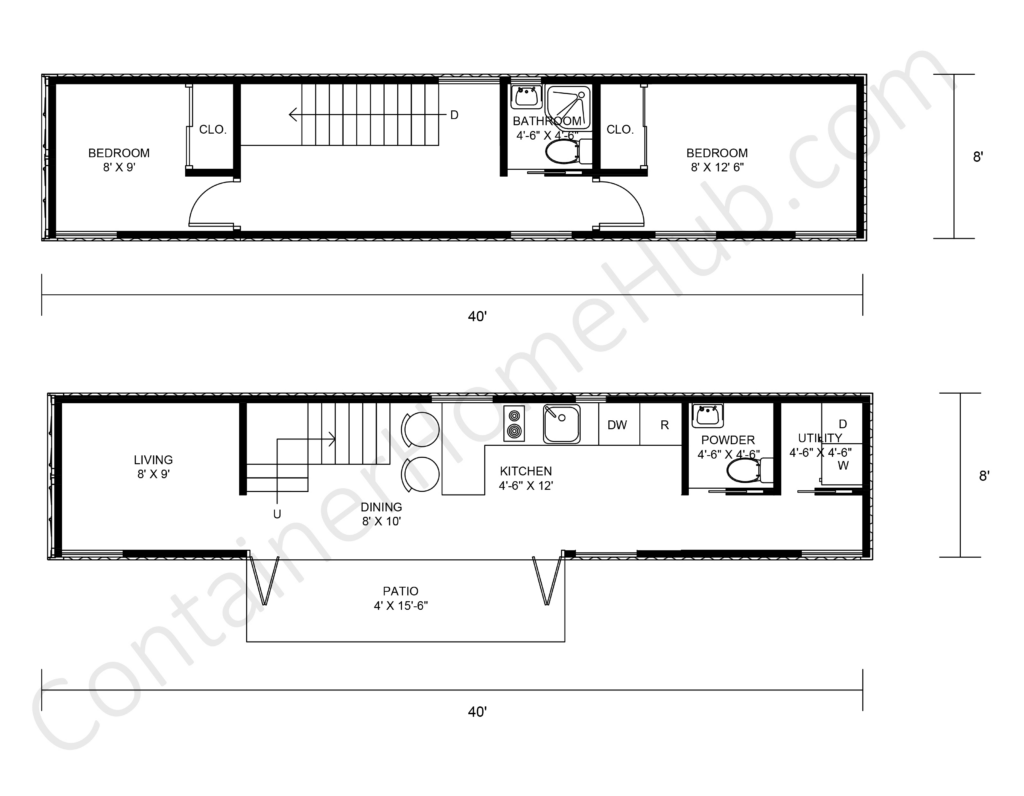 This first option includes one full bathroom and two bedrooms on the second floor. There is a closet in each bedroom. Then there is a half bath, utility room for your washer and dryer, plus room for an eat-in kitchen on the first floor. You can also make sure to enjoy the postcard-worthy views of your shipping container home on the patio just off of your dining area and living room with this floor plan design.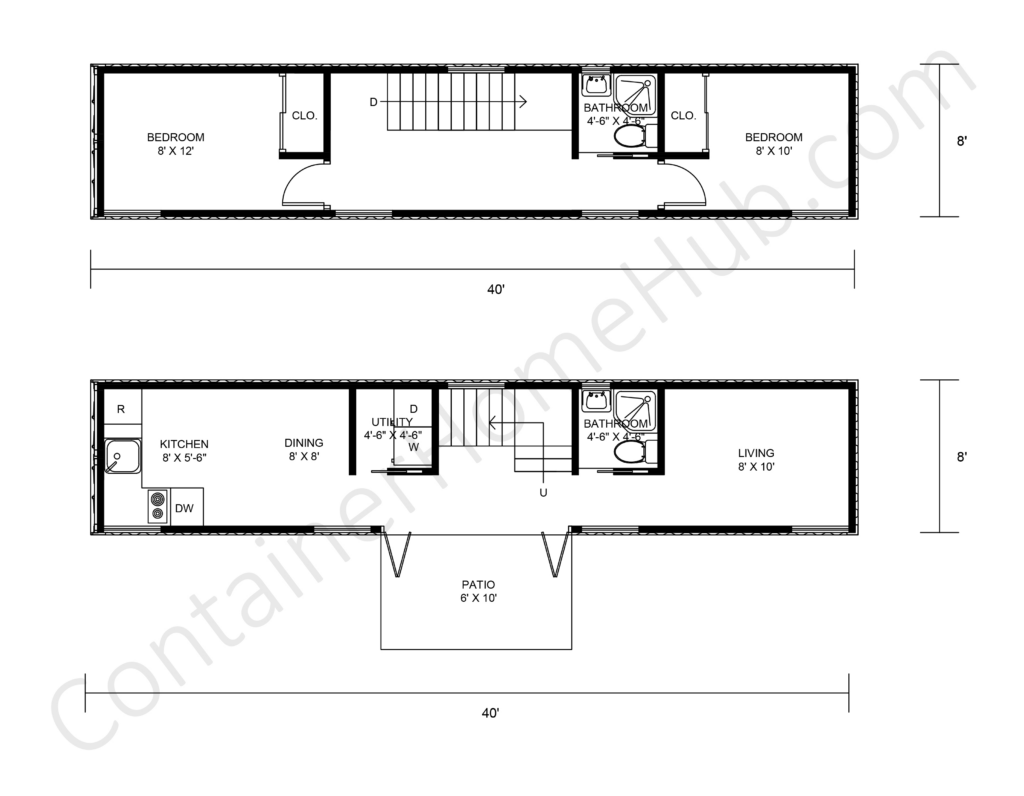 Or maybe you'd prefer to avoid the clutter of an eat-in kitchen. This floor plan option leaves room for a small dining room table. You can also avoid the rush for everyone to shower in the morning with the option of two full bathrooms, one on each floor of your shipping container home. There is still a patio in this floor plan layout, but this option includes access to the patio from the hallway connecting the kitchen and living room on opposite ends of your first floor.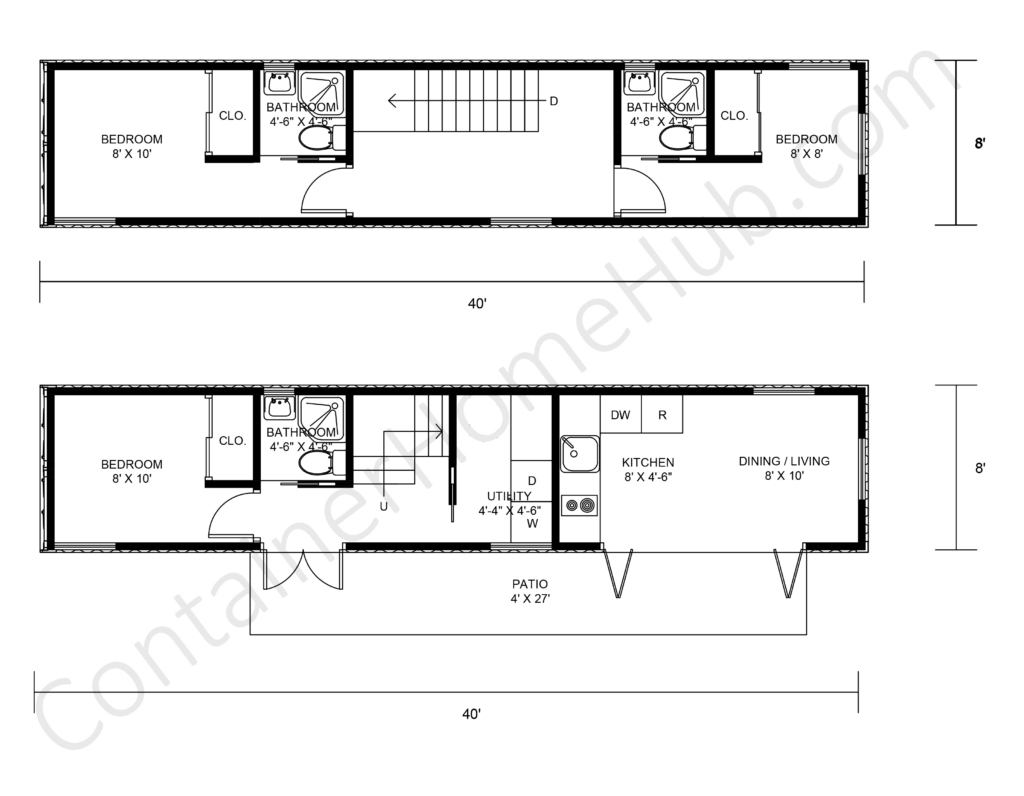 As you consider leaving room for a growing family in your shipping container home, this three-bedroom design could be great for you. With two bedrooms on the second floor and one on the first floor, you also could use this layout to include a home office and a permanent guest room in your home. There are three full bathrooms with this floor plan option. Plus the kitchen and dining/living room can only be accessed through sliding doors off the patio, which will help keep the private and public areas of your home more clearly separated.
If you are interested in a galley kitchen structure along one wall of your home, you might consider this floor plan. The entire first floor is connected through one long hallway, and there is a full bathroom and bedroom for you and your guests to share on this bottom floor layout. The second floor includes a master bedroom space with closet storage, a second full bathroom, and a potential office or third bedroom space with no closet storage.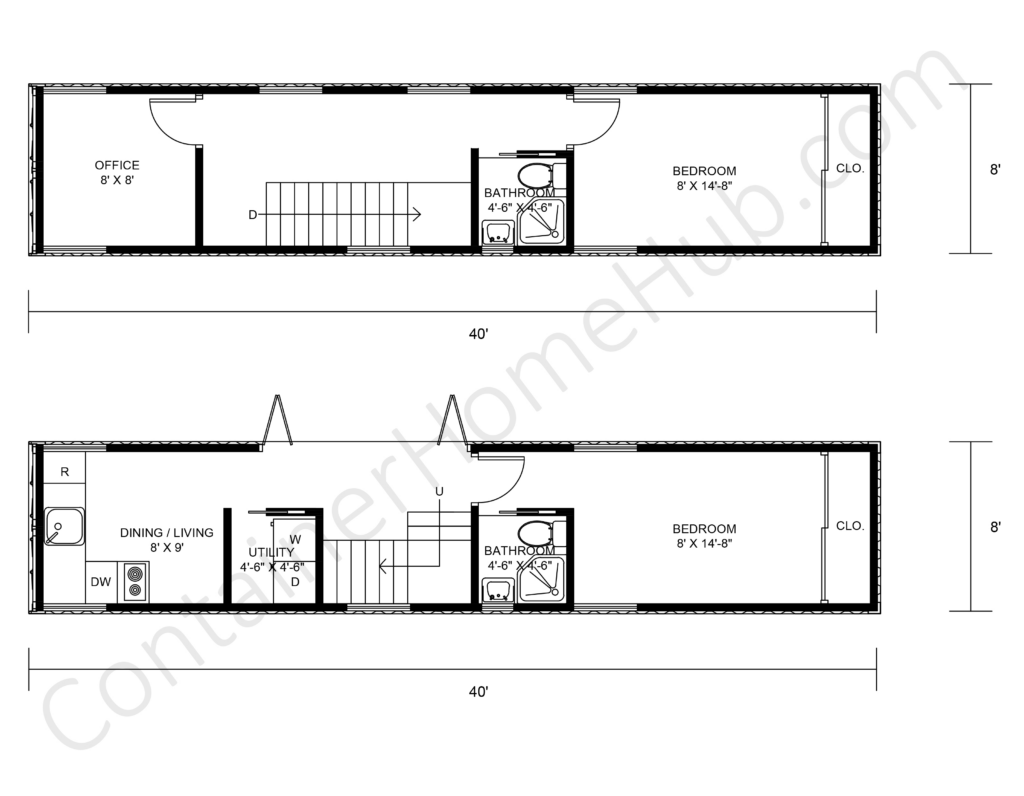 This home setup gives you a lot more storage in each bedroom of your home, but there is no patio included off of the sliding doors on the first floor. Both bedroom spaces in the home are the same size, and the full first-floor bathroom is set up with ensuite access. The dining room and living room are combined on the first floor, and there is an office space that can double as a second communal living room or entertainment area for your shipping container home.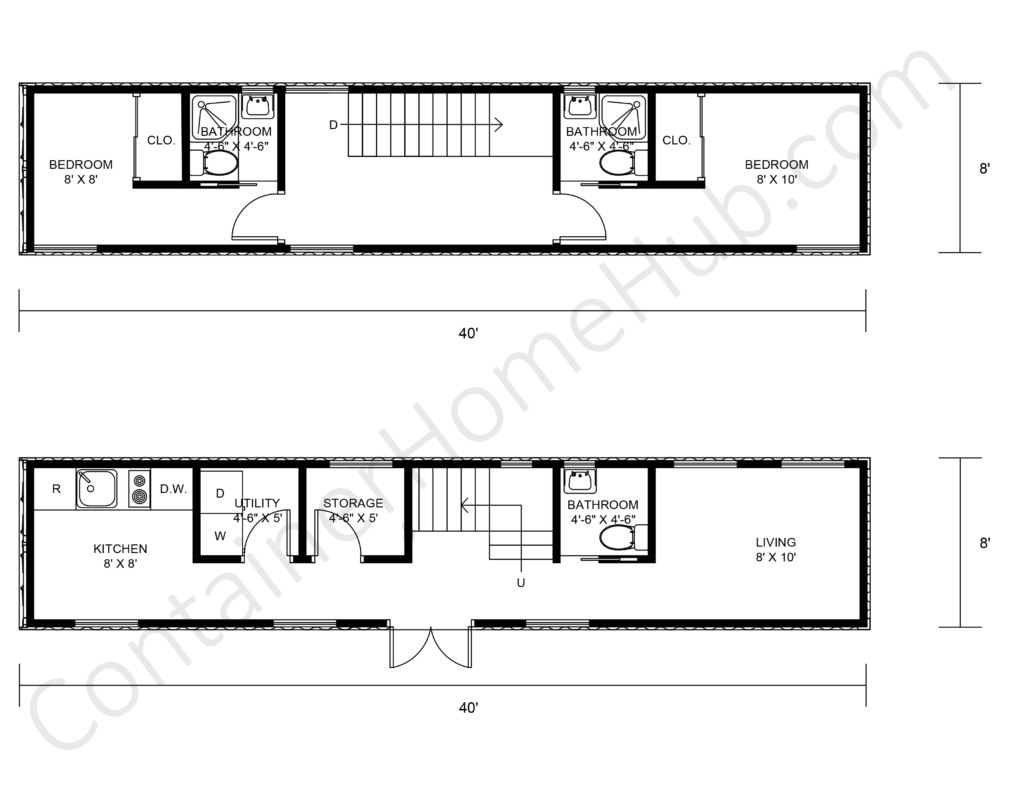 If you need to guarantee lots of storage in your shipping container home, this could be the best option for you. A full storage room is included in the floor plan next to the utility room, and there are large closets included in each of the two upstairs bedrooms. There are also two and a half bathrooms in this home, with the half bath on the first floor for guests. Each of the bathrooms on the second floor is set up for ensuite access off of each bedroom. There are no sliding doors added to the layout of the first floor.
Design Your Own 2 Story Shipping Container Home Floor Plans
If you're feeling inspired by some of our 2 story shipping container home floor plans but don't yet feel you've found the right fit, you can also look into shipping container home design software. Many of them are free online and can help you add the custom details that will help make your home feel especially perfect for your family's needs.
Conclusion
Now that you've read through our guide to 2 story shipping container home floor plans, the only thing left is to start building your shipping container home! Feel free to also check out our shipping container home FAQs, including our tips on how to help prepare your shipping container home for a hurricane. Or read more about shipping container homes on our blog, where you'll see content like this featured McGlasson weeHouse shipping container.