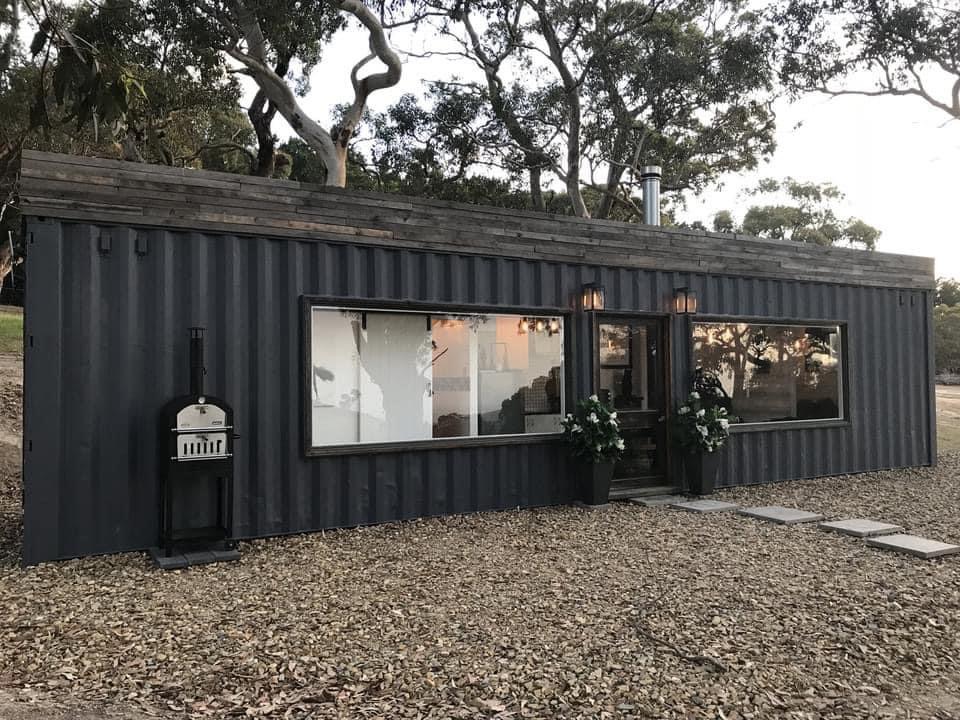 Today's featured home on Container Home Hub is this adorable UK container home owned by Andrew Abel and designed by BuildEir and Abel Modulars. Everything about this shipping container home is exactly what the tiny home movement was made for and we love all the little touches that combine to create something truly unique. This is a great example of a tasteful, minimal design that is just elegant enough to have a perfect overall look.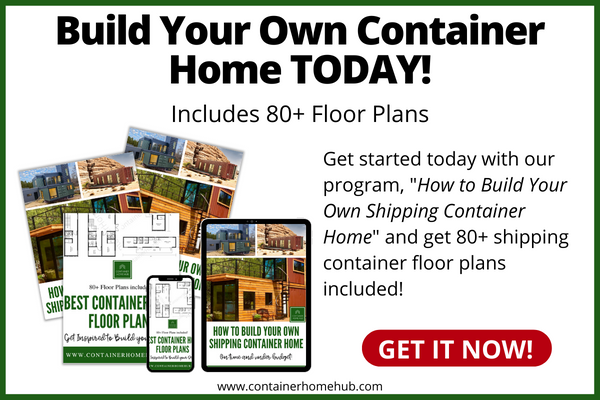 Exterior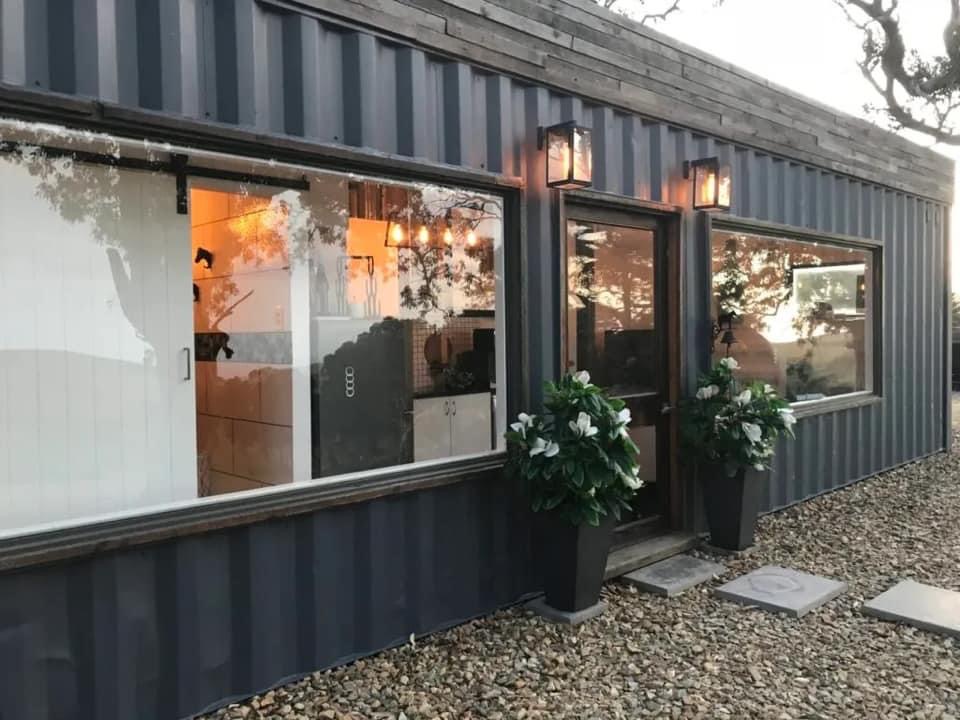 The first thing we noticed about this UK container home is the large array of windows that make up the front facade. Having all those windows open not only lets in a perfect amount of natural light, it also shows how warm and comforting this home is on the inside. Leaving those windows open allows everyone to see just how well this little shipping container home has been designed and executed.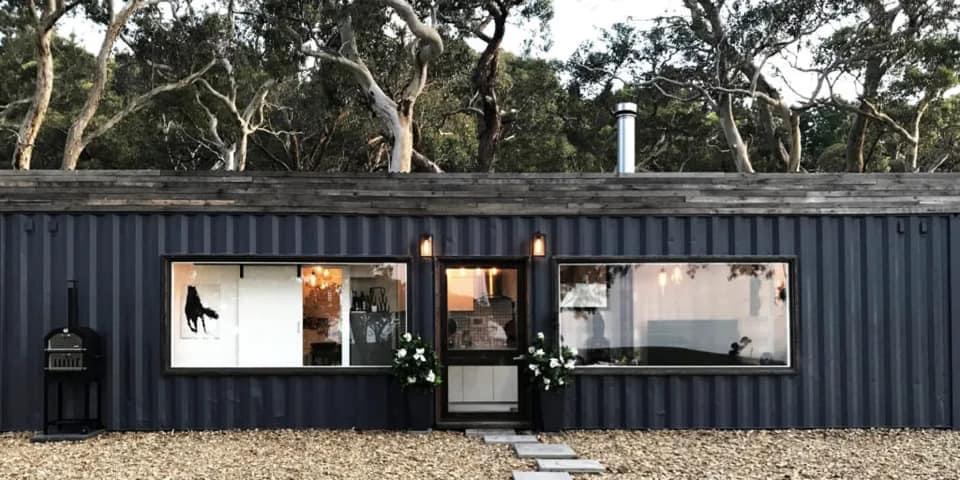 We love the dark color scheme on this UK container home and feel that it really gives it that modern, minimalist feel without feeling cold or imposing. The black wood trim over the top is such a wonderful splash of organic charm that it mellows out some of the darker colors and the use of the metal from the shipping container. Of course, having that corrugated metal showing is essential for this type of home and we're glad that the designers have left it visible.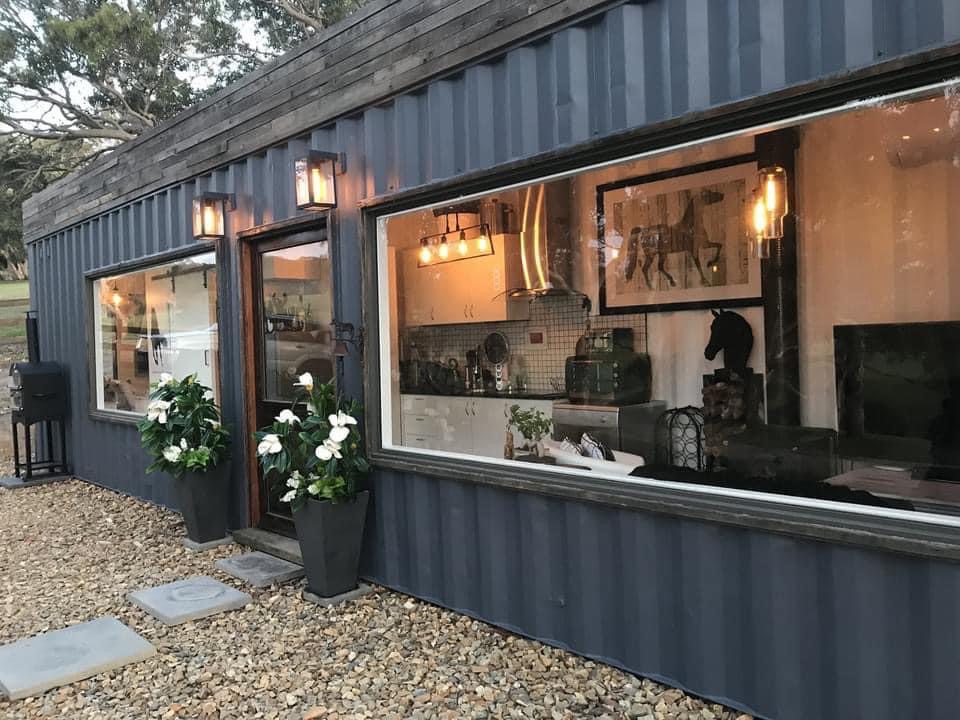 Aside from the windows, one of the focal points of this UK container home is the carriage-style lighting that flanks the front door. Just like the warm light that comes from the inside, these lamps have an ability to give off such a welcoming glow, and we think they are a fantastic addition to this home's exterior. Not to mention the adorable flower pots that sit underneath and can benefit from that homey glow.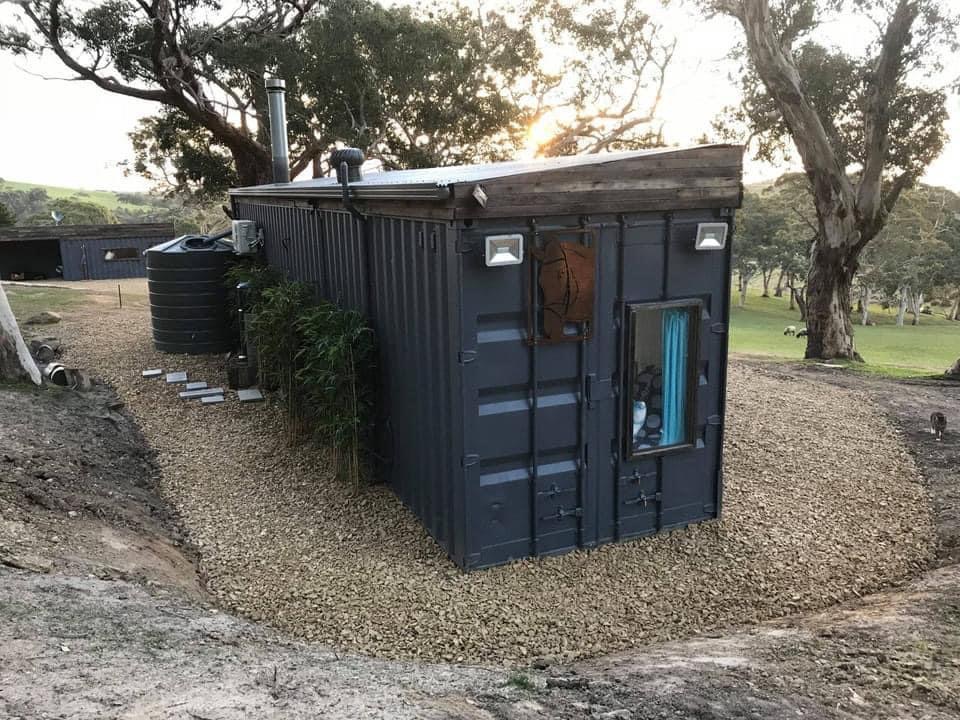 We also love that the designers of this home were not afraid to let the original use of this container shine. We love that they have left some of the outcroppings and various equipment on the sides as ornamental elements. It really adds a touch of that modern look that can be incredibly charming if it is done well, which it absolutely is on this UK container home.
Interior
Living Room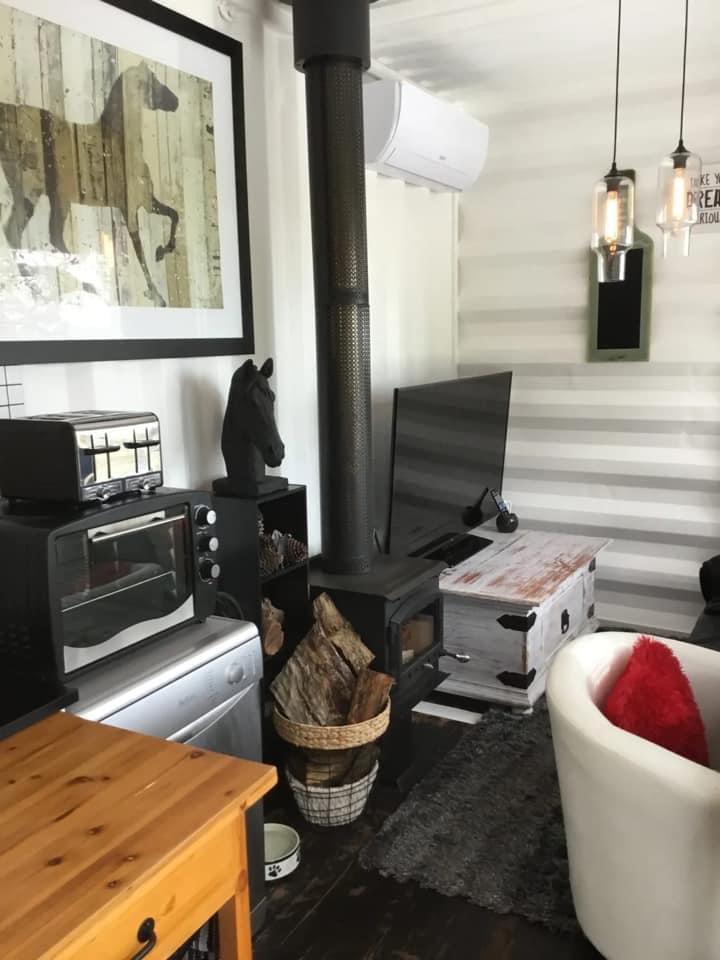 Once you are on the inside, that promise of warmth and comfort that emanates from the exterior is fully realized. The interior of this UK container home is just as beautifully appointed and comfortable as any other home twice its size. One of the keys to owning and living in a container house is thoughtful interior design and it has been done incredibly well here.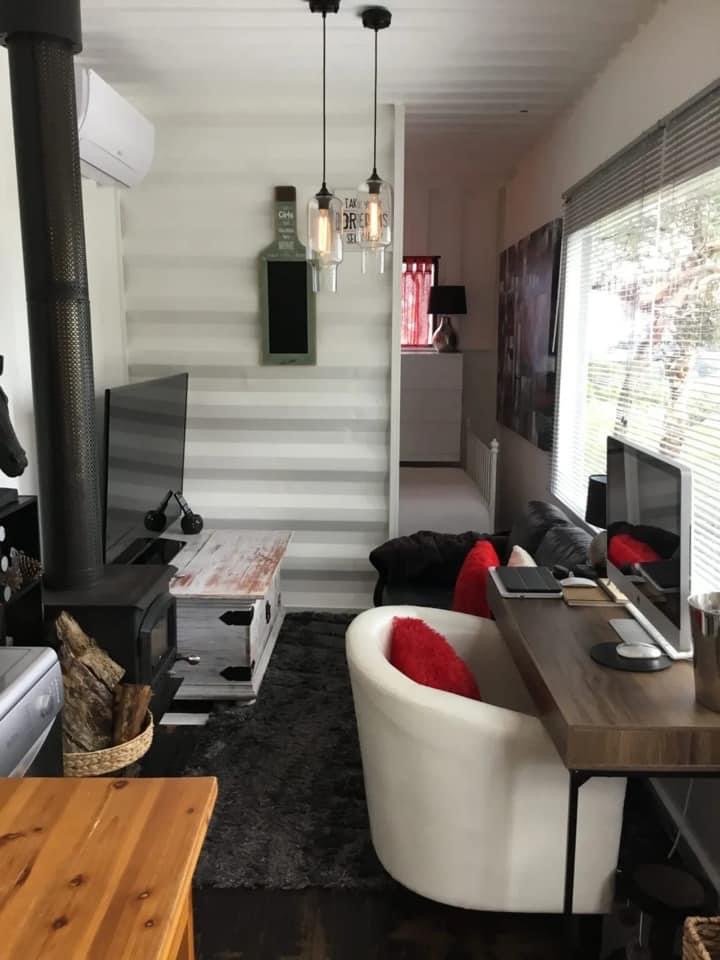 One of the main accent pieces on the interior is the wood burning stove right in the center of the living area. There is something about that stove that keeps this UK container home modern, but still classic and absolutely comforting. Even though it takes up quite a bit of interior real estate, it is definitely worth the amount of space it takes up and we think it would be very welcome on a cold winter evening.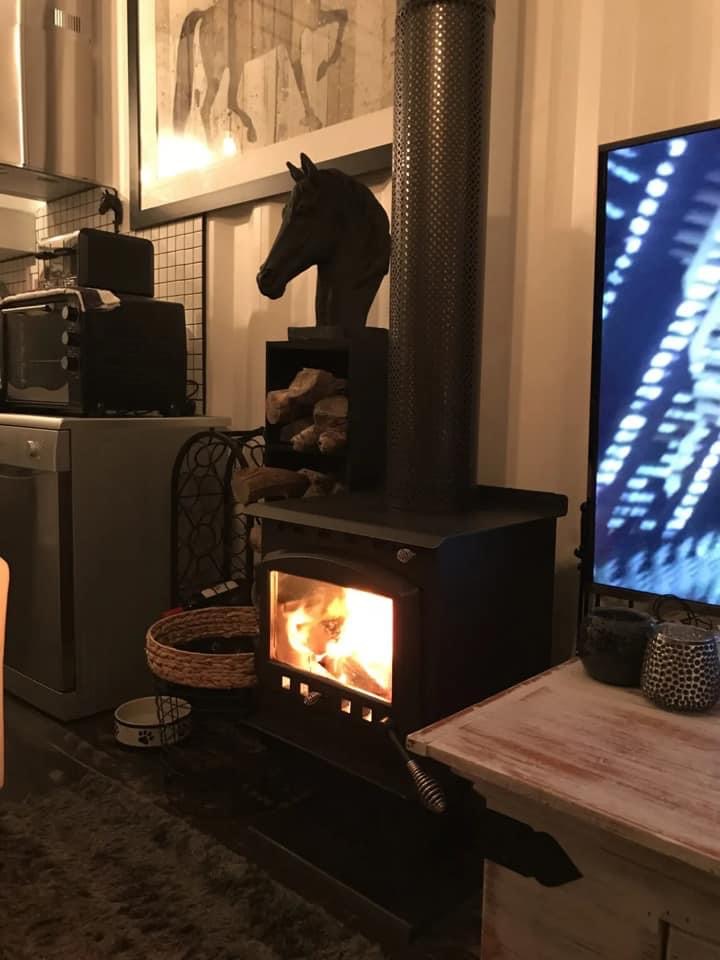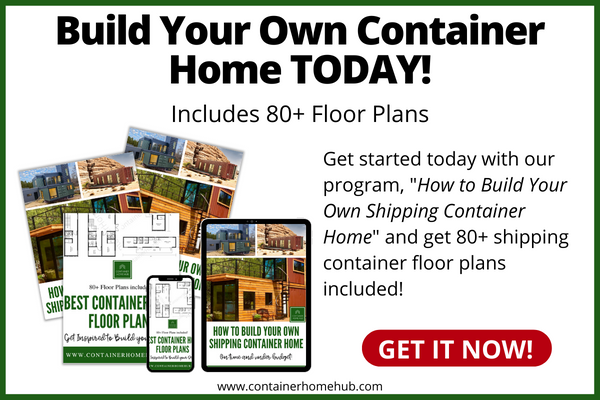 Kitchen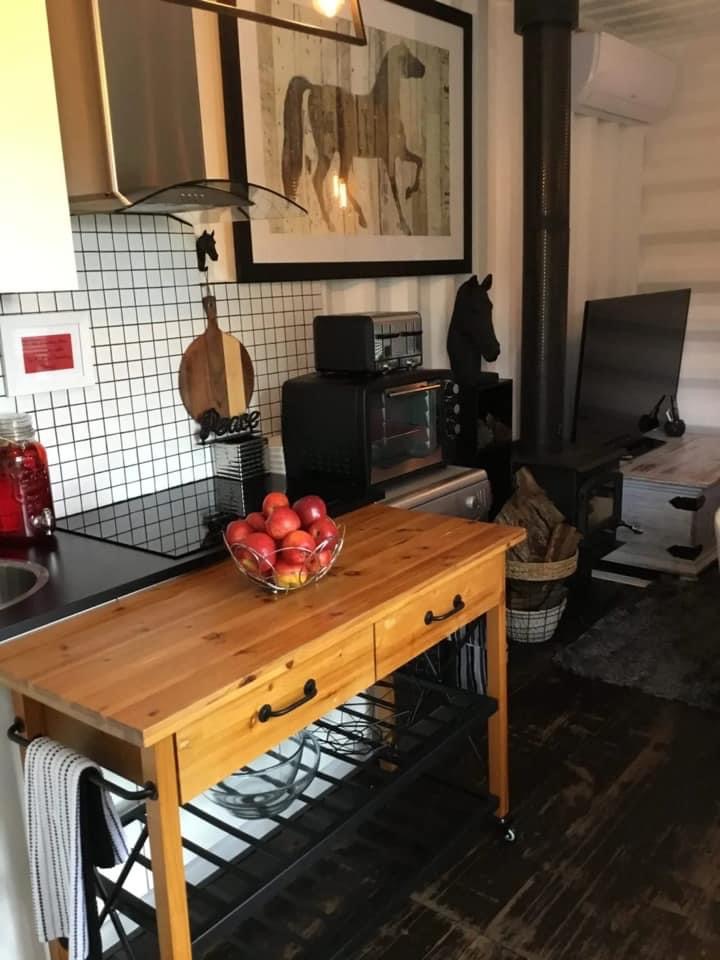 Continuing on to the kitchen, we can see that every effort has been made to make this space modular and adaptable to any needs the owner might have. Putting this beautifully made kitchen island on wheels is a stroke of absolute genius and we think it is a great idea in any tiny house situation. This is especially true when the area is narrow and might prove difficult to move in for more than one person.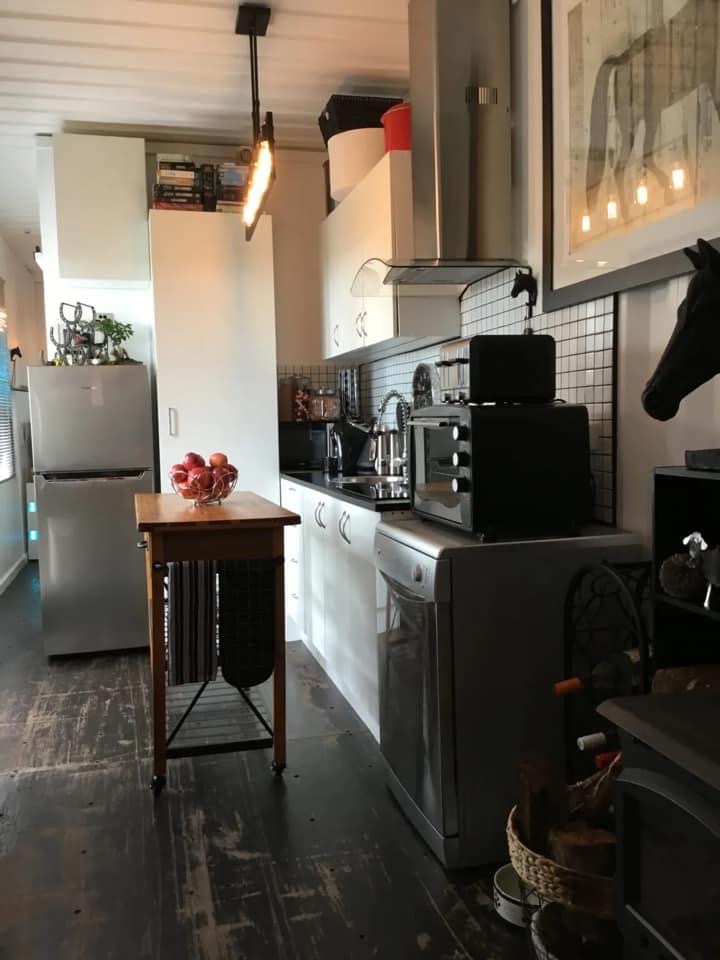 While this kitchen may be small, it certainly isn't lacking in all the amenities that are needed to make a kitchen work. It features a full dishwasher, toaster oven, toaster, cooktop and refrigerator. This is a testament to how well designed this UK container home is. Being able to fit all of these things into this space is not easy and the designers have managed to do it without making it look crowded or cramped.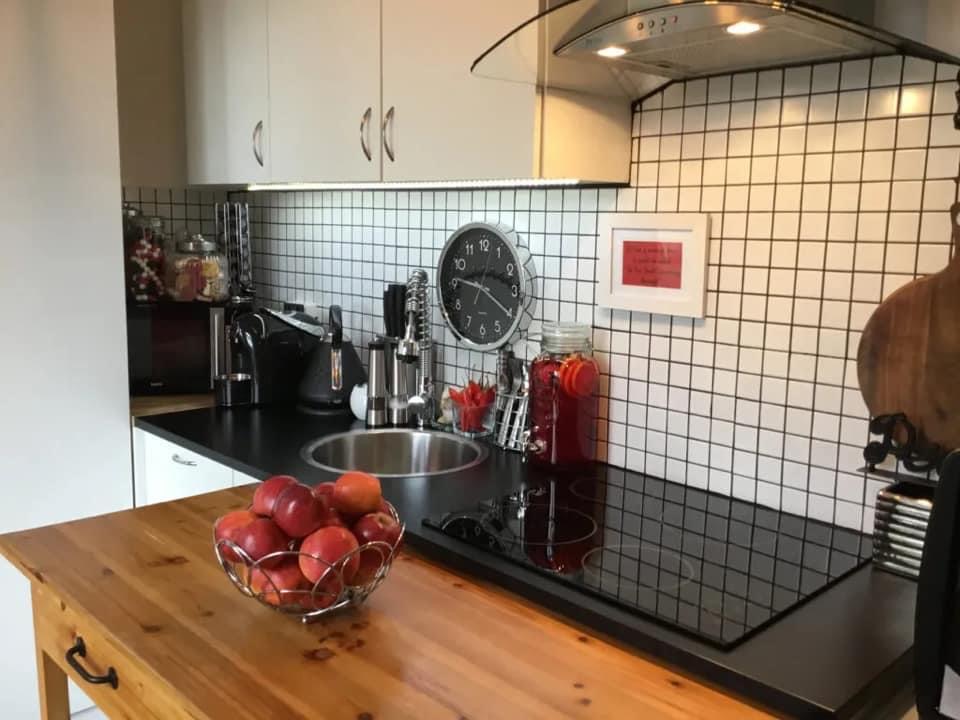 One of the highlights of this UK container home's kitchen is the beautiful tile backsplash. It manages to look both modern and classic at the same time, which is a line this entire house walks incredibly well. The small basin sink is a unique touch and leaves enough room for it to actually be usable without taking up the entire counter area.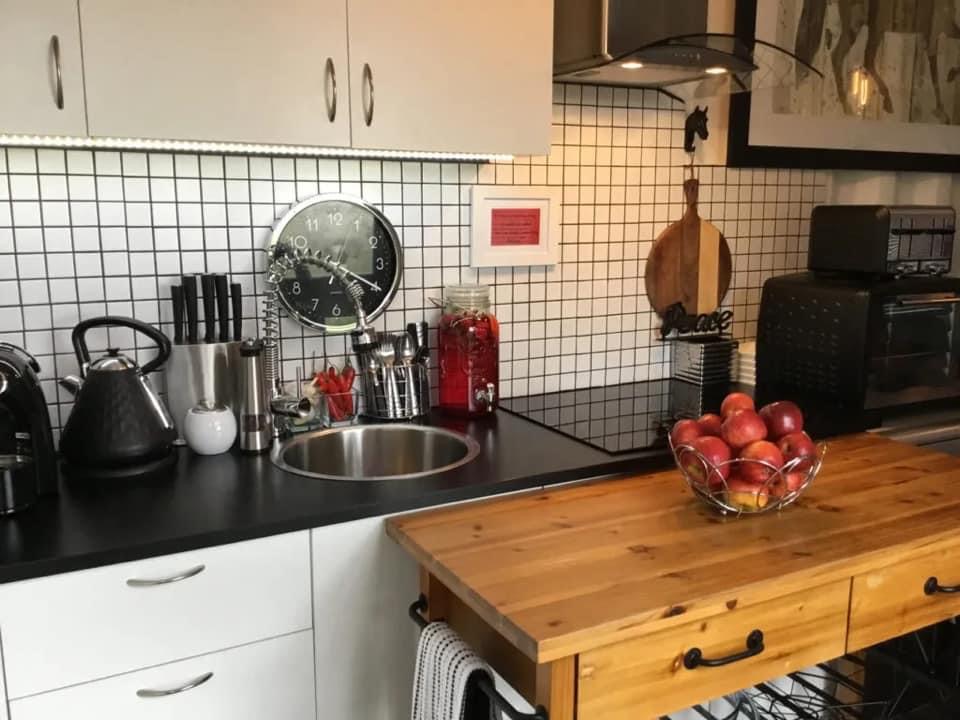 Bedroom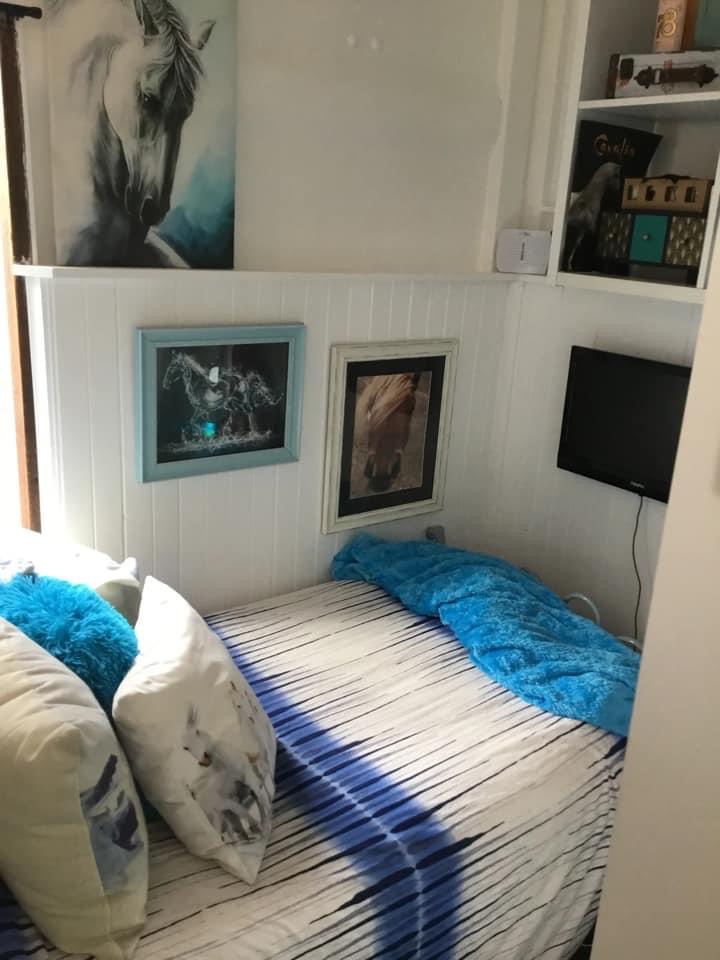 The bedroom may be small, but just like the rest of this UK container home, it feels incredibly airy and open. There is plenty of storage space with the built-ins and the white color makes it feel larger than it actually is. It is a wonderfully cozy space that fits in perfectly with the aesthetic of the home.
Bathroom
The bathroom is also incredibly adorable and features some amazing tile work that gives it such a designed, artistic feeling. Along with the unique mirror and the vessel sink, we think this is a bathroom that anyone could feel comfortable in despite its small size. That seems to be the thesis statement of this entire UK container home: so cute, you'd never notice that it wasn't as big as other homes.