Greetings from Canada! 🙂
Ready for another Container Home Hub exclusive shipping container home?! Well buckle up, because today we are lucky enough to share with you a newly built tiny container home from Container Built. This home isn't even listed on their website yet! See? Stick with Container Home Hub for the good stuff 🙂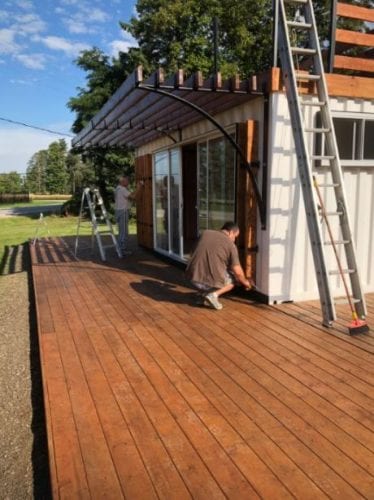 Located in King City, Ontario, Canada, this tiny container home is named A Simple Life. A Simple Life showcases the beauty of simplicity and elegance of the little things in life that make you happy. The simplicity and minimalistic aura of this container is to remind you that even the smallest things in life have beauty.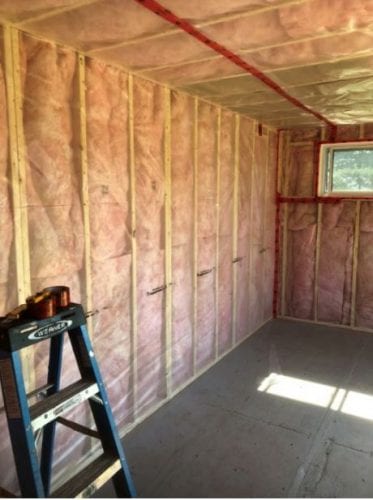 With a fully framed interior and insulated walls, you are sure to be as comfortable in this container home as you would be in any traditional house. This is especially important in a cold climate like Canada. You don't want to be stuck in a poorly insulated cabin when the winter weather hits.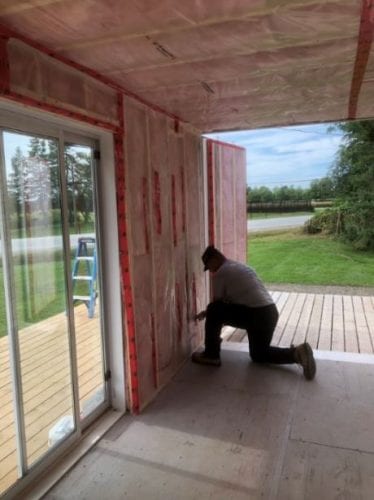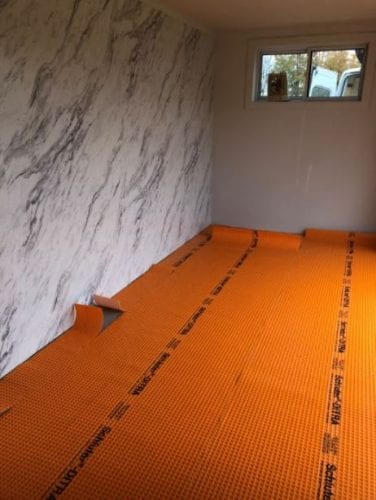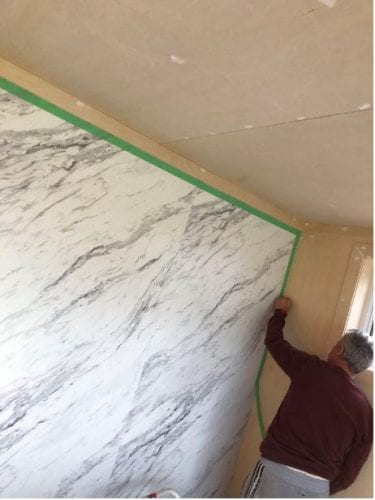 We love the marble pattern on the walls in this adorable container home. The light color gives it an airy, spacious feel without being too bland like a white paint job might be. This is a fantastic design element and we think it is a great choice for this container home.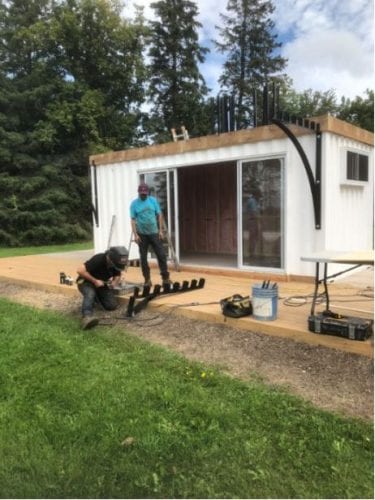 One of the crown jewels of this container home is its large, wraparound porch. When space is at a premium inside a home, it is incredibly important to have a usable outdoor space. On top of the porch, there is also a rooftop area that is perfect for catching some rays or gathering for a meal.
The kitchen of this container home is ideally situated for getting the most light in the morning. With the large, picture window doors, there is no limit to the amount of natural light that streams in and gives the whole home a comfortable and luxurious light that is perfect for pleasant mornings.
The living area is also situated nicely next to the windows, and makes good use of the limited space of the shipping container home. With no separation between the kitchen and living room, this is a perfect space for two or three people to enjoy cooking together without having to be crammed into one room.
The bathroom is also wonderfully designed for privacy without cutting off too much of the available interior space. We love the separation of the half bath with the glass doors of the rest of the bathroom. This is a fantastic floor plan idea that is utilized perfectly to balance separation and space.
The black hardware that adorns the wood trim of the exterior is a perfect compliment to the white paint of the container home itself. Building a home out of a shipping container is all about using what you have in order to get the most out of it. We think that Container Built has done a great job with this shipping container home.
This tiny container home is a modern solution to any of your home searching needs. With 160 square feet of interior livable space and 160 square feet of upper deck space, isn't it a beauty? With such a small amount of space, they have managed to double it by adding the upper deck, and created a unique floor plan design in the process.
Plus, A Simple Life is set up to be off-grid! We know most of our container home enthusiasts look for that feature. Thinking you've heard of Container Built before? You did! We featured their other homes The Huntsmen and The Polar Bear here as well! Click the links to check them out 🙂
So what do you think? Would you live here?
Information Source: ContainerBuilt
Photo Source: Container Built
» Follow Container Home Hub on Facebook for regular shipping container home updates here «