Are you looking for a unique and affordable housing option? Look no further than these five tiny shipping container homes for sale!
These innovative container houses are made from repurposed shipping containers, reducing your carbon footprint and embracing minimalist living. With their modular design, they can be customized to suit your needs.
Located in various locations, from Oregon to Texas, each home offers style and functionality.
They are perfect for those seeking a cozy retreat or sustainable living space. Plus, with their compact size, they offer flexibility like no other.
You can use your tiny shipping container for a variety of purposes. Use it as a guest house, office space, or even as an Airbnb rental. Enjoy the luxury of simplicity without compromising on style.
Don't miss out on the chance to own one of these incredible homes; get ready to embrace minimalism!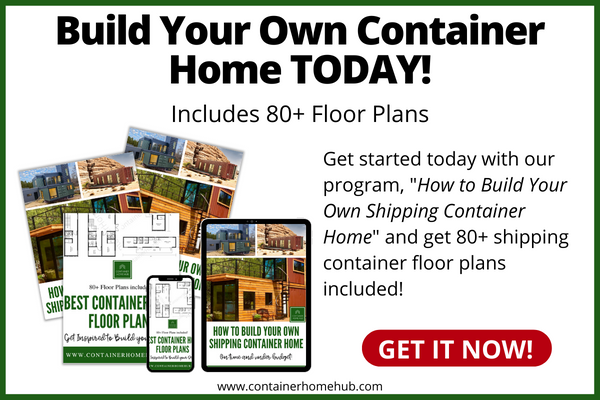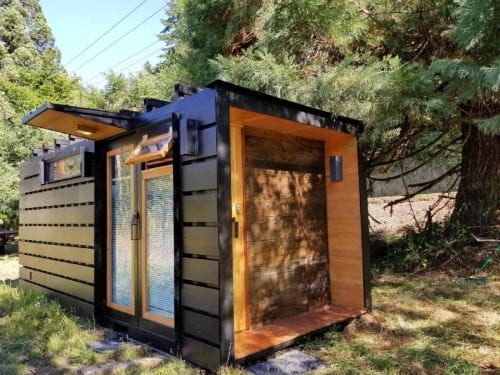 Price: $55,000
Size: 160 sq. ft.
This tiny shipping container house in Alsea, Oregon, is the perfect place for sustainable living. This tiny shipping container home provides a unique, eco-friendly alternative to traditional housing.
Made from recycled shipping containers and reclaimed Douglas fir wood from the Columbia River, these homes are both stylish and responsible.
It offers a living space of 160 square feet. It features Columbia Riverwood flooring and paneling, as well as Pratt & Larson tile.
The container home is built with efficiency in mind. They have a modern design with a layout that maximizes flow.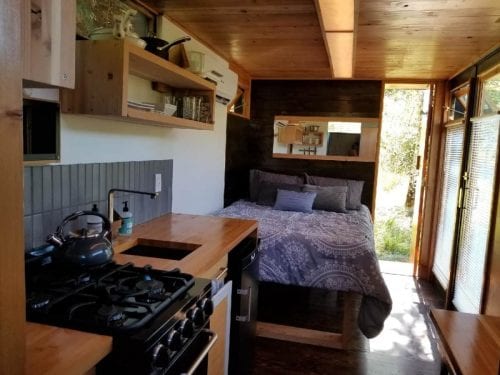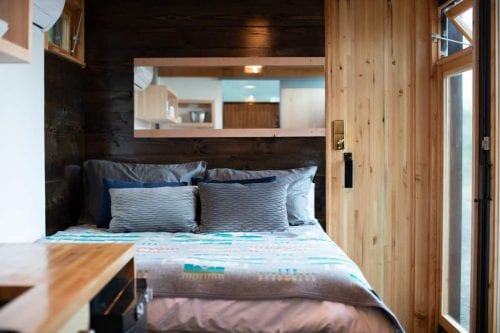 Whether you're looking for rental income or a guest space, this home offers total flexibility and functionality.
You can rest assured knowing that this container home is engineer-approved and built to endure even the harshest weather conditions, such as earthquakes, hurricanes, winds, and tsunamis.
Plus, they feature maintenance-free design elements like butcher block doors and windows made from Columbia River wood, making them long-lasting and soundproof.
Here are more photos of the interior of the house:
The home is adorned with a custom metal and wood awning, and the lighting can be adjusted with dimmers.
The kitchen includes a zero-radius stainless steel sink and modern fixtures and appliances. For doors and windows, Columbia Riverwood materials are used. The home is also equipped with a ductless mini-split system that provides both heating and air conditioning.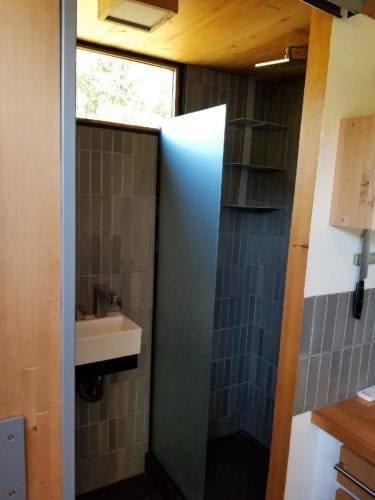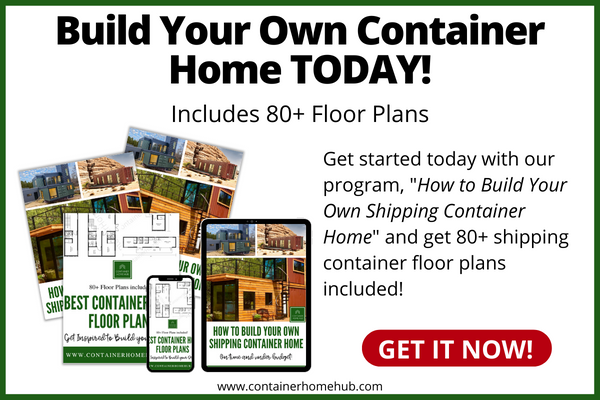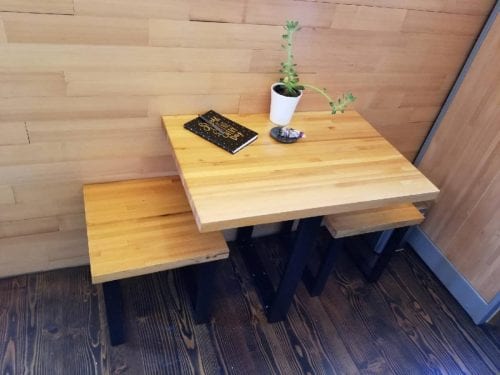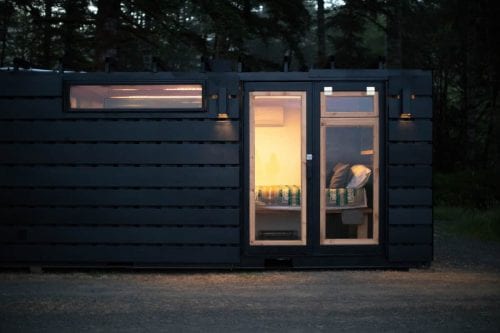 The house offers a few upgrades, such as:
Upgrade options available include:
• TESLA Solar System
• Voice Control Smart Home System
• Covered upper deck
• Radiant Floor Heating
• Custom Furniture
• Outdoor Shower
• Off Grid System (Solar & Wind)
• Rainwater Collection
Price: $30,000
Size: 320 sq. ft.
If you're looking for a peaceful and simple living experience, Fort Payne, Alabama, is the perfect place for you.
Upon entering, you will find yourself in a cozy living space featuring 1 bedroom and 1 bathroom. The interior is adorned with calming blue paint, creating a serene atmosphere that soothes the senses.
This home may be small in size, but its thoughtfully designed layout ensures functionality and comfort.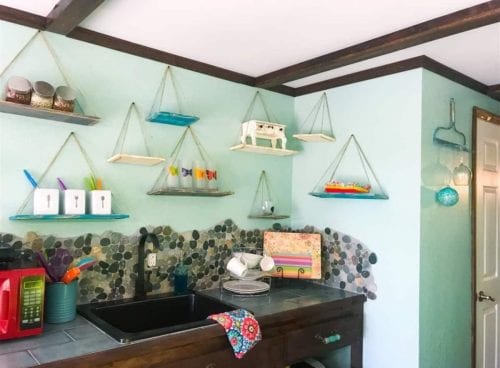 Surrounded by lush greenery, the outdoor space of the home offers a perfect spot to relax, read a book, or simply enjoy a breath of fresh air.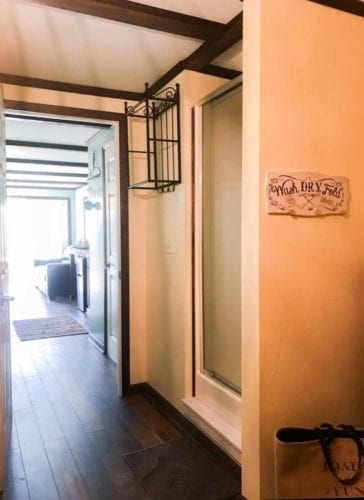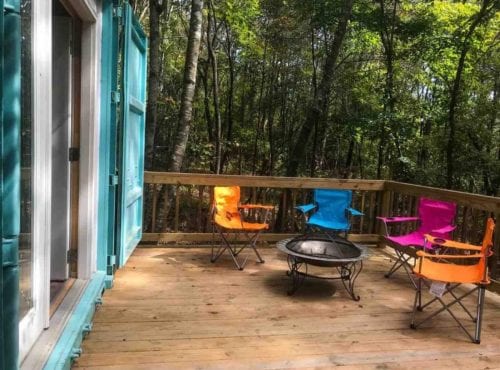 Ideal for nature enthusiasts, this home is conveniently located close to natural surroundings. Whether it's a stroll through nearby trails, exploring picturesque landscapes, or indulging in outdoor activities, you'll have easy access to the wonders of nature right at your doorstep.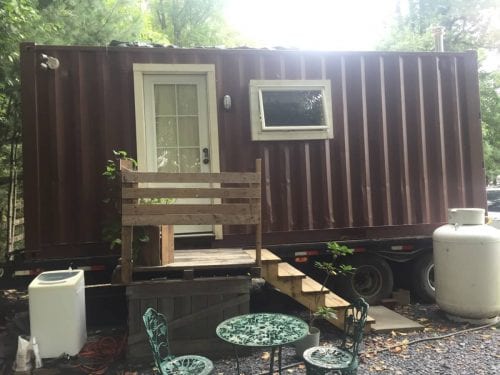 Price: $19,000
Size: 150 sq. ft.
Welcome to this charming New York State shipping container home.
Inside, you'll find a cozy interior with locally milled pine wood walls and a cedar ceiling in the bathroom. The rest of the home features a sleek metal ceiling.
Stay comfortable all year round with the blown-in closed-cell foam insulation, and enjoy ample natural light through the Anderson-insulated windows.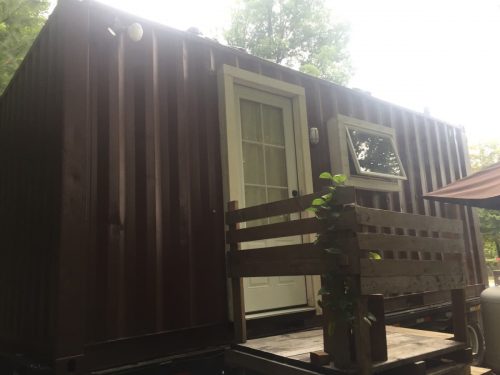 The bathroom offers a 32×32 fiberglass shower, a flush toilet, and a sink with an exhaust fan. In the kitchen, you'll find a large sink, a goose-neck faucet with a spray, and a 2-burner propane stove.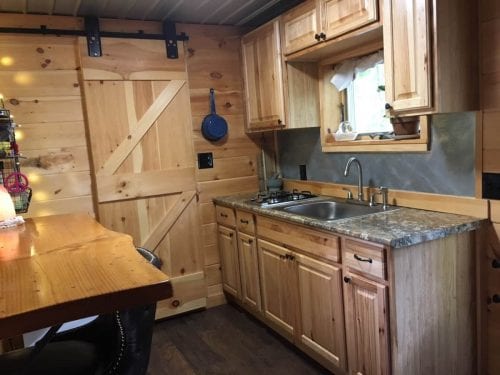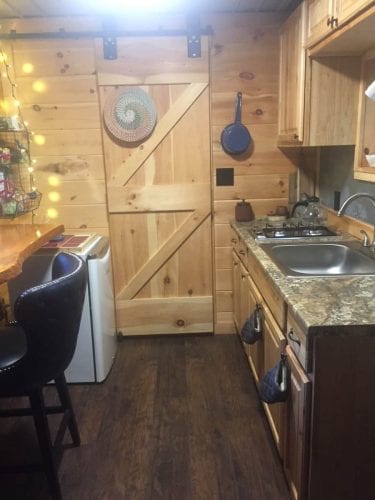 The home is fully equipped with RV hookups, including sewer, water hose, and electricity. It has a 100 amp, 60 amp, or 30 amp electric hookup option, and there are multiple outlets throughout the house.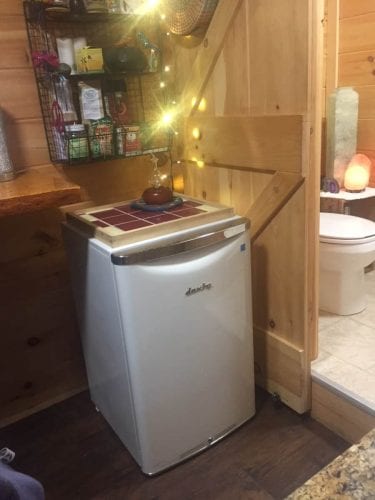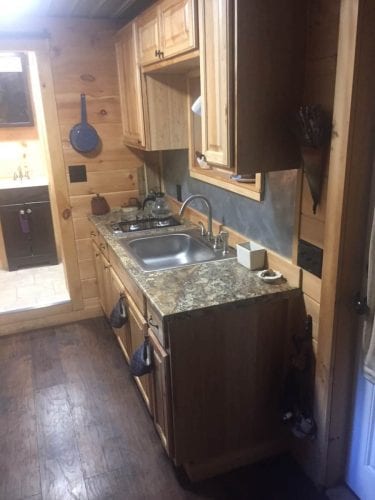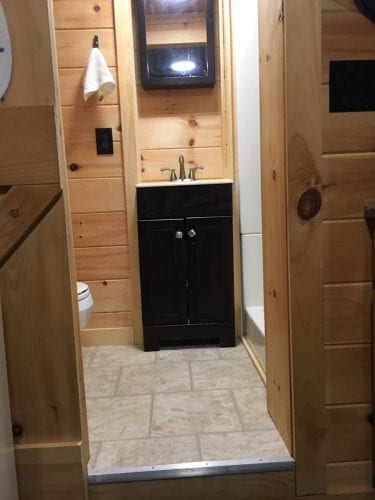 The vinyl floor is low maintenance and easy to clean. With a Marey propane instant hot water heater and a small portable electric heater, you'll be comfortable year-round.
Storage is cleverly incorporated into the design, with a twin bed with shelves underneath and additional pine shelving for your belongings.
This container home offers the perfect combination of functionality and style in a compact and efficient space.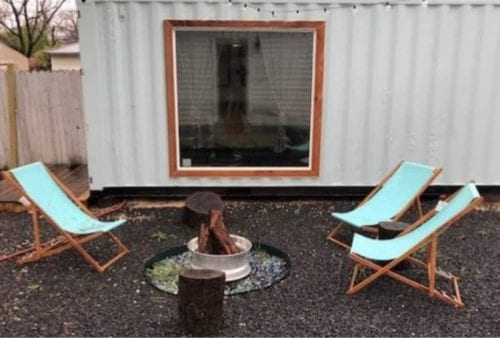 Price: $27,000
Size: 160 sq. ft.
Georgetown, Texas, is a vibrant city that offers a diverse range of sustainable and innovative housing options like farmhouses and even, shipping container homes.
We introduce you to this modern tiny home built from a repurposed shipping container in Georgetown, Texas.
This compact dwelling is the epitome of simplicity and practicality, offering an efficient and stylish living space.
Step inside, and you'll be greeted by a cozy interior fitted with all the essentials for comfortable living. The container home boasts a fresh split unit AC system, ensuring optimal climate control no matter the weather outside.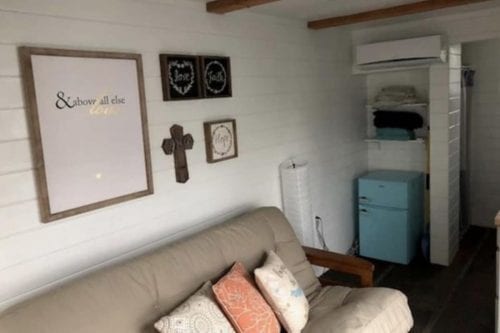 With plumbing already in place, this little gem is ready for permanent placement, making it a convenient and hassle-free option.
In the heart of the home, you'll find beautiful butcher block countertops that add a touch of warmth and natural elegance to the space.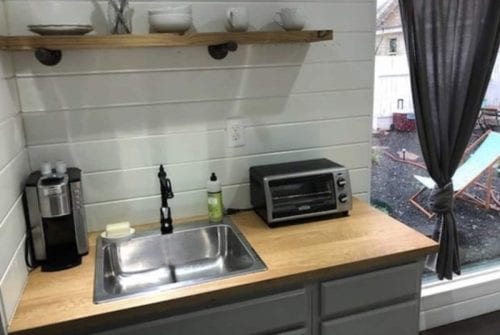 Cook up mouthwatering meals or enjoy a quick snack here, embracing the functional simplicity of the kitchen area.
When it's time to unwind and recharge, the full bathroom with a great shower head provides all the convenience you need.
Transportation is made easy with the possibility of mounting this tiny home on a custom trailer. Imagine being able to take your stylish dwelling with you wherever you desire – the freedom and flexibility to explore new horizons await.
Best of all, the price of this incredible tiny home is open to negotiation, ensuring you have the opportunity to make your dreams of affordable, minimalist living a reality.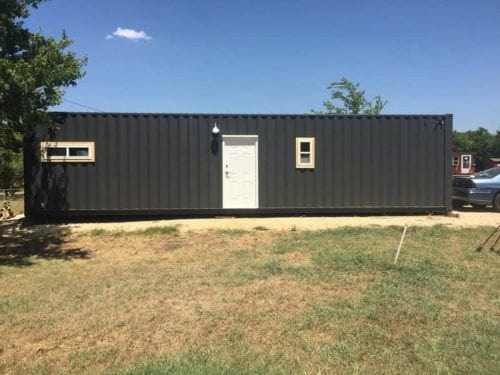 Price: $39,900
Size: 320 sq. ft.
Looking for a sustainable housing option in Fort Worth, Texas? Then this tiny house might just be right for you.
Introducing a sleek and modern 40-foot container home, this cozy living space is move-in ready.
Priced at an incredible $39,900, you can enjoy the comfort of this one-bedroom, one-bathroom home with owner financing available.
The interior features beautiful pine wood tongue and groove walls, bamboo flooring, and LED lighting for a warm and inviting atmosphere.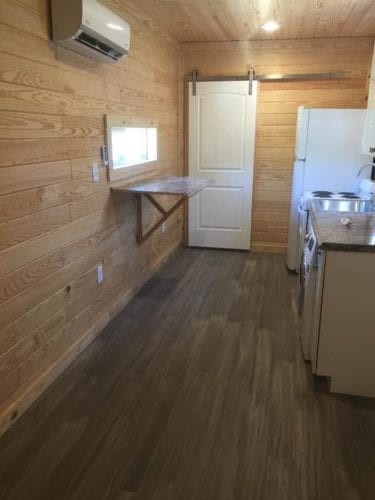 Stay comfortable in any season with 2 quiet A/C units and ceiling fans to keep the air flowing. The bathroom offers a full-size tub and a traditional flushing toilet for added convenience.\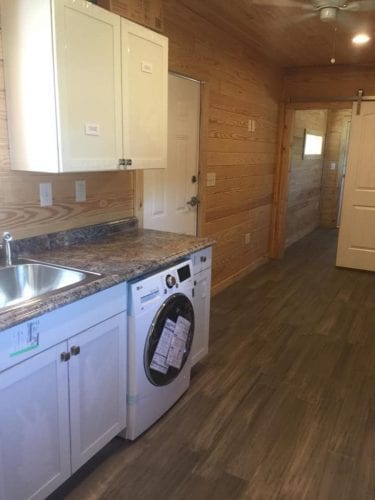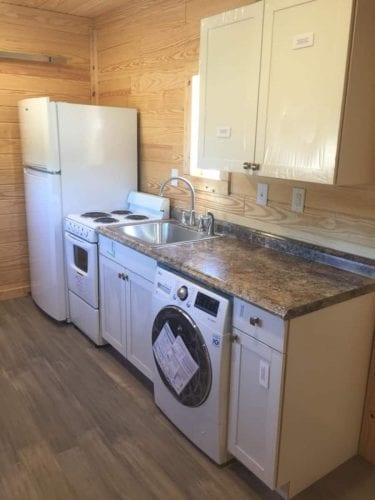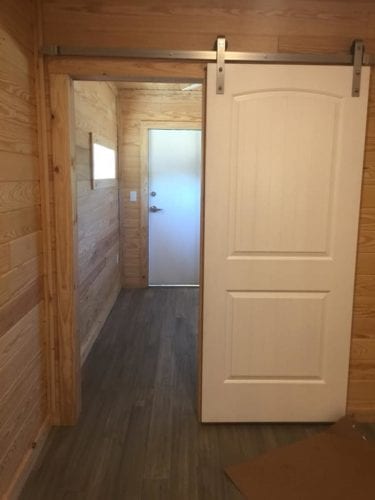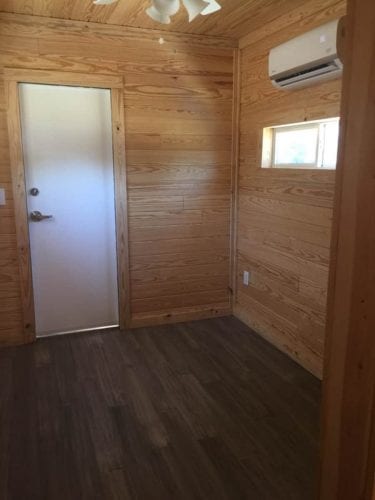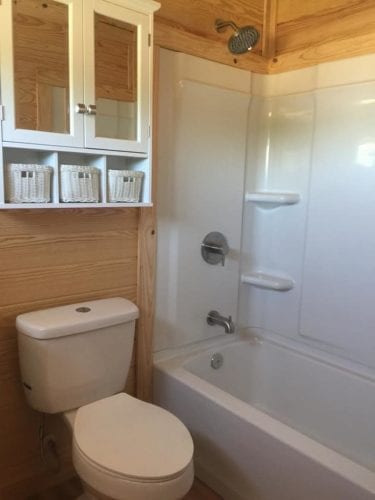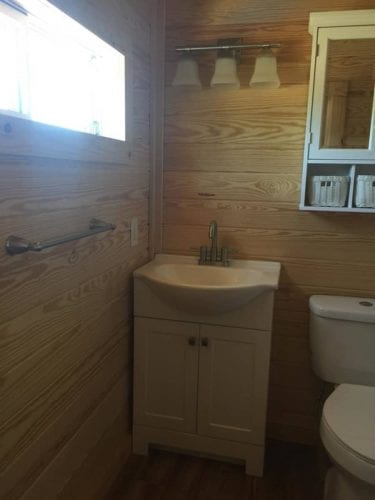 This container home comes equipped with a tankless water heater, a combo washer/dryer, a full-size refrigerator, and a 4-burner stove for all your daily needs.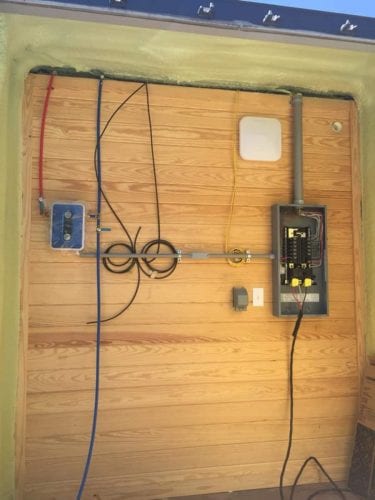 The electrical panel has a 200 amp capacity, leaving room for future expansions. Additionally, there is a small storage room for your lawn or other equipment.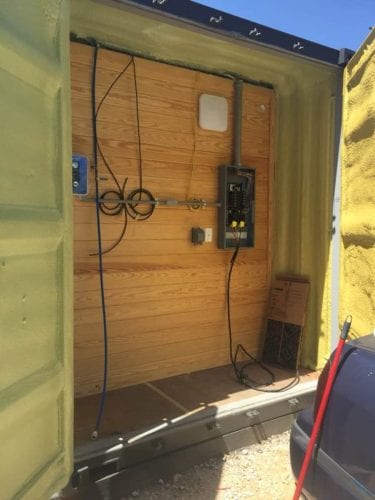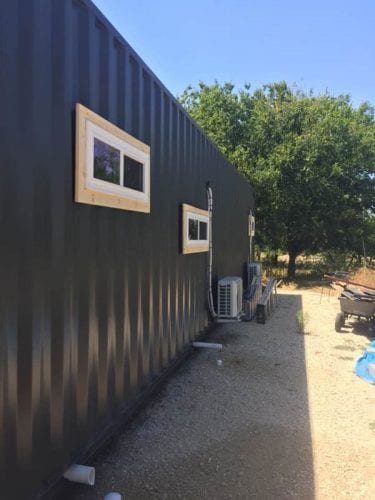 Why A Tiny Shipping Container Home?
Living in a tiny shipping container home is an exciting and sustainable way to reduce your carbon footprint while living in a well-designed, compact, and customizable home.
These container homes are an incredibly affordable option, and they are also highly customizable to suit your individual needs.
Whether you are looking to build a shipping container home from scratch or are interested in purchasing one that is already built, there are many shipping container home builders and companies offering these stylish dwellings.
Tiny shipping container homes offer a unique and exciting alternative to conventional housing. They are an affordable and sustainable option, and they can be customized to meet your exact needs.
So why settle for a traditional home when you can have an innovative and stylish tiny shipping container home?
What To Look For In A Tiny Shipping Container Home?
When searching for a compact and sustainable living option, shipping container homes offer an attractive solution. Not only are they affordable, but they also offer a unique style and durability.
When selecting a prefab home builder, consider your style preferences and budget. Take into account the interior and exterior design elements, as well as the layout options available.
Do you need multiple bedrooms, or would an open floor plan better suit your needs?
Get cost estimates from multiple builders before making a decision. Be sure to request photos of projects they have previously completed to ensure quality craftsmanship.
What Can You Do With A Tiny Shipping Container Home?
Are you wondering what you can do with a tiny shipping container home? Here are some of the things you can try
Second Home In Your Backyard
One of the most popular choices is to use the container home as an extra living space in your backyard. This is great for hosting family and friends or for providing additional space for yourself.
Container home architecture allows for unique and creative designs, allowing multiple containers to be combined to create a spacious living area.
Depending on your needs, these homes range from 100 sq ft to larger one-bedroom models with a bathroom and kitchenette.
Rental Home
You can also rent out your tiny shipping container home to generate extra income. For example, registering your tiny container home as an Airbnb. This is a great way to make a little extra money on the side without too much effort.
Retreat House/ Vacation House
Many people are using their tiny shipping container homes as retreat houses or vacation houses. This is a great way to enjoy a peaceful and unique getaway experience without having to leave your own home.
Final Thoughts
If you're interested in a unique and budget-friendly living option, why not consider a tiny shipping container home?
These mini dwellings offer a sustainable, minimalist lifestyle that still provides all the necessary comforts. From Alsea, Oregon, to Fort Worth, Texas, there are several places where you can purchase these miniature homes.
Shipping container homes are becoming increasingly popular due to their affordability and convenience.
If you're looking for a cost-effective and stylish way to live, consider a tiny shipping container home. You'll be able to enjoy a sustainable lifestyle while still having access to all the amenities you need.
Information source: Tiny House Listings
Photo source: Tiny House Listings
» Follow Container Home Hub on Facebook for regular shipping container home updates here «