Greetings from the Tiny-House-sphere! 🙂
As the tiny house movement continues to gain popularity, so does the number of tiny homes for sale. You know that we at Container Home Hub do our very best to research each shipping container home in its entirety before we share it with you.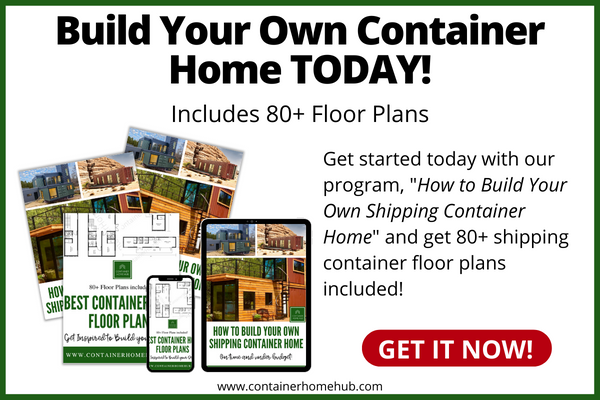 We share the good, the bad, and definitely the "unique"! In addition, we sometimes find container homes with just 2 or 3 photos and not a lot of information attached to them other than "Hi! We are for sale!" So we thought it would be nice to just bunch them together into one post. 5 tiny shipping container homes for currently for sale right now! Enjoy 🙂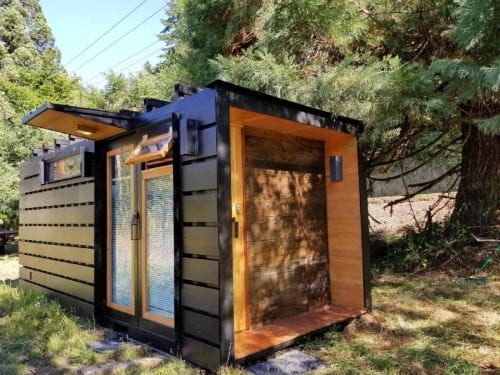 Price: $55,000
Size: 160 sq. ft.
Utilizing cutting edge modern design, recycled shipping containers and reclaimed old growth Douglas fir wood products from the Columbia River, Modern Dwellings are a cut above any other home of it's type.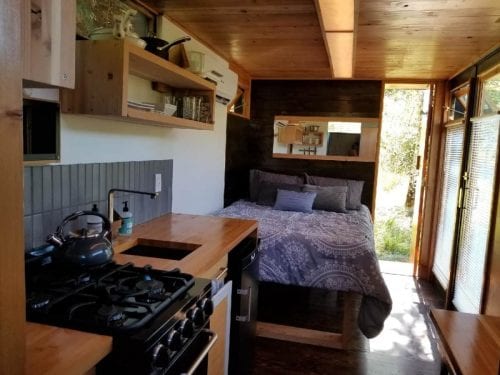 KEY FEATURES:
SPACE – Our modern design allows you to have the most efficient flow in your dwelling. How do we know? We don't just design and build Modern Dwellings, we live in them! This allows us to offer you the highest quality and most efficient space and layout for you, your guests and loved ones.
EASE – We know all of the hype surrounding buying and building a home. Our intention is that this will be your most easeful experience, one that changes your perception of the real estate process. We have a systemic process in place so that your Modern Dwelling experience can be easeful and joyful.
BREAKTHROUGH SUSTAINABLE DESIGN – We use a commonly underutilized resource – shipping containers as the shell of your Modern Dwelling – and we fill them with butcher block doors and windows and more from another underutilized resource – Columbia River wood. You can honor your commitment to Mother Earth with our sustainable and efficient (and almost totally soundproof!) design.
FUNCTIONALITY – Your Modern Dwelling can be used in a variety of ways – for rental income on your current property or on property you purchase. It can be the perfect guest space or housing for your aging parents or grandparents. Your Modern Dwelling can even be your primary residence as it is for us. You have total flexibility and functionality with your Modern Dwelling.
ENGINEER APPROVED – Modern Dwellings are stamped and approved by a third-party engineer so you can have peace of mind knowing that you have the highest quality structure. Modern Dwellings are earthquake, hurricane, wind, and tsunami-proof. Your dwelling isn't going anywhere with our maintenance free design.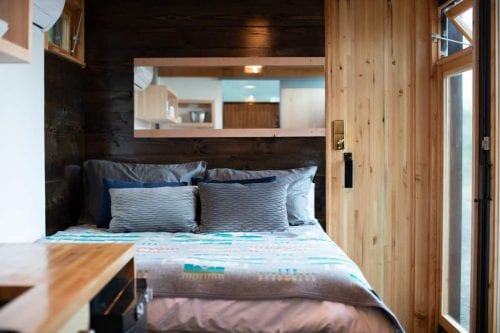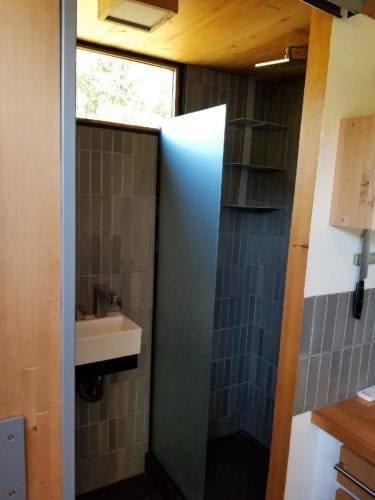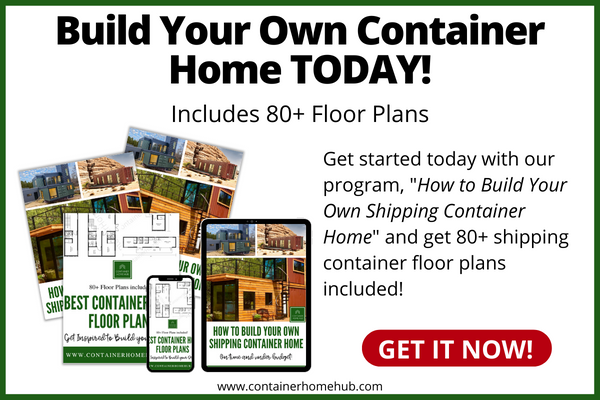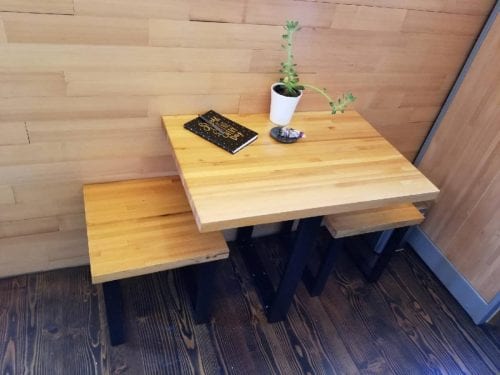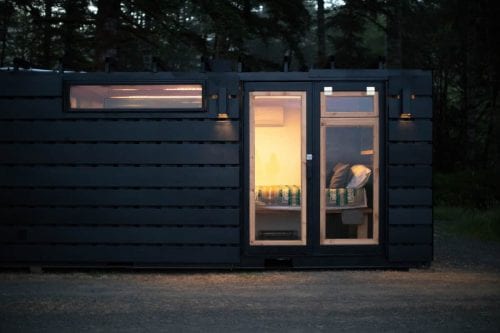 TRUE STUDIO
• 160 Square Feet Living Space
• Columbia Riverwood Flooring & Paneling
• Pratt & Larson Tile
• Metal & Wood Custom Awning
• Lighting on Dimmers
• Zero Radius Stainless Steel Sink
• Modern Fixtures & Appliances
• Columbia Riverwood Doors & Windows
• Ductless Mini-Split that supplies Heating & Air Conditioning
Upgrade options available include:
• TESLA Solar System
• Voice Control Smart Home System
• Covered upper deck
• Radiant Floor Heating
• Custom Furniture
• Outdoor Shower
• Off Grid System (Solar & Wind)
• Rainwater Collection
Price: $30,000
Size: 320 sq. ft.
1 bedroom
1 bathroom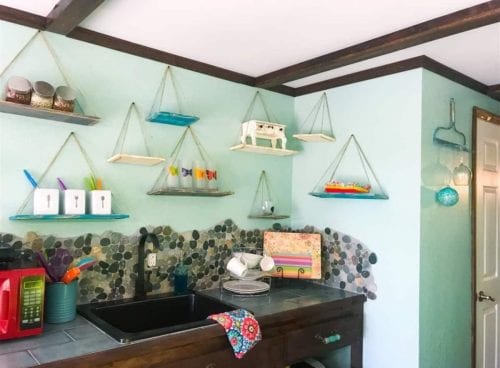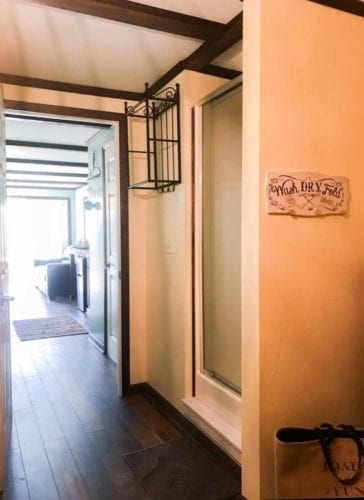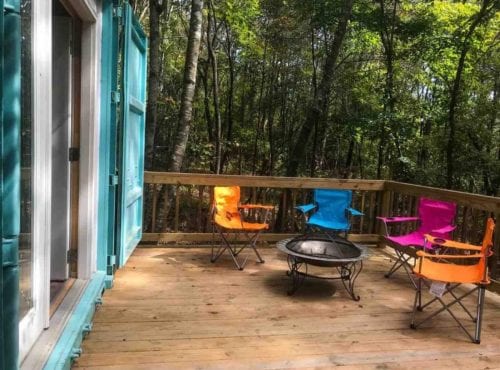 Price: $19,000
Size: 150 sq. ft.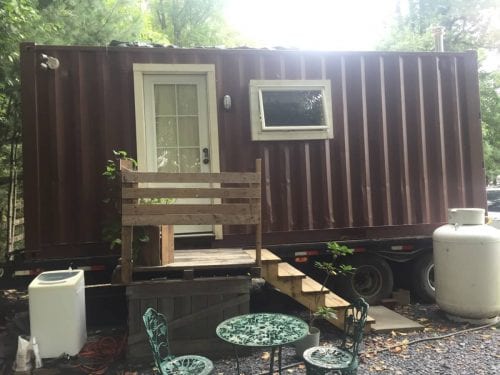 All locally NY State hand milled pine wood interior with cedar ceiling in bathroom.
Metal ceiling throughout rest of container home.
Blown in closed cell foam insulation-6" on top and bottom, 4" on all 4 walls. Metal storm door.
Anderson insulated 2 pane windows w/screens.
32×32 fiberglass shower
Flush toilet
Bathroom sink.
Exhaust fan.
Kitchen has large sink, goose-neck faucet w/spray and 2 burner propane stove.
Right now it is fully hooked up at a campsite. Has all rv hookups; sewer, water hose hookup and electric hookup. Electric box is set up for 100 amp, 60 amp or 30 amp. I have been running it on the 30 amp due to the campground requirements. There are 5 outlets in the house and 1 outlet where the fuse box is if you need an outside outlet.
Vinyl floor which I really like is low maintenance and easy to clean.
Electric and plumbing done to code.
Marey propane instant hot water heater -no tank- works very well.
Hickory cabinets.
A beautiful oak, I believe, shelf for desk or table – it is bolted in and very sturdy.
I have a twin bed at one end with storage shelves underneath. Bed could easily be adjusted to make higher or lower by removing wooden legs and replacing with larger ones . Bed has cedar wood slats in order for mattress to have air. Cedar is a great to keep space dry and bug free. I only have a mattress on top of slats -no box spring-the slats act as the box spring.
Under the bed is pine shelving for storage.
I use a small portable oil electric heater, the type that look like a radiator.
This insulation is incredible. I do not remember the R factor numbers but I do remember that they are very high. I left the heater on low (low uses 900 watts) when leaving the house, and medium (medium uses 1200 watts) when home or when I wanted it warmer. On medium it remains a steady 70 degrees. Low probably mid to high 60's. I only needed to use high (low uses 1500 watts) when it dipped into the negative teens. I stayed so toasty warm all winter.
There is a porch light out side and a sensor light.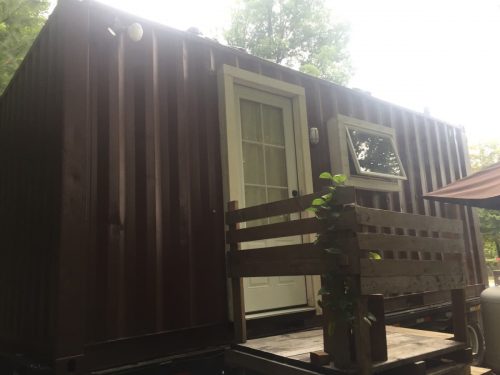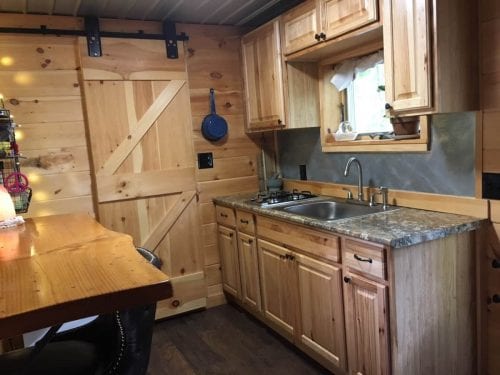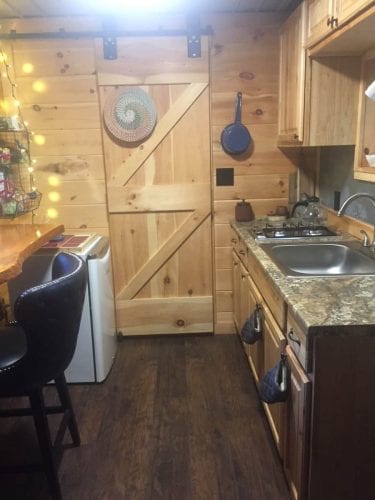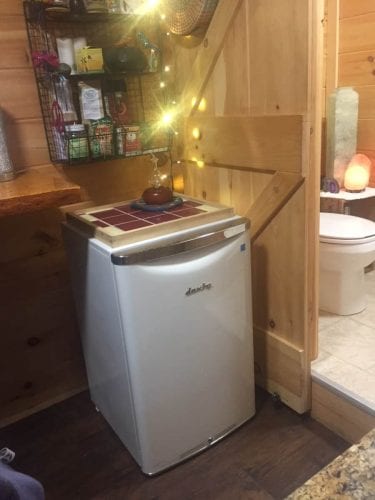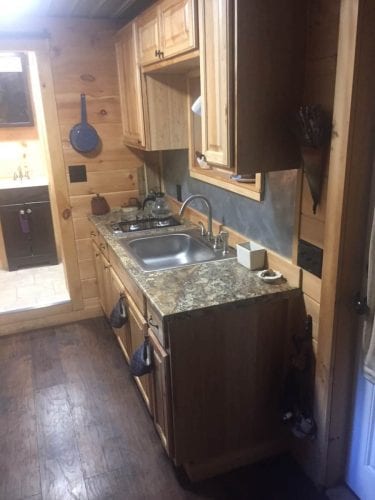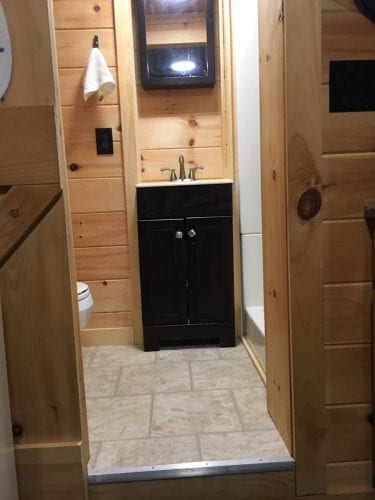 The container is on a trailer.
The trailer is NOT included with this sale.
For a couple of reasons.
First, it is not necessary. If you look at every shipping container house on line you will be hard pressed to find one on a trailer. I have only seen them on the ground on top of either railroad ties or cinder blocks, stone or brick.
I had to purchase the trailer separate as the campground would not allow it without wheels. The container is ready to ship hence its name. It can be hauled onto a lowered flatbed or lifted by a crane or forklift onto a flatbed or a trailer. This can be done in about the same amount of time as one can hook up a camper or tiny house on wheels to a tow truck. This can be explained to any involved person questioning it not being on wheels. People just don't think of that; they are usually just thinking "tiny house needs to be on wheels". This is not the case with something that was created to ship and move at will.
Aesthetically, the container looks much nicer on the ground. It looks like a little cottage contrary to its appearance on wheels.
Secondly, despite this, if one really wanted to put it on wheels, I suggest a more adequate trailer. The trailer it is on is much bigger and heavier than what is needed. I bought it on the last minute to satisfy the campground requirements and it was all I could find.
I will of course sell the trailer if interested.
Price: $27,000
Size: 160 sq. ft.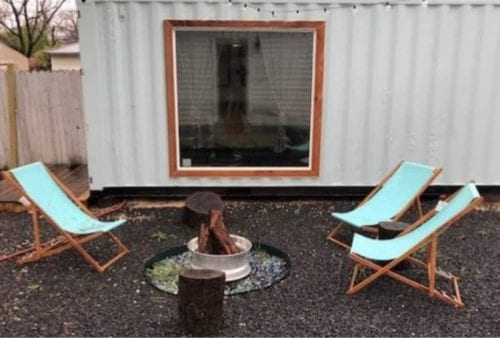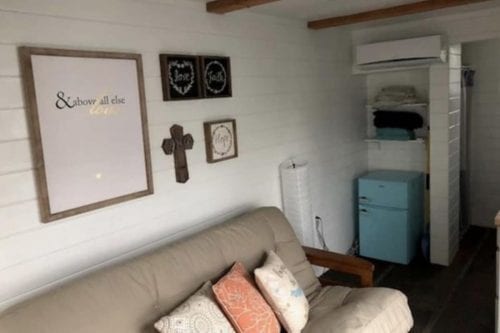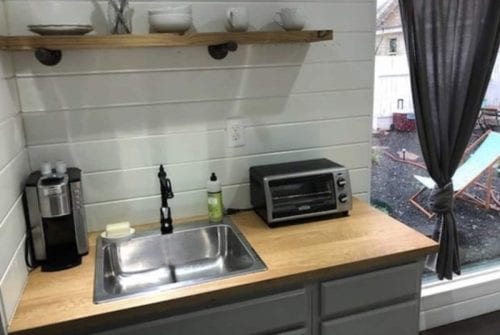 Brand new tiny home built from a container. Has new split unit AC and plumbed for permanent placing. Butcher block counter tops with full bath. Great shower head! Can be placed on a custom trailer. Willing to negotiate.
Price: $39,900
Size: 320 sq. ft.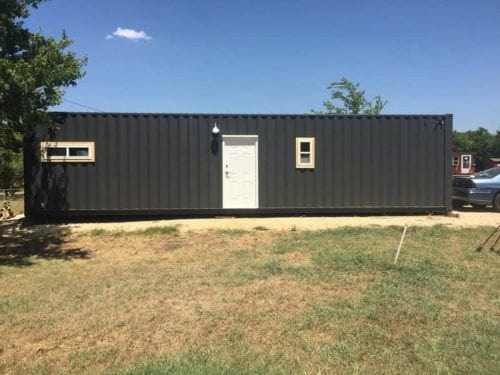 2018 – 40 foot container home – Recently completed and ready to put on your land.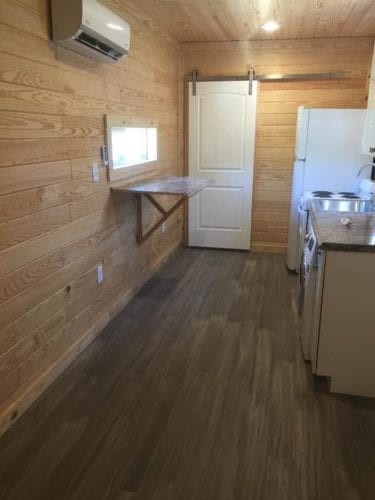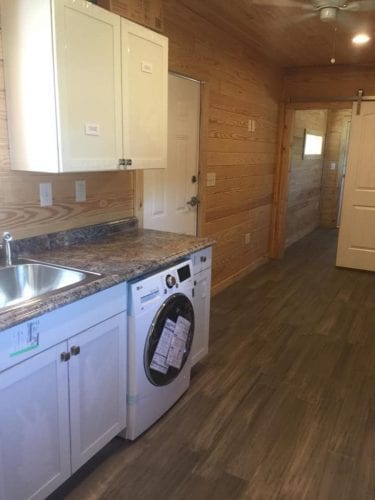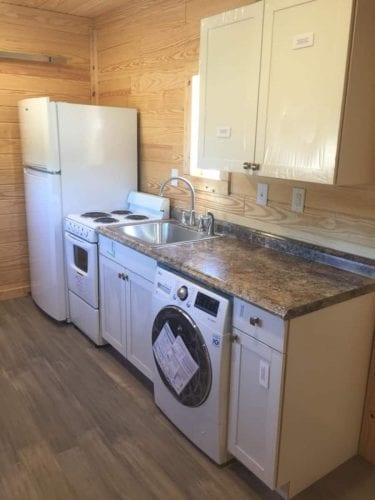 This nicely finished 1 bedroom 1 bath container home is listed for only $39,900. Owner financing is available.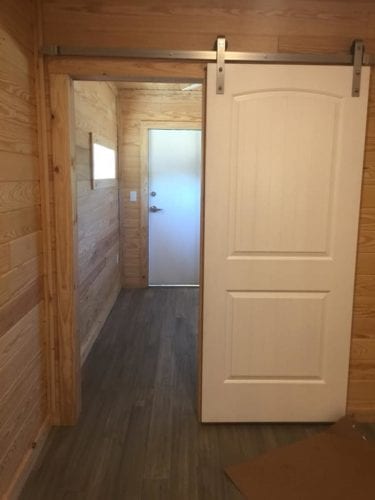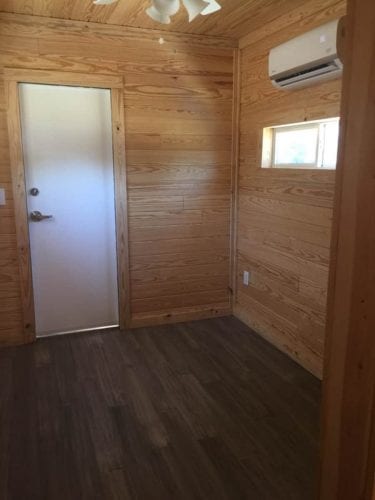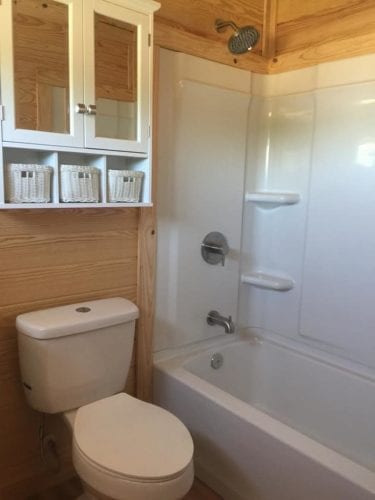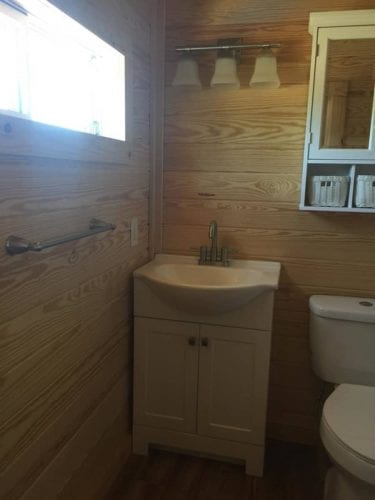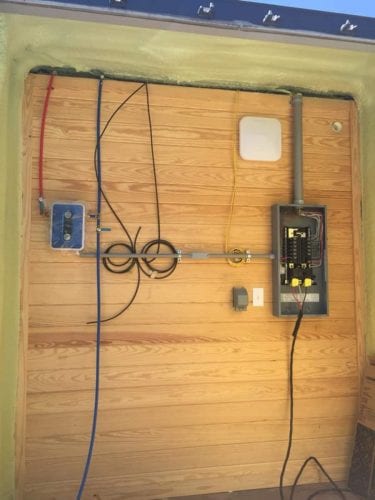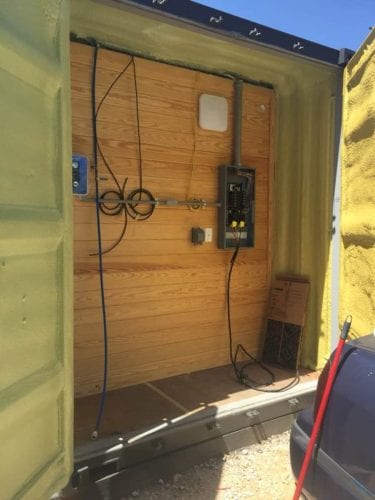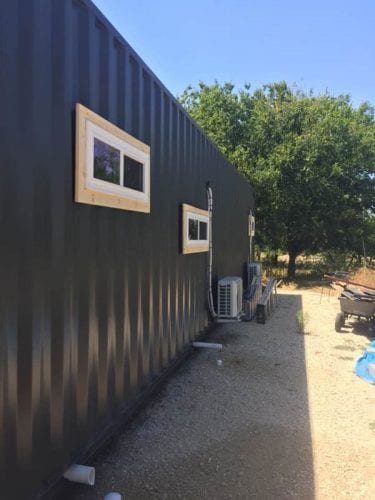 This tough built home has the following features:
• Sprayed with 2 to 3 inch closed cell foam insulated walls and ceiling
• Packed with a full size bathroom with tub
• Traditional flushing toilet
• Pine wood tongue and grove walls and ceiling
• Bamboo flooring
• 2 – A/C units with 9,000 BTU each and are very quiet
• Ceiling fans
• LED lighting
• Tankless water heater
• Combo washer/dryer
• Full-size refrigerator
• 4-burner stove.
• All electric container has a 200 amp panel which has sufficient room to expand!!
• Small storage room with plenty of space to store lawn or other equipment.
So what do you think? Which one is your favorite? 🙂
Information source: Tiny House Listings
Photo source: Tiny House Listings
» Follow Container Home Hub on Facebook for regular shipping container home updates here «