Greetings from Ohio! 🙂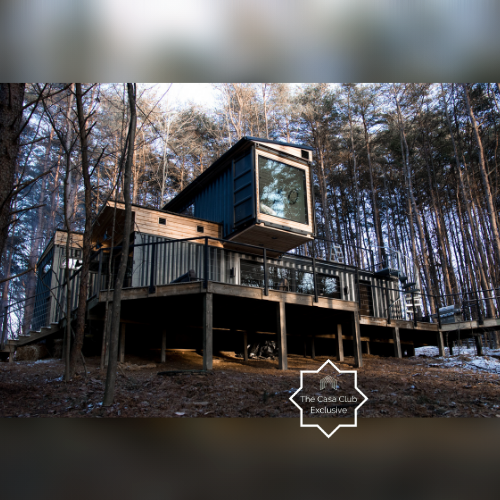 Hold onto your seats because today we have a noteworthy Container Home Hub exclusive for you guys! Say hello to The Box Hop. This shipping container cabin is stunning! We at Container Home Hub were lucky the owners, Emily and Seth, shared with us this inside scoop on their container cabin. Enjoy 🙂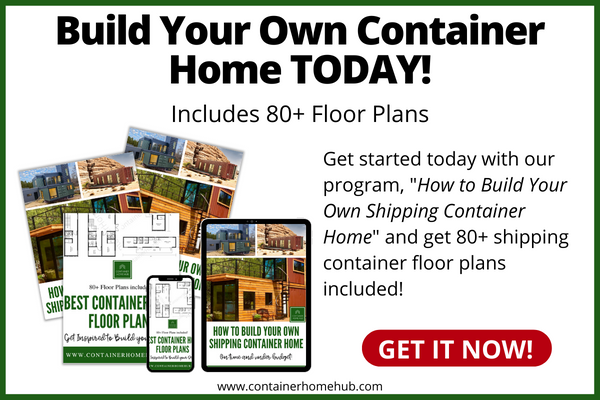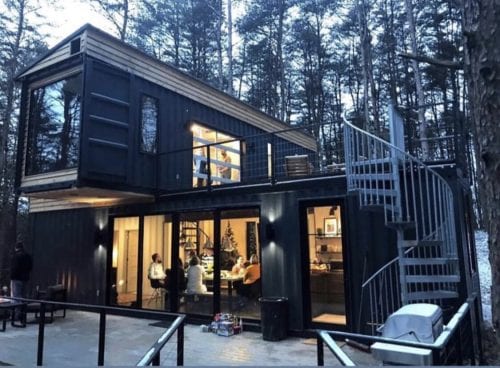 The Box Hop is made up with three High Cube 40'x8' shipping containers (roughly 850 sq. ft. finished). We broke ground in May 2019 and finished the build in December 2019. First guest were welcomed in on 12/14/18.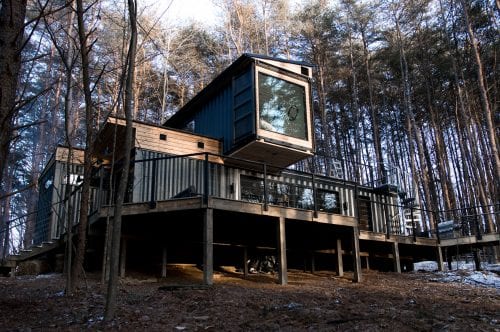 Our names are Emily and Seth, and we live in Columbus, Ohio with our two children with another due in early 2019! We love our life in Columbus with our wonderful community of friends, a city that has a love and respect for the arts, and unbeatable food. However, we yearned for a space to escape some of the city bustle and return to our roots in a rural, wooded, relaxed setting.
Since college, Seth had dreamed about building a shipping container cabin. This started with a college job in the transportation industry that involved loading into shipping containers. Now, he has a lot of lofty dreams, but this one stuck with him for many years. It took us a little over a year of planning to finally set this dream to sail.
Being from big families, we have always had trouble sitting still. Hocking Hills has been a favorite place of ours to hike, camp, and explore. We have also had many experiences over the years with friends and family going on trips to celebrate holidays, bachelor/bachelorettes, weddings, showers, or just because. Far enough from the city to appreciate some amazing sights and wonders that nature beholds, yet close enough that it can be done in a comfortable drive. It made perfect sense that our shipping container cabin would be centered in the Hocking Hills region.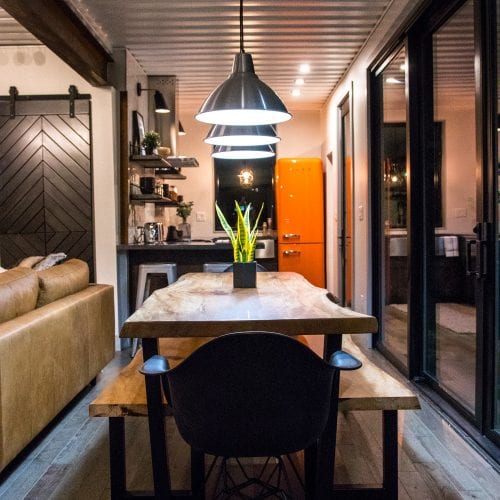 So, one year of planning, seven months of blood, sweat, tears, early mornings, late nights, help from family and friends, and three shipping containers later, we have our home.
Our desire is to share this home and dream with others, to invite and encourage them to step away from life's daily challenges, demands, routines and activities and give their minds and bodies a place of rest and solitude. We cannot express enough our gratefulness and awe for the love, support, encouragement and downright sacrifices that our families and friends have given to make our dream a reality. It would not be possible without them. "The Box Hop" is what we are calling our shipping container cabin, and we cannot wait to host you for a stay.
Just recently Michigan blogger, Moody Cabin Girl, and her family visited The Box Hop. In addition to the beautiful photos they captured, they had this to say: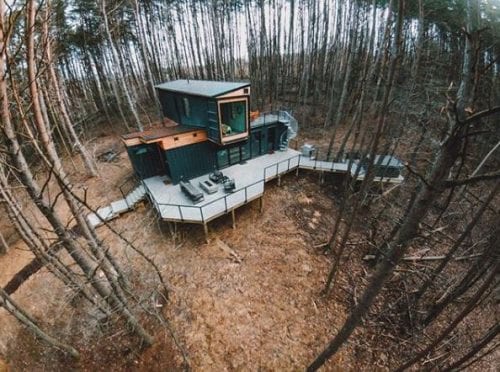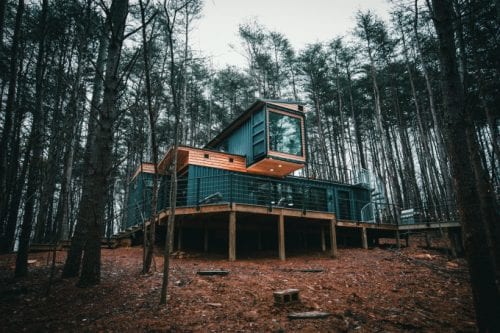 This shipping container cabin is set far back into the woods, up a fairly steep hill. As we drove up the dirt road and saw this dark structure before us I couldn't help but think how the boxes seemed to fit in perfectly with the environment. The tall pine trees tower over the building and blend well with the black color and wooden accents.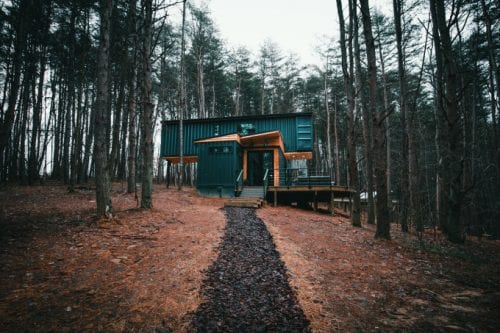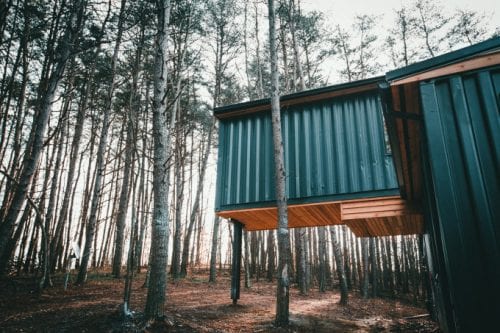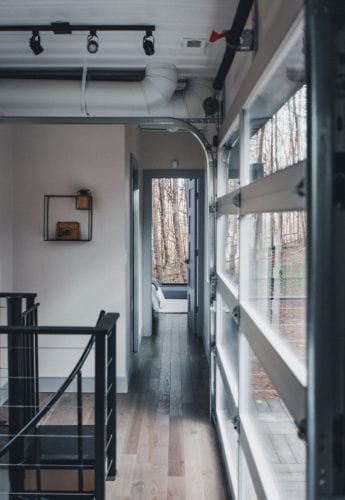 We spent our day enjoying natural wonders of Ohio, and our nights cozy by the fire and living it up in the hot tub. I am so glad we were able to be one of the first groups to stay at The Box Hop, and would highly recommend it to anyone who enjoys unique rentals!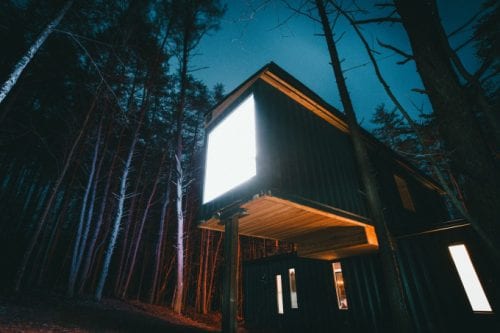 So what do you think? Would you stay here? 🙂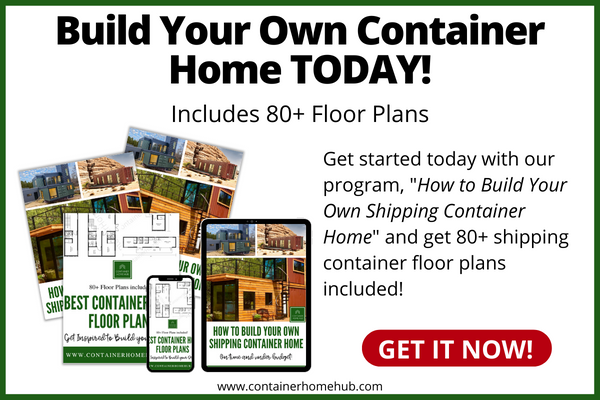 Photo sources: The Box Hop owners, Moody Cabin Girl, Aaron Smith, Brad Knisley, Ramsey Baker
Information sources: The Box Hop owners, Moody Cabin Girl
» Follow Container Home Hub on Facebook for regular shipping container home updates here «