Today's featured home on Container Home Hub is this wonderfully designed and thoughtfully put together Brisbane container home by Cam Mullholland. There is so much about this home to love and we think it's a perfect example of what you can do with just a little bit of ingenuity and a lot of thought. It's hard to believe that there is so much to offer in such a small space with this home and we can't wait to show you some of the surprises it has in store.
The first thing we noticed about this Brisbane container home is the large banks of windows that make up the front facade. The thing about smaller homes like this is that they tend to be a little bit dark if you don't have places where natural light can break through. Luckily, the designers of this shipping container home have thoroughly thought this through and they have included these large windows to bring in some of that natural light as well as some of the beautiful surroundings.
One of the things we really love about this house is the way the designers have kept a lot of the original markings from when this container was being used for its original purpose. This is one of the unique things you can do with a home like this and we think this Brisbane container home has made good use of the original exterior to create something that is extremely unique and has a little nod to the original materials.
Exterior
Living Area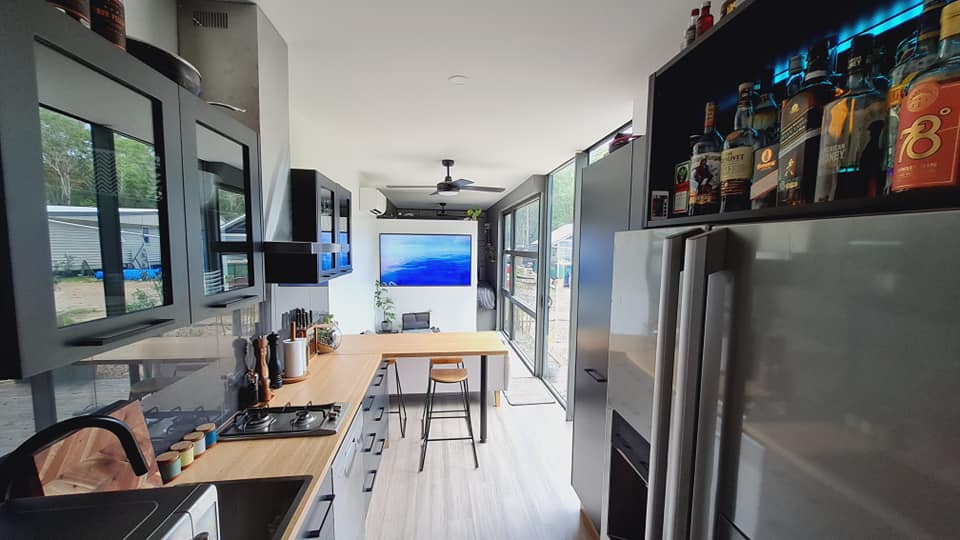 Once you are inside this Brisbane container home, it is difficult to believe that there is so much packed into such a small space. However, it doesn't feel crowded or cramped and everything is in its own place for an organized and well-thought out feel. That's one of the keys with a home like this: make sure that you know where everything is going and that it has a specific place to keep things clean and organized.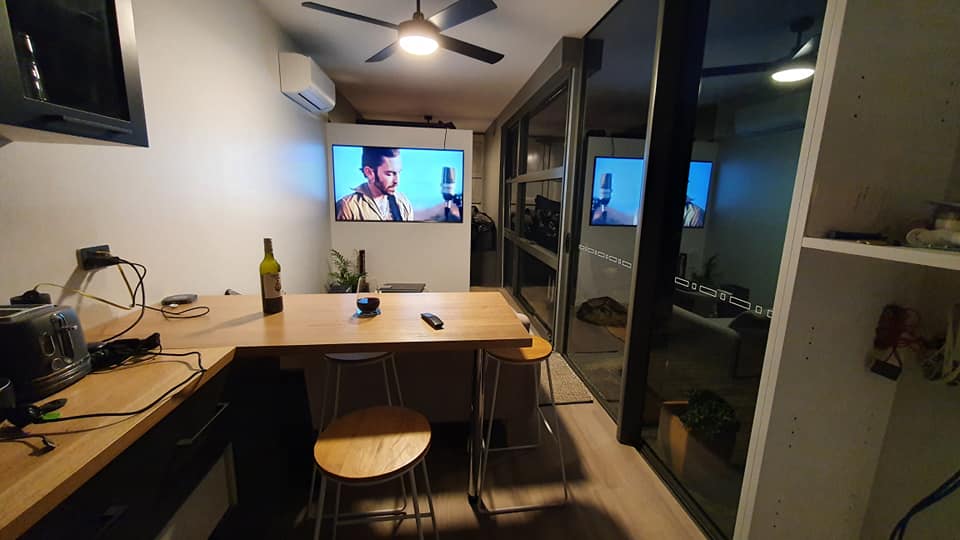 The way the designers of this home have integrated the kitchen counter with the living area is crucial to the interior layout of this Brisbane container home. Combining spaces is one way that you can really make an area feel larger than it is and bring some flow where there would normally have been a large separation. We think this is a very clever technique and one that should be used in more container homes.
Kitchen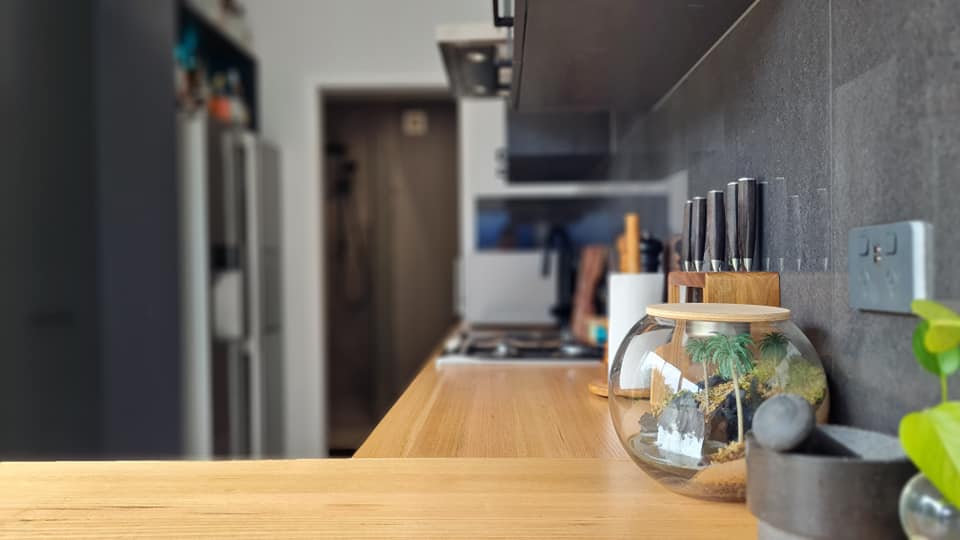 Overall, the kitchen in this Brisbane container home is nothing short of amazing. The granite tile backsplash brings some of that sleek, modern feel to the home and makes the kitchen feel professional and functional. There is something about that color and the texture that will always feel clean and tidy. It's a perfect choice for a small space.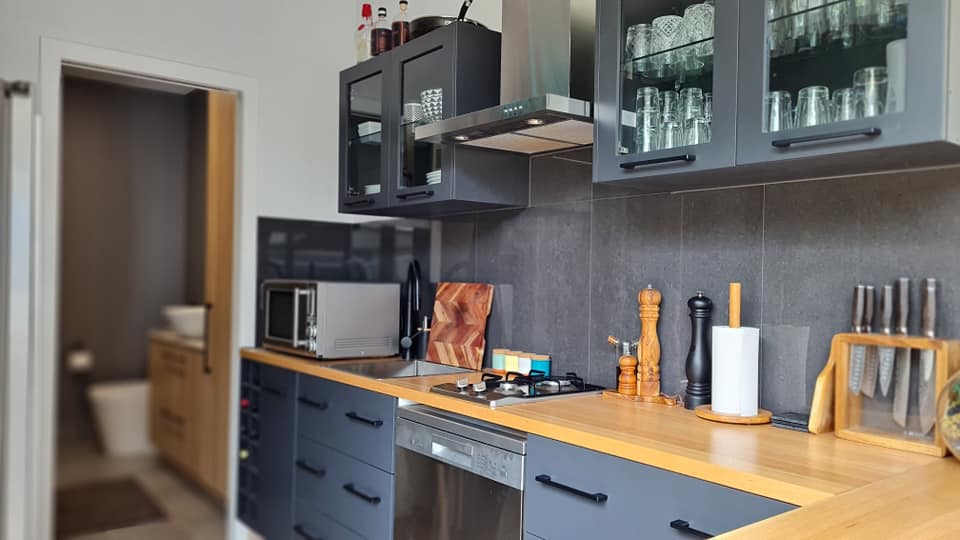 The cabinetry in the kitchen is another feature that is perfectly executed. The fact that it is located fairly high up on the wall puts it out of the way and keeps it from feeling like it takes up too much room. Plus, when you open one of the doors, it won't be taking up any more room in the kitchen than it needs to, which is essential for keeping everything open and usable when more than one person is working there.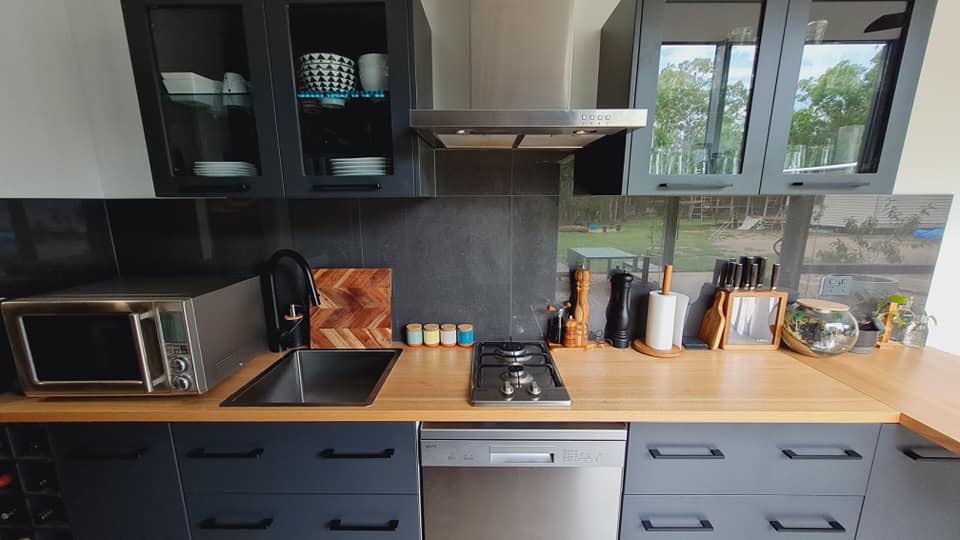 We love the miniaturized versions of all the different kitchen elements. Everything from the small sink to the double burner is designed to give you the same amount of functionality that a full kitchen would have while taking up only half the space. Combined with the small industrial hood there is nothing in this Brisbane container home kitchen that you wouldn't find in a full size one.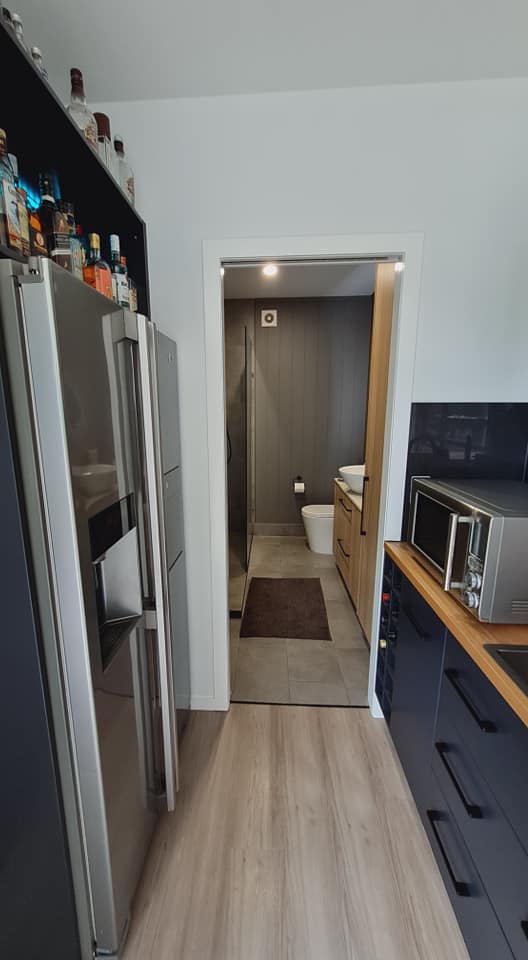 Bedroom
The bedroom in this Brisbane container home is beautifully designed to be cozy and comfortable, even in such a small area. The long shelf and wonderful gray color is a great way to make the room feel bigger and still keep it homey and snug.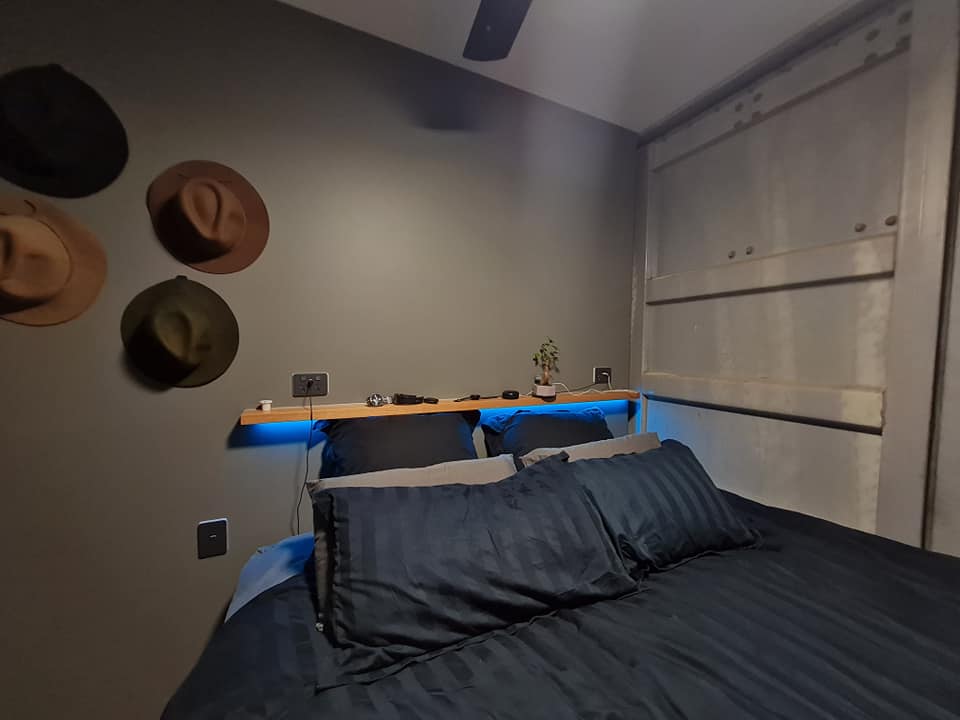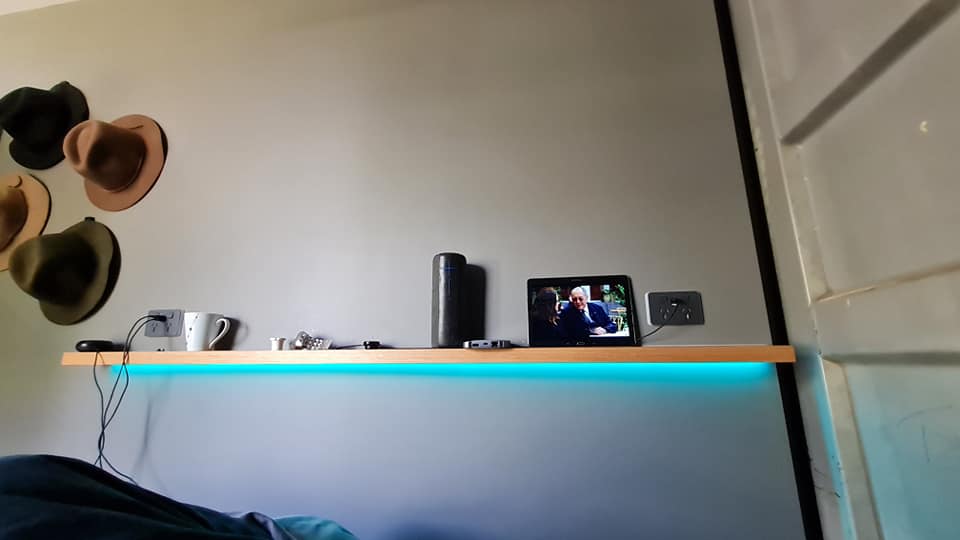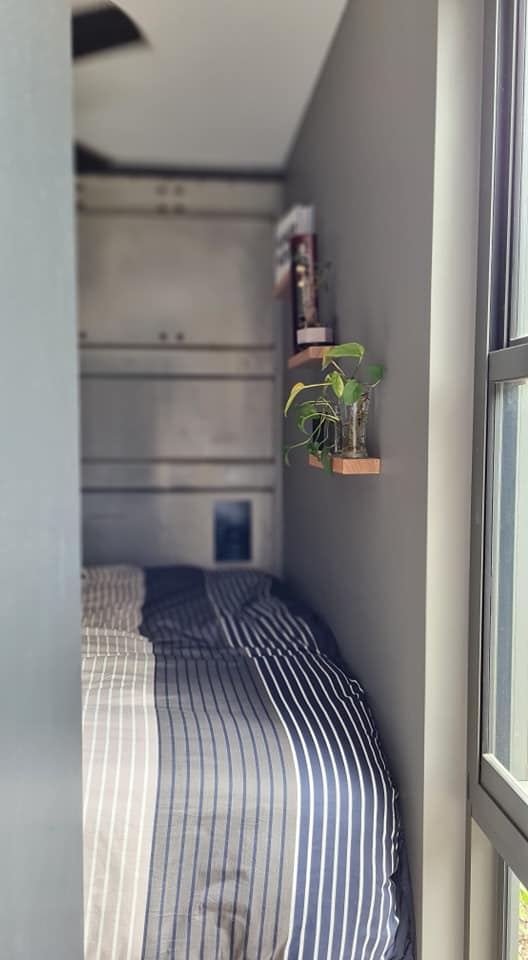 Bathroom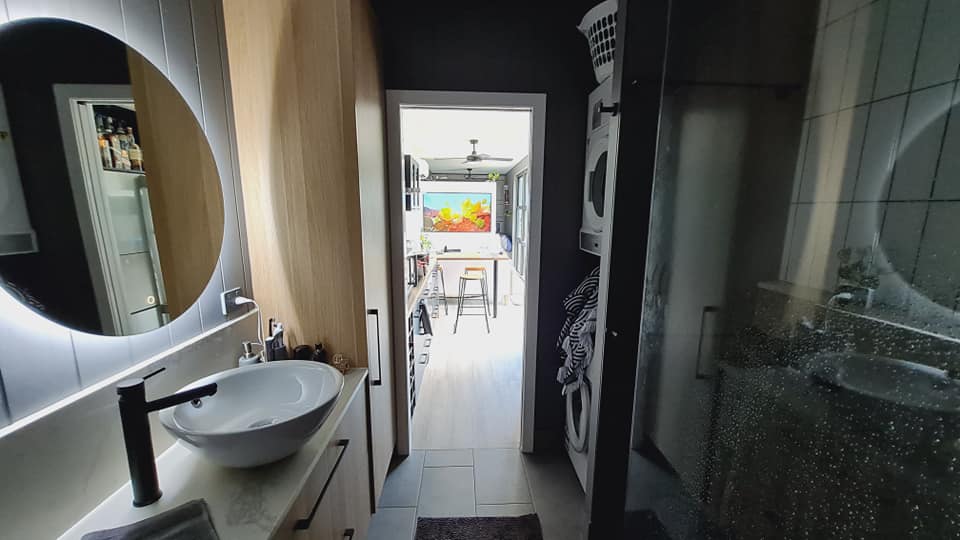 The bathroom in this home is one of its crown jewels. It has everything that you would expect in a regular bathroom and is just as luxurious and ornate while taking up little room in the floor plan. There is a backlit mirror that is perfect for maintaining an excellent vibe in the morning without having to turn on all the lights.
One of the things that we love so much about this Brisbane container home is the cabinetry. Nowhere is that more apparent and well done than in the bathroom. The smooth woodwork and black hardware is an excellent addition to the home and it gives off an artisanal, custom feel that you can see all over the house.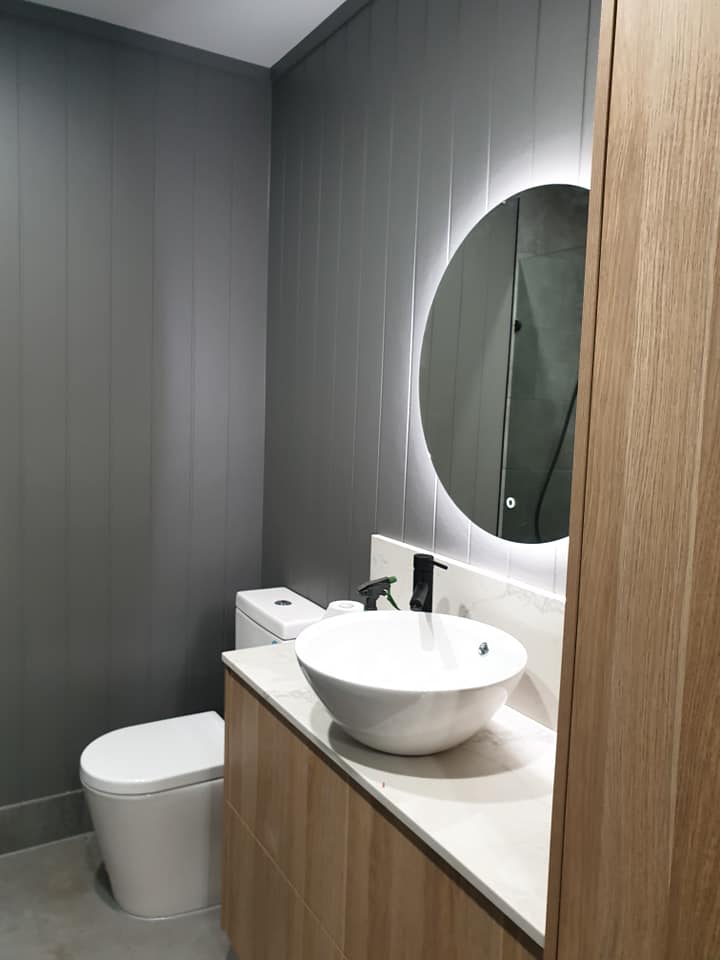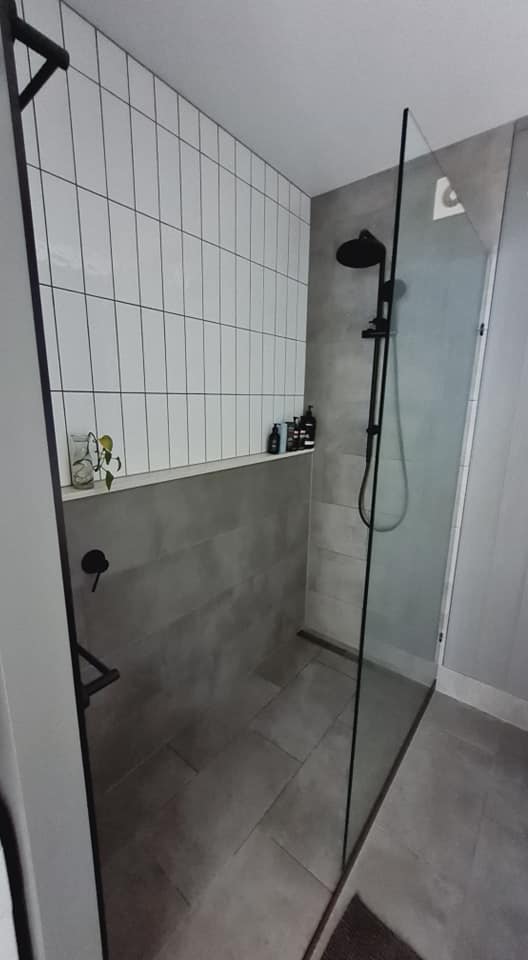 The shower is a perfect feature for this bathroom. With the amazing tile and rainfall shower, this is absolutely a place that you could spend a lot of time. So much care and thought has gone into the functionality of this Brisbane container home and we think it was incredibly successful.