Building your own home is one of the most rewarding projects you can take on. With so many options available to you and so many things you can do, it's a great choice. However, if you have ever looked into building your own home, you know how expensive it is. That's why building a shipping container home in Illinois is such a great alternative.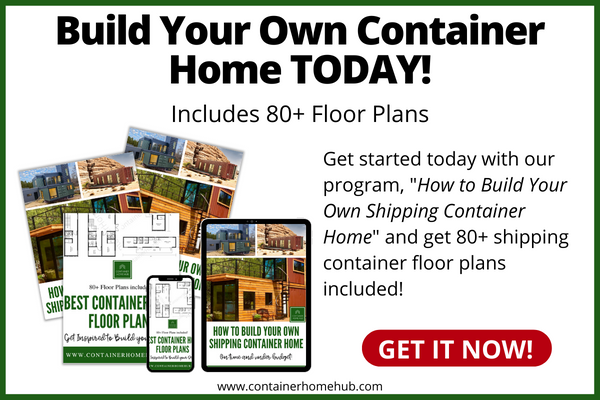 Shipping container homes can be a good way to get your dream home in a much easier way. By understanding everything that goes into a home like this, you can get yours built. In this article, we have laid out everything you need to know about building a shipping container home in Illinois. Knowing what goes into the process can help you be prepared for your very own dream home, even one in Chicago.
What is a Shipping Container Home in Illinois?
A shipping container home is a residence built from recycled shipping containers. These containers are usually used for moving goods around the world.
They go on trains, trucks, and ships and are uniform in size and shape. When they are decommissioned, they are recycled or stored all over the country. This makes them very accessible to people like you who are looking to build a home.
Because of their size and shape, you can build a shipping container home in Illinois very easily. All you have to do is arrange the containers in a way that is pleasing and makes sense. This way, you can get a home built using the containers in creative ways. Once they are arranged, they are connected with doorways and stairs and turned into amazing homes.
What Are the Benefits of a Shipping Container Home?
One of the main benefits of a shipping container home in Illinois is the price. Because the homes are essentially prefabricated, you can save a lot of money on labor and materials.
You don't have to worry about things like framing because the structure is already there. This can end up saving you a lot of money in the long run.
Shipping container homes are also incredibly resilient. Their all-steel construction means you don't have to worry about water issues like mold or rot. In a cold, wet climate like Illinois, this can save you money and stress in the wintertime. You will not have to do as much maintenance or make the same repairs you would with a traditional home.
Cost of Building a Shipping Container Home in Illinois
The cost of building a shipping container home in Illinois is dependent on a few things.
The size and area you build will affect the final price.
However, you can expect to pay an average of between $15,000 and $50,000 to build your container home. The extras you add on can bring this price up quite a bit, though.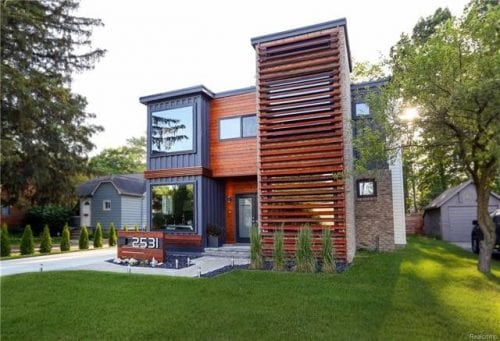 The difference in the price of a shipping container home in Illinois and a traditional home is significant. A traditional home in Illinois costs about $155,000 to $416,250 depending on the project.
As you can see, a container home is a more budget-friendly option. This makes it more appealing to first-time home builders and young people.
How to Choose a Builder for a Shipping Container Home in Illinois
One of the most important things you will do when building a container home is choosing a builder. The builder you choose should have experience building container homes in the past. If possible, find one that specializes in them instead of in traditional construction. The skillset required for these homes is very different from a regular stick frame house.
Shipping Container Home Builders in Illinois
You should also look for a builder who has a good relationship with their previous clients.
Look for reviews online of any builder that you are considering hiring. Look for contractors who were able to deliver good results and a good experience to their customers.
Building a home is very personal, so it's important that you can get along with the builder you hire.
SI Container Builds, Inc. – They are a little different then the other companies and their message is a little different. They build single and double container dwellings for economical housing, tiny home communities and villages, campgrounds, and vacation rentals. They build container homes in a local warehouse within 8-12 weeks since their plans are standardized and certified to meet international building codes.
Custom Container Living – They create a unique container home that fits your lifestyle. You can choose from any of their "Certified Manufactured Homes" floor plans and then select the custom options you'd like.
RS2 Architects – They have built residential and commercial projects, and also build container homes. Reach out to them to discuss your project.
Shipped.com helps buyers learn what shipping container is suitable for them and help them. With over 60 depots and thousands of containers on hand, they offer great prices for shipping containers. They have online direct checkout and a digital cart to help you find what you are looking for!
Midwest Storage Containers
Voted the best place to work in 2022, Midwest Storage Containers is a great place to find your next storage container to suit your needs. Whether you are looking for a new or used one, they will help you find the one that is right for you.
ITS ConGlobal
ITS ConGlobal provides depot services sales, as well as transportation for shipping containers. They pride themselves on being reliable, accountable, and predictable. with over 30 years of experience, they are the real deal when it comes to shipping containers.
Western Container Sales and Rental
Western Container Sales is a division of Railbox Consulting and is employee-owned and operated. They are one of the largest buyers of used shipping containers throughout the United States. They offer containers to their customers at wholesome markup pricing and make the process of buying easy.
Designing a Floor Plan for a Shipping Container Home
Your floor plan is an incredibly important part of building a shipping container home in Illinois.
The floor plan will determine where all the rooms are located and how the containers fit together. If you want the best flow and feel for your home, a good floor plan can help. Your builder will use it to create the home of your dreams throughout construction.
To get your floor plan together, write down everything you want from your container home. Then, bring this list to a professional draftsman. They will be able to use your list to create a workable floor plan that is drawn to scale. This will be used throughout the construction and help create the interior of the home and how it is laid out.
Where to Find Insurance for Your Shipping Container Home in Illinois
You will need to get insurance for your shipping container home in Illinois.
Just like with a traditional home, your container home should be protected from disasters. However, it can be difficult to get the coverage you need. This is because container homes are very unique and some companies don't know how to value them.
To help with this, keep a running list of every expense as you are building your container home. Then, get it valued by a professional home appraiser who is familiar with unique homes. Use this and work with an insurance agent who can help you get the policy you need. It may take some time, but you will be glad you are covered in the event of an emergency.
Conclusion
Building a shipping container home in Illinois is a rewarding and challenging process. By understanding everything that goes into it, you can get the home you have been dreaming of. Taking the time to get to know the ins and outs will help you be ready when the time comes to build.
If you would like more helpful advice, be sure to check out the rest of ContainerHomeHub.com. There, you will find tips and tricks from the pros as well as more helpful guides like this one. Knowing as much as you can will help you be ready to build your custom dream home.