So, you've been scouting around for a home to purchase for the longest time. You've seen single-detached, one-story, 2-story, townhouses, and even grand estates. But nothing seems to fit your lifestyle.
If you're the type who wants things done according to your own rules, then you should seriously consider constructing rather than moving into a ready-made dwelling.
Why not a shipping container home? Now there's an idea!
Maybe you're already warming up to it, but still doubting if you can make it happen.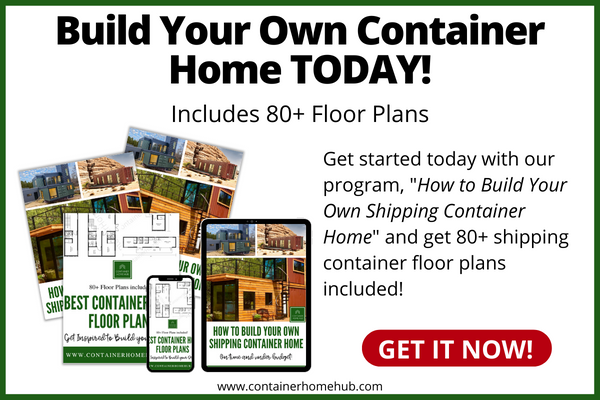 Worry not. Here at Container Home Hub, we've curated eight 2 bedroom shipping container home floor plans to demonstrate how an unassuming structure can be transformed into a cozy and livable 2-bedroom space.
1 Container, 2 Bedroom Shipping Container Home Floor Plans

Let's start with compact homes made within the walls of a shipping container.
This classic take on container homes is simple and straightforward. The original shape of the 40 x 8 container is retained, making the living area horizontally linear.
With a flexible living-dining-kitchen area in the middle, the small home enjoys a comfy open space upon entering from the patio.
The 2 bedrooms are situated on either end of the dwelling to ensure privacy. A standalone bathroom stands between the flexible open space and one bedroom.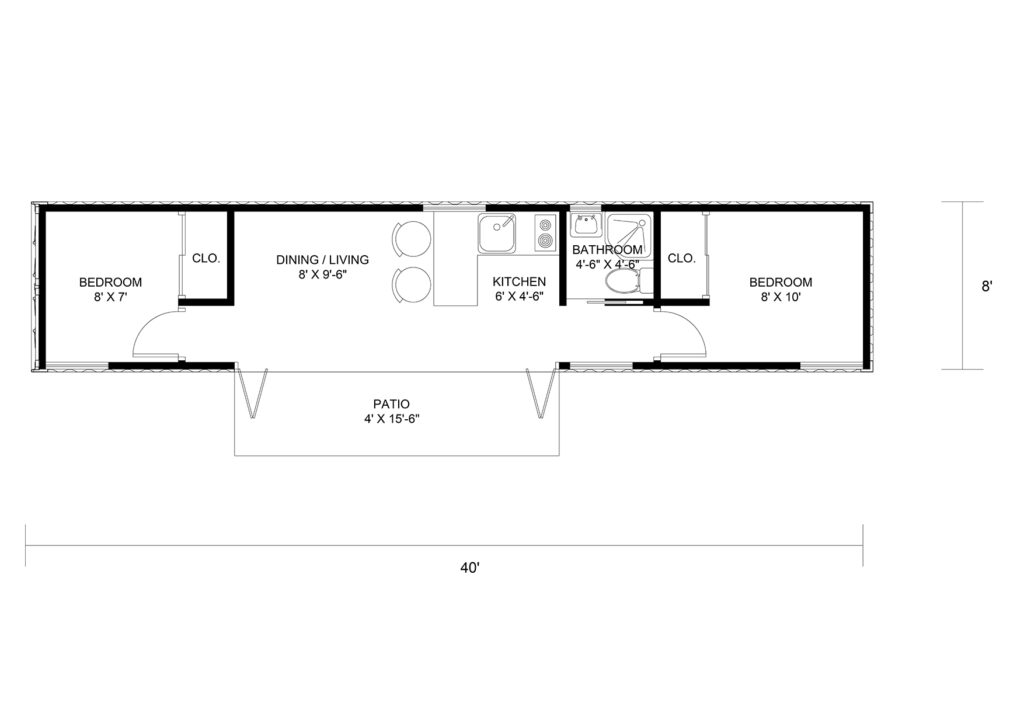 An iteration of the above design where the kitchen is placed to the left, this 40 x 8 floor plan sets it to the right with a kitchen island added. It is a subtle delineation of territories that doesn't hamper the comfort of open spaces. Also, the patio is wider, encompassing not just the living-dining area but also the kitchen.
Using a larger container than the ones above, this 40 x 16 container home offers enough space to define the living, dining and kitchen areas. Plus, extra footage for a home office and a utility room, both accessible from the common zones.It also comes with a patio. And if you prefer your 2 bedrooms beside each other, then this design is perfect for you.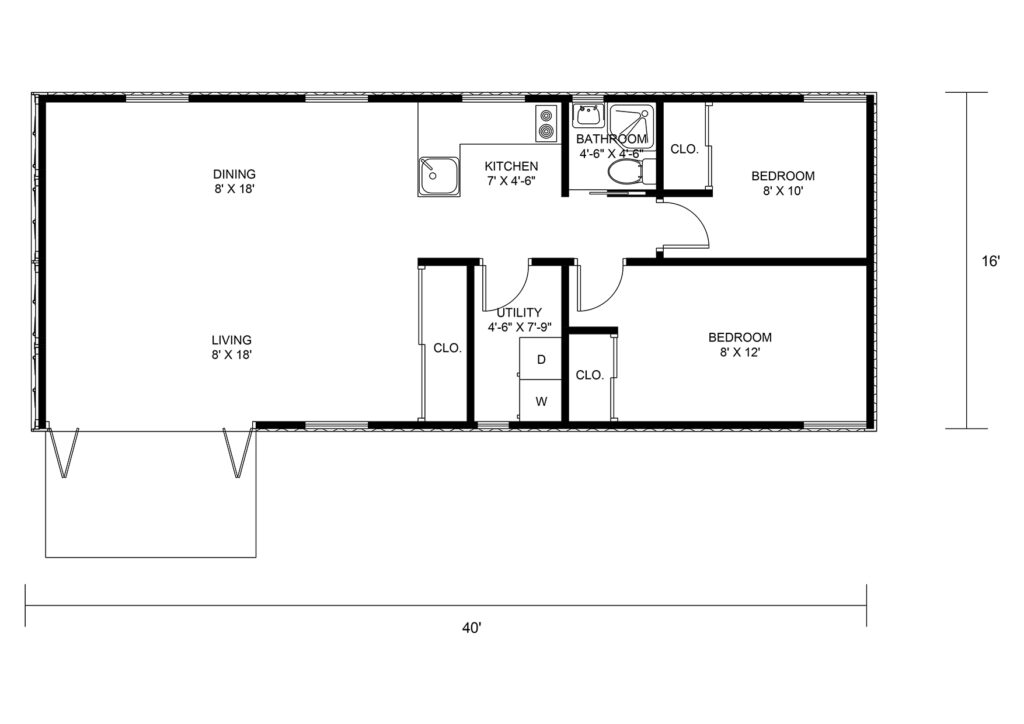 For a small family who loves having family or friends over, this is an ideal setup. The container is divided into three distinct sections which allow guests' ease of movement while keeping the sleeping quarters private.
On one end, the front door opens to one-third of the home that is devoted to the living and dining areas. On the other end, you will find the 2 bedrooms and 1 bathroom. The kitchen and utility room are cleverly inserted in the middle.
2-Bedroom, 2-Container Floor Plan with Master Suite

Aside from its inherently unique structure, a 2 bedroom shipping container home floor plans is also distinctly flexible. This is why creative homeowners love it. Below is an example of how you can break the norm and build a whimsically shaped container home.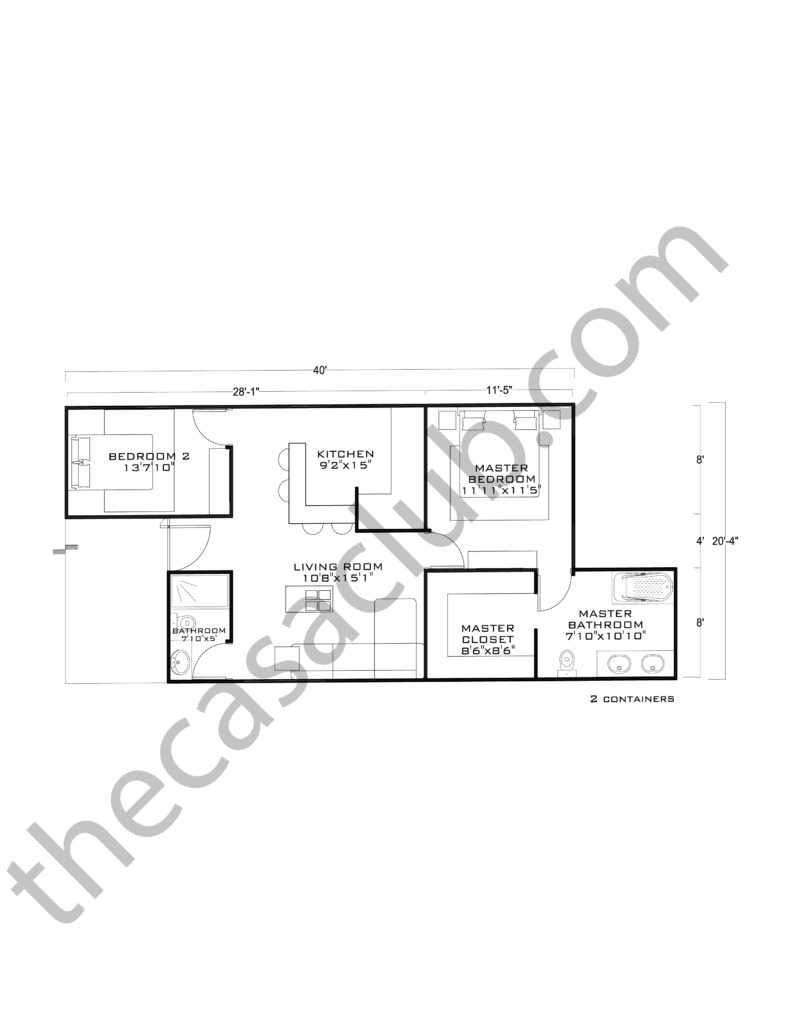 This 2 bedroom shipping container home floor plans uses 2 containers, each sized 40 x 8, standing side by side but not totally. Both ends jut out a bit, providing breathing space to the front and back of the house.
One wall of both containers is discarded – the middle part where they meet – to serve as a hallway. It makes the living room even more spacious.
And speaking of space, the kitchen is equipped with a large 4-seater island. With this feature, you can do away with a dining area.
Couples who have always dreamed of having a master suite in their home will fall in love with this design. It offers a master bedroom with its own master bath and master closet. Situated in the back with the extra space previously mentioned, it gives you the option to add a private deck.
The other bedroom and one standalone bathroom are placed near the front door. It's perfect for an occupant who maintains an irregular schedule, allowing them to come and go at odd hours without disturbing the other residents.
2-Bedroom, 3-Container Floor Plans with Master Suite

Want more space and added amenities to your home? Using 2 bedroom shipping container home floor plans makes it easy! Just haul in one or two extra ones and your wish is granted. The 2 floor plans from the shipping container home floor plans below illustrate just how you can make it possible.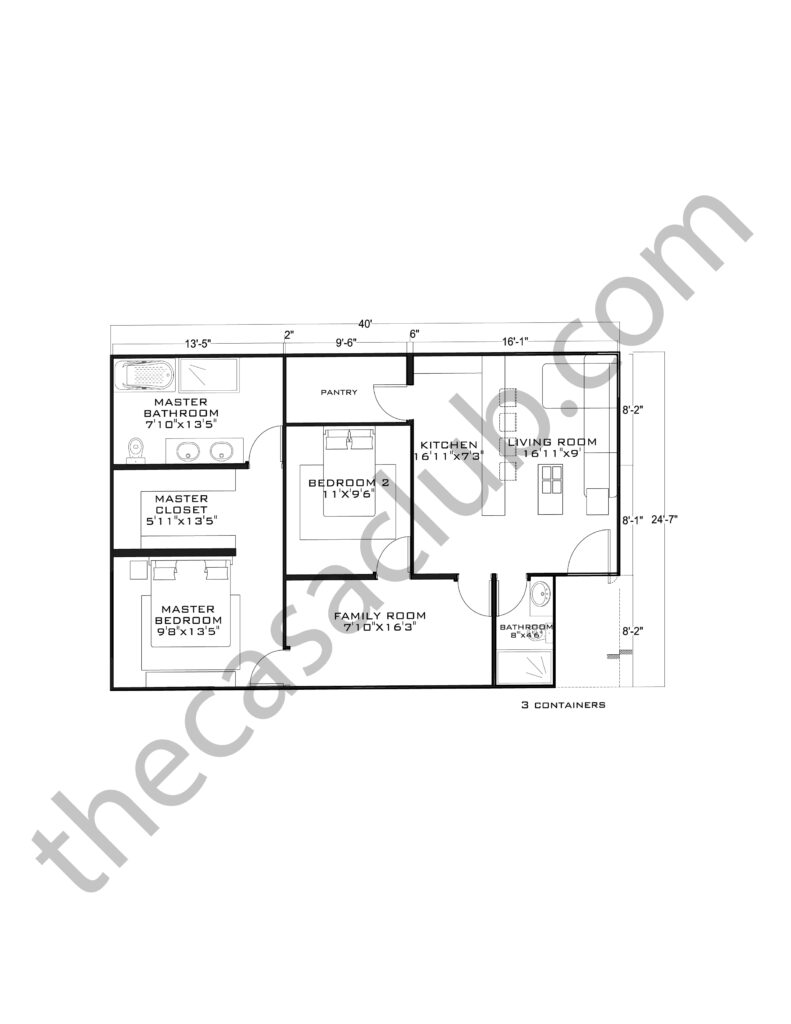 In this blueprint, the front door opens to a large open living room area. The kitchen is right beside it and comes with an island that can seat 4 people, eliminating the need for a separate dining room. As a bonus, a roomy pantry is added adjacent to it.
With 3 containers in the 2 bedroom shipping container home floor plans, not only is it possible to dedicate an entire wing to the master bedroom, master bath and master closet, but also have a second bedroom big enough for two.
What else do you get? A family room! Yes.
Another creatively shaped container home, this one is great for entertaining as well. Combined with a container's 9-foot standard height, the generous square footage allotted to the living room guarantees fun weekend gatherings and relaxed weekdays in between.
Built for the resident chef, the kitchen comes with a walk-in pantry and enough elbow room for a complete set of cooking and baking appliances. Plus, a 6-seater island for quiet, intimate dinner parties.
The master bedroom, master bath and master closet in the 2 bedroom shipping container home floor plans occupy a huge chunk of the property. If you're planning to construct your forever home where you can age in place, this is your best bet. A second bedroom beside it can be reserved for your child or assigned as a guest room.
2-Bedroom, 4-Container Floor Plan for 2 Levels

If you think a container home cannot be more than a bungalow, the floor plan below is about to change your mind. Remember, containers are super durable, so you don't have to worry about stability when stacking one over another. Check it out!
What happens when you set 2 containers on top of 2 others in a 2 bedroom shipping container home floor plans? Well, you get a 2-story abode with the upper level accessible through a flight of stairs.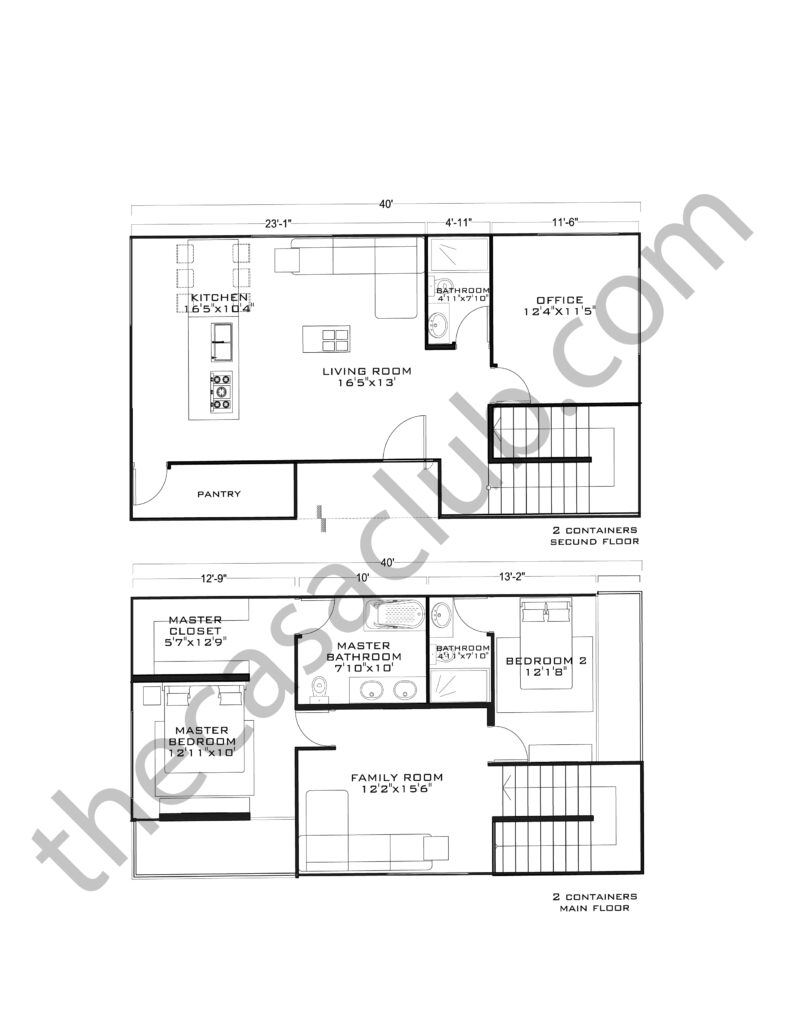 Also, just like any house, adding living quarters above the ground floor doubles your total floor area. That translates to roomier sections.
Compared to all the blueprints we featured above, this one offers a more expansive living-dining room, kitchen, pantry and bathroom on the first story.
And on the second story, the masters have their bedroom with its own bathroom and closet. Meanwhile, the second bedroom also enjoys its very own bathroom.
This dwelling boasts of a large home office on the ground floor and huge family room on the second level as well.
Truly a dream home!
Your Home, Your Rules
We hope that the 8 floor plans for 2-bedroom dwellings we featured above have inspired you to take the plunge.
Container homes are durable and flexible, giving you the freehand to apply your specific style to the design. They come with high ceilings, so you're assured of a well-ventilated living space as well.