Building a shipping container home is an incredibly rewarding experience. With all the options available to you and possibilities, you can create a perfect home. However, there are some things, such as shipping container home builders, that you will need to consider before you begin the process.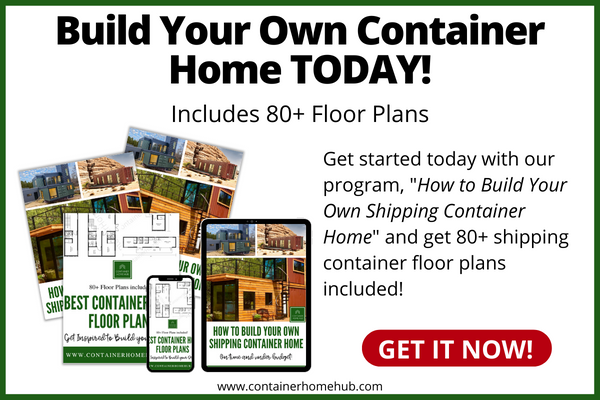 One of the most important things to figure out before you start building is who you are going to hire. The builder you hire is an essential consideration and can make or break your whole project. To help you get started, we have put together a list of the top 10 shipping container home builders.
Top 10 Shipping Container Home Builders
CargoHome
CargoHome offers a wide variety of services for building your container home or modular home. They are a Texas-based company and have years of experience in the industry. This kind of familiarity is essential when choosing shipping container home builders.
One of the best things that CargoHome offers is their Price Your Own CargoHome feature on their website. This worksheet will help you get a quote for your particular project so you can start planning ahead. You can even rent one of their homes through Airbnb so you can get a feel for what it is like.
California Tiny House, Inc
California Tiny House, Inc has been around since 2014 and consists of an incredibly experienced team. In that time, they have solidified their position in the ranks of shipping container home builders. Having this kind of experience on your side will make building your home incredibly easy.
California Tiny House, Inc has been involved as one of the premier shipping container home builders in the country. They have also been involved politically as they have worked on campaigns for California housing bills. This kind of experience with housing laws is a great feature of any container home builder.
Backcountry Containers
Not only have Backcountry Containers been building container homes for years, but they have also been on television. They were featured on the show Tiny House Big Living, and their work ethic has brought them to the forefront of the industry. Since then, their small business has become one of the country's biggest shipping container home builders.
They offer all kinds of designs for your particular container home. They can create a home with either stacked or adjoining containers and help you develop the best layout. Their homes start at $40,000, which makes them one of the most affordable shipping container home builders.
Alternative Living Spaces
Alternative Living Spaces is one of the top shipping container home builders in Nevada. Their industrial-style design makes them a great choice for people looking for a modern aesthetic. They offer choices of a 20′ studio, 40′ one-bedroom, or a completely custom home.
One thing that sets them apart from other shipping container home builders is their mobile options. Their two main models can be hooked up with a trailer tongue so you can move them around. This makes them a great option if you want to move your home around from place to place.
SteelBlox
With over 30 years of experience in general construction, SteelBlox is bringing tradition to container homes. Unlike many shipping container home builders, they have been around longer than these homes have been popular. This gives them a distinct advantage when it comes to their knowledge and adaptability.
Custom Container Living
Custom Container Living is a great option if you are looking for a home that doesn't look like a shipping container. They offer custom cottages or modern exteriors for container homes that look just like traditional homes. This sets them apart from other shipping container home builders.
Custom Container Living also offers custom features and furnishings for your container home. If you are looking for a custom fireplace or other fixture, they are the right choice for you. They even offer custom furniture building services.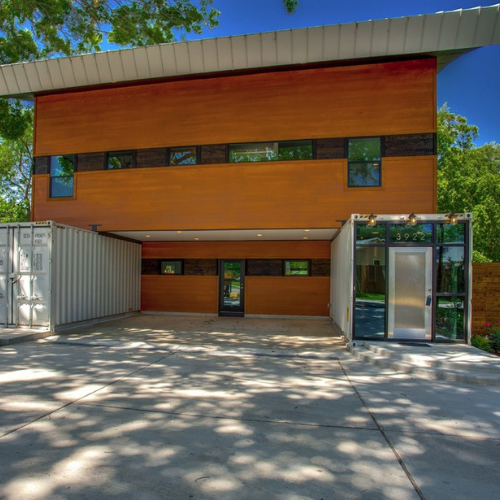 Relevant Buildings
One of the issues with finding shipping container home builders is code compliance. Relevant Buildings specializes in Uniform Building Code-compliant container homes. This means you don't have to worry about fines or issues once the home is built.
Their homes also come with a guarantee of a high Energy Trust EPS rating. Because of this, you can feel confident that your home will not only be code-compliant but also efficient. This can check off a lot of worries that come with building an alternative home.
TAYNR
TAYNR is one of the cheapest and fastest shipping container home builders in the country. Their process is simple and easy to get through and makes the whole build a pleasure. If you are interested in getting your home built quickly and efficiently, they are a great choice.
They also offer a lot of flexibility with their designs and have a focus on sustainability. This kind of attention to the ecosystem is incredibly important and very rare in the construction industry. If you want to have the lowest impact on the environment, TAYNR could be the right choice for you.
Flophouze
If you are looking to capitalize on the vacation home rental industry, Flophouze is here for you. They are a shipping container home builder that specializes in building amazing rental homes. They provide upcycled rental homes that are perfect for the budding vacation home trend.
Flophouze offers custom interiors and amazing furnishings for your rental home. They can provide almost any kind of home and design and tailor them to your needs. Their homes have a striking, bold look that is perfect for this kind of application.
Honomobo
For those who love the minimalist, contemporary look, Honomobo is a perfect choice. They specialize in the sleek, modern aesthetic and can help you come up with a beautiful design. Their specialty is a connection between the interior and exterior so you can enjoy your yard and landscape. If you want your home to be an extension of the outdoors, they are one of the best shipping container home builders.
Conclusion
If you would like to learn more about container homes, be sure to check out the rest of ContainerHomeHub.com. There, you will find all kinds of helpful guides for your own project. You will also find featured homes to help get you inspired and build your custom dream home.