Greetings from the tiny container world! 🙂
As the tiny house movement continues to gain popularity, so does the number of tiny homes for sale. You know that we at Container Home Hub do our very best to research each home in its entirety before we share it with you. We share the good, the bad, and definitely the ugly! And even sometimes we find shipping container homes with just 2 or 3 photos and not a lot of information attached to them other than "Hi! We are for sale!" So we thought it would be nice to just bunch them together into one post. 5 tiny shipping container homes for currently for sale! Enjoy 🙂
Price: $49,000
Size (sq. ft.): 320
Bedrooms: 1
Location: Nashville, Tn
Bathrooms: 1
Beautiful 320 sq.ft. container home with 1 full bedroom that fits a queen bed and a full bathroom! This place is awesome and has a full kitchen, two sets of french doors and 2 great decks. Fully and completely insulated. Please call 615-692-2733 with any questions.
Price: $38,500
Size (sq. ft.): 165
Bedrooms: 1
Location: Henderson, NV
Selling a 20′ Shipping Container Tiny Home. This unit is full of all the extras. It has white ship lap interior, granite counter tops, corrugated steel shower, custom pallet wood vanity, collapsible bar top, mini split AC unit, queen murphy bed and more.
3. Lombard, IL
Price: $20,000
Size (sq. ft.): 160
Bedrooms: loft style
Location: Lombard, IL. 60148
This is a 20ft container/tiny home. It is 160 sq. Ft. It has a full size bathroom, kitchen with dual burner tops, full size microwave and barn door. If you need bigger we can customize to your size, budget and liking.
Price: $12,500
Size (sq. ft.): 140
Bedrooms: 1
Location: Englewood, Co
20′ Shipping container – Tiny home / Studio / Work Space
Completely finished inside with closed cell foam on walls and ceiling
2×4 framing with 3 windows and one entry door
6,000 BTU AC unit and 1000 watt baseboard heater
50 Amp electrical box with 25'50 amp twist lock cord – Outlets and interior lighting.
Built out 2 years ago and used as office space. Could go so many directions with this shell.
Price: $175,000
Size (sq. ft.): 225
Bedrooms: 1
Location: Marble Falls, TX
Bathrooms: 1
We designed and built the dream home on wheels that can take you almost anywhere. It is designed with a very modern yet rustic aesthetic and has traveled from Wasilla, AK to Austin, TX, so it is truly road tested and approved! Please contact us with any questions. This home is built to last and will not be something you have to retire to the graveyard in 10 years after touring it across country. It is being offered for $175,000 non-negotiable price, which is much less than was put into building this container home on wheels that is also set-up for off-grid or 30amp service. Anywhere you travel, you will be the center of the party, living in style!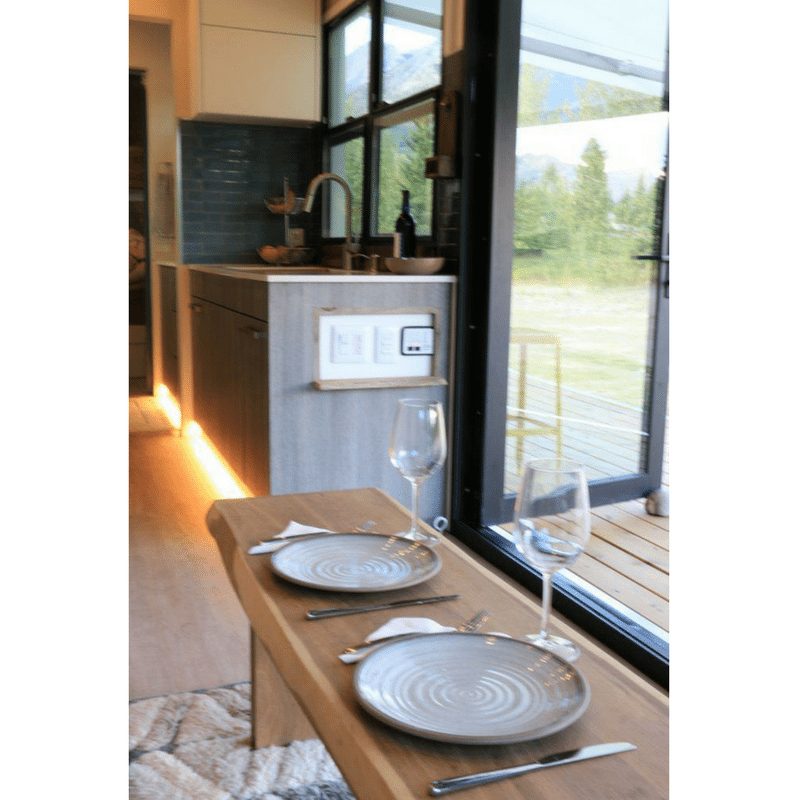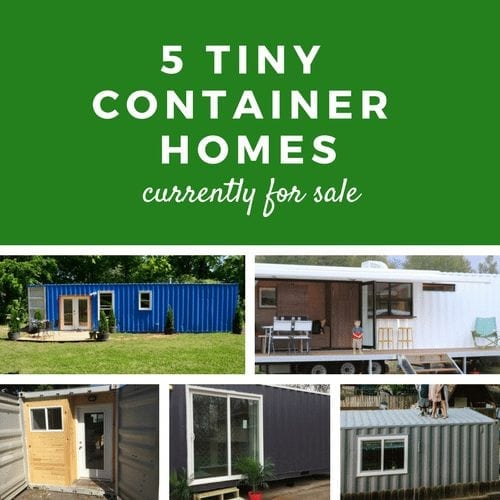 So what do you think? Which one is your favorite? 🙂
Information Source: Tiny House Listings
Photo Source: Tiny House Listings
» Follow Container Home Hub on Facebook for regular shipping container home updates here «