While there is no one-size-fits-all solution for securing your home, it always starts with having a top-quality lock. The same applies to shipping containers, whether they belong to your home or business. Security ensures the safety of your property.
The number of burglaries that occur each year averages around 2.5 million in the United States alone. Although shipping containers are designed to be safe and prevent break-ins, there is no doubt that the importance of having a lock for your property has never been clearer than it is today.
If you are on the fence about building a container home, you can rest assured that they are equally safe, if not even safer, than a traditional house due to their intended function as a secure storage space.
Throughout this article, we will discuss the importance of additional security, the best locks for your shipping container, and tips to consider when finding them.
Importance of Securing Your Shipping Container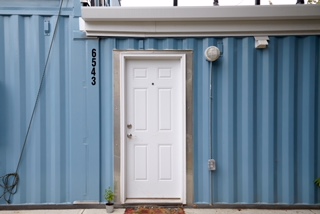 Shipping containers are most secure when they are unaltered. Adding additional windows, doors, and entryways makes them less structurally sound and provide additional entryways for intruders. Because of this, reinforcing your container is just as important as securing it.
Shipping container homes are becoming an increasingly popular option for people looking for a low-cost, sustainable home. Don't forget that just because a home is made out of shipping containers doesn't mean it's automatically vulnerable to crime.
As a valuable investment, your shipping container home needs to be secured. The security measures you choose, such as locks, CCTV, and smart alarms, will depend on how much you are willing to spend and the value of the items kept in your container. With layers of security in place for your shipping container, you can rest assured that your property is safe from thieves and vandals.
If you've converted your container into a home, it is all the more important to provide additional security to not only protect your valuables but also to ensure the safety of your family.
Best Locks For Shipping Containers
Take some time to learn about the different types of locks you can use before you make your decision. Here are the best locks for shipping containers:
Padlocks
As the most fundamental lock used for containers, the shipping container padlock is designed specifically for use on containers. Unlike regular padlocks, these have a unique locking mechanism that makes them difficult to break into, and they are crafted from durable metal to withstand exposure to the elements.
With a U-shaped design, shipping container padlocks are protected within the container's lockbox, making it a secure locking mechanism that cannot be tampered with. As they are available in various sizes, these are suitable for almost every owner of a shipping container.
Hidden Shackle Padlocks
As the name implies, hidden shackle padlocks are a type of padlock that has a hidden shackle. This means that the shackle, or the part of the lock that is used to attach it to something, is tucked inside the body of the lock. This makes them harder to break into, since they are impervious to common tools like lock picks and bolt cutters.
Be aware that mounting the matching hasps for the hidden shackle lock will require some welding work on your shipping container. For mounting this lock on containers, be sure to purchase matching hasps at the same time.
Truck Seals
While more commonly used when transporting goods, truck seals can also serve as effective and cost-friendly fixtures for securing standing shipping containers. A truck seal is a device used to secure the doors of shipping containers by placing it in the door handle and locking it in place. This prevents anyone from opening the door without first breaking the seal.
For added security, truck seals are also available in other models made with thicker metal bolts. Bolt seals consist of two parts: the bolt and the lock. Bolts are typically made of steel or iron, and when inserted into the locking mechanism, they snap into place and ensure that the door is locked.
Roll-Up Door Lockboxes
Roll-up doors are available on some shipping containers, and these doors can be fitted with locks specifically designed for them. You can secure it using a padlock, but if you want better security, you should use roll-up door lockboxes.
There are many types of locks, as they come in a wide range of designs and mechanisms. There are some roll-up door lockboxes that automatically lock when closed, but if you prefer a more traditional lock, such as a hasp, then you may want to consider a manual option.
Crossbar Locks
The crossbar lock is a tried-and-true locking mechanism used on many shipping containers for their maximum security by preventing the use of bolt cutters and lock picks. Crossbar locks are considered more secure than other types of locks, such as padlocks, and are difficult to tamper with.
Crossbar locks are basically heavy steel clamps that are attached to the doors' locking mechanisms. This mechanism prevents the lock from being opened without the proper key. As these locks can easily be installed onto the locking mechanism on the container door, they are relatively easy to install.
Quick Tips on Finding The Right Shipping Container Locks
There are many types of locks available for shipping containers, so here are some additional tips to keep in mind:
It is never a mistake to invest too much in security, as the more valuable your container is, the more protection you will need to ensure its safety.
Particularly if you intend to install a lockbox, it is crucial to know the dimensions of the lock and hasps on your container.
A combination of locks will provide added protection and make it more difficult for thieves to gain access to your container.
You should also consider other security measures to protect your container, such as CCTV cameras, alarm systems, and motion sensors.
Wrapping Up
Locks can make your shipping container safe for you, your family, and your belongings. You can take a variety of security measures to ensure the safety of your property, but getting top-quality locks is a good place to start.
If you are considering building a container home, it is also wise to check to see if your state permits the construction of container homes.