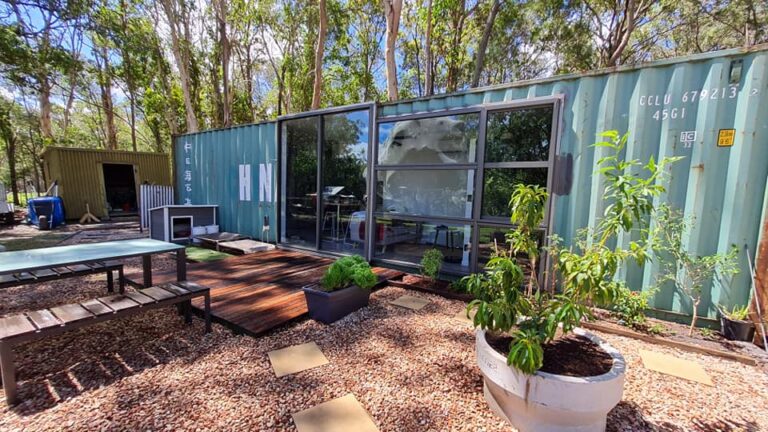 With more and more people looking for alternative housing options that are both sustainable and affordable, the popularity of container homes is on the rise. There are many spacious and attractive floor plans out there, including single-story and two-story designs that can be modified to fit your specific needs. But have you considered a shipping container home with basement? In this article, we will cover the benefits of installing a basement beneath a container home, as well as the best way to go about it while avoiding common pitfalls.
Can you put a basement under a shipping container?
Yes, just like with a traditional house, you can install a basement under a shipping container home. The only difference will be the size, depending on the dimensions of the container, and the structural beams you'll need to add to the basement's roof to support its weight.
However, you will need to get permission from the relevant authorities in your area before starting work on your shipping container home with a basement. This is because, while legal, you need to ensure that your building meets zoning regulations and that it won't interfere with any underground utility systems. You'll also need to consider ventilation and how best to connect an electric supply and, potentially plumbing.
Advantages of a shipping container with basement
Gain extra storage and add value
Typically, shipping containers are 8ft wide by either 20ft or 40ft long. The larger of those two sizes offers around 320 square feet of open plan living space. But, when you add in storage, this will be significantly reduced. Having a basement under your container home can double your floor space and provide the perfect place to store items that you don't use on a daily basis and those that you want to keep safely out of sight. Increasing the square footage of your container home also comes with the added benefit of boosting its resale value.
Expand a property on a restricted plot
If you want to increase your living space, upgrading to a shipping container home with basement is a great alternative to expanding outwards. This is ideal if you have only a small plot to work with, your neighbors are close by or you'd like to keep your property's exterior as it is rather than creating a two-story home. You'll have to add insulation and alter the basement depth so that the top section is above ground level to accommodate escape windows. As well as letting in light and ventilation these are a legal safety requirements.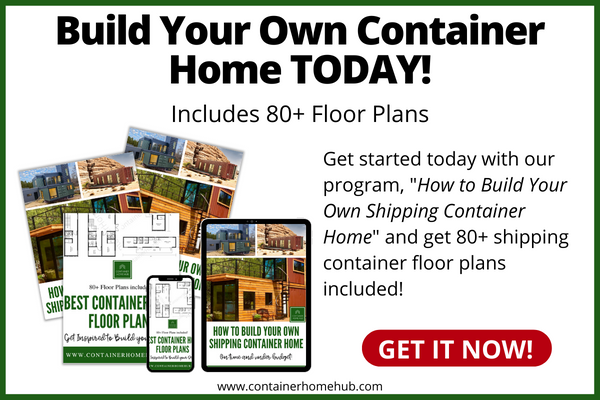 Protect your home against extreme weather conditions
While reinforcing the walls of your container home goes a long way to improving its weather resistance, securing it to a strong foundation is even more important. Shipping container foundations vary from piers to beams to concrete slabs. However, the latter two don't offer much protection against uplift in a hurricane or tornado-strength winds. Above-ground slabs are also prone to frost heave in cold weather, so a deeper concrete footing is needed. These reliable foundations tend to be around 4ft below ground level. Still, by digging just 5ft deeper, you could excavate a whole new story and create a shipping container home with a basement!
Can you bury a shipping container as a basement?
The answer to this is a bit trickier. While technically, you can bury a shipping container and use it as a basement, it generally isn't recommended. This is because containers have a monocoque structure, so whilst strong at the edges and corners where the framework lies, their 2mm thick steel walls aren't designed to withstand any weight.
As a result, you'd need to make considerable modifications with the help of an engineer before burying one; otherwise, the roof and sides would quickly cave in from the pressure of the surrounding soil. Containers also need to be coated in layers of waterproofing to prevent rust that would weaken the structure and to stop moisture from seeping into your basement.
To sum up, while it is possible to bury a container, there is a better way to create a shipping container home with a basement. You'll also need to install a concrete or stone foundation beneath it to keep it level and prevent sinking. Let's take a look at the different options…
How to build a basement for a container home
Reinforce a shipping container
If you've already bought a container, then you can reinforce it by welding a steel bracing system to the roof and walls that expand into the soil on each side. Once in place, you can then add a layer of concrete for additional support and install your container home on top.
You can see a DIY example of how the process works here. Remember that it can still cost upwards of $10k to do this, given the heavy machinery and structural work required. On top of that is the price of buying the container, customizing it, and seeking expert advice.
Gabion baskets (steel cages filled with rocks) are a slightly cheaper way to shore up the container walls by creating a barrier between the steel and the soil. Some also suggest installing the container upside down, as the floor is thicker than the roof and able to bear more weight. However, you'll still need to brace the sides and leave space to add ventilation.
Construct a concrete basement (the best method)
If you're looking for the best way to build a shipping container home with basement, then a classic concrete basement is the way to go. While this may sound obvious, this option is often overlooked as a solution for traditional properties only. However, concrete basements can be built to size and provide a robust and practical foundation for container homes. Piers can then be installed in the corners to attach the container to for maximum stability. Though a slightly more expensive approach at the outset, this is the safest way to install a basement beneath a shipping container home – and definitely the best option in terms of longevity.
Want to learn more? Discover a range of container home guides on our blog, or browse floor plans for inspiration.