Greetings from Georgia! 🙂
This "Container Cabin" is an 8′ x 20′ container that has been upscaled into a tiny shipping container home. It has a double bed, bathroom with shower, small sitting area and hotel-style kitchenette with coffee pot, microwave and mini-fridge. The cabin feels bigger than it actually is because two sets of sliding glass doors allow natural light to flood the space. The attached deck equals the size of the living space. Relax on the deck and watch the sun as it rises over the Appalachian Mountains.
I know what you are thinking… yes NOW is the perfect time to enjoy the North Georgia mountains: day hiking, backpacking, trail running, road riding, mountain biking… these shipping container cabins have it all! Whether a weekend, section or thru-hiker, they are able to accommodate the individual hiker, runner or cyclist, as well as groups.
Hiker Hostel was founded by Josh & Leigh Saint and officially opened its doors in 2004. After hiking the Appalachian Trail in 2000 the Saints realized that there was a lot more to starting the AT then most people would think. And since they lived a short distance from the start of the AT, they decided to create Hiker Hostel.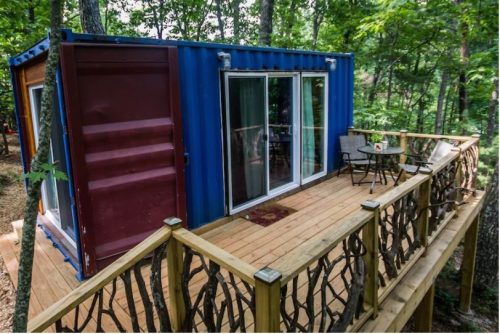 13 years later and Hiker Hostel is going strong and part of the Barefoot Luxury™ collection. Countless Appalachian Trail Thru Hikers visit Hiker Hostel each Spring to begin their journey North. And beyond Thru Hikers, anyone is welcome to come and stay. Section Hikers, Tourists, Cyclists, Mountain Bikers. If you're looking to spend some time with people who understand the outdoor enthusiast's mentality, then you'll be in good company.
So what do you think? Would you stay here for $89/night? 🙂
Information Source: Airbnb, Hiker Hostel
Photo Source: Tiny House Swoon
» Follow Container Home Hub on Facebook for regular shipping container home updates here «