Greetings from Oklahoma! 🙂
If you follow shipping container homes on Instagram, you are definitely familiar with ModernBlox already. ModernBlox's goal is to change the way you live and do business. Their secret lies in metal shipping containers. The co-founders Lee Easton, Swapneel Deshpande, Ben Loh, and Chad McGruder convert metal shipping containers into homes and business units that can be delivered anywhere around the world.
ModernBlox was launched after one of the co-founders entered a business plan into a contest. It won, but it wasn't until years later that the business idea was revisited. On the ModernBlox website, the founders take pride in being men who love to build things. Add to that a cofounder with a background in real estate and property, and the business plan materialized into a business venture.
The group is making converted shipping containers that are mobile and can be ordered over the Internet in a standard size. The containers adhere to building codes and housing standards and have basic amenities such as electricity and heat. The co-founders invited architects, professors and Gov. Mary Fallin to examine their prototype.
"As soon as you step into the container, you don't feel like you're in a metal box," Easton said.
The founders focus on a modern architectural style since the containers are metal and have sharp edges. They believe a modern look enhances their natural atmosphere. The goal is to repurpose the containers by sticking to their natural shape.
"On the inside, from the bathroom to the sink to the windowsill to the lighting fixtures," Easton said, "they're all a very straight-edged and straight-lined design so it fits the interpretation of the modern art."
High-quality material is used inside the units that are purchased at a standard size of 45-by-8.5-by-9 feet.
"You're looking at 360 square feet when it's all said and done," Easton said.
Right now, the men are working with individual units. They're also experimenting with constructing additional pieces that can be attached to each other to expand the containers horizontally and vertically.
"You can take a single floor plan, and let's say you want to expand on it or add another container to that," Easton said. "We'll ship the containers together so you'll have more square footage and more floor space by joining these containers together."
The original intent for the containers was to follow the trend of building small living spaces. While the first prototypes comply with that consumer demand, ModernBlox's long-term goals will change. Those changes include selling containers to American Red Cross to house victims of natural disasters or to NASA for space exploration efforts.
"A lot of influence was never centered around the idea of a tiny home," Easton said. "It's more centered around the idea that you could ship houses that were rugged enough, strong enough, durable enough that you can ship it anywhere in the world."
The containers are built to weather strong winds and turbulent weather, such as tornadoes.
"Our target market is essentially anyone who needs a house, but we're starting to see developers that order products in high quantities that need to extend houses, apartments or small communities," Easton said.
He is working toward economies of scale, where he is able to build more units at half the cost. That will enable organizations that need large orders of living spaces to buy more for less.
Going off their website, their current container structures for sale on their site are: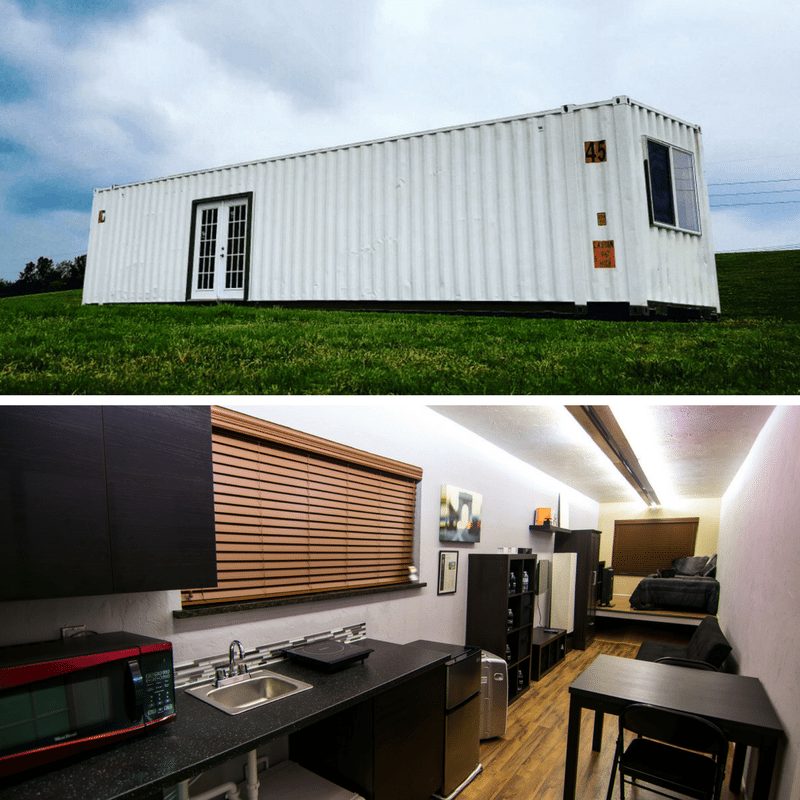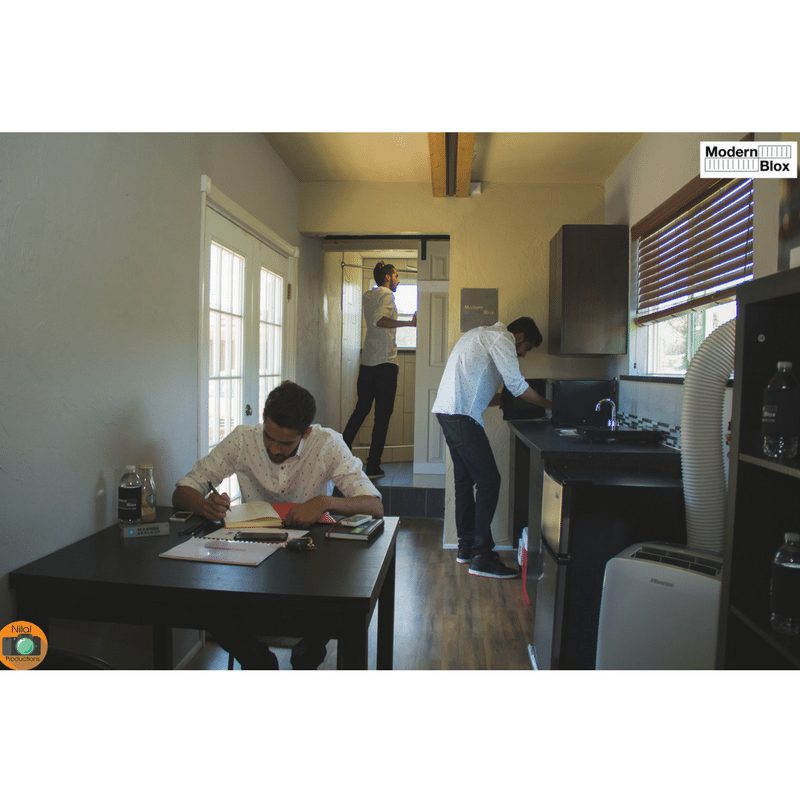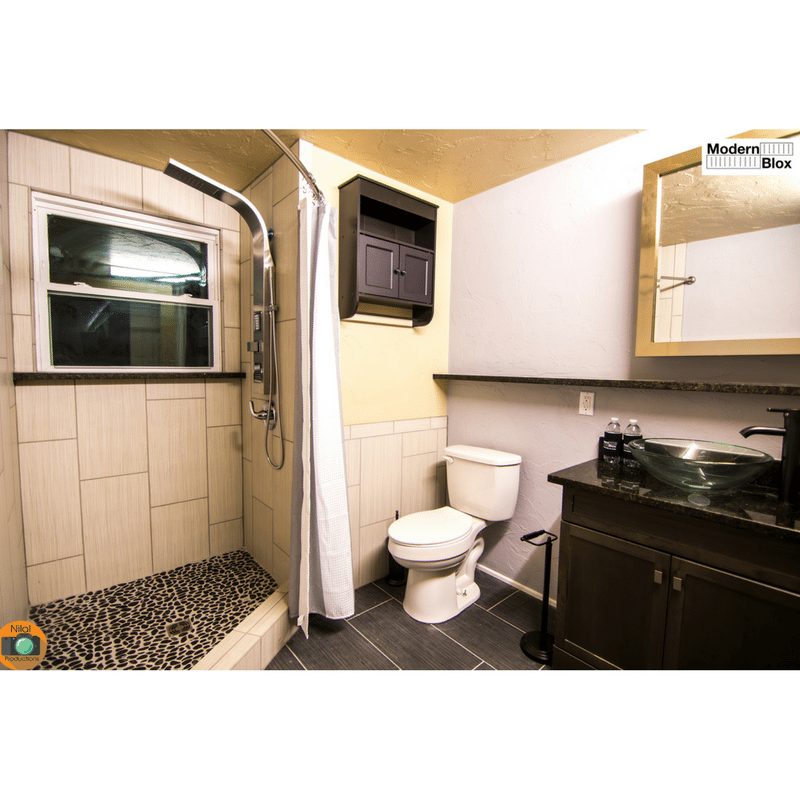 The 1Blox has been our baby from the beginning of 2015. We have put our blood, sweat, and tears into building out a demo unit to show YOU how amazing and affordable our designs really are. The 1Blox is designed around the college student. It is a small but affordable living space that provides a minimalistic approach to life. You get the luxury of high end design and architecture with nothing more than what you need to stay up late studying (or playing video games). Standing at 360 sq ft, 1Blox is packed with features that are associated with modern living, including:
LIVING ROOM
KITCHENETTE
BATHROOM
SHOWER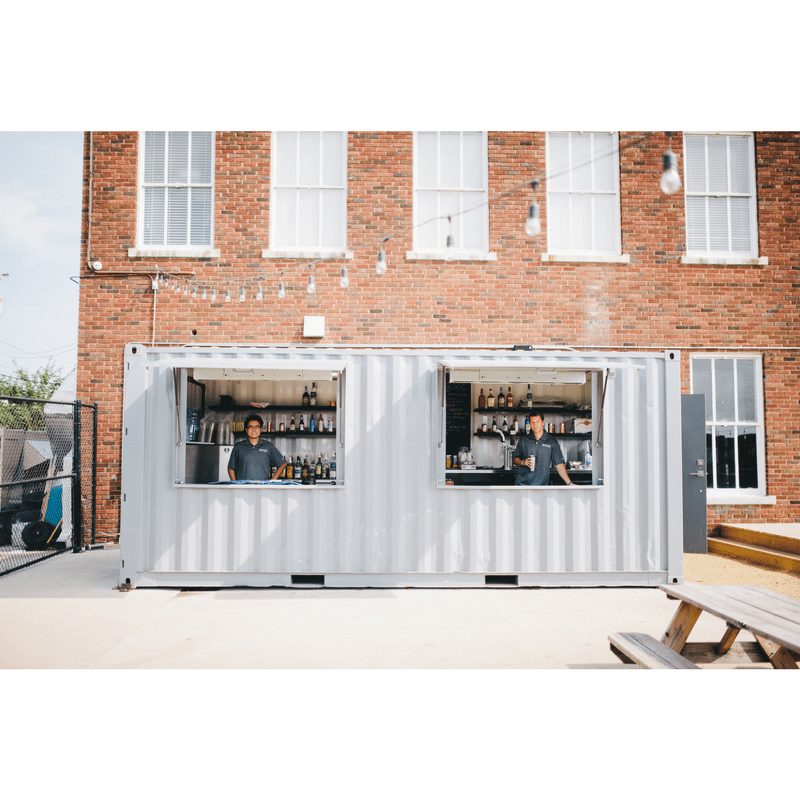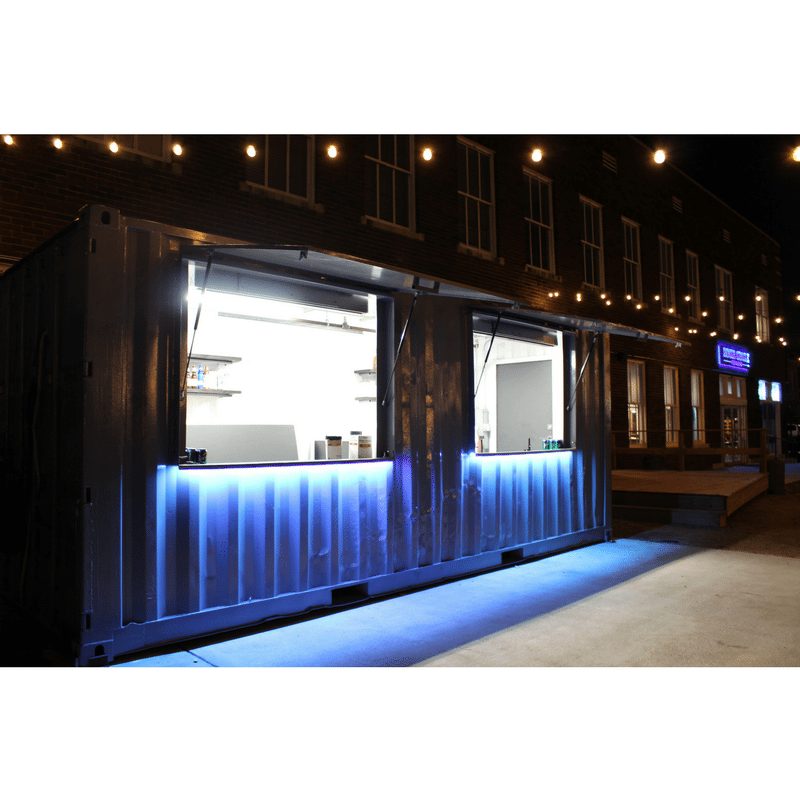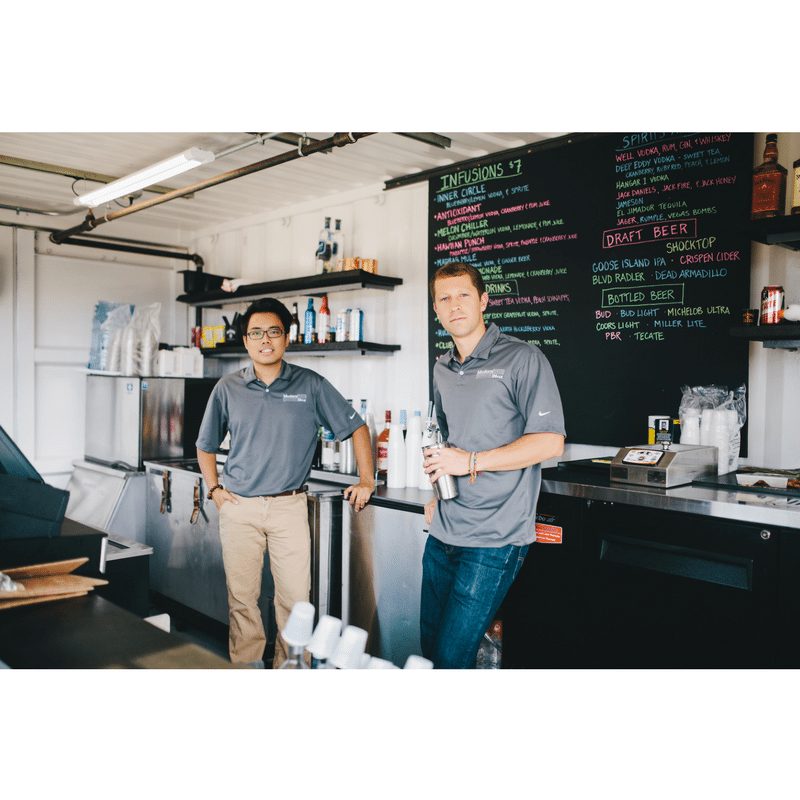 The BarBlox has been a joint project between the Inner Circle Vodka Bar, W-Design, and ModernBox. This is the next installment to Inner Circle's outside patio space. Now you can take a quick break from your life size Jenga to refill your drink without running inside! To showcase our skills we took extra time on this project to add all the little details that make it come to life the second the windows open up. The BarBlox is a great use of a 20ft x 9ft shipping container. It can be delivered anywhere with all the plumbing and electric ready to get your drink service station up and running. The design can easily be tweaked and modified to serve food in your city's up and coming food truck park! Standing at 160 sq ft, BarBlox is packed with all the features you need to help you run a successful business, including:
4 KEGS
COUNTERTOP
HYDRAULIC WINDOWS
AMBIENT NIGHT LIGHTING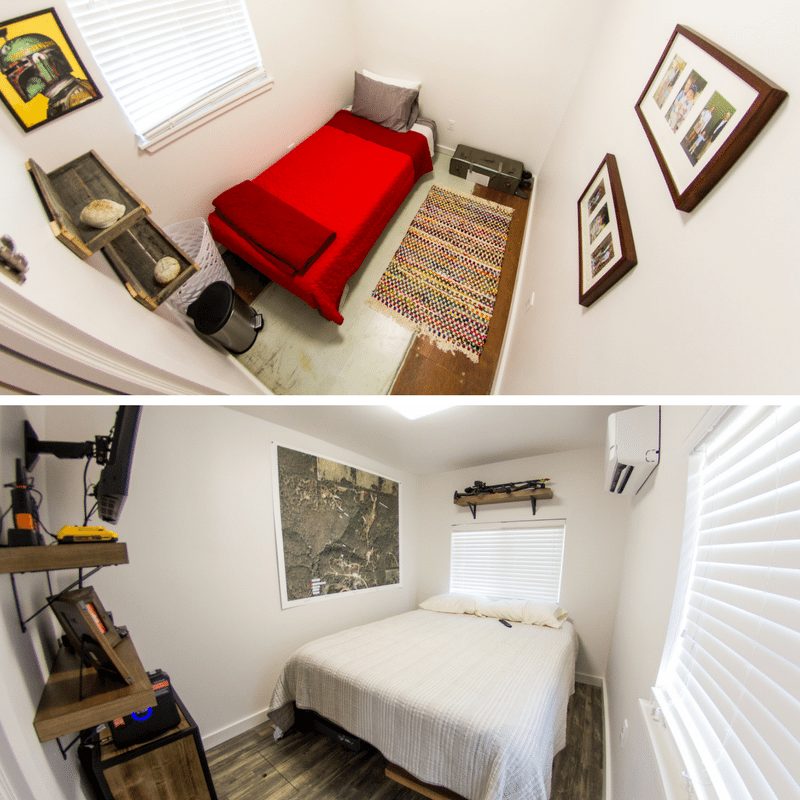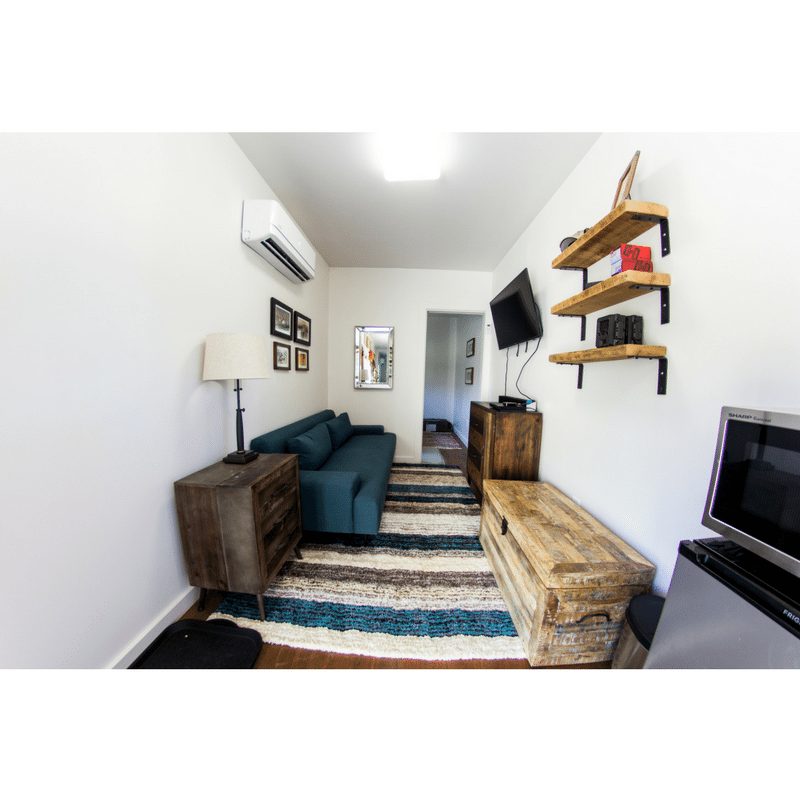 The HuntingBlox was designed for the every-day-family getaway home. It was designed to ship anywhere while keeping the look and feel of a shipping container on the exterior so that you feel safe locking up your home when you head back to work for the week. The HuntingBlox is a great use of a 45ft long x 8ft wide shipping container. It can be delivered anywhere with all the plumbing and electric ready to get your weekend getaway up and running. The design can easily be tweaked and modified to meet your large, small or medium family needs! Standing at 360 sq ft, HuntingBlox is packed with all the features you need to help you run a successful business, including:
OUTDOOR ACCESSIBLE STORAGE
KITCHEN
LOCKABLE WINDOW/DOOR COVERS
INTERIOR LED LIGHTING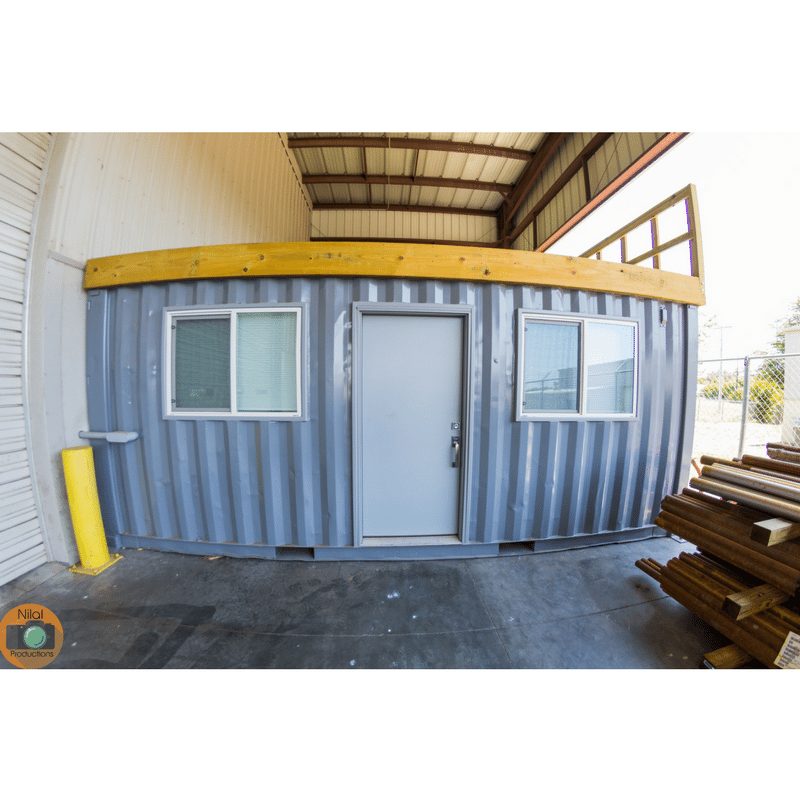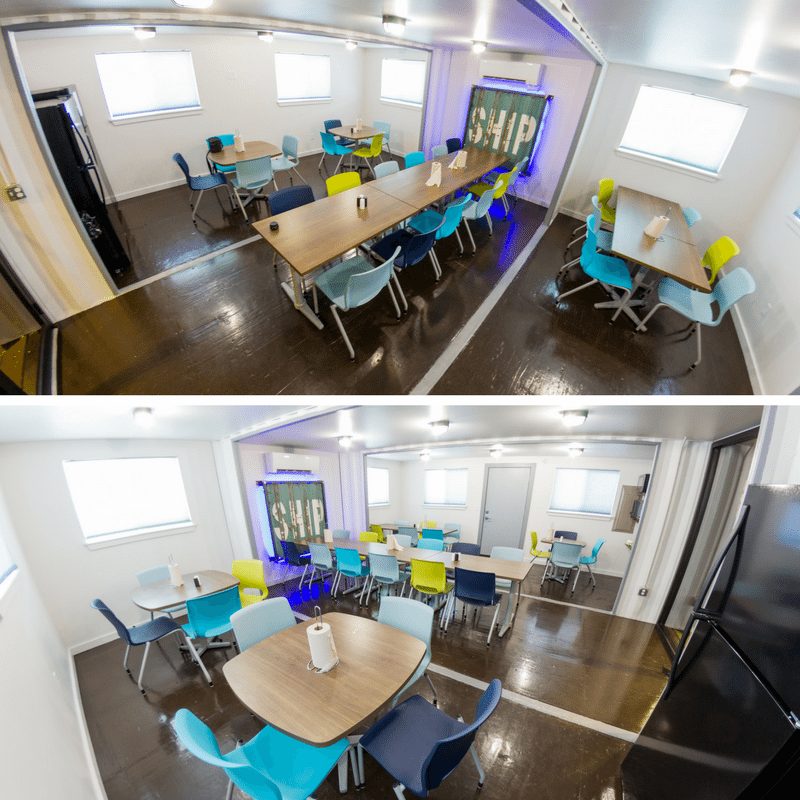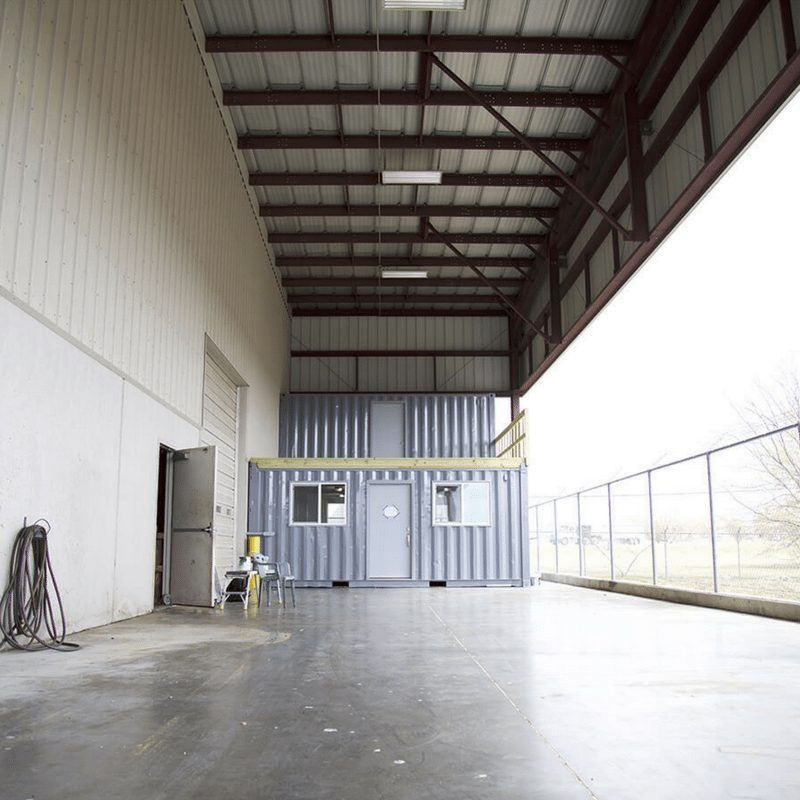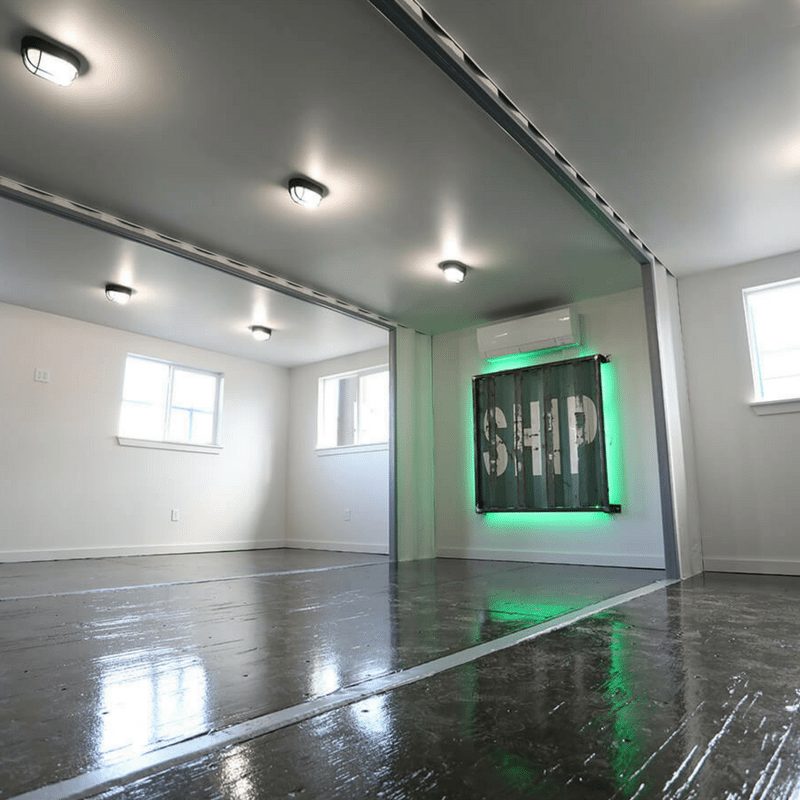 The Centerless Blox takes after the name of our client: Tulsa Centerless Bar Processing. In the design of the break room, we took three 20′ containers side-by-side and cut out the CENTER to make our own Centerless Blox break room. It is equipped with top of the line custom stained shelving and art decor to make it a comfortable resting spot for the employees in the factory. The CenterlessBlox will not be our last stop for custom jobs. If you have an idea in mind or need an addition to your company's work space, give us a call and we will help your modular dream come to life! Standing at 960 total sq ft, CenterlessBlox is packed with all the features you need to help you run a successful business, including:
UPSTAIRS DECK FOR STORAGE
TWO REFRIGERATORS
CUSTOM WALL HUNG ARTWORK
INTERIOR LED LIGHTING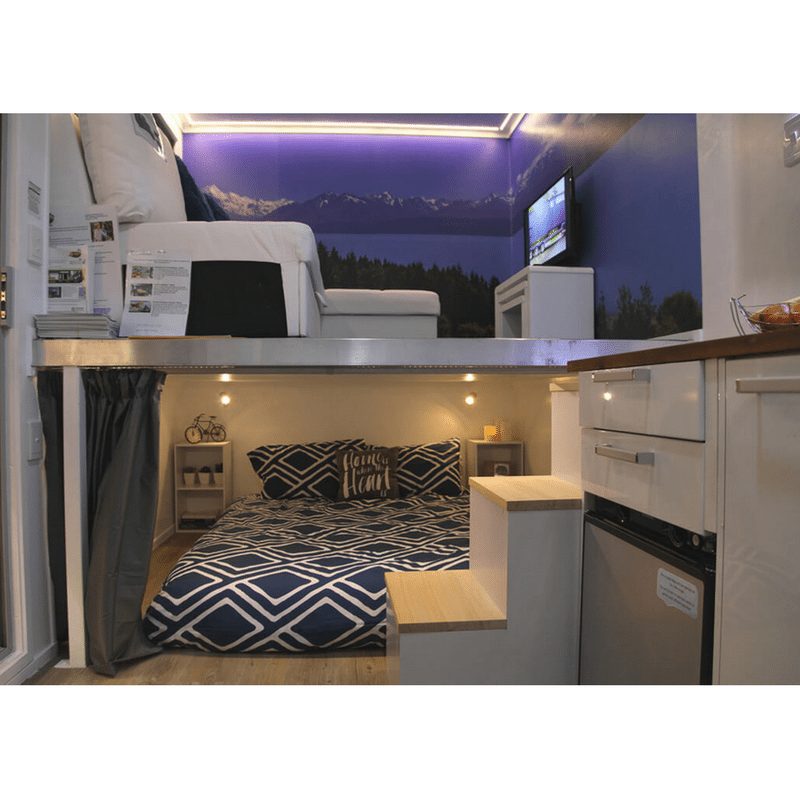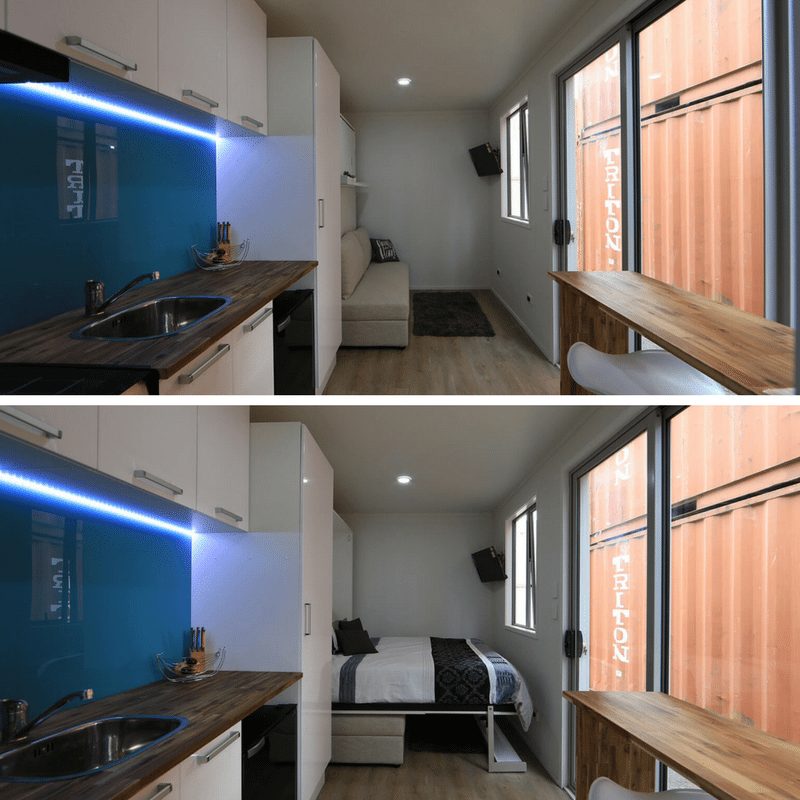 This unit is constructed from a new (single trip) 20ft high cube Corten steel container with exterior, painted a color of your choice. It would come fully lined and insulated with smart plank anti-bacterial PVC timber look flooring, 12mm ply interior walls painted in environmentally friendly low VOC paint, LED recessed down-lights, double glazed aluminium joinery. Standing at 6.1m by 2.4m, the Great Barrier is packed with features that are associated with modern living, including:
GAS AND WATER FILTER SYSTEMS
QUEEN-SIZE WALL BED
KITCHENETTE
BATHROOM
SHOWER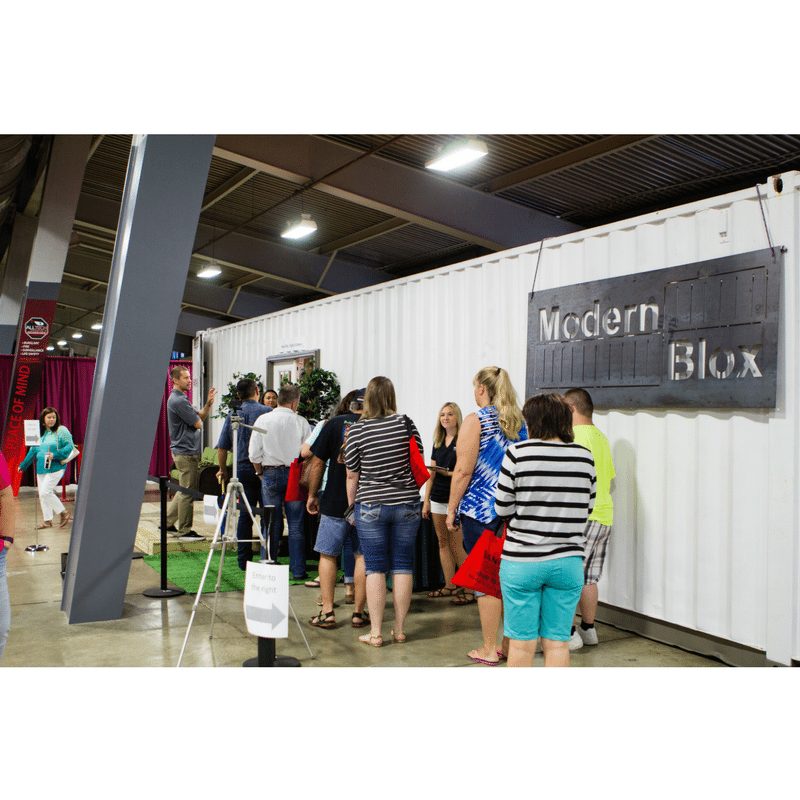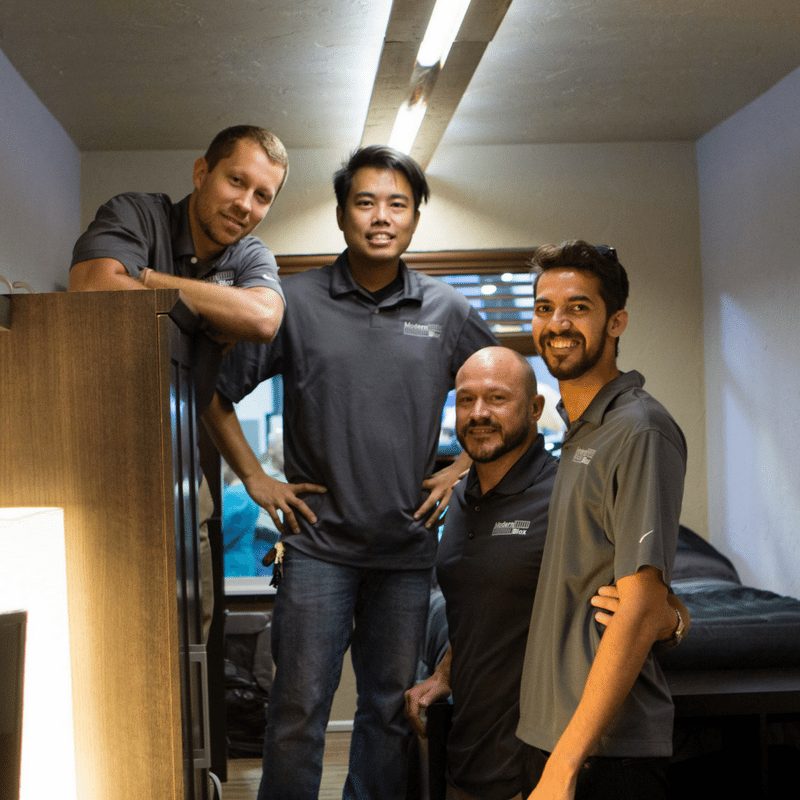 So what do you think? Which one is your favorite? 🙂
Information Source: OkGazette, ModernBlox
Photo Source: ModernBlox
» Follow Container Home Hub on Facebook for regular shipping container home updates here «