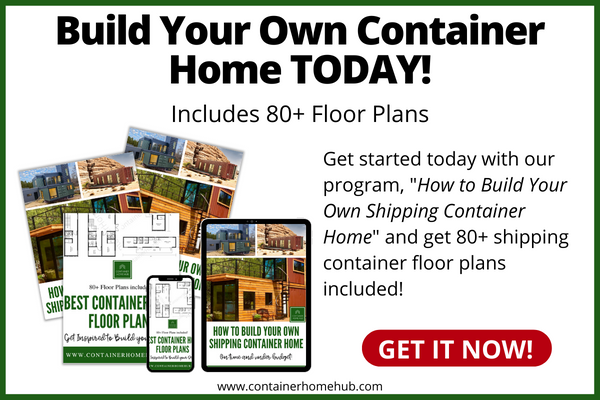 Greetings from Brazil! 🙂
Today we are looking at a private residence on the Gondwana Organic Buffalo Mozzarella Farm in Ribeirão Preto, Brazil. This bespoke shipping container home is made of 2 shipping containers with an almost 1400 square foot living area. Built by Rafael and Ana Borges and designed by Jorge Siemsen, this house is unusual in that it uses Masonry and Insulated Containers in its construction. This hybrid construction home features masonry walls in the kitchen and service areas with re-purposed stones and brick harvested on the farm from previously demolished construction.
The shipping container home, located in the interior of São Paulo (near Ribeirão Preto), is on a farm of 865 acres. At the top of the farm there is a wind generator to supply the needs of the house, which counts, in addition to the couple, with three daughters, a dog and a family of cats. The 130 square meters (1400 sq. ft.) are divided into 2 suites (where they are both containers), kitchen and service area – extreme area after the containers, masonry of stones harvested on the farm and demolition bricks – living room and dining room well in the half, in the gap between the containers and the masonry, closed with glasses on the sides. A small house for a family that size? Because they do not think so, since they always liked the idea of ​​something smaller, since they do not need much to have quality of life. The idea of ​​the house was that it had lightness and fit the horizontal lines of the landscape, which is why they supported the containers only at their ends and, with that, created a free span underneath.
The finishes of the house were thought to create warmth in the environments: cumaru floor in dry areas, hydraulic tiles in the kitchen, a wall in the room with mosaic of basalt stones contrasting with another of intense tone paint, white paint only in girls' room, being kept the original stainless steel container reefer in the room of the couple. The mirrors on the plugs are pink to please the girls, and in every corner of the house are seen pieces of crafts that recall the travels of Raphael by tribes of the Amazon and Africa.
The basement was turned into a guest room sometime after getting ready to go home. The concept of the house, as one can well perceive, is one of sustainability. The family puts their hands on the ground and eats the products they produce. The container was one more factor in this set, chosen by the functionality, since unnecessary roof. In the bedroom of the couple the window was positioned in a height that allows to see the landscape of the bed, integrating even more the house with its surroundings. From the beginning they did not want the house to interfere with the landscape.
So what do you think? Would you live here? 🙂
Information Source: Minha Casa Container
Photo Source: Jorge Siemen Architecture & Design, Minha Casa Container, Casa e Jardim
» Follow Container Home Hub on Facebook for regular shipping container home updates here «