Greetings from Portugal! 🙂
Nomad Living by Studio ArTe is a brightly-colored guesthouse made from a repurposed shipping container. Located in the backyard of a residential property in the Algarve region of southern Portugal, the charming new guesthouse involves an attempt by architect Arnold Aarssen to question what we really need to live and function. This particular accommodation offers a flexible alternative for those who want to avoid sky high mortgages and crippling debts, while still enjoying good quality of life in a healthy environment.
This particular guesthouse is built from a 40-foot shipping container that offers ample floor space totaling 320-square-feet. Inside, a single room serves the function of living room, dining room, and bedroom. A bathroom at one end has been sectioned off for the sake of hygiene and privacy, while the outdoor kitchen that serves the main property can also be used by the guesthouse inhabitants. Keep in mind, this is just one configuration, which could quite easily be altered depending on the personal preferences of the owner.
To cope with the warm climate of southern Portugal, a second roof has been constructed over the container to prevent the exterior from absorbing too much heat. Laced curtains around the guesthouse can also be used to lessen the impact of the midday sun, or provide some additional privacy for those inside the home or sitting on the attached porch. Huge sliding doors help to blur the line between interior and exterior, which not only offers better ventilation, but also increases the perceived space of the container guesthouse.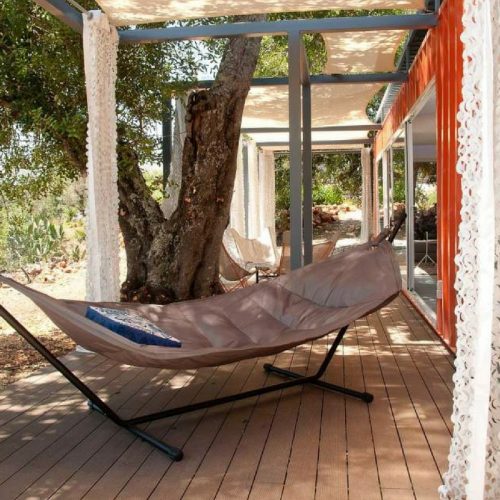 As more people embrace the information economy and turn towards a nomadic way of life, this shipping container abode could offer an affordable, and multi-faceted solution for those who want to avoid the burden of a long-term investment in traditional real estate. In the meantime, Studio ArTe wants to continue to explore "the relationship between the basic human requirements of travel and shelter, leisure and communication."
This tiny shipping container home is truly beautiful! The photos do not do it justice. What do you think? Would you stay in this luxurious shape?
Information Source: Inhabitat
Photo Source: Small House Bliss
» Follow Container Home Hub on Facebook for regular shipping container home updates here «