Today's featured shipping container home on Container Home Hub is David Wade's' New Zealand container home and this house is 100% modern and 100% beautiful. We can't wait to give you a peek at some of the amazing features that are lying beneath the stark black outside facade. This is easily one of the coolest, most contemporary homes we have covered.
Exterior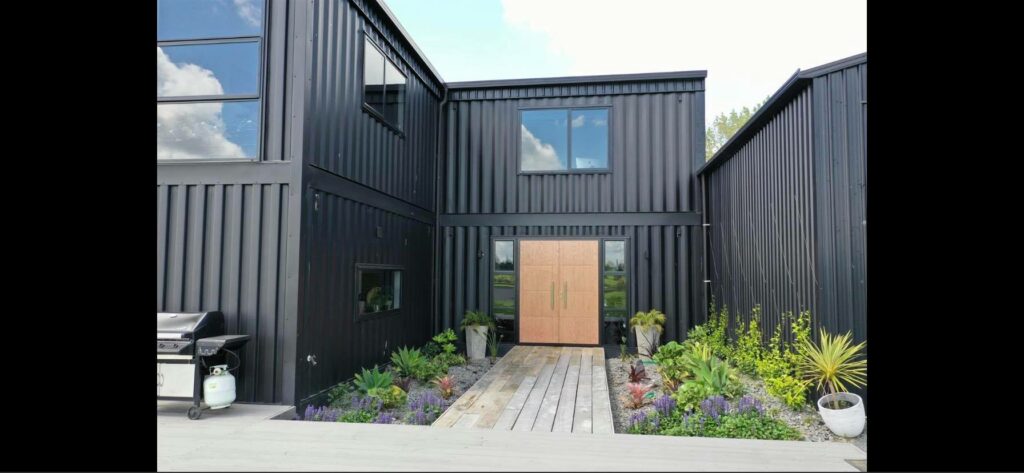 The first thing you will notice about this New Zealand container home is the color. While it is certainly unusual to paint a home completely black, it works so well here that we can see why it was done. There is something about this color that goes along with the steel and corrugated texture of the shipping containers and it ends up being incredibly classy and just gorgeous.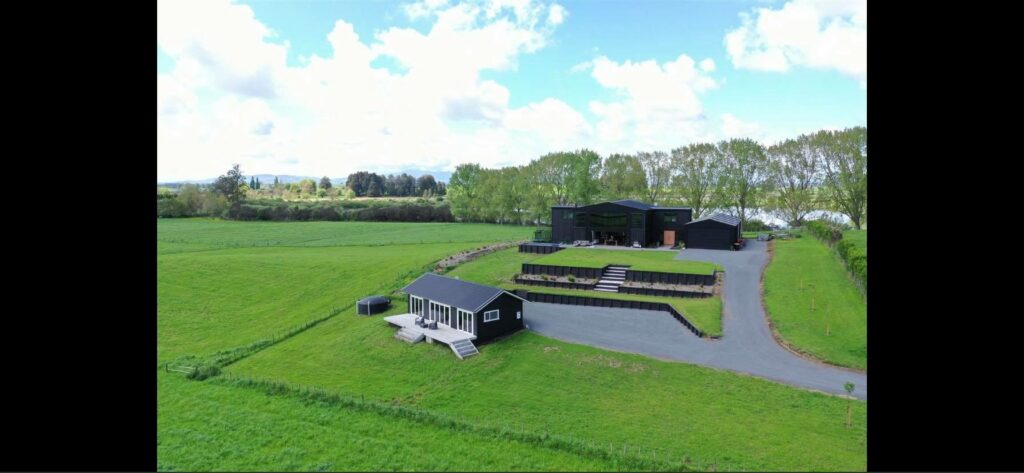 One of the reasons this shipping container home works so well in this color is the fact that it is surrounded by so much green. It's no secret that New Zealand is a beautiful country and this landscape shot just proves that. The stark black color is such a great contrast and we would be willing to bet that it would stand out, even from the sky.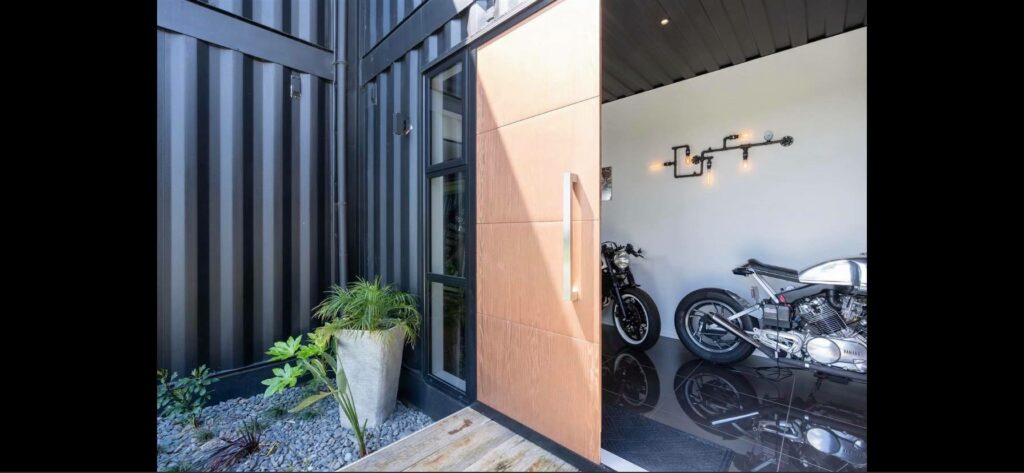 We love the natural wood color that was chosen for the doors on this New Zealand container home. The entrance to the garage offers a fantastic contrast and reveals some amazing gear as well as a very cool and unique light fixture. The sleek look of this home goes well with the lifestyle that it provides and we think it makes perfect sense that a gearhead lives here.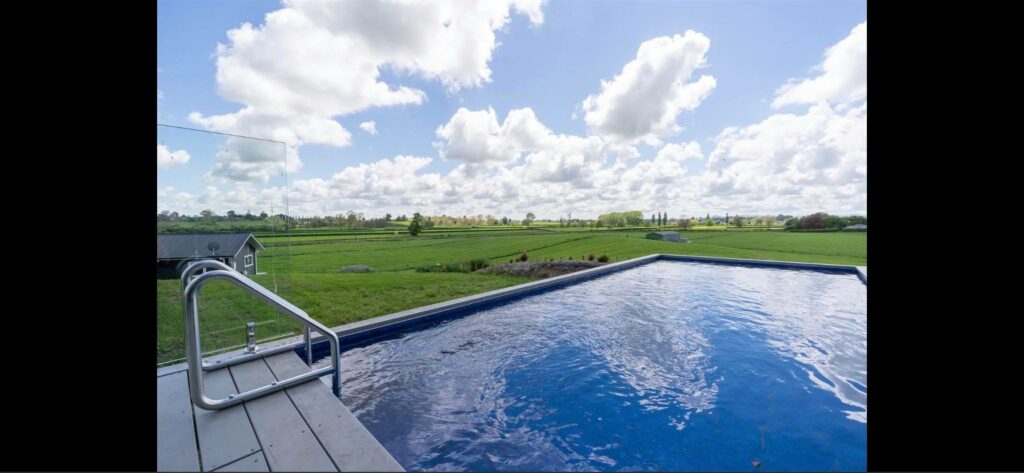 We can't go on talking about the exterior of this New Zealand container home without bringing up the pool. Taking a swim and being able to look at that amazing view is a major perk of this house. A pool is always a great addition, but this one is an absolute necessity.
Interior
Living Area
The outside of this New Zealand container home is truly something to behold but the inside is absolutely stunning. While it still maintains a lot of that modern, sleek aesthetic, it is also built for comfort and designed to be actually lived in. That can be a challenge with homes like this one, but we think it was done to great success here.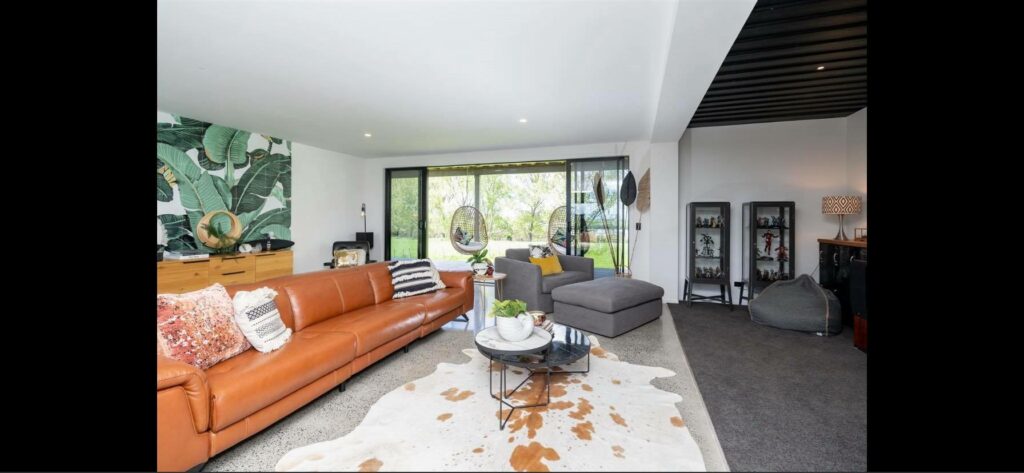 One of the focal points of the living area that allows it to be so comfortable and inviting is the collection of sliding glass and windows. With all the black on the interior, the designers of this New Zealand container home ran the risk of making it too dark, but letting in that natural light was the key to brightening it up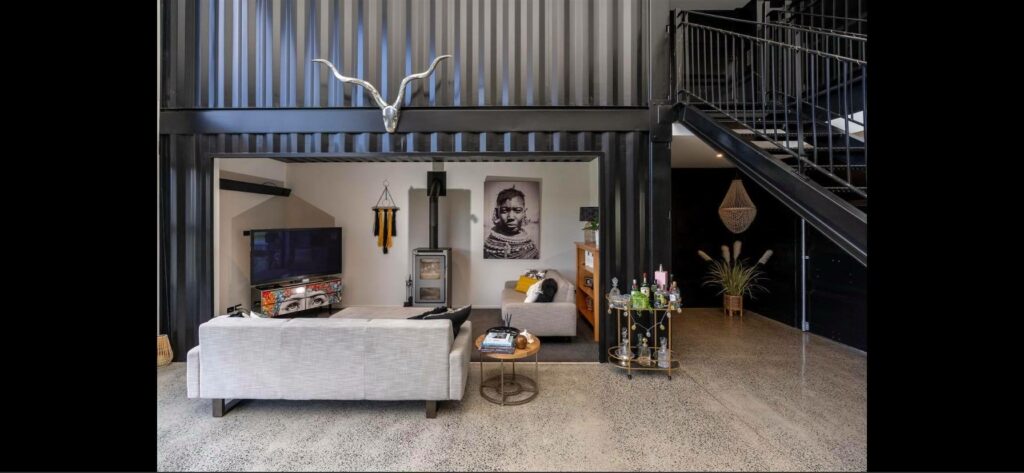 The main living area features a center foyer that then leads into other spaces that are perfect for gathering or doing one's own thing in a separate room. We love the way the TV room is set apart from the other living areas and how it is recessed into one of the shipping containers. This New Zealand container home makes great use of the space it has and has a floor plan that is tailor made for this kind of design.
The use of space in this New Zealand container home is one of the things that sets it apart from some of the other, more modern homes. By keeping this large foyer open, it keeps the separate container sections from being isolated from one another. This is an essential technique for homes that have a lot of clearly delineated areas like this and we think it has been done incredibly well here.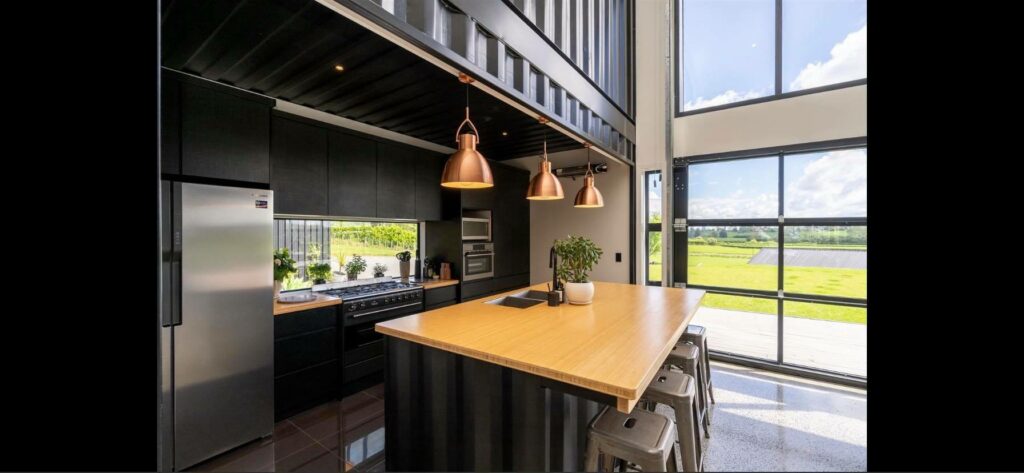 Just like the rest of this New Zealand container home, the kitchen is homey but still has that sleek feel. We absolutely love the glass backsplash that gives anyone using it a great view of that incredible landscape. Plus, it has a massive breakfast bar that is perfect for gatherings of all types.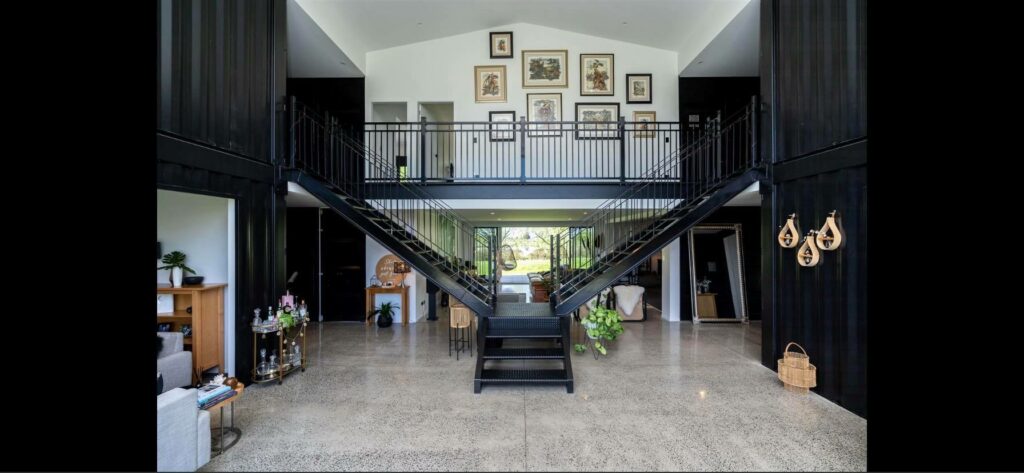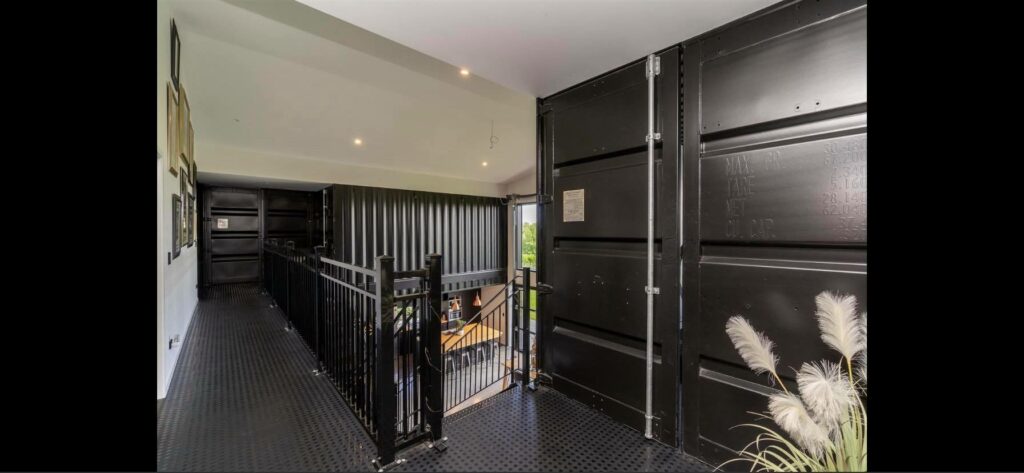 Bedrooms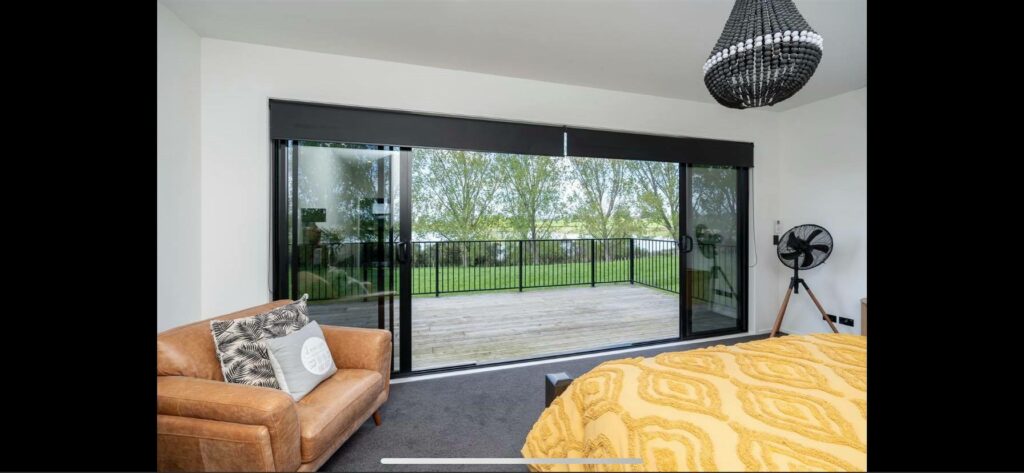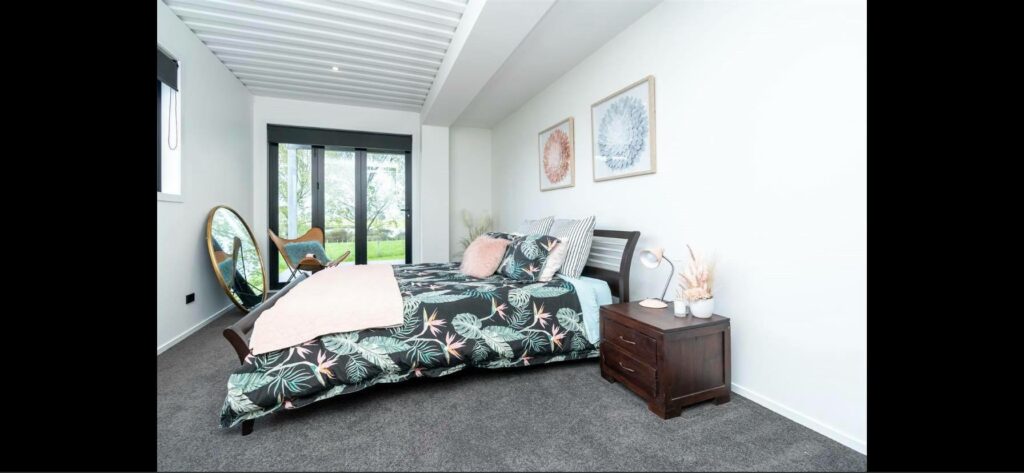 The bedrooms in this New Zealand container home are a fairly abrupt shift from the dark and contemporary design of the other areas. These rooms are bright and airy and they both feature large sliding glass doors for a connection to that beautiful outdoor landscape. They are also both carpeted for a little bit more of a plush feel that is perfect for rooms where you are supposed to be relaxing.
Bathrooms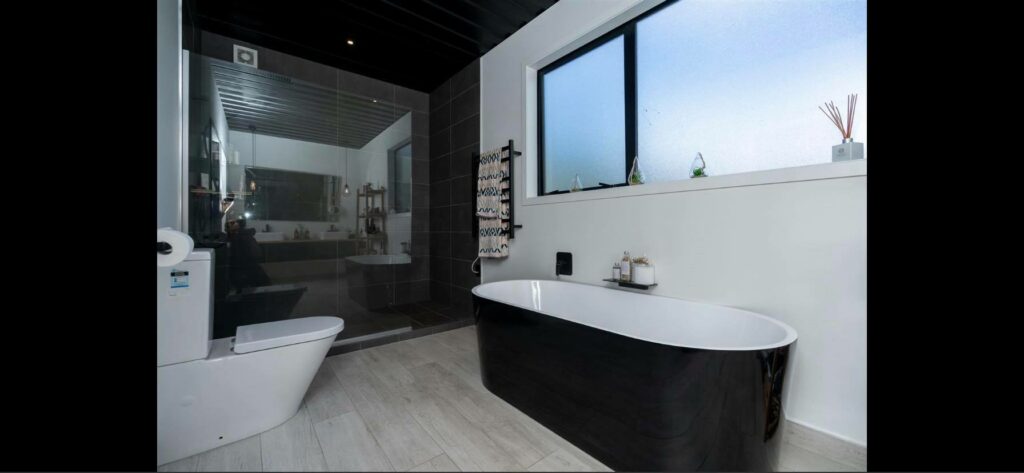 While the bedrooms are very nice, the bathrooms in this New Zealand container home are absolutely incredible. Just like with the rest of the home, they have a little bit more of a modern feel, but they are so nicely appointed and designed, it would be hard not to feel comfortable there. The frosted glass that covers the large windows is a great way to bring in some of that natural light without being exposed to the outside. Plus, they both have touches of that dark black that references back to the living areas and brings the whole home together.