Greetings from Portland! 🙂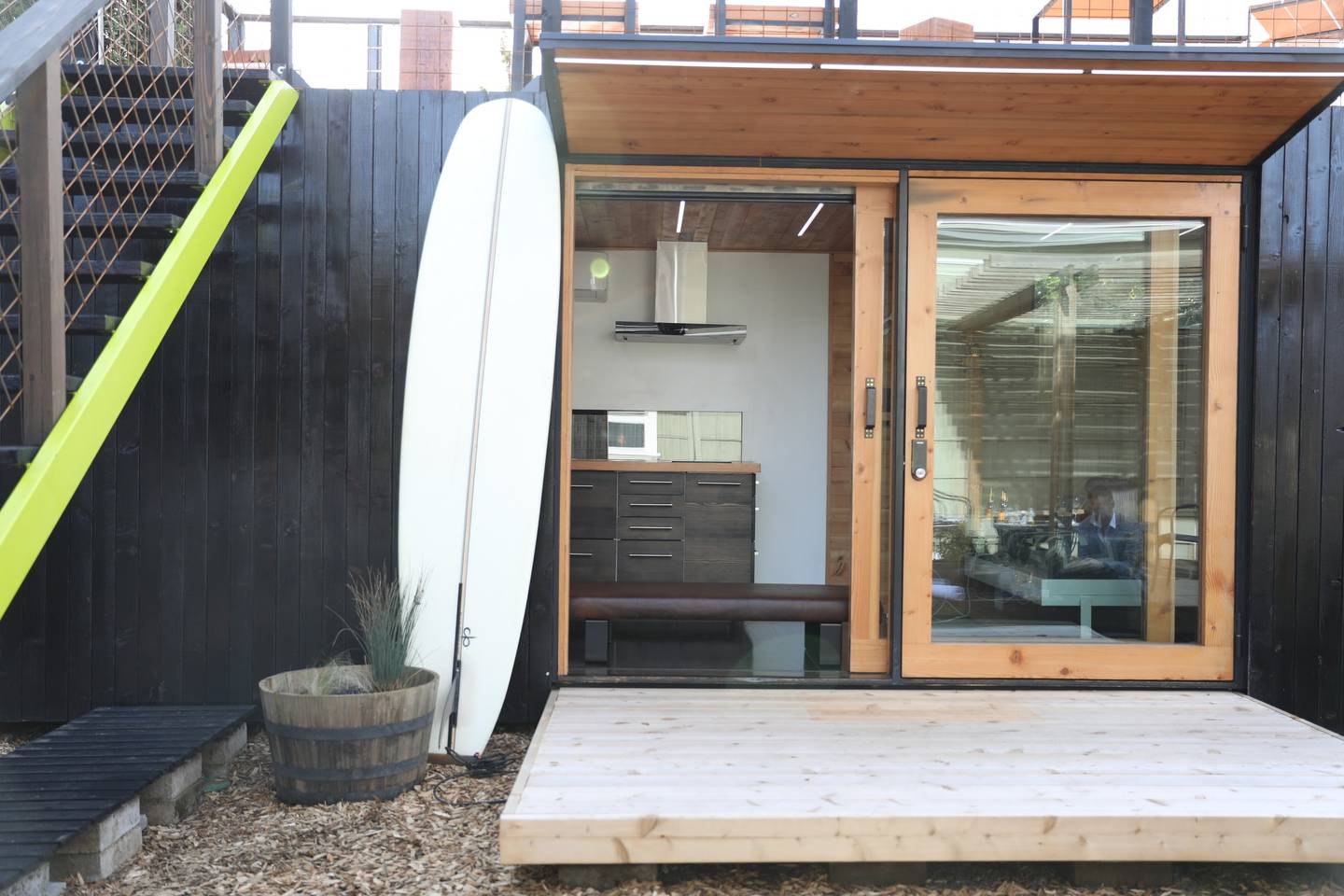 Today, we here at Container Home Hub are featuring the Hokura PDX, which is a shipping container turned elegant modern dwelling.
Hokura means "tiny shrine" in Japanese, and this shipping container home is certainly living up to its name. It is an exquisite representation of Oregon ingenuity and craftsmanship from the reclaimed wood details inside to the custom designed Murphy bed.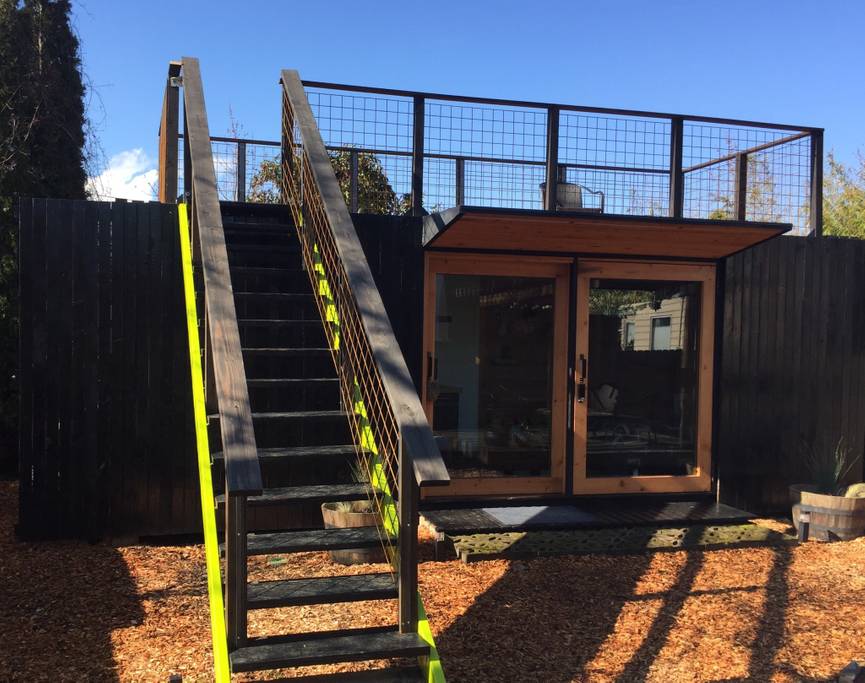 The front stairs provide access to a rooftop patio that is perfect for hanging out and relaxing in the Oregon summer. This is just one of the ways this container home takes what it has and turns it into something special. Using what is already there is one of the key tenets of any container home, and the designers of the Hokura PDX have done this perfectly.
The large windows that make up most of the front doors are an excellent touch as well. They have a way of making the inside feel bigger and bringing the outdoors in. This is especially important for any container home that is located in a setting as beautiful as this one is. You will not want to miss an inch of the fantastic landscape that lies just outside the door.
We love the dark wood siding that they have added to this container home's stock paint. Many container home builders choose to leave the exterior raw, but this one has a unique and designer-friendly paint job that sets it apart from the rest. The lighter wood of the trim is another excellent choice and makes the entrance really pop.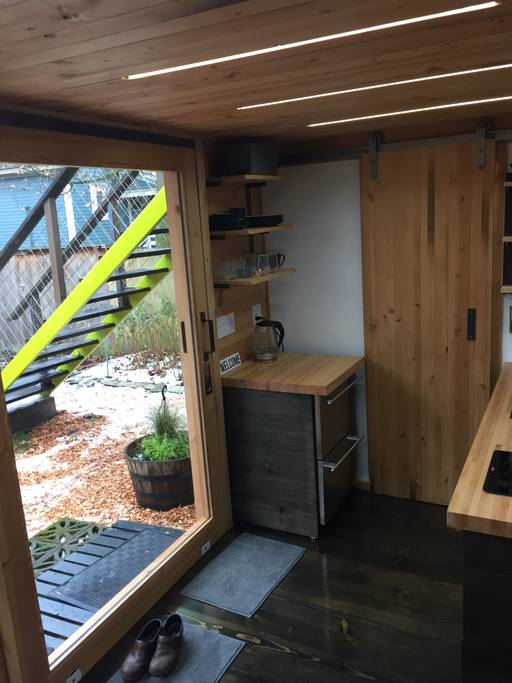 This container home was designed for a low impact luxury experience and it delivers without sacrificing any modern style and convenience. We love the dark hardwood floors that match with the exterior paint and provide a cohesive color combination that ties the entire container home together.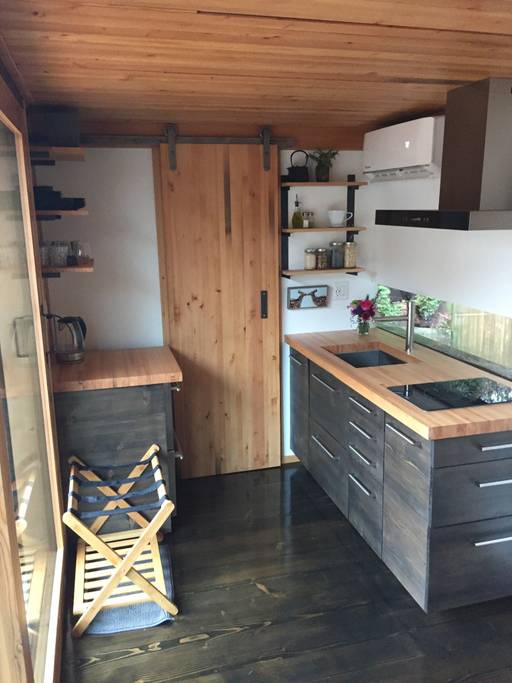 The kitchen's mixture of light and dark woods, combined with custom cabinetry is another outstanding touch. The raw wood that adorns the entire room is reminiscent of a Swiss sauna and has the cozy feel of a country cabin. There is a sleek two burner induction stove as well as a low profile drawer style refrigerator (there is no freezer or microwave).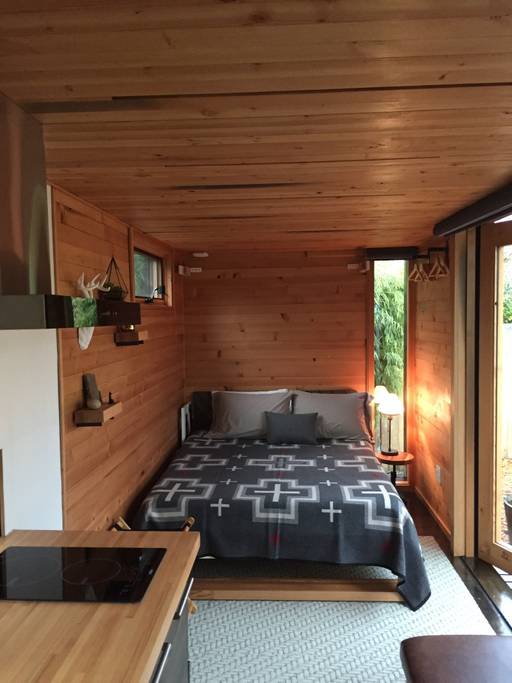 This container home's bedroom also includes a Queen size Tuft & Needle mattress, luxury linens, towels and pillows, and complimentary teas, coffee supplies, and generous snack options. Not to mention, the folding Murphy bed that helps save room and is a fantastic, old-school touch.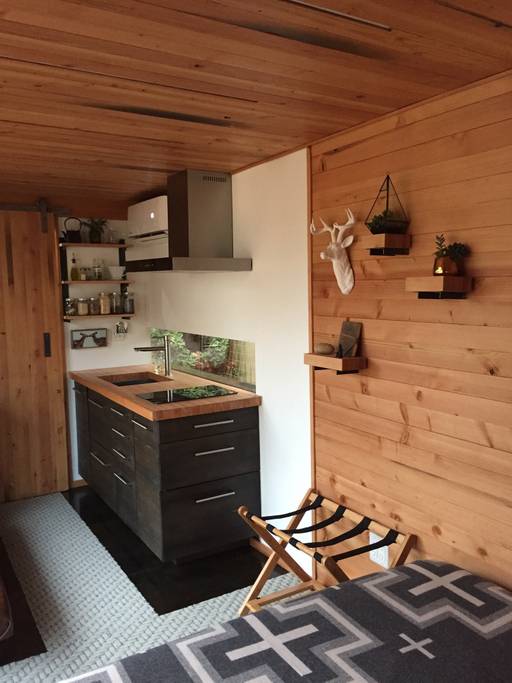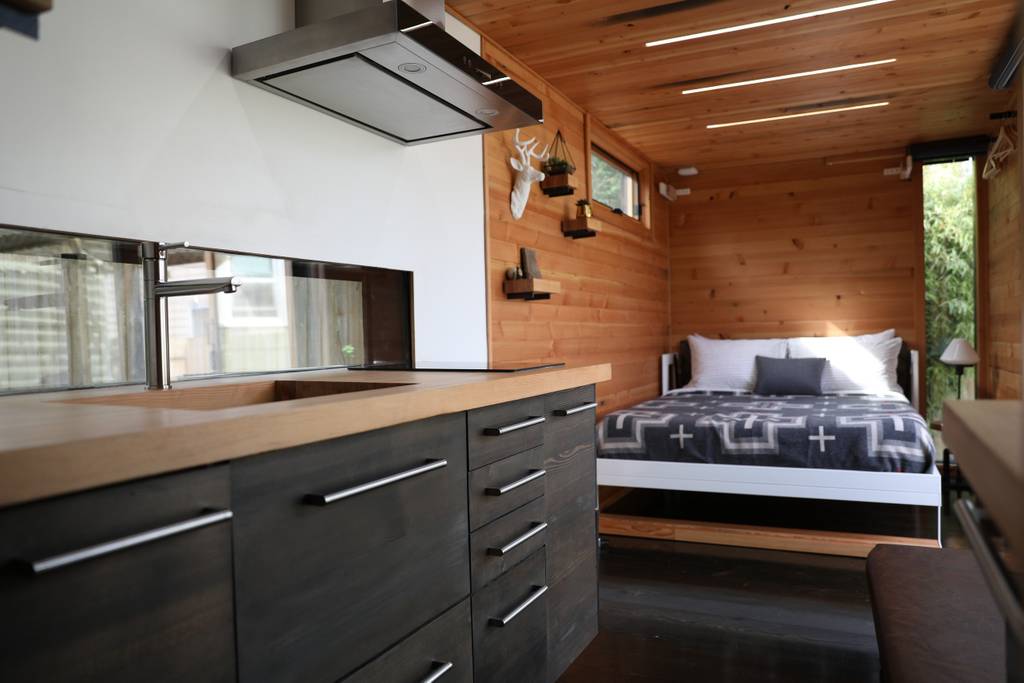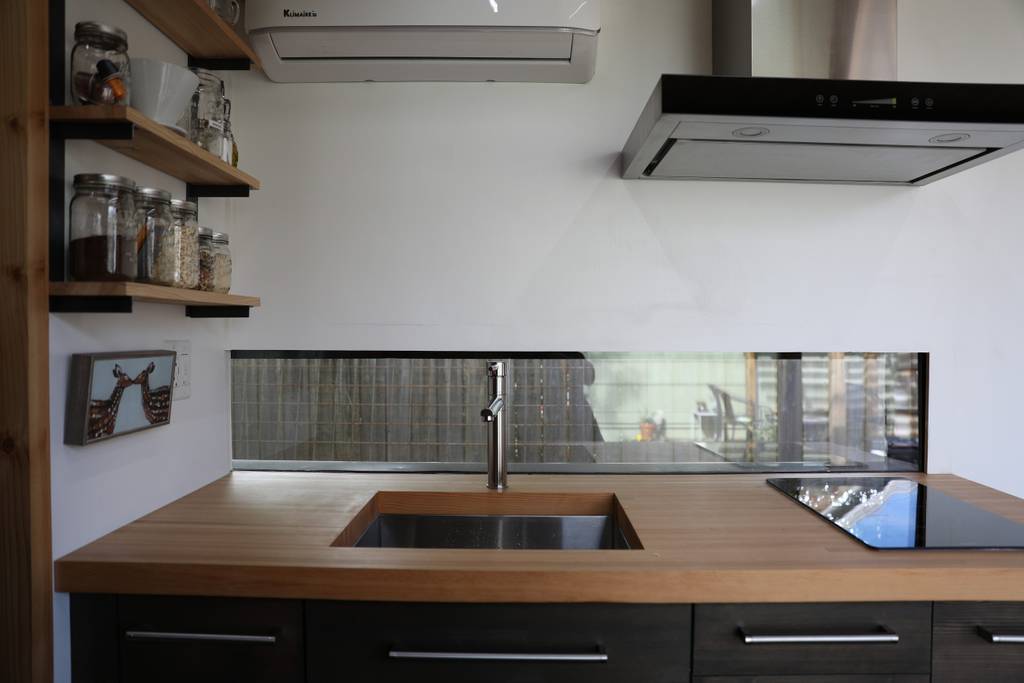 The glass backsplash that doubles as a small window is another artistic, modern design element that we haven't seen used before in a container home. This is a perfect example of taking something that is utilitarian and making it a stylistic choice. We love to see it!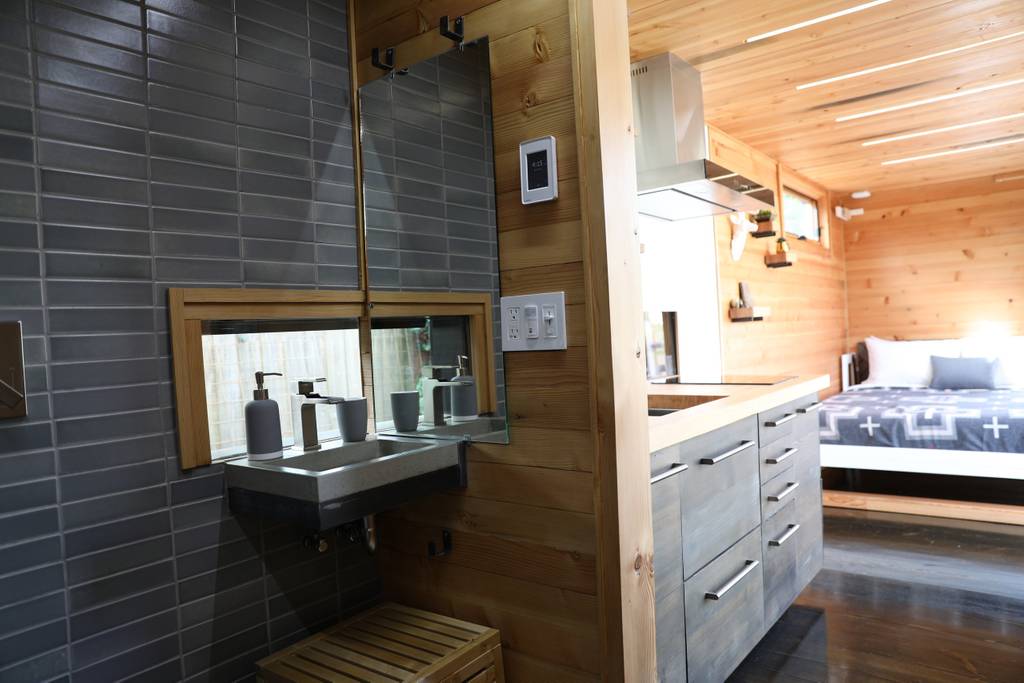 We especially love the spacious bathroom with its rain shower head, radiant heat floors and dry infrared sauna panels! Although it's not designed to be a sauna, the panels help provide a deluxe shower experience!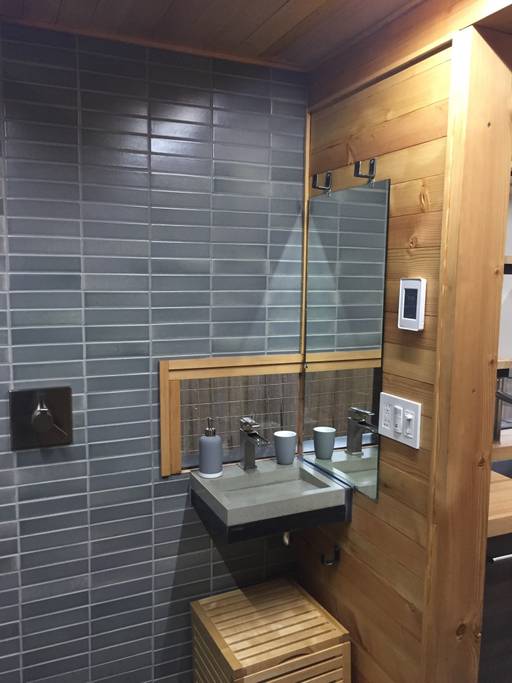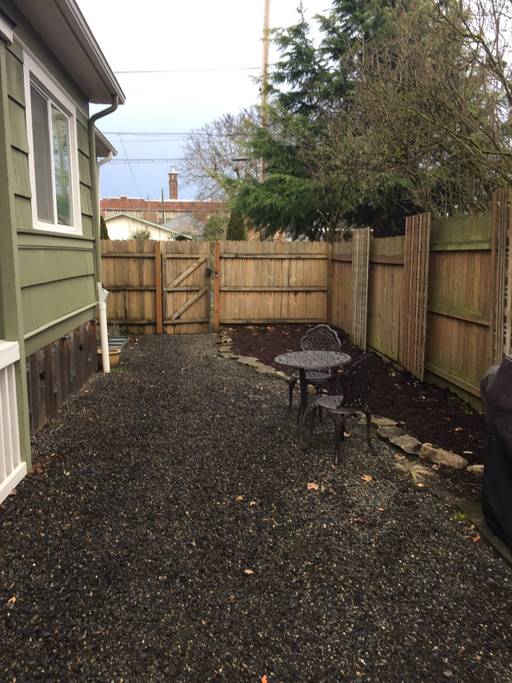 Guests have access to a pleasant back yard and a rooftop deck. The home provides an array of welcoming refreshments to help make your stay as comfortable as possible. There are also a number of options for hiking and other outdoor adventures due to its rural location.
If you'd like to see even more details, see Modern Dwellings PDX by Erick Haglund. It looks like the builder of this container home offers another shipping container home model available to order, should you be interested in having one for yourself.
It should also be noted that this home occasionally shares the space in the backyard and the owners are often on site in their own home in front
So what do you think? Would you stay here?
Information Source: Airbnb
Photo Source: Airbnb
» Follow Container Home Hub on Facebook for regular shipping container home updates here «